ON TUES. JAN. 3, DPL ADMINISTRATION WILL BE MOVING EVERYTHING OUT OF THE FOUR BRANCHES SCHEDULED TO BE CLOSED.
PROTESTS TUES. JAN. 3, 2012  8 A.M.
LINCOLN BRANCH, 1221 E. 7 MILE     4 blocks east of I-75 f reeway)       MONTEITH BRANCH 14100 KERCHEVAL   (3 blocks west of Chalmers)
NO MORE SCHOOL CLOSINGS!
STOP THE DESTRUCTION OF OUR NEIGHBORHOODS
BUILD THE NEW CIVIL RIGHTS MOVEMENT!  
On Thursday, December 22, 2011, the people of Detroit stood up and said that we will not take the destruction of our libraries, our neighborhoods, our city and our future any more.  Eleven people occupied the Lincoln Branch Library and refused to leave until their demand was met to keep all of the libraries open.  The inside occupation was supported by about one hundred people who rallied outside the library to defend the occupation. Friends of the Monteith Library also rallied outside Monteith. 
At Lincoln, occupiers began to gather at 10:30 am, right after the library opened. Occupiers read out loud a classic book of the last civil rights movement, Dr. Martin Luther King Jr's "Why We Can't Wait." As they read Dr. King's moving description of the struggle for black equality and freedom in Birmingham in 1963, we heard loud honking from E. Seven Mile, as motorists expressed their support for the libraries. As the day progressed, more people called and came by to show support.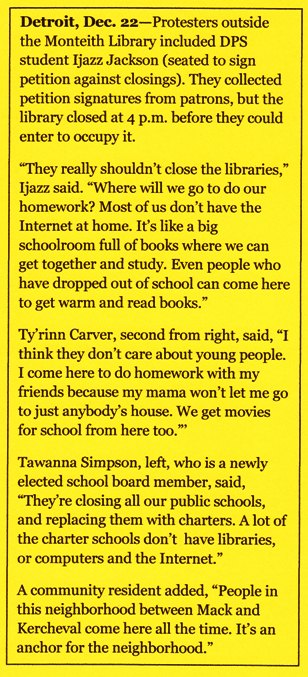 At 4:00 pm, the police arrived and closed the library to the public, even though it was scheduled to remain open until 6:00 pm.  In fact, the police and library officials closed every library branch two hours early, and hurried the patrons and staff out of the buildings. At Lincoln, the police even closed the window blinds to prevent supporters and press from seeing the occupiers. 
In spite of police threats to charge every occupier who didn't leave the library with felony charges for "obstructing," the occupiers held their ground, chanting, "When the libraries are under attack, what do we do, stand up, fight back!," and "Public libraries are a must! Detroit won't go to the back of the bus!" 
The police arrested the occupiers, and took the occupiers out in handcuffs. Defenders outside the library did their best to slow the progress of the police, and once the occupiers were driven away in police cars and a paddy wagon, the defenders regrouped at the jail (near Nevada and Ryan), and picketed the jail, calling for the occupiers' release. 
Movement attorneys found a sympathetic judge who signed writs of habeas corpus for all, which forced the police to let the occupiers go. 
No charges have been filed yet, but the outcome depends on how hard we fight this week to continue to defend our libraries. 
The December 22 library occupation showed the way to fight and win. If more people adopt this method, especially the young people of Detroit, we will be able to stop library and school closings, home evictions and the destruction of our neighborhoods. 
The Detroit Public Library Commission's November 16 vote to close four Detroit libraries on December 22–Mark Twain, Monteith and Lincoln on the East Side, and Richard on the West Side, must not stand. 
Our libraries are essential cultural institutions. They are free public spaces outside school and home, where young people can explore the world beyond their daily experience, through books, movies, music and the internet. Libraries provide gathering space and social contact for young and old. Libraries offer everything from latchkey care for working parents, to job search support for unemployed people, to free classes and summer reading programs.
 For the students and neighborhoods that these libraries serve, and for Detroit as a whole, these library closings would be yet another devastating blow that we cannot afford, do not deserve, and should not accept. 
For far too long our youth and our city have been given second-class treatment and conditions. The Democrats and Republicans are united in systematically stripping our city of every essential service, from public schools to public libraries. This is the new Jim Crow, and we are organizing to defeat it.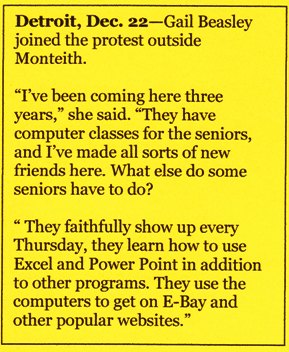 The current political powers-that-be claim that there is no money for the libraries, but we know that money is always found where there is the political will. If we fight to win, they will find the money.   
 Last year, when the young women of Catherine Ferguson Academy heard that their school was going to be closed, they began to organize to keep it open. The students believed in two things: 1) like Rev. Martin Luther King, Jr., they refused to believe that "the bank of justice is bankrupt;" they refused to believe that there wasn't enough money to keep their school open; and 2) they know that the rich and powerful are not the only force that can change history. 
The Catherine Ferguson students joined BAMN, the Coalition to Defend Affirmative Action, Integration and Immigrant Rights and Fight for Equality By Any Means Necessary. As young BAMN leaders, they organized an occupation of their school, they sat down inside and refused to leave, and they organized hundreds of supporters to stand outside and defend them, and they won—they kept their school open. 
 We can follow this example of how to win and save our libraries. The young people who depend on these libraries and who believe in the right to have public libraries can answer the challenge of becoming our generation's voice of freedom. Together with our families, friends, loved ones, neighbors and supporters there is no reason why we can't keep our libraries from closing. 
Become part of the fight to end the second-class treatment of Detroit. Our libraries must stay open. We deserve nothing less! 
Coalition to Defend Affirmative Action, Integration and Immigrant Rights and Fight for Equality By Any Means Necessary (BAMN) www.bamn.com
313-434-7075     contact@bamn.com                 Twitter: @followbamn