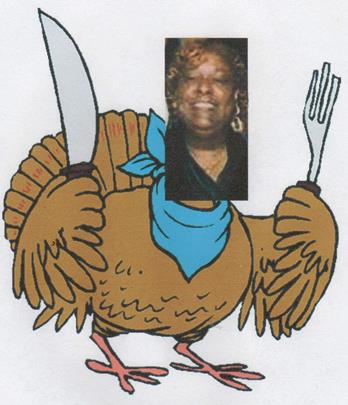 "HAPPY THANKSGIVING! I'M EVICTING YOU FROM YOUR HOME!"
Millender berates Mingo, long-time respected Brush Park activist, for not 'hiring attorney sooner'
Refuses to recognize COA had proper jurisdiction on case
Favors $8.7 BILLION Madison Capital Funding
"I know you'll need some money to help you move"
By Diane Bukowski
November 20, 2018
UPDATE: GWEN MINGO WAS UNJUSTLY EVICTED FROM HER HOME ON TUES. NOV. 27. SHE IS IN DESPERATE NEED OF FUNDS AT THIS POINT. TO DONATE, GO TO:
DETROIT – In an arrogant display either of lack of legal expertise or of malfeasance, 36th District Court Judge B. Pennie Millender today declared SHE has jurisdiction over the eviction case against long-time Brush Park activist Gwen Mingo, not the Michigan Court of Appeals, which has the case OPEN at their level.
"Why did you wait so long to get an attorney?" Millender railed at Mingo. "This case has been in litigation for eight months. Until the Court of Appeals decides something, I have jurisdiction. The Circuit Court has already said my ruling is proper."
With the Thanksgiving holidays around the corner, Millender granted a motion by Madison Capital Funding, LLC, to evict Mingo from her historic home at 269 Watson after Nov. 26. She ignored documents Mingo presented to her in court April 14 showing that the mortgage on her home was paid off in 2006, invalidating a fraudulent Sheriff's deed.JPMorgan Chase has since taken over Madison Capital Funding. Mingo was not allowed to present conversations she recorded between herself and Chase officials who said that no money is due on her mortgage. It is unclear how or whether Madison ever bought Mingo's home at auction.
She denied motions filed by Mingo's attorney Darwyn Fair Nov. 19 to dismiss the case for lack of jurisdiction, to adjourn and reschedule the Nov. 20 hearing, or in the alternative adjourn the matter until the Michigan Court of Appeals has heard the case.
She split a $2500 escrow fund Mingo had accumulated in her case between Madison Capital and Mingo, saying 'generously,' "I know you'll need some money to help you move."
Millender unexpectedly reversed her original April 14 ruling on the case, which acknowledged Mingo's proofs of ownership, and ignored Mingo's paid request for a jury trial. Millender ordered her eviction first on May 5. Mingo then appealed in Wayne County Circuit Court, but Judge Patricia Fresard denied her appeal after also denying Mingo a jury trial. Since eviction orders expire after 56 days, Madison Capital Group refiled their motion.
According to their website, "Madison Capital Funding LLC manages $8.7 billion in assets as of 31 December 2017. Based in Chicago, Illinois, Madison Capital Funding is a wholly-owned subsidiary of New York Life Insurance Company."
New York Life Insurance Company is the largest mutual life insurance company in the United States and is ranked #69 on the 2018 Fortune 500 list of the largest United States corporations by total revenue.
Mingo told the judge that the attorney for Madison Capital, Eric Wein, called her prior to this hearing and illegally told her she had to move within two days.
"He had no authority under the law to say that," Mingo said. "It cost me thousands of dollars. I had to hire people and pay for two 26-foot U-Hauls to move my valuables out of the house."
Wein is not listed as an employee of Madison Capital or of any law firm. He evidently "has gun, will travel."
Emre Uralli, President of Luke Investments, a front for wealthy businessmen including Dan Gilbert seeking to snatch up properties, also threatened Mingo repeatedly in a recorded phone call posted in the article below this. He called her "the devil," and said she should be in a mental hospital. Uralli claimed HE is the owner of Mingo's home but his name appears nowhere on the Wayne County Register of Deeds.
Uralli is listed as the highest bidder for 2013 on a Wayne County website, having mistakenly bid $550,000 on a property, which turned out to be a vacant four-acre lot near John R and Piquette. Uralli is also party with convicted insurance felon Charles Aliahmed and others in an attempt to seize Bert's Marketplace. Owner Bert Dearing has forestalled that takeover with a federal lawsuit.
Mingo is in discussions with her retained attorney Darwyn Fair of Detroit regarding motions to stay the eviction. They could include an emergency appeal for a stay to the court of proper jurisdiction, the Michigan Court of Appeals.
Meanwhile, Mingo is hoping for emergency donations to her GoFundMe page, set up by a supporter, at https://gf.me/u/ni4r9u
Mingo's hearing was notably marked by significant hostility on the part of court staff to any media coverage. This author, after having been admitted into the court building at the press entrance, was trailed upstairs later by Officer Harris, who took her out of the courtroom twice, disrupting proceedings. The second time, he ordered her to go to the administration office on the 5th floor to get permission to be in the court.
At that office, an Inspector Fowkles ordered her to wait outside until someone inside the office could help her. This reporter threatened a lawsuit citing violations of the First Amendment. She explained the only reason the media has to get permission ahead of time to enter a PUBLIC courtroom is if they plan to photograph, videotape, or otherwise record proceedings. Finally, an assistant to Chief Judge Nancy Blount came to the door and after being shown this reporter's only tools of the trade, a notebook and pen, ordered the guards to let her in the courtroom. She was trailed down there by a total of four guards.
Another media personality, Elena Herrada of 910 AM, was told she could not bring a pen in the courtroom. Likely illegal rules posted on the 36th DC website forbid the possession of any writing instruments by anyone in the courtroom audience.
Related stories:
PACK COURT TO SAVE GWEN MINGO'S BRUSH PARK HOME FROM THIEVING DEVELOPERS