The Egyptian working class moves to the forefront
wsws.org 10 February 2011
During the past few days a steady stream of reports has confirmed the increasingly decisive role of the Egyptian working class in the struggle against the Mubarak regime. While the mass assemblies and clashes in Tahrir Square in Cairo have been the focal point of media coverage, the growing wave of working class militancy—in the form of protest demonstrations and strikes—will have a greater impact on the course of events.
In the industrial community of Kafr al-Dawwar—a historic center of working class militancy—hundreds of silk and textile workers participated in protests over inadequate pay and bad conditions. In Helwan, a Nile city south of Cairo, 4,000 workers from the Coke Coal and Basic Chemical Company announced a strike. While demanding higher pay, permanent contracts for temporary workers, and an end to corruption, the workers also declared their solidarity with protestors in the capital. In another significant protest action in Helwan, 2,000 silk workers participated in a demonstration that demanded the removal of their company's board of directors.
In the city of Mahalla, located in the Nile Delta, 1,500 workers protested the late payment of wages and bonuses. In another struggle in that city, hundreds of workers at a spinning company participated in a sit-in demanding action on over-due promotions. In Quesna, also located in the Delta, 2,000 pharmaceutical workers went on strike.
More than 6,000 workers employed by the Suez Canal Authority in Port Said, Ismailia and Suez staged sit-ins to demand adjustments in their pay. Also in Suez, 400 workers employed by the Misr National Steel Company initiated industrial action.
This movement of the Egyptian working class began long before the mass protests that erupted in Cairo during the last week of January. As documented in a study by Professor Joel Beinin, a specialist in the history of the Egyptian labor movement, the developing strike wave "is erupting from the largest social movement Egypt has witnessed in more than half a century. Over 1.7 million workers engaged in more than 1,900 strikes and other forms of protest from 2004 to 2008."
Ironically, the growth of labor militancy has been, for the sclerotic Egyptian regime, an unwelcome consequence of economic growth during the last decade. This growth has been fueled by the massive inflow of international capital into Egypt during the first decade of the twenty-first century. Foreign Direct Investment increased from $400 million in 2000 to $13.2 billion in 2007-08. Egypt is now the largest recipient of FDI on the African continent. Between 2004 and 2007, the annual rate of GDP growth increased from 4 percent to 7.2 percent. But the benefits of economic growth have been confined to a small section of society. Despite strikes that have occasionally wrested concessions, the overwhelming mass of the working population is mired in poverty. Moreover, the regime has responded to the rising challenge from the working class with escalating brutality and repression.
Now, in the context of a nation-wide mass movement against the Mubarak regime, the central question is the role of the working class in deciding not only the fate of Mubarak, but the nature of the regime that arises from the ongoing revolutionary convulsions.
The greatest danger confronting Egyptian workers is that, after providing the essential social force to wrest power from the hands of an aging dictator, nothing of political substance will change except the names and faces of some of the leading personnel. In other words, the capitalist state will remain intact. Political power and control over economic life will remain in the hands of the Egyptian capitalists, backed by the military, and their imperialist overlords in Europe and North America. Promises of democracy and social reform will be repudiated at the first opportunity, and a new regime of savage repression will be instituted.
These dangers are not exaggerated. The entire history of revolutionary struggle in the Twentieth Century proves that the struggle for democracy and for the liberation of countries oppressed by imperialism can be achieved, as Leon Trotsky insisted in his theory of permanent revolution, only by the conquest of power by the working class on the basis of an internationalist and socialist program.
The history of Egypt provides ample proof for this strategic principle.
The Egyptian working class has a long history of struggle. In the early national movement against British colonialism, the working class engaged in major struggles. However, setting a pattern that was to be repeated again and again, the corrupt Egyptian bourgeoisie—after taking advantage of the pressure exerted by the working class to extract limited concessions from the British—reneged on all its commitments to the workers. In the aftermath of the fake independence proclaimed by the British in 1922—in which London continued to rule through the mechanism of a thoroughly venal constitutional monarchy—the working class remained subject to relentless state repression.
In the decades that followed, the Egyptian bourgeoisie bitterly opposed the efforts of workers to establish trade unions. Only under the pressure of World War II, when the British-backed regime made concessions to obtain broader support, were trade unions legalized. But once the war-time emergency passed, the regime moved to roll back this limited gain. In the aftermath of the war, in response to a renewed upsurge of the working class, the bourgeoisie made concessions which, invariably, were followed by repression.
The Free Officer coup of July 23, 1952 ended the monarchy. The months leading up to the coup had witnessed a rising tide of working class struggle that weakened the monarchy. However, the class character of the new regime—of which Colonel Gamal Abdul Nasser soon emerged as leader—was revealed within weeks. The workers welcomed the coup. Their illusions in the revolutionary rhetoric of the army leaders were encouraged by the Stalinist Democratic Movement for National Liberation (DMNL), which had very close ties with the Free Officers (and had even been informed in advance of the plans for the coup). In keeping with the Stalinist theory of a "two-stage" revolution (first democracy, and later, at some unspecified point in the future, socialism), the DMNL attributed a progressive role to Naguib and Nasser. This had, almost immediately, tragic consequences. At the Misr Fine Spinning and Weaving Company in the industrial community of Kafr al-Dawwar, thousands of workers went on strike in August 1952 to protest long-standing grievances. As one of the leaders of the movement later recalled:
It was very natural that the workers should start a movement in Kafr al-Dawwar because they heard the communiqués of the revolution which announced that the kingdom was abolished, that the regime was against injustice, that the rights of the people would be restored. It was natural that workers who had been oppressed for a very long time would put forward their demands… [Cited in "Egyptian Communists and the Free Officers: 1950-54," by Selma Botman, Middle Eastern Studies, Vol. 22, No. 3 (July 1986), p. 355]
The movement was savagely repressed by the army. The new Revolutionary Command Council hastily convened a court martial of workers in the leadership of the strike. Two of the leaders, Muhammad Khamis and Ahmad al-Bakri, were sentenced to death on August 18, 1952 and hanged three weeks later on the grounds of the factory. It should be noted that the member of the Revolutionary Command Council who presided over the court martial, Abd al-Mun'im Amin, had links with the American Embassy in Cairo.
Subsequently, the Nasser regime did carry out a series of reforms that offered marginal improvements in the conditions of the Egyptian peasantry and the working class. The nationalization of the Suez Canal won broad support for the regime among the Egyptian masses. Later, the nationalization of foreign-owned companies and a substantial segment of Egyptian companies led to a rise in living standards. However, the unchallengeable rule of the Nasserist regime was that no independent social or political initiative of the working class was permissible. In the words of Nasser, "The workers don't demand, we give." When workers defied this rule and demanded, they were imprisoned, tortured and even executed.
Though Nasser called his combination of nationalist paternalism and repression "Arab socialism," the Egyptian bourgeoisie remained firmly in power. Upon Nasser's sudden death in 1970, only three years after the catastrophic defeat of Egypt in the Six Day War with Israel, Anwar Sadat became president. The new regime moved to repudiate both the pseudo-socialist policies of Nasser as well as those elements of Nasser's foreign policy that had incurred the wrath of the United States. On the economic front, Sadat moved to adapt his policies to the demands of the International Monetary Fund.
It was in the sphere of foreign policy that Sadat took his most dramatic step. He visited Jerusalem in November 1977 and signed the Camp David peace treaty with Israel in 1978, an action which guaranteed the destruction of the Palestine Liberation Organization and amounted to a total betrayal of the national aspirations of the Palestinian people. Sadat suffered retribution from assassins in October 1981. His successor, Hosni Mubarak, continued, albeit in a more ruthless form, the policies of Sadat.
On the economic front, neo-liberalism was entrenched. Large segments of the economy that had been nationalized by Nasser were returned to private ownership. In the countryside, much of the land redistribution that had been carried out by Nasser was reversed.
In its foreign policy, Sadat and Mubarak placed Egypt unreservedly at the disposal of US imperialism.
In no sense have the policies of the Sadat-Mubarak regime been substantially different from those that have been implemented by capitalist governments during the past 30 years in any other former colonial country with a belated capitalist development.
Today, in the midst of a global crisis of the capitalist system, profoundly impacting all capitalist countries, a world-wide offensive is underway against the working class. The direction of capitalist policy is not toward reform, but toward reaction. No bourgeois government in Egypt will contradict this global tendency.
The struggle that is now unfolding in Egypt will be of a protracted character. The responsibility of revolutionary Marxists is to develop among workers, as they pass through colossal political experiences, an understanding of the necessity for an independent struggle for power. The revolutionary Marxists must counsel workers against all illusions that their democratic aspirations can be achieved under the aegis of bourgeois parties. They must expose ruthlessly the false promises of the political representatives of the capitalist class. They must encourage the creation of independent organs of workers' power which can become, as the political struggle intensifies, the basis for the transfer of power to the working class. They must explain that the realization of the workers' essential democratic demands is inseparable from the implementation of socialist policies.
Above all, revolutionary Marxists must raise the political horizons of Egyptian workers beyond the borders of their own country. They must explain that the struggles that are now unfolding in Egypt are inextricably linked to an emerging global process of world socialist revolution, and that the victory of the revolution in Egypt requires not a national, but an international strategy. After all, the fight against the Mubarak-Suleiman regime and the Egyptian ruling class is, in the final analysis, a struggle against the entire Arab bourgeoisie, the Zionist regime in Israel and American and European imperialism. In this global struggle, the greatest and indispensable ally of the Egyptian masses is the international working class.
What has been outlined above is the perspective and strategy of the International Committee of the Fourth International.
David North
The Egyptian RevolutionBy David North
PRESS RELEASE 
FROM: Former State Representative, Bettie Cook-Scott
To: The People of the 13th Congressional District
RE: Leadership Change in 13th Congressional District of Michigan's Chairperson
CONTACT: (313) 682-6929
            Delegates, Stakeholders, Voters and to all who these presents meet, we find ourselves at a critical crossroad nationally and locally. There must be a change in the Chairperson of the 13th Congressional Party if we are to start planning for the Re-election of President Barack H. Obama and Congressman, Hansen Clarke in 2012!  The momentum gained with the election of the 44th President of the United States and his ties to the Democratic Party and its indentation on history has been severely weakened by a loss of power or leadership in the House of Representatives at both the national and local levels. This can be linked to a failure of the current leadership in the 13th Congressional District of Michigan.  If we are to continue in the overhaul of local politics punctuated with the election of U.S. Representative Hansen Clarke, the 13th Congressional District of Michigan must underscore this by installing Bettie Cook-Scott as its new Chairperson. The utter embarrassment caused by gross mismanagement and the association of culpable parties with criminal indictments warrants a change in the leadership. If we keep the current leadership we will further embarrass the President of the United States and reinforce the GOP inclination that the Democrats are not worthy of the Public Trust!
I, Bettie Cook-Scott, pledge to deputize all Precinct Delegates, Volunteers and all other Stakeholders, both institutionally and individually with the charge to help the Democratic Party recapture the glory of 2008. The role of the Chairperson of this Congressional District is more than to field winnable candidates for election-it is also to help guide the legislators at both the national and local levels with palpable policies that effect progress and opportunity. As a community leader I understand the political milieu in which we find ourselves cast. The Chairperson must be able to work with both sides of the political aisles to help shape the likelihood of re-districting due to population loss in Detroit and a reversal of fortunes in Lansing, Michigan.  I have worked with the incoming Lt. Governor Brian Calley, who then as a fellow State Representative, introduced in 2009 HJR B that would change the Michigan Constitution to prohibit property taxes on a home from increasing when the value decreases!
My leadership on behalf of the People of this District is undeniable, and precedes my quest to replace the current Chairperson. Consider my efforts to bring about changes in the unfair Driver Responsibility fee that unduly punishes Detroiters it seems more per capita, than any other city in the State. Lastly, I ask all Stakeholders to help me demonstrate my vision for change by electing me, Bettie Cook-Scott as the new Chairperson of the Mighty Michigan 13th Congressional District in Janauary 2011. Let's make new headlines and headway in 2011! Let's make the President of the United States proud of Detroit's grass roots. Don't let the President down or me down. Let's show the U.S. of America that Detroit's political leadership, and G.M. have been re-engineered and reinvented.
            With Advance Gratitude,
              Hon. Bettie Cook-Scott
Right-sizing wrong policy for Detroit
By Glenn E. Morgan Jr.  (forwarded to VOD publisher by author)
For the last year, the political issue of "right-sizing" has been a hot and controversial topic up for debate in the City of Detroit.
Current Mayor Dave Bing and his administration have pushed the right-sizing issue on citizens like a basketball game full-court press play. In basketball, the coach (in this instance the Glenn E. Morgan, Jr.          Mayor) uses the full-court press strategy as a way to pressure the opposing team into make quick decisions. In this political game involving right-sizing, the opponent seems to be taxpaying citizens who are skeptical about good ole Davey Boy's plan to shrink our city.
Bing has stated to citizens who live in the city's more depressed neighborhoods that they might face very limited or no city services at all, which sounds like a soft threat. Bing's ultimatum is tantamount to a bunch of crack-dealing, baggy-jean wearing hoodlums putting a gun to your head, committing a home invasion while stealing your property for their own criminal usage.
This strong-arm practice is more common than city residents might think. Former Mayor "dirty" Dennis Archer and his administration used the power of eminent domain to right-size areas near the city's riverfront. In doing so, the process forced low income residents to relocate in order to build multi-million dollar gated communities.
If right-sizing is put into its appropriate "historical" context, it will be clear that such a practice is nothing new as a political issue or public policy. It has been practiced in the form of gerrymandering and urban renewal, or a combination of both throughout this nation's history and the world.
For example, lets take the widespread number of urban renewal projects that destroyed black communities across the country for the sake of corporate expansionism and development during the 1940s, 50s, and 60s. Thriving black communities like Paradise Valley and Black Bottom in Detroit were right-sized out of existence for economic, racist and political reasons.
Going further back in U.S. history, it is no secret that various Native Americans groups like the Cherokee and Iroquois had their land right-sized by European exploiters. These land-grabbing shysters tried to convince Native American leaders and peoples that giving up their land and relocating was economically and politically beneficial for them. History shows that such a policy and practice had disastrous consequences on Native American groups and still impacts them today.
    Another example of rightsizing gone wrong is the mass relocation plan of Nazi dictator Adolf Hitler during the 1930s and 40s. The infamous Aryan demagogue used a "right-sizesque" plan to disenfranchise and dislocate Germany's Jewish citizenry from their legally owned property then "herded" them into concentration camps. In essence, Hitler used right-sizing as a tool of eugenics and social engineering to target a specific group. The rightsizing plan proposed by Bing, his administration and corporate backers seems to do the same.
According to the Bing administration, low income residents living in the city's depressed areas will be given incentives to leave their property and then herded into "viable zones" (whatever that means) like cattle. This will certainly be done with our own tax dollars and could run into the millions.
The fact is that studies on the impact of right-sizing do not give concrete results on the effectiveness of such practice and policy. Many U.S. cities like Pittsburgh, PA; Charlotte, NC; Rochester, NY, and Buffalo, NY have put the right-size policy into practice with minimal to moderate success. These same cities still struggle with issues concerning debt, deficit, discrimination and disenfranchisement.  
Yes, the City of Detroit needs to be redeveloped, reinvented and reinvested in for the future, but not at the expense of its citizenry. Our great city has seen some dark days in the past and present. But, our city's history shows that when the citizens are heard and made whole the City of Detroit can stand the tests of time. Whether its "downsized".or "re-sizecd," the City of Detroit will continue to be a shining blue-collar kind of town that gave birth to the American Dream.
Glenn E. Morgan Jr. is doctoral student and the owner of LVN Communications and founder of the National Black Men's Education Association (N.B.M.E.A), a private organization that uplifts men and women of African descent. He is currently working on his memoir titled Confessions of a Native Detroiter: Why Bad Boy's in the "D" Don't Cry. You can contact him at glenn_morgan_71@hotmail.com , or Facebook.com/ glennjr1971
"There is No Plan!"  
The Structural Readjustment of Detroit  
By TOM STEPHENS
http://counterpunch.org/stephens09242010.html
"We inherited a hell hole." – Mayor Dave Bing    COUNTERPUNCH 
Between September 14 and 22, 2010, Detroit experienced five extraordinary, well-attended public meetings on the subject of land use and related public policy issues.
Mayor Dave Bing, Kresge Foundation-funded Team Leader Toni Griffin, Co-Team Leader (and Deputy Director of the Planning and Development Department) Marja Winters, Group Executive Karla Henderson and their legions of well-paid consultants hosted thousands of ordinary Detroiters at sites around the city. Their endlessly repeated mantra: "There is no plan."
Detroiters have decades of hard experience in corporate-driven back room deals and "crony capitalist" scams – in the face of growing poverty for the city's working class majority – from "Negro removal" in the sixties through the Poletown eminent domain neighborhood land grab in the eighties, to Kwame Kilpatrick's ongoing ethical bonfires. Mayor Bing's administration and the foundations funding "Detroit Works" are understandably concerned that we would reject any "plan" provided as a fait accompli to us by the NBA Hall of Fame businessman and his "business community" supporters. Therefore, the sponsors of the "Detroit Works" project bent over backwards to deny any and all such schemes.
But in their fear of real Detroiters, the organizers failed to offer any concrete ideas about community economic development and land, democracy and planning, environment, economy or justice – or indeed, any substantive ideas about much of anything. Therefore, these huge and – for Detroit – virtually unprecedented gatherings shed little light. Residents mostly registered well-justified complaints about poor city services and quality of life. A few activists were able to raise legitimate process concerns. Not much was accomplished, in spite of the enormous pent-up pain that brought so many people out. On the whole, it was a series of missed opportunities for demonstrating vision, leadership, courage and imagination.
The first event at Greater Grace Temple on the northwest side on Tuesday, September 14 was an utter fiasco, disintegrating in poor organization, loud recriminations and incoherent miscommunication. After the hour-long forum, facilitator Kirk Mayes told the Michigan Citizen newspaper that "The purpose of the forum was to pull people out of the complaining format and get them to creatively discuss problems."
Another thousand or so people showed up for the second meeting two days later at the Serbian Community Hall on the east side. While procedurally calmer, the promised "facilitated discussion" with Detroiters was not really either facilitated or a true discussion. People in the crowd were called on, and they made their points. Ms. Winters or Ms. Henderson then called on the next speaker, and so on. Again, the organizers' fear of the accusation that "the fix is in" paralyzed them from even articulating any provocative ideas to frame a coherent dialog, or engaging in any meaningful or authentic way with the many Detroiters who came hoping for effective leadership and real change.
The third meeting, on Saturday morning, September 18 (the only one not held in the evening), was a semi-historic occasion: For the first time Dave Bing – at least in terms of his demeanor, if not the content of what he said – sounded more like the mayor of a city than a motivational speaker rehashing his sports and business careers. He began by repeating the line he used, and the corporate media picked up, at the Serbian Community Hall two nights previously: When his administration entered office, "We inherited a hell hole." The continuing maintenance of absolute control over the proceedings, patronizing Detroiters and withholding any indication of administration thinking about key issues, again severely limited the usefulness of the event, although the Saturday morning crowd seemed to feature a higher mix of seasoned activists, community leaders and high-ranking city officials, who would have been especially well-prepared to kick off an effective community visioning process that will be essential to Detroit's future prosperity, if Detroit's leaders ever decide to commit to it.
The Detroit News perfectly captured the shortcomings of the proceedings in the first two sentences of its story about this meeting: "Residents talked Saturday about weeds outside their homes, long waits for police, rundown homes that need to be torn down, and the school board being controlled by the mayor. The only thing they didn't discuss at length was a plan to reshape the city, which was the point of the community forum at Whittier Manor."
The slightly smaller third meeting on Tuesday, September 21, at Western High School on the city's shamefully neglected, but dynamic southwest side, maintained the identical format and content-free presentation. "Detroit Works" confirmed finally and irrefutably that its highly-regarded authors tragically believe that real Detroiters have nothing of value to say, can offer no credible ideas, and are basically worthless except to complain about inadequate police, fire and sanitation services. Introduced as "The Visionary" by Marja Winters, Dave Bing admitted that "I had no idea what I was getting into when I ran for mayor." Confronted by a Detroiter in the audience about the absence of any authentic dialog, he stated that "With 7 or 800 people it's almost impossible to have dialog." By their own admission the meetings failed to achieve the stated purpose "to pull people out of the complaining format and get them to creatively discuss problems."
The final well-attended meeting at Detroit's magnificent African American History museum in the cultural center, completed the administration and their consultants' attempted public relations rehabilitation. For whatever reason (fatigue?), Toni Griffin changed the central verbal mantra. Instead of denying the existence of any plan at this time, she said "We're not gonna share a plan with you tonight, this month or next month." Like other speakers, Dave Bing praised the significant turnouts at these meetings. He said "A lot of people think nobody cares about this city." Perhaps a lot of the strange dynamics in evidence are explained by this fact: the mayor spends too much time with people who are uninformed about Detroit, including people who falsely believe nobody cares about the city.
What one would never know, from the Bing administration and consultants' tight scripting of these five public meetings, is that many diverse Detroiters coming from multiple perspectives not only care about our community, we have been working hard in recent years, not waiting for leadership, to come up with vision and practical suggestions for our deep crisis. To mention only a few examples:
With extensive local participation and sponsorship, the American Association of Architects engaged in a real, interdisciplinary community visioning process and issued a detailed 60-page "Strategic Design Assessment Team" (SDAT) report, including detailed analysis of such issues as an urban "eco-village" design and developing local small business sectors for job generation in food processing and distribution, that should have informed discussions at these meetings, although they have not and cannot yet be incorporated into any "final" or "master" plan.
The respected and experienced local community organizations in the "Community Development Advocates of Detroit" (CDAD) industry association, also with extensive local input and consultation among the affected communities, developed an extensive "strategic framework" of neighborhood indicators, classifications and suggested policy initiatives tailored to providing a vision and hope (not yet a "plan") for real change in every part of the city.
The "Detroit Food Policy Council" and the "Detroit Food Justice Task Force" have begun massive and historic efforts to create a food-secure Detroit and address structural racism in local food systems, in the context of the city's burgeoning urban agriculture movement – a policy framework that is particularly relevant to the core topics of land use and community economic development, although it was barely mentioned in this month's "Detroit Works" public meetings.
Detroit has adopted a "non-motorized transit" plan to encourage cycling, walkability, greenways and other adaptive land uses.
Far too many discussions and initiatives regarding "green" and sustainable development and "new urbanism" to list individually – from energy conservation and building design to adaptive reuse of the city's current vast open space and unused building stock (including on the government level the local land bank, a reform policy ostensibly designed to gain control of, assemble and re-purpose tax-reverted vacant properties).
Community-based economic development initiatives modeled on those already underway in other major cities, connecting the economic needs of the city's major institutions with the employment needs of its people by initiating local enterprises via sustainable small business plans, under unique structures of community ownership.
Most fundamentally, beginning a huge, long-term shift from the market-oriented thinking that dominated Detroit's decades of decline, to commons-based thinking in terms of the "triple bottom line:" social equity, shared economic prosperity and development, environmental health and true sustainability.
"What's goin' on?" – Marvin Gaye
"Intelligent manipulation of the organized habits and opinions of the masses is an important element in democratic society," and the manipulators "constitute an invisible government which is the true ruling power in our country." – Edward Bernays (Freud's American nephew), "Propaganda" (1928) (quoted recently in The New Statesman by John Pilger regarding the US "pull-out" from Iraq: "Flying the Flag, Faking the News")

"From a marketing point of view, you don't introduce new products in August." – Bush White House Chief of Staff Andrew Card in 2003, explaining why the propaganda buildup to the attack on Iraq was introduced in September 2002.
Conditions in Detroit in 2010 recently drew about 18-20,000 people here, only three months ago, for the second US Social Forum, under the slogans "Another world is possible, Another US is necessary, and Another Detroit is happening." Those grassroots activists, organizers and community leaders from around the country and internationally recognized that amazing, historic and world-changing things are happening today in Detroit. Detroit is a bellwether. In its post-industrial desolation, its racialized poverty, and its hidden but deep history as a movement city that changes the world (among many other things), the USSF saw a highly revealing reflection and a vision of our collective struggles and our future.
This is truly an incredible time and place to be alive. An old way of living in the world and organizing societies is dying, with peak oil, climate chaos and global economic collapse. A new way is being born. It is difficult, painful and even bloody. It is real. And Detroit is ahead of the curve.
Detroiters already have many years, even decades of experience making a way out of no way, in what some now call a complete "DIY" city. If it is indeed a hell hole for children and families in deep poverty, for victims of structural and environmental racism and shocking economic inequality, it is also a community of brilliant creativity, innovative genius and deep love and respect for diverse traditions. And it is by brutal necessity thoroughly grounded in the social, political and economic realities facing the world today; what one author (James Kunstler) has called "the long emergency" of our interrelated energy, economic and environmental crises, which many people have begun referring to as "the new normal."
The failure of the mayor, his troika of team leaders and their pricey consultants to "get" either the scope of the real crisis, the uniquely valuable perspectives of ordinary Detroiters on surviving it – or indeed their failure under these circumstances even to offer any significant ideas for discussion during massively attended public forums on Detroit's future, may be the best evidence and argument yet for turning the page on new forms of leadership, community, economic life and just about everything else. As Marvin Gaye's other immortal tune has it, "Let's Get it On."
Detroit has unparalleled assets for pursuing a strategy of asset-based development in the 21st century economy: great water resources, an incredible amount of open and relatively affordable urban land, and an enviable history and culture. There is virtually no equivalent example today of underutilized potential. This is a strong, dynamic community of survivors who want to do more than merely survive: we want Detroiters to thrive in the new century.
The key to progress is the process of getting from here to there: adopting and effectively implementing governance, leadership, communications, marketing and development strategies that successfully move Detroit from its current condition to where we want to be. Without bold leadership and broad participation, all the important, creative ideas we agree on as a basis for future progress, and all the tremendous social wealth of Detroit, will be wasted, as if Detroit were only the "hell hole" Dave Bing sees now that he says he realizes what he's gotten himself into. That is completely unacceptable.
I have no idea if there is already a semi-secret "plan" for the gentrification of Detroit and relocation of Detroiters or not. I do know that around the world today, from Athens to Detroit and all points beyond, there is a system and an ideology on steroids. It used to be called "structural adjustment," when US imperial tools like the IMF, WTO and World Bank inflicted it on the peoples of the developing world in the 1990s.
The essence of this top-down system is depressingly familiar: privatization of everything; a "race to the bottom" of economic conditions, social services and labor and other human rights of all kinds; deregulation of corporate capital concentrations, to let the wealthy do virtually anything they want in a Wall Street casino economy. Even broader than this, implementing a universal consciousness-changing campaign in the schools and the media, through the foundations and all remaining public discussion forums, undermining popular democracy, using divide-and-conquer tactics of racism and other prejudices, crippling the "left hand" protective roles of government (e.g., social security, public education, health care for all, etc.), and focusing policy and popular mobilization on the strengthened "right hand" of the state in the prisons, the military, the police and the other forces that order large numbers of people around, so a few at the top can make money, gain even more power and enjoy tax cuts. (Which sounds essentially like one of those meetings they held in Detroit this month… Hmm…) Enough of all that.
When the Bing administration local power nexus of officials, foundations and connected corporations says "There is no plan," they mean they haven't figured out yet how they are going to achieve dominance over our community and exercise effective agency in this brave new world of crisis and opportunity. They know painfully well that since they can barely put out house fires or respond timely to medical emergencies (to mention only two recent high-profile municipal scandals), they are far from being players who can swing the big deals and reap the big rewards of casino economy speculative investment, by delivering Detroit to Wall Street's regional and international speculators. Overcoming their insufficiencies as leaders in the structural adjustment of Detroit was the real agenda behind the first five "Detroit Works" public meetings. Their inability and failure to engage the community in meaningful discussion of the key issues prevented these meetings from accomplishing their ostensible purpose of kicking off a broad process to fundamentally transform Detroit. Only time, and Detroiters' responses, will demonstrate the real world outcomes of all this.
The first of these five public meetings demonstrated how out of touch the city's official leadership is, when they didn't realize that a call for public input toward radical change would draw a thousand people or so to Greater Grace Temple. They completely failed to understand the desperation and hunger for new vision and leadership in our communities. Moreover, the final cluelessness of Detroit's business leadership consists in not recognizing that this time the "business cycle" isn't going to ride to their rescue. This time it will be ordinary people, working at the grassroots and effectively challenging officials through democratic conversations, confrontations, and movement building power who – like our great-grandparents in the CIO during the Great Depression – will make the necessary changes in the face of massive transformations entailed by the crises all around us. Unless and until these officials join us in meaningful democratic conversations about genuine social change and justice, their "Detroit Works" project is doomed to failure.
Tom Stephens is a people's lawyer in Detroit. He can be reached at
jail4banksters@yahoo.com 
KILPATRICK INDICTMENTS                                                                 
By Eric Brown
Dec. 15, 2010
By the end of today, all the talk may be about the indictments handed down against former Mayor Kwame Kilpatrick, his dad Bernard and a host of associates; indicted and un-indicted co-conspirators. Then comes the question, "How did all this come to be?"
I am no fan of the former Mayor, but I will feel for him. Only because he had an opportunity to make a difference, but he instead chose to waste it by creating chaos and havoc. This opportunity wasted is nobody's fault but his own; but where were those people that should have slapped him upside the head when they knew what he was doing was wrong? Where are the people that should have spoken out to tell the guy that what he was doing would not pass most smell tests? Sadly, most could not muster up the words to say "NO" to him.
For all of his character flaws and sense of entitlement, there are so many that chose to enable him instead of standing up to him.
This sordid affair is not a black and white issue; so please spare me the "white man out to bring down another "brother" spill. This mess was simply about how power, greed, and ego can ruin even the best of those with good intentions; along with that, it shows how easily power could be abused.
I feel for the guy in some sense because he got into a situation that he was not ready for and let it get the best of him. There were just not enough people around him to have the guts to stand up to him and say, "hey, you need to pump the brakes and slow it down".
Then there are the people of Detroit, many of whom are victims of circumstance, but sadly, far too many worshipped the guy for the wrong reasons. They embraced the "Hip Hop" persona that was given to him and completely disregarded the character flaws that he had. Many chose to see him as a real "BROTHER" that they could relate to. Many swarmed around the courthouse as he made his many entrances and exits from the building as if he was that rock star that they made him out to be.
Then there are the people of the great City of Detroit that got caught up by the mess and became the true victims. Those that were good folk, but were seen as the same 'pea-in-a-pod' resident of Detroit because for many, the silence from the residents regarding the way he carried on oftentimes was deafening silence. The result was that people on the outside looking in painted everyone with the same broad stroke of the brush as being a part of the culture that enabled the behavior of the former mayor.
This will truly end up being a sad day and there are no winners here. So regardless of your feelings for Kwame Kilpatrick and his family, friends and associates; victims abound from a situation that obviously got too out of control and allowed folk to get drunk with power.
One other point of contention that needs pointing out is whether or not this guy had a true friend.  If so, that friend should have been the one to say to him; "bruh, you're taking this keeping it real thing a bit far".  Obviously, that real and true friend is nowhere to be found; even at this late hour as he sit on the cusp of being indicted for some very serious things.  Those involved with organized crimes are what RICO charges are usually reserved for.  So this indictment thing says a lot about what mindset this crew really had.
Tomgram
Alfred McCoy: Taking Down America
Posted by Alfred McCoy at 5:11pm, December 5, 2010.  
Trying to play down the significance of an ongoing Wikileaks dump of more than 250,000 State Department documents, Secretary of Defense Robert Gates recently offered the following bit of Washington wisdom: "The fact is, governments deal with the United States because it's in their interest, not because they like us, not because they trust us, and not because they believe we can keep secrets… [S]ome governments deal with us because they fear us, some because they respect us, most because they need us.  We are still essentially, as has been said before, the indispensable nation."
Now, wisdom like that certainly sounds sober; it's definitely what passes for hardheaded geopolitical realism in our nation's capital; and it's true, Gates is not the first top American official to call the U.S. "the indispensable nation"; nor do I doubt that he and many other inside-the-Beltway players are convinced of our global indispensability.  The problem is that the news has almost weekly been undermining his version of realism, making it look ever more phantasmagorical.  The ability of Wikileaks, a tiny organization of activists, to thumb its cyber-nose at the global superpower, repeatedly shining a blaze of illumination on the penumbra of secrecy under which its political and military elite like to conduct their affairs, hasn't helped one bit either.  If our indispensability is, as yet, hardly questioned in Washington, elsewhere on the planet it's another matter. 
The once shiny badge of the "global sheriff" has lost its gleam and, in Dodge City, ever fewer are paying the sort of attention that Washington believes is its due.  To my mind, the single most intelligent comment on the latest Wikileaks uproar comes from Simon Jenkins of the British Guardian who, on making his way through the various revelations (not to speak of the mounds of global gossip), summed matters up this way: "The money-wasting is staggering. [U.S.] Aid payments are never followed, never audited, never evaluated. The impression is of the world's superpower roaming helpless in a world in which nobody behaves as bidden. Iran, Russia, Pakistan, Afghanistan, Yemen, the United Nations, are all perpetually off script. Washington reacts like a wounded bear, its instincts imperial but its power projection unproductive."
Sometimes, to understand just where you are in the present, it helps to peer into the past — in this case, into what happened to previous "indispensable" imperial powers; sometimes, it's no less useful to peer into the future.  In his latest TomDispatch post, Alfred W. McCoy, author most recently of Policing America's Empire: The United States, the Philippines, and the Rise of the Surveillance State, does both.  Having convened a global working group of 140 historians to consider the fate of the U.S. as an imperial power, he offers us a glimpse of four possible American (near-)futures.  They add up to a monumental, even indispensable look at just how fast our indispensability is likely to unravel in the years to come.  Tom
The Decline and Fall of the American Empire
Four Scenarios for the End of the American Century by 2025
A soft landing for America 40 years from now?  Don't bet on it.  The demise of the United States as the global superpower could come far more quickly than anyone imagines.  If Washington is dreaming of 2040 or 2050 as the end of the American Century, a more realistic assessment of domestic and global trends suggests that in 2025, just 15 years from now, it could all be over except for the shouting.
Despite the aura of omnipotence most empires project, a look at their history should remind us that they are fragile organisms. So delicate is their ecology of power that, when things start to go truly bad, empires regularly unravel with unholy speed: just a year for Portugal, two years for the Soviet Union, eight years for France, 11 years for the Ottomans, 17 years for Great Britain, and, in all likelihood, 22 years for the United States, counting from the crucial year 2003.
Future historians are likely to identify the Bush administration's rash invasion of Iraq in that year as the start of America's downfall. However, instead of the bloodshed that marked the end of so many past empires, with cities burning and civilians slaughtered, this twenty-first century imperial collapse could come relatively quietly through the invisible tendrils of economic collapse or cyberwarfare.
But have no doubt: when Washington's global dominion finally ends, there will be painful daily reminders of what such a loss of power means for Americans in every walk of life. As a half-dozen European nations have discovered, imperial decline tends to have a remarkably demoralizing impact on a society, regularly bringing at least a generation of economic privation. As the economy cools, political temperatures rise, often sparking serious domestic unrest.
Available economic, educational, and military data indicate that, when it comes to U.S. global power, negative trends will aggregate rapidly by 2020 and are likely to reach a critical mass no later than 2030. The American Century, proclaimed so triumphantly at the start of World War II, will be tattered and fading by 2025, its eighth decade, and could be history by 2030.
Significantly, in 2008, the U.S. National Intelligence Council admitted for the first time that America's global power was indeed on a declining trajectory. In one of its periodic futuristic reports, Global Trends 2025, the Council cited "the transfer of global wealth and economic power now under way, roughly from West to East" and "without precedent in modern history," as the primary factor in the decline of the "United States' relative strength — even in the military realm." Like many in Washington, however, the Council's analysts anticipated a very long, very soft landing for American global preeminence, and harbored the hope that somehow the U.S. would long "retain unique military capabilities… to project military power globally" for decades to come.
No such luck.  Under current projections, the United States will find itself in second place behind China (already the world's second largest economy) in economic output around 2026, and behind India by 2050. Similarly, Chinese innovation is on a trajectory toward world leadership in applied science and military technology sometime between 2020 and 2030, just as America's current supply of brilliant scientists and engineers retires, without adequate replacement by an ill-educated younger generation.
By 2020, according to current plans, the Pentagon will throw a military Hail Mary pass for a dying empire.  It will launch a lethal triple canopy of advanced aerospace robotics that represents Washington's last best hope of retaining global power despite its waning economic influence. By that year, however, China's global network of communications satellites, backed by the world's most powerful supercomputers, will also be fully operational, providing Beijing with an independent platform for the weaponization of space and a powerful communications system for missile- or cyber-strikes into every quadrant of the globe.
Wrapped in imperial hubris, like Whitehall or Quai d'Orsay before it, the White House still seems to imagine that American decline will be gradual, gentle, and partial. In his State of the Union address last January, President Obama offered the reassurance that "I do not accept second place for the United States of America." A few days later, Vice President Biden ridiculed the very idea that "we are destined to fulfill [historian Paul] Kennedy's prophecy that we are going to be a great nation that has failed because we lost control of our economy and overextended." Similarly, writing in the November issue of the establishment journal Foreign Affairs, neo-liberal foreign policy guru Joseph Nye waved away talk of China's economic and military rise, dismissing "misleading metaphors of organic decline" and denying that any deterioration in U.S. global power was underway.
Ordinary Americans, watching their jobs head overseas, have a more realistic view than their cosseted leaders. An opinion poll in August 2010 found that 65% of Americans believed the country was now "in a state of decline."  Already, Australia and Turkey, traditional U.S. military allies, are using their American-manufactured weapons for joint air and naval maneuvers with China. Already, America's closest economic partners are backing away from Washington's opposition to China's rigged currency rates. As the president flew back from his Asian tour last month, a gloomy New York Times headline  summed the moment up this way: "Obama's Economic View Is Rejected on World Stage, China, Britain and Germany Challenge U.S., Trade Talks With Seoul Fail, Too."
Viewed historically, the question is not whether the United States will lose its unchallenged global power, but just how precipitous and wrenching the decline will be. In place of Washington's wishful thinking, let's use the National Intelligence Council's own futuristic methodology to suggest four realistic scenarios for how, whether with a bang or a whimper, U.S. global power could reach its end in the 2020s (along with four accompanying assessments of just where we are today).  The future scenarios include: economic decline, oil shock, military misadventure, and World War III.  While these are hardly the only possibilities when it comes to American decline or even collapse, they offer a window into an onrushing future.
Economic Decline: Present Situation
Today, three main threats exist to America's dominant position in the global economy: loss of economic clout thanks to a shrinking share of world trade, the decline of American technological innovation, and the end of the dollar's privileged status as the global reserve currency.
By 2008, the United States had already fallen to number three in global merchandise exports, with just 11% of them compared to 12% for China and 16% for the European Union.  There is no reason to believe that this trend will reverse itself.
Similarly, American leadership in technological innovation is on the wane. In 2008, the U.S. was still number two behind Japan in worldwide patent applications with 232,000, but China was closing fast at 195,000, thanks to a blistering 400% increase since 2000.  A harbinger of further decline: in 2009 the U.S. hit rock bottom in ranking among the 40 nations surveyed by the Information Technology & Innovation Foundation when it came to "change" in "global innovation-based competitiveness" during the previous decade.  Adding substance to these statistics, in October China's Defense Ministry unveiled the world's fastest supercomputer, the Tianhe-1A, so powerful, said one U.S. expert, that it "blows away the existing No. 1 machine" in America.
Add to this clear evidence that the U.S. education system, that source of future scientists and innovators, has been falling behind its competitors. After leading the world for decades in 25- to 34-year-olds with university degrees, the country sank to 12th place in 2010.  The World Economic Forum ranked the United States at a mediocre 52nd among 139 nations in the quality of its university math and science instruction in 2010. Nearly half of all graduate students in the sciences in the U.S. are now foreigners, most of whom will be heading home, not staying here as once would have happened.  By 2025, in other words, the United States is likely to face a critical shortage of talented scientists.
Such negative trends are encouraging increasingly sharp criticism of the dollar's role as the world's reserve currency. "Other countries are no longer willing to buy into the idea that the U.S. knows best on economic policy," observed Kenneth S. Rogoff, a former chief economist at the International Monetary Fund. In mid-2009, with the world's central banks holding an astronomical $4 trillion in U.S. Treasury notes, Russian president Dimitri Medvedev insisted that it was time to end "the artificially maintained unipolar system" based on "one formerly strong reserve currency."
Simultaneously, China's central bank governor suggested that the future might lie with a global reserve currency "disconnected from individual nations" (that is, the U.S. dollar). Take these as signposts of a world to come, and of a possible attempt, as economist Michael Hudson has argued, "to hasten the bankruptcy of the U.S. financial-military world order."
Economic Decline: Scenario 2020
After years of swelling deficits fed by incessant warfare in distant lands, in 2020, as long expected, the U.S. dollar finally loses its special status as the world's reserve currency.  Suddenly, the cost of imports soars. Unable to pay for swelling deficits by selling now-devalued Treasury notes abroad, Washington is finally forced to slash its bloated military budget.  Under pressure at home and abroad, Washington slowly pulls U.S. forces back from hundreds of overseas bases to a continental perimeter.  By now, however, it is far too late.
Faced with a fading superpower incapable of paying the bills, China, India, Iran, Russia, and other powers, great and regional, provocatively challenge U.S. dominion over the oceans, space, and cyberspace.  Meanwhile, amid soaring prices, ever-rising unemployment, and a continuing decline in real wages, domestic divisions widen into violent clashes and divisive debates, often over remarkably irrelevant issues. Riding a political tide of disillusionment and despair, a far-right patriot captures the presidency with thundering rhetoric, demanding respect for American authority and threatening military retaliation or economic reprisal. The world pays next to no attention as the American Century ends in silence.
Oil Shock: Present Situation
One casualty of America's waning economic power has been its lock on global oil supplies. Speeding by America's gas-guzzling economy in the passing lane, China became the world's number one energy consumer this summer, a position the U.S. had held for over a century.  Energy specialist Michael Klare has argued that this change means China will "set the pace in shaping our global future."
By 2025, Iran and Russia will control almost half of the world's natural gas supply, which will potentially give them enormous leverage over energy-starved Europe. Add petroleum reserves to the mix and, as the National Intelligence Council has warned, in just 15 years two countries, Russia and Iran, could "emerge as energy kingpins."
Despite remarkable ingenuity, the major oil powers are now draining the big basins of petroleum reserves that are amenable to easy, cheap extraction. The real lesson of the Deepwater Horizon oil disaster in the Gulf of Mexico was not BP's sloppy safety standards, but the simple fact everyone saw on "spillcam": one of the corporate energy giants had little choice but to search for what Klare calls "tough oil" miles beneath the surface of the ocean to keep its profits up.
Compounding the problem, the Chinese and Indians have suddenly become far heavier energy consumers. Even if fossil fuel supplies were to remain constant (which they won't), demand, and so costs, are almost certain to rise — and sharply at that.  Other developed nations are meeting this threat aggressively by plunging into experimental programs to develop alternative energy sources.  The United States has taken a different path, doing far too little to develop alternative sources while, in the last three decades, doubling its dependence on foreign oil imports.  Between 1973 and 2007, oil imports have risen from 36% of energy consumed in the U.S. to 66%.
Oil Shock: Scenario 2025
The United States remains so dependent upon foreign oil that a few adverse developments in the global energy market in 2025 spark an oil shock.  By comparison, it makes the 1973 oil shock (when prices quadrupled in just months) look like the proverbial molehill.  Angered at the dollar's plummeting value, OPEC oil ministers, meeting in Riyadh, demand future energy payments in a "basket" of Yen, Yuan, and Euros.  That only hikes the cost of U.S. oil imports further.  At the same moment, while signing a new series of long-term delivery contracts with China, the Saudis stabilize their own foreign exchange reserves by switching to the Yuan.  Meanwhile, China pours countless billions into building a massive trans-Asia pipeline and funding Iran's exploitation of the world largest natural gas field at South Pars in the Persian Gulf.
Concerned that the U.S. Navy might no longer be able to protect the oil tankers traveling from the Persian Gulf to fuel East Asia, a coalition of Tehran, Riyadh, and Abu Dhabi form an unexpected new Gulf alliance and affirm that China's new fleet of swift aircraft carriers will henceforth patrol the Persian Gulf from a base on the Gulf of Oman.  Under heavy economic pressure, London agrees to cancel the U.S. lease on its Indian Ocean island base of Diego Garcia, while Canberra, pressured by the Chinese, informs Washington that the Seventh Fleet is no longer welcome to use Fremantle as a homeport, effectively evicting the U.S. Navy from the Indian Ocean.
With just a few strokes of the pen and some terse announcements, the "Carter Doctrine," by which U.S. military power was to eternally protect the Persian Gulf, is laid to rest in 2025.  All the elements that long assured the United States limitless supplies of low-cost oil from that region — logistics, exchange rates, and naval power — evaporate. At this point, the U.S. can still cover only an insignificant 12% of its energy needs from its nascent alternative energy industry, and remains dependent on imported oil for half of its energy consumption.
The oil shock that follows hits the country like a hurricane, sending prices to startling heights, making travel a staggeringly expensive proposition, putting real wages (which had long been declining) into freefall, and rendering non-competitive whatever American exports remained. With thermostats dropping, gas prices climbing through the roof, and dollars flowing overseas in return for costly oil, the American economy is paralyzed. With long-fraying alliances at an end and fiscal pressures mounting, U.S. military forces finally begin a staged withdrawal from their overseas bases.
Within a few years, the U.S. is functionally bankrupt and the clock is ticking toward midnight on the American Century.
Military Misadventure: Present Situation
Counterintuitively, as their power wanes, empires often plunge into ill-advised military misadventures.  This phenomenon is known among historians of empire as "micro-militarism" and seems to involve psychologically compensatory efforts to salve the sting of retreat or defeat by occupying new territories, however briefly and catastrophically. These operations, irrational even from an imperial point of view, often yield hemorrhaging expenditures or humiliating defeats that only accelerate the loss of power.
Embattled empires through the ages suffer an arrogance that drives them to plunge ever deeper into military misadventures until defeat becomes debacle. In 413 BCE, a weakened Athens sent 200 ships to be slaughtered in Sicily. In 1921, a dying imperial Spain dispatched 20,000 soldiers to be massacred by Berber guerrillas in Morocco. In 1956, a fading British Empire destroyed its prestige by attacking Suez. And in 2001 and 2003, the U.S. occupied Afghanistan and invaded Iraq. With the hubris that marks empires over the millennia, Washington has increased its troops in Afghanistan to 100,000, expanded the war into Pakistan, and extended its commitment to 2014 and beyond, courting disasters large and small in this guerilla-infested, nuclear-armed graveyard of empires.
Military Misadventure: Scenario 2014
So irrational, so unpredictable is "micro-militarism" that seemingly fanciful scenarios are soon outdone by actual events. With the U.S. military stretched thin from Somalia to the Philippines and tensions rising in Israel, Iran, and Korea, possible combinations for a disastrous military crisis abroad are multifold.
It's mid-summer 2014 and a drawn-down U.S. garrison in embattled Kandahar in southern Afghanistan is suddenly, unexpectedly overrun by Taliban guerrillas, while U.S. aircraft are grounded by a blinding sandstorm. Heavy loses are taken and in retaliation, an embarrassed American war commander looses B-1 bombers and F-16 fighters to demolish whole neighborhoods of the city that are believed to be under Taliban control, while AC-130U "Spooky" gunships rake the rubble with devastating cannon fire.
Soon, mullahs are preaching jihad from mosques throughout the region, and Afghan Army units, long trained by American forces to turn the tide of the war, begin to desert en masse.  Taliban fighters then launch a series of remarkably sophisticated strikes aimed at U.S. garrisons across the country, sending American casualties soaring. In scenes reminiscent of Saigon in 1975, U.S. helicopters rescue American soldiers and civilians from rooftops in Kabul and Kandahar.
Meanwhile, angry at the endless, decades-long stalemate over Palestine, OPEC's leaders impose a new oil embargo on the U.S. to protest its backing of Israel as well as the killing of untold numbers of Muslim civilians in its ongoing wars across the Greater Middle East. With gas prices soaring and refineries running dry, Washington makes its move, sending in Special Operations forces to seize oil ports in the Persian Gulf.  This, in turn, sparks a rash of suicide attacks and the sabotage of pipelines and oil wells. As black clouds billow skyward and diplomats rise at the U.N. to bitterly denounce American actions, commentators worldwide reach back into history to brand this "America's Suez," a telling reference to the 1956 debacle that marked the end of the British Empire.
World War III: Present Situation
In the summer of 2010, military tensions between the U.S. and China began to rise in the western Pacific, once considered an American "lake."  Even a year earlier no one would have predicted such a development. As Washington played upon its alliance with London to appropriate much of Britain's global power after World War II, so China is now using the profits from its export trade with the U.S. to fund what is likely to become a military challenge to American dominion over the waterways of Asia and the Pacific.
With its growing resources, Beijing is claiming a vast maritime arc from Korea to Indonesia long dominated by the U.S. Navy. In August, after Washington expressed a "national interest" in the South China Sea and conducted naval exercises there to reinforce that claim, Beijing's official Global Times responded angrily, saying, "The U.S.-China wrestling match over the South China Sea issue has raised the stakes in deciding who the real future ruler of the planet will be."
Amid growing tensions, the Pentagon reported that Beijing now holds "the capability to attack… [U.S.] aircraft carriers in the western Pacific Ocean" and target "nuclear forces throughout… the continental United States." By developing "offensive nuclear, space, and cyber warfare capabilities," China seems determined to vie for dominance of what the Pentagon calls "the information spectrum in all dimensions of the modern battlespace." With ongoing development of the powerful Long March V booster rocket, as well as the launch of two satellites in January 2010 and another in July, for a total of five, Beijing signaled that the country was making rapid strides toward an "independent" network of 35 satellites for global positioning, communications, and reconnaissance capabilities by 2020.
To check China and extend its military position globally, Washington is intent on building a new digital network of air and space robotics, advanced cyberwarfare capabilities, and electronic surveillance.  Military planners expect this integrated system to envelop the Earth in a cyber-grid capable of blinding entire armies on the battlefield or taking out a single terrorist in field or favela. By 2020, if all goes according to plan, the Pentagon will launch a three-tiered shield of space drones — reaching from stratosphere to exosphere, armed with agile missiles, linked by a resilient modular satellite system, and operated through total telescopic surveillance.
Last April, the Pentagon made history.  It extended drone operations into the exosphere by quietly launching the X-37B unmanned space shuttle into a low orbit 255 miles above the planet.  The X-37B is the first in a new generation of unmanned vehicles that will mark the full weaponization of space, creating an arena for future warfare unlike anything that has gone before.
World War III: Scenario 2025
The technology of space and cyberwarfare is so new and untested that even the most outlandish scenarios may soon be superseded by a reality still hard to conceive. If we simply employ the sort of scenarios that the Air Force itself used in its 2009 Future Capabilities Game, however, we can gain "a better understanding of how air, space and cyberspace overlap in warfare," and so begin to imagine how the next world war might actually be fought.
It's 11:59 p.m. on Thanksgiving Thursday in 2025. While cyber-shoppers pound the portals of Best Buy for deep discounts on the latest home electronics from China, U.S. Air Force technicians at the Space Surveillance Telescope (SST) on Maui choke on their coffee as their panoramic screens suddenly blip to black. Thousands of miles away at the U.S. CyberCommand's operations center in Texas, cyberwarriors soon detect malicious binaries that, though fired anonymously, show the distinctive digital fingerprints of China's People's Liberation Army.
The first overt strike is one nobody predicted. Chinese "malware" seizes control of the robotics aboard an unmanned solar-powered U.S. "Vulture" drone as it flies at 70,000 feet over the Tsushima Strait between Korea and Japan.  It suddenly fires all the rocket pods beneath its enormous 400-foot wingspan, sending dozens of lethal missiles plunging harmlessly into the Yellow Sea, effectively disarming this formidable weapon.
Determined to fight fire with fire, the White House authorizes a retaliatory strike.  Confident that its F-6 "Fractionated, Free-Flying" satellite system is impenetrable, Air Force commanders in California transmit robotic codes to the flotilla of X-37B space drones orbiting 250 miles above the Earth, ordering them to launch their "Triple Terminator" missiles at China's 35 satellites. Zero response. In near panic, the Air Force launches its Falcon Hypersonic Cruise Vehicle into an arc 100 miles above the Pacific Ocean and then, just 20 minutes later, sends the computer codes to fire missiles at seven Chinese satellites in nearby orbits.  The launch codes are suddenly inoperative.
As the Chinese virus spreads uncontrollably through the F-6 satellite architecture, while those second-rate U.S. supercomputers fail to crack the malware's devilishly complex code, GPS signals crucial to the navigation of U.S. ships and aircraft worldwide are compromised. Carrier fleets begin steaming in circles in the mid-Pacific. Fighter squadrons are grounded. Reaper drones fly aimlessly toward the horizon, crashing when their fuel is exhausted. Suddenly, the United States loses what the U.S. Air Force has long called "the ultimate high ground": space. Within hours, the military power that had dominated the globe for nearly a century has been defeated in World War III without a single human casualty.
A New World Order?
Even if future events prove duller than these four scenarios suggest, every significant trend points toward a far more striking decline in American global power by 2025 than anything Washington now seems to be envisioning.
As allies worldwide begin to realign their policies to take cognizance of rising Asian powers, the cost of maintaining 800 or more overseas military bases will simply become unsustainable, finally forcing a staged withdrawal on a still-unwilling Washington. With both the U.S. and China in a race to weaponize space and cyberspace, tensions between the two powers are bound to rise, making military conflict by 2025 at least feasible, if hardly guaranteed.
Complicating matters even more, the economic, military, and technological trends outlined above will not operate in tidy isolation. As happened to European empires after World War II, such negative forces will undoubtedly prove synergistic.  They will combine in thoroughly unexpected ways, create crises for which Americans are remarkably unprepared, and threaten to spin the economy into a sudden downward spiral, consigning this country to a generation or more of economic misery.
As U.S. power recedes, the past offers a spectrum of possibilities for a future world order.  At one end of this spectrum, the rise of a new global superpower, however unlikely, cannot be ruled out. Yet both China and Russia evince self-referential cultures, recondite non-roman scripts, regional defense strategies, and underdeveloped legal systems, denying them key instruments for global dominion. At the moment then, no single superpower seems to be on the horizon likely to succeed the U.S.
In a dark, dystopian version of our global future, a coalition of transnational corporations, multilateral forces like NATO, and an international financial elite could conceivably forge a single, possibly unstable, supra-national nexus that would make it no longer meaningful to speak of national empires at all.  While denationalized corporations and multinational elites would assumedly rule such a world from secure urban enclaves, the multitudes would be relegated to urban and rural wastelands.
In Planet of Slums, Mike Davis offers at least a partial vision of such a world from the bottom up.  He argues that the billion people already packed into fetid favela-style slums worldwide (rising to two billion by 2030) will make "the 'feral, failed cities' of the Third World… the distinctive battlespace of the twenty-first century." As darkness settles over some future super-favela, "the empire can deploy Orwellian technologies of repression" as "hornet-like helicopter gun-ships stalk enigmatic enemies in the narrow streets of the slum districts… Every morning the slums reply with suicide bombers and eloquent explosions."
At a midpoint on the spectrum of possible futures, a new global oligopoly might emerge between 2020 and 2040, with rising powers China, Russia, India, and Brazil collaborating with receding powers like Britain, Germany, Japan, and the United States to enforce an ad hoc global dominion, akin to the loose alliance of European empires that ruled half of humanity circa 1900.
Another possibility: the rise of regional hegemons in a return to something reminiscent of the international system that operated before modern empires took shape. In this neo-Westphalian world order, with its endless vistas of micro-violence and unchecked exploitation, each hegemon would dominate its immediate region — Brasilia in South America, Washington in North America, Pretoria in southern Africa, and so on. Space, cyberspace, and the maritime deeps, removed from the control of the former planetary "policeman," the United States, might even become a new global commons, controlled through an expanded U.N. Security Council or some ad hoc body.
All of these scenarios extrapolate existing trends into the future on the assumption that Americans, blinded by the arrogance of decades of historically unparalleled power, cannot or will not take steps to manage the unchecked erosion of their global position.
If America's decline is in fact on a 22-year trajectory from 2003 to 2025, then we have already frittered away most of the first decade of that decline with wars that distracted us from long-term problems and, like water tossed onto desert sands, wasted trillions of desperately needed dollars.
If only 15 years remain, the odds of frittering them all away still remain high.  Congress and the president are now in gridlock; the American system is flooded with corporate money meant to jam up the works; and there is little suggestion that any issues of significance, including our wars, our bloated national security state, our starved education system, and our antiquated energy supplies, will be addressed with sufficient seriousness to assure the sort of soft landing that might maximize our country's role and prosperity in a changing world.
Europe's empires are gone and America's imperium is going.  It seems increasingly doubtful that the United States will have anything like Britain's success in shaping a succeeding world order that protects its interests, preserves its prosperity, and bears the imprint of its best values.
Alfred W. McCoy is professor of history at the University of Wisconsin-Madison.  A TomDispatch regular, he is the author, most recently, of Policing America's Empire: The United States, the Philippines, and the Rise of the Surveillance State (2009). He is also the convener of the "Empires in Transition" project, a global working group of 140 historians from universities on four continents. The results of their first meetings at Madison, Sydney, and Manila were published as Colonial Crucible: Empire in the Making of the Modern American State and the findings from their latest conference will appear next year as "Endless Empire: Europe's Eclipse, America's Ascent, and the Decline of U.S. Global Power."
Copyright 2010 Alfred W. McCoy
MASTERS, OVERSEERS AND SLAVES . . . .
By Dr. Publico
Welcome to the American Big Top.  The greatest carny show on earth.  Masters of the illusion that will convince you that up is down, and down is where you wanta be…      
 We are now being treated to the Obama-Rama Compromise Show.  Admittance?  Every dime you, your children, your grandchildren and theirs will ever have.  The Great Con-promise!        
 The first con is wealth.  It might look like a depression to you and me, but for the top 1/10th of 1%, the greatest transfer of wealth in the history of the planet has occurred in the past few years.  In fact, the wealth they've accummulated since Reagan lowered their top-marginal taxes, is greater than all the wealth that ever existed on the planet.
The greatest profits that corporations have ever earned are being "earned" right now.      
They accomplished this by eliminating labor costs, deregulating everything in sight, gutting and privatizing gov't services (and responsibility), mass criminalization for consensual acts, ongoing privatization of prisons as gov'ts become further impoverished, neo-slavery of prisoners in goods and services further eliminating free worker jobs and their unions, and exporting of manufacturing to impoverished nations for cheap labor–as well as being able to keep it (thru tax relief).      
Working and middle class folks—the vast, vast majority of us—plow our earnings back into the economy.  We live on the wages we earn.  We drive the economy.  The ultra rich don't.  Basically, they're parasites.  Beyond a certain amount, the rest is invested to earn more money.  They do not create jobs.  Only when their money is in the working economy thru taxes does it play a role in driving it.     
We can see this historically.  There is a direct correlation between tax cuts and economic bubbles, which always precede economic crashes.  They are not a normal "correction of the marketplace."      
In the 1920s, the Republican Party (mostly captured by the Robber Barons back in the 1870s) massively cut tax rates for the marginal top-end.   This fueled a wild bubble—the Roaring '20s—and  led directly to the Crash of '29 and the First Great Depression.       
After FDR's raising back their taxes while instituting job and social insurance programs (and WW-II), we sustained economic growth, jobs, and wages all the way up to the '80s.  Free enterprise works; capital monopoly destroys free enterprise.     
In 1980, estos gusanos were able to install another of their puppets to political power, Ronny Reagan.  Reagan was a perfect tool.  He was a second-rate actor who had became an informer for the FBI and Senator Joe McCarthy (code name: T-10), and a long-term spokesman of anti-union speeches for General Electric.  He was groomed and led thru a series of political steps (including governor of California).       
Reagan lowered their taxes, another bubble ensued, and another crash—the greatest since the first Depression, the collapse of the entire nation's savings and loan banking system.     
Bush Sr. raised their taxes with Clinton also doing so to bring the economy back into some semblance of budgetary line. But with Bush-lite, the ruling elite found a perfectly malleable puppet—again.  They scored another jackpot.     
Bush gave the rich a tax cut that rivaled that given to them back in the '20s.  There was the ensuing bubble, and the next Great Depression has hit the nation.  We're still living thru it.        
One of the definitions of stupidity is to keep making the same mistake.  Mr. President, the hard thing to do would be to let the tax cuts expire!  
Apparently, these characters never read the fable of the Goose that Laid the Golden Egg…    
From the Ramparts
By Junius Stanton
"Incoming South Korean Defense Minister Kim Kwan-jin is if anything even more determined to fan the flames of conflict into a wider conflagration. The South Korean military will immediately launch 'psychological warfare', including, presumably, loudspeaker broadcasts across the border. The North has promised to target loudspeakers if they are put in operation, and that would in turn provide the pretext for the South Korean military to launch combat operations. If there is another exchange of fire with the North, Kim announced, 'We will definitely air raid North Korea.' All combat forces available would be mobilized, he promised. The newly minted rules of engagement are also going to permit 'preemptive' strikes on North Korea based on the presumption of a possible attack. In other words, if North Korea fails to provide a pretext for military action, the Lee Administration can attack the North without provocation, if it chooses to do so."  Spiraling Out of Control the Risk of a New Korean War  Gregory Elich http://www.globalresearch.ca/index.php?context=va&aid=22252
The exchange of shells on a deputed island off the coast of  North Korea on November 23, 2010 has increased tensions on the Korean peninsula and could very well be the spark that ignites a regional or global conflagration the world certainly doesn't need at this point in time. It appears the hard right government in South Korea wants to flex its muscles and gain favor in the eyes of like minded psychopaths in Washington D.C. by starting a fight which if it expands could draw the US and China into an adversarial conflict that has potential nuclear implications. Under normal conditions the US and China would intercede to cool things off between Seoul and Pyongyang and exert their influence over their client states.
However these are not normal times. The US is in deep financial doo doo and a war could very well be the only means/strategy to get out of paying the gargantuan debt it owes China. The US recently asked China to devalue its currency so the US trade deficit wouldn't skyrocket as the Fed pumped more dollars into the system. China refused. The US also failed to gain support for its monetary policy at the recent G-20 with even the Europeans taking Obama to task for the Fed's irresponsibility.
China and Russia just agreed to drop the US dollar in transactions between their two nations and substitute their own currencies instead. Remember the US invaded Iraq because Saddam Hussein switched from the dollar to the Euro to trade his oil. OPEC saw what he did and was threatening to do the same. Doing so would have meant the end of the US dollar as the world's reserve currency, so the US launched the shock and awe bombardment of Baghdad to teach the world a lesson.
Now in late 2010 we are witnessing global currency and trade wars. The world no longer wants to use the US dollar as its universal trading currency because it sees the US imploding economically. If you remember the plot in the last Star Wars  trilogy that showed how Anakin Skywalker became Darth Vader, depicted what happened to the Jedi Knights and why the rebellion started; it was trade wars that triggered the Emperor's attack on the counsel.
     
This is what is happening now. The US is the evil empire and it is using its quisling state of South Korea to provoke a confrontation with North Korea knowing full well China will be forced to back its ally if/once the shooting starts or lose face in the region. Last year the US pressured China and Russia into going along with sanctions against Iran even though Iran is one of their top trading partners and poses no threat to the US. If the US or Israel attacks Iran, China will be forced to decide what if anything it will do given its massive energy needs and its' existing trading partnership with Iran?
   
Wars and rumors of war, in every scenario there is a triangulation with China and the US. They are two legs of the trade/currency/ hot war triangle whether it is on the Korean Peninsula or the Persian Gulf. Would it surprise you that the US has been simulating economic war games against China? http://dyn.politico.com/printstory.cfm?uuid=88593103-18FE-70B2-A835D1F6D5DC8F3A  The US is also deliberately doing things to provoke China like selling arms to Taiwan and backing South Korea's military games in China's backyard. How would the US react if China and Cuba conducted war games off the coast of Florida?.
   
China is poised to become the world's top economic power in the not too distant future. The US is not happy about its declining status in the world but there is nothing they can do about it on a competitive economic tip!! The US is the world's greatest debtor nation. It owes China billions in loans and there is no way given our present economic situation we can ever pay it back. One way for Uncle Sam to resolve both of these issues is to start a war with China. 
   
As crazy as this sounds the warmongers and psychopaths in Washington, London and Tel Aviv could care less about the massive loss of life and ecological devastation a regional/global war, even one with nuclear implications, poses. In fact one of the international banking oligopoly's main  platforms is global depopulation (see National Security Study Memorandum NSSM 2000 Implications of Worldwide Population Growth also called the Kissinger Report to verify this) so it dovetails together .
   
Is the US merely posturing, is Obama playing chicken hoping China will blink and devalue their currency or is he really trying to trigger a war?  Even if China backs down on the Korean issue what about the Persian Gulf  flash point and China's interests there?
     
Israel is relentless in its pursuit of war against Iran with a subsequent eye towards Syria and Lebanon. But when Lebanon trounced Israel three years ago they punctured the myth of Israeli military superiority. A war with Iran will be disastrous for Israel and its allies, because it is a war Israel can not win by itself. Will the tail wag the dog? Will the US cave in and attack Iran on behalf of Israel? Trade wars, currency wars and cyber wars are going on now as we speak. Can shooting wars be far behind? Wars and rumors of wars, we all should be working and living for peace in 2011.
To listen to an audio podcast of this commentary go to http://fromtheramparts.blogspot.com/    
Detroit Is A Mess!
By Brother Charles E. Campbell
Nov. 18, 2010
(Ed. Note: this commentary was sent in response to David Rambeau's article on Kym Worthy's proposal to jail parents who do not attend parent-teacher conferences.) 
I need not state the obvious. It [Detroit] lacks leadership with the integrity and courage at every level to solve the people's problems. I never complain about an issue without offering a solution. Starting Now!
1. The People Of Detroit should (Clean House) by selecting new leaders from their city who do not belong to either political party for every county and city office. If someone has been elected and does not have a solution based plan, then they need to go. You will find them about to graduate from college, law school and with just a high school diploma. The key characteristics and qualities they [new leaders] must have is courage to resist the legal corruption that exists in Detroit.
2. Totally scrap your current education system and start with a new plan that values all children and focuses on their dreams. Your children were born uniquely with gifts and talents that your education system should nurture and develop. Implement a curriculum that includes human development skills like cooperation, collaboration, anger management, healthy relationships, decision making, respect and problem solving. Everything taught should have a product of service focus. That means that when children grow up, they will be involved in work for and providing a product or service in their community, city, county, state, country or the world. Create an economic development incubator component that allows student who are gifted inventors, innovators and entrepreneurs to develop 21st century products and services that must be manufactured in Detroit.
3. Demand that every taxpayer dollar spent by the city goes to businesses that get their products and raw materials from first the city of Detroit, secondly from Wayne County, then thirdly from the State of Michigan, prior to going outside. This should apply only to goods and services purchased by the City of Detroit, but you should also require that Wayne County have a similar process.
4. Establish a mandatory two-week Entrepreneurial training program for any business competing for or doing business with the City of Detroit or Wayne County to teach business people and those seeking to do business with the City and county the responsibility they have to pay taxes, operate ethically and legally. Provide a free required certification that can be revoked, if the business or its employees or owners do not meet the highest standards for business operations. Business can no longer be about greed. Place a 25% limit on the profits they can earn from city contracts and limit the number of contracts to no more than three.
5. Open and operate five Empowerment Centers strategically located to cover the entire city of Detroit and Wayne County. Provide free bus transportation to and from and two free meals per day to individuals and families who show up. Create a database of skills, training, knowledge, work experience, education, DREAMS and aspirations. Connect this labor force with the economic development incubator.
6. Ask all citizens employed and unemployed in Detroit and Wayne County to voluntarily tax themselves $5.00 per week or $20.00 per month. All businesses receiving contracts from Detroit and Wayne County should be require to voluntarily donate $200.00 per month. They should contribute through payroll deduction, from their bank accounts, add it to their utility bill or cell phone bill. These funds will be used to fund this new Detroit -Wayne County Empowerment Plan.
7. Create Jobs: Design Solar Battery Systems in partnership with homeowners and businesses that cost no more than $6,000. Open a closed automobile factory and employ 5,000 people and establish a four-week installation training program for those who want to become independent installers. Require the banks that the City and County do business with to make available 3% interest loans for the cost of installation to every business or homeowner with payments deferred for 12 months. These systems should eliminate an average homeowner's electric bill and the savings can be used to pay the loan,  plus the money earned from selling power back to power company should be used to pay off the homeowner's loan and expand the training and manufacturing factory.
8. All foreclosed and abandoned homes should be purchased by the City and County using a financing strategy like a surety bond. These homes should be made available to families and as a condition, families should complete a six month counseling and training program to cover all the major issues that destroy families.
9. Take care of your seniors and elderly. Offer a 100% guarantee that no senior older than 60 will be homeless, hungry, with medical care, medication, transportation, adequate housing or be abused by anyone. Seniors who receive social security, regardless of the amount should have at least five facilities that value them and provide for them when their families are unable or unwilling to do so. These facilities should create a minimum of 5,000 jobs.
10. Require that professional sports teams, nonprofit religious centers and casinos offer their fans, membership and visitors the opportunity to donate $1.00 to help Detroit and Wayne County Recover at each event, services or visit. Provide professional athletes, high rollers, entertainers and religious leaders the opportunity to donate $1,000 every time they come to Detroit.
11. Install video cameras citywide to reduce crime, violence and property destruction. The city should train and city residents and employ them to install the system. Use a public access channel to broadcast live revolving images from all areas of the city.
12. Restore the rights of ex-felons who served their punishment and paid their debt to society. They should not be excluded from voting and employment. (Ed. note: ex-felons in Michigan have the right to vote, but not to serve on juries. They are indeed excluded from many jobs.) 
Self Empowerment is about leadership that has the courage to produce results. Judge your new leadership by this standard and demand accountability. Beware of those who pretend to lead but have no new solutions.
Again you must clean up yo own Dam House! Ain't No White, Black, Jewish, Asian or Arab Messiah or Savior coming to Detroit to Save yo community. Never lose your faith, but without getting up off your knees and taking positive steps toward your own self empowerment, you will continue to suffer and die.
With Love and Respect,
Brother Charles E. Campbell
http://www.ahecgreen.com
http://wbsinccd.tripod.com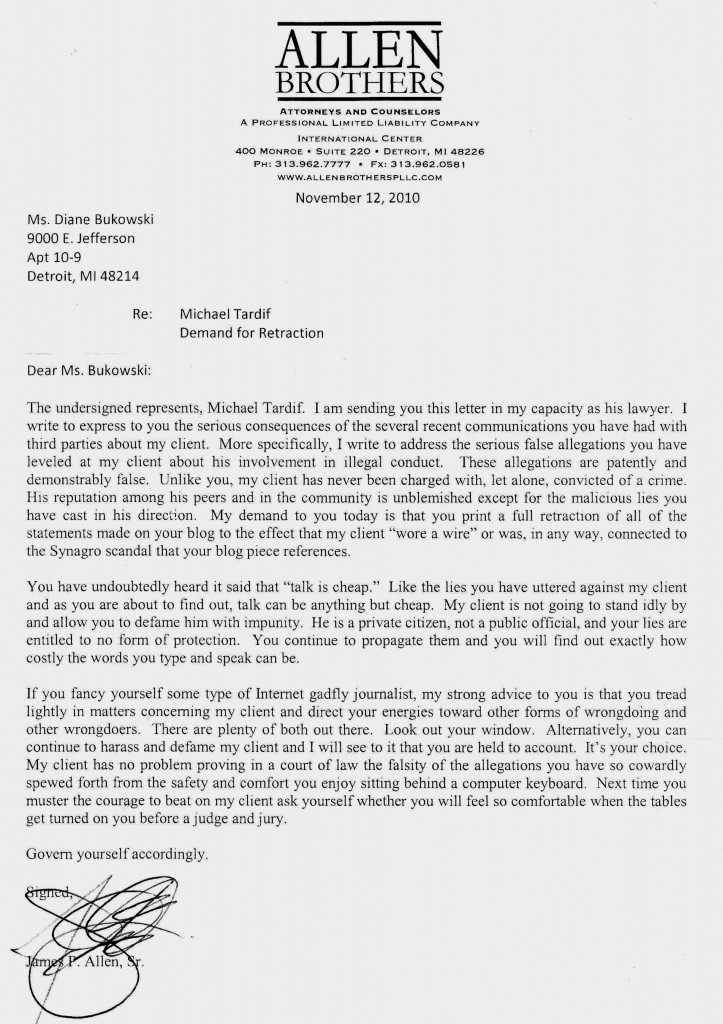 Ed. Note: the letter above, which refers t0 a non-existent article never published on this "blog," was received at the Voice of Detroit publisher's home address on Nov. 17, 2010. It apparently was a response to a "media inquiry" emailed to Michigan Citizen publisher Catherine Kelly, who earlier identified Michael Tardif as her husband on her Facebook website (reference has now been removed). The email requested to know whether that Michael Tardif was the same Michael Tardif referenced in several daily media articles, three of which appear at  http://detnews.com/article/20090127/METRO01/901270371/City-Hall-corruption-probe-s-key-figures 
http://www.freep.com/apps/pbcs.dll/article?AID=/20080704/NEWS01/807040381&template=fullarticle
http://www.freep.com/article/20090127/NEWS01/301270003/Kilpatricks-Conyers-among-8-named-in-FBI-bribery-probe
No response was received either from Ms. Kelly, the editor or the managing editor of The Michigan Citizen, and no story has been published. 
Regarding the letter's reference to Bukowski being convicted, please go to her legal defense website at http://freedianebukowski.org for further information. 
Also reference numerous articles on Carlyle-Synagro  by Diane Bukowski published on the front page of The Michigan Citizen during the ten years she worked there as a lead investigative reporter, including http://michigancitizen.com/carlyle-and-synagro-escape-charges-p8829-1.htm, http://michigancitizen.com/crooks-testify-p8292-1.htm, http://michigancitizen.com/american-riddle-p8218-1.htm. http://michigancitizen.com/people-must-vote-on-synagro-p6379-1.htm and http://michigancitizen.com/fbi-targets-detroit-ignores-bribe-source-p6254-1.htm. These are only a few of dozens of articles Bukowski wrote targeting Carlyle-Synagro. The first article she wrote for the Michigan Citizen in 1999 exposed the predecessor to the Synagro deal, the Minergy contract. Her record speaks for itself. 
 IS PENSION BOARD TRAVEL A  REAL ISSUE?
By Ron Gracia, city retiree and longtime member and chair of the Detroit General Retirement System 
I find it extremely troubling that folks again want to attempt making an issue of Pension Board Officials travelling. Let's see, the Mayor is in Italy on official business AND the Trustees are attending a "staple" of the educational series called the Annual Conference of the Employee Benefit Plans of North America. 
Over 6,000 delegates attend this function every year and I suppose comments are
an attempt to indict the other 5,900 or so for attending same. This is pathetic. The media at large, which includes Fox- , the Free Press and other news types , for some reason are always trying to tell trustees how to do their jobs and that is wrong , not to mention illegal interference. 
Trustees have an affirmative duty to continue their learning by law and many who have neither the knowledge nor the understanding of what this job and this industry entails need to desist. There is nothing wrong or sinister here. If I could get those of the media to expand their mental state beyond the "eight-mile" road trap they appear to be in they might grasp the fact we are and have been in a global economoy for some time now; and things which happen overnight on those markets which in actuality control ours while we are asleep bear learning and keeping up with. 
The fact the media wants to make an issue of locale is infantile, juvenile, and childish and I would suspect that if the Mayor were in Hawaii and the Trustees were in Italy it would find a way to besmirch the trustees while giving the mayor a pass. How disingenuous.  GROW UP. 
BLACK AMERICANS SHOULD LEVERAGE OBAMA 
By Greg Thrasher   
I am past the emotion and celebration of the end of white privilege and white supremacy in the White House. I contributed to the breaking of the color line and I expect to leverage and take advantage of my efforts and my work over decades in seeking to make our country live up to its ideals.   
Yet I have encountered a number of people with the opinion that black people should not seek to press our new president based upon his hue and cultural footprints.  
Now, from my vantage point such a posture and position is foolish, silly and counterproductive on many levels. It makes no sense not to capitalize on a product I helped polish for mass consumption. Black America poured cultural capital into Prez Obama because part of his being is the creation of black America. We were not only his cultural mentors but his landscape and soil.   
Black Americans were his practice dummies on the field of America's racial games.  
Those who clamor to the obsolete mantra of a color blind America are living in an obsolete world and there is nothing progressive about ignoring the obvious and raw truth of reality and the fact of race in our society. From my platform, to be truly progressive is to acknowledge the existence of one's race and then not be a bigot.   
Obama is a person of color. He is a nonwhite president and as such he has a relationship with nonwhites, whether he likes it or not. I have no respect for those who seek to dismiss and deflect and ignore the obvious about race and its role in our nation and now in the White House. I have no reservations nor will I have any regrets when people accuse me of playing the 'race card" with Obama.   
Black Americans who have endured centuries of race-based contempt and now expect us to ignore it, when we have suffered and died for this moment, are an insult and an affront to universal truth. It is a human condition to seek a bond and relationship with others who share your experience. I offer no apology nor will I moderate or remain passive in seeking to leverage Obama in the White House.   
Black Americans should ignore and dismiss those who claim we are seeking revenge, payback, reparations and special treatment as we seek to leverage our Black agenda in an Obama-era White House. I offer no apology at all in my quest to leverage Obama in the White House; it is what Americans have done for 43 administrations prior to an Obama White House.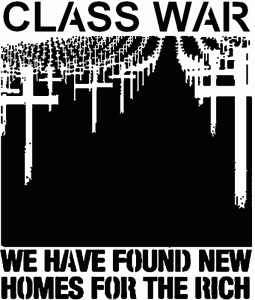 Class War Spurs Violent Clashes in Europe –
Why Are Americans Just Letting the Super Rich Win
COUNTERPUNCH – NOV. 2, 2010      
It is time for Americans to reclaim the concept of class war, to actively combat the great squeeze ruining the lives of untold millions of Americans.    
The great unspoken two words of American political discourse are class war. The moral and political premise of the modern, post-World War II "American Century" is that the U.S. had overcome class divisions and struggle. Everyone, or nearly everyone save the very poor and the very, very rich, was absorbed into a vast, undifferentiated middle class. [See "The End of the American Century?: Suffering the New Normal," CounterPunch, September 10-11, 2010.]    
The fiction that America is a nation without class, a lie since its inception a half-century ago, gets more and more untenable as actual class struggle daily intensifies. It's time to accept the simple yet profound fact that America is in the midst of class war – and the super-rich, the American sector of the global oligarchy, is winning.    
Class struggle is being explicitly fought out in France and Britain. In France, it is expressed as mass and often-violent resistance, with blood on the streets. In the U.K., it's being imposed as a ruling class demand for austerity through huge public-sector layoffs, cuts in public services and little overt resistance. In Germany and the U.S., the mediating lubricants of legal niceties and political parties continue to contain and blunt direct class conflict.    
The far right throughout the West is the only political tendency engaged in explicit class warfare. Progressive tendencies have been effectively absorbed within the legislative agenda. However, among the far right, politics is seen not merely as an end in itself (i.e., the capture of state power), but as a means to a greater end: the utilization of state power to impose legislative, economic and moral discipline on the body politic.    
The Tea Party is a popular movement engaged in (mostly) nonviolent class warfare. It is the voice of the "Christian"  white lower- and middle-classes. Their world is in crisis, collapsing around them. Their once-enviable race-based social privileges no longer provide protection against the vicissitudes of corporate capitalism. In response, they have retreated into the secure fortress of rage and aligned with the ideological and moral absolutism promoted by factions of the super-rich, the very sector responsible for their misery.    
Class struggle has long been a feature of American political culture. Such battles marked the earliest period of national formation, including the New York Tenant Uprisings of 1766, Shay's Rebellion of 1786 and the Whisky Rebellion in the 1790s. They flared throughout the 19th century, including the Workingmen's Movement of the 1830s and Nat Turner's Revolt in 1831 as well as the post-Civil War populist battles at Haymarket and Homestead in the late 1800s and Coxey's Army of unemployed workers in 1894. They continued throughout the first-third of the 20th century culminating in the veterans' Bonus March, farmer's Penny Auctions and CIO strikes of the 1930s.   
Go to:  http://www.youtube.com/watch?v=OO18F4aKGzQ&feature=player_embedded to watch "Uncle Sam Goddamn" by Brother Ali.   
Class and class war were forcefully suppressed during World War II and effectively disappeared with the integration of union labor and Taft-Hartley legislation following the war. The domestic program of prosperity and anti-communist McCarthyism combined with a foreign campaign of Cold War military intervention and Marshall Plan economic renewal served as a two-pronged bulwark for a revitalized capitalist order.  
This new world order's ideological value system that absorbed class war was articulated by a group of "post-Marxist" liberal intellectuals that included Daniel Bell, Sidney Hook, James Burnham and Irving Kristol. Backed by the CIA's Congress for Cultural Freedom, they provided the rationale for the American Century. As Bell wrote: "Abundance … was the American surrogate for socialism."   
ERNEST C. WITHERS, FBI INFORMANT; THE SNITCH PHENONEMON
By Dr. Publico   from The American Tribune   
I guess I shouldn't be surprised when I read in a recent issue of the Memphis
Commercial Appeal
that one of the most iconic of movement photographers,
Ernest C. Withers
, was apparently a closely-supervised, paid informant for the FBI: #ME-338-R.  (The R is for Race.)
The news media has so far gathered FOIA files of his informant status for the years 1968 thru 1970.  While thousands of pages have been revealed, the FBI refuses to release other documents.   
 As far as the civil rights and black movement was concerned, Withers and his camera were everywhere.  Dying back in 2007 at 85, he had covered everything from the old Negro League baseball and the Memphis Blues scene, to the Emmett Till case (1955), Little Rock high school integration (1957), Ole Miss and James Meredith in '62, up thru the last hours of Dr. Martin Luther King Jr. in '68.  Withers learned his craft in the Army during World War II.   
But even as he was following King around, snapping photos on that final day in Memphis, Withers was finding time to meet with his FBI handlers, reporting King's discussions with black militants and others.   
Andrew Young, former King aide, mayor of Atlanta, and Ambassador to the United Nations, commented in the article that he was not bothered by the fact that Withers was an FBI informant.  Young added disingenuously that the movement was transparent and had nothing to hide.   
This shows a remarkable lack of political and social consciousness on Young's behalf.  It wasn't the truth that made the FBI so treacherous, quite the opposite:  What they did with the truth…    
The story of COINTELPRO is well documented.  Boss Hoover's megalomania, and decades of sexual hypocrisy and blackmail are well known.  I need not take up such space here.   
Having myself spent more than 22 years in the American prison systems, I've certainly met my share of snitches and other actors of perverse character.  When I served time on a chain-gang in the South in the mid-'60s, snitching was virtually unheard of.   
I would not have done the bulk of this time at all were it not for these Knights o' the Post:  False witnesses who themselves were caught in illicit behaviors.  I've heard judges refer to them as "remorseful"; remorseful that they were caught, I can assure you.  Facing a sentence of natural life (which they tried to put on me), they "cooperated" in the testimony of others for their own "get out of jail free card" as it suited the police and prosecutors.     
 I can understand the court accepting their testimony (absent any evidence, of course), it's a psychological projection of their own lack of character (it's what they would do in the same circumstance).   
 You'll have to forgive me if I'm not quite as sanguine about Withers' betrayals as some others.  For many, it's perceived as a direct betrayal of the family.   
Given the need for collective social consciousness in the face of ever-increasing criminalization and corruption of our communities by the impact of unconscionable profiteering, we need to redraw some lessons and priorities in this respect.                                        
Socialist Equality Party
As mass protests, factory occupations and calls for an indefinite general strike spread against the dictatorship of President Hosni Mubarak, the working class is emerging as the driving force of the Egyptian revolution. While news is limited, it is clear that strikes and protests are sweeping cities and towns throughout this country of 80 million people.
The demonstration of the working class's immense social power has shaken the ruling class and its spokesmen in the mainstream media. As the New York Times decried that the protests are becoming "open class warfare," CNN explained the collapse in stocks of US oil companies with investments in Egypt by fears that "a new government could expropriate their land concessions."
The financial aristocracy, however, fears far more than the loss of an oil field–or even of a sea-lane like Egypt's Suez Canal, which is critical to world commerce. More fundamental political issues are at stake.
The Egyptian revolution is dealing a devastating blow to the pro-capitalist triumphalism that followed the Soviet bureaucracy's liquidation of the USSR in 1991. The class struggle, socialism and Marxism were declared irrelevant in the modern world. "History"–as in "The history of all hitherto existing society is the history of class struggles" (Karl Marx and Friedrich Engels)–had ended. Henceforth, the only revolutions conceivable to the media were those that were "color-coded" in advance, politically scripted by the US State Department, and then implemented by the affluent pro-capitalist sections of society.
This complacent and reactionary scenario has been exploded in Tunisia and Egypt. History has returned with a vengeance. What is presently unfolding in Cairo and throughout Egypt is revolution, the real thing. "The most indubitable feature of a revolution is the direct interference of the masses in historic events," wrote Leon Trotsky, the foremost specialist on the subject. This definition of revolution applies completely to what is now happening in Egypt.
This revolution is only in its early stages. The class forces unleashed by the explosion are only beginning to define themselves in terms of distinct demands. Programs have hardly been formulated. Emerging from decades of repression, the working class has not yet formulated its own program. In these opening moments of the unfolding struggle, it could not be otherwise. Again, to quote Trotsky, "The masses go into a revolution not with a prepared plan of social reconstruction, but with a sharp feeling that they cannot endure the old regime… The fundamental political process of the revolution thus consists in the gradual comprehension by a class of the problems arising from the social crisis–the active orientation of the masses by a method of successive approximations."
As always in the opening stages of a revolutionary convulsion, the slogans that predominate are of a generall y democratic character. The ruling elites, fearing the approach of the abyss, seek desperately to maintain what they can of the old order. Promises of "reform" slip easily from their lips. The upper layers of society desire change only to the extent that it does not threaten their wealth and social status. They ardently call for the "unity" of all democratic forces–under the political control, of course, of the representatives of the capitalist class. The personification of this "unity"–at least for the moment–is Mohamed ElBaradei.
However, the sort of democratic unity proposed by ElBaradei will offer nothing of substance to the working class, the rural poor and broad sections of the youth who have come out into the streets. The vital needs of the broad masses of Egyptian society cannot be realized without the most far-reaching overturn of existing property relations and the transfer of political power to the working class.
The New York Times, in one of its rare instances of political lucidity, called attention to the underlying social conflict in Egypt: "The widening chasm between rich and poor in Cairo has been one of the conspicuous aspects of city life over the last decade–and especially the last five years… But as the Mubarak administration has taken steps toward privatizing more government businesses, kicking off an economic boom for some, rich Egyptians have fled the city. They have flocked to gated communities full of big American-style homes around country clubs, and the remoteness of their lives from those of average Egyptians has become starkly visible."
But is this state of affairs a purely Egyptian phenomenon? The New York Times' description of the social chasm in Cairo could apply just as well to virtually every major city in the capitalist world, including the United States. Consider, for example, the situation in New York City. According to a recently released report of the F iscal Policy Institute, the richest one percent of New York City residents received 44 percent of the total income paid to all residents.
Throughout the world social inequality has reached staggering proportions. Indeed, according to some reports, income inequality in the United States is greater than that which exists in Egypt and Tunisia. Moreover, throughout Europe and the United States, governments are demanding and implementing massive cuts in social expenditures. Ever-wider sections of the working class are falling into poverty.
The political regimes that exist in the advanced capitalist countries–though doubtlessly equipped with more sophisticated propaganda agencies–are as ossified and impervious to the discontent of the broad masses as the Egyptian government. Only last week, the president of the United States delivered a "State of the Union" address in which he failed to mention that nearly 10 percent of the country's population is unemployed. For M r. Obama, a more important indicator of the State of the Union is the "soaring" share values on Wall Street.
What is unfolding in the streets of Cairo, Alexandria and throughout the country is of world historical significance. The events in Egypt reveal the form that social change will take in every country, including the most advanced. We are witnessing in this ancient land the first stirrings of a new epoch of world socialist revolution.
Post this article on Facebook and Twitter. Join the SEP! Register for the SEP/ISSE/WSWS regional conferences: fightforsocialism.org.