"Booty Boys" cops Michael Parish and Michael Osman in Wayne Co. Circuit Court during trial on lawsuit of Terence Hopkins
UPDATE JULY 19
The City Council voted today, July 19, to hold a closed session Thurs. July 21, 2011, to discuss the following:
RE:  For the purpose of consulting with attorneys from the City of Detroit Law Department and City Council's Research and Analysis Division to discuss pending litigation relative to Devon Windom v City of Detroit, Michael Parish and Michael Osman (Case No. 2:09-cv-11625); Marcon Green and Harold McKinney v City of Detroit, Michael Osman, and Michael Parish (Case No. USDC 09-CV-11589 and 3rd Circuit Court 09-11730 CZ); Quentin J. Curry v City of Detroit, Michael Osman, and Michael Parish (Case No. 2:09-cv-10109) and Melvin Akins v City of Detroit, Michael Osman and Michael Parish (Case No. 2:09-cv-1013).   (Law Department and City Council Research and Analysis Division).
This means not only has the pay-out in the case discussed below been delayed, but the pay-outs in the other cases cited above have also been delayed. It is outrageous that this is happening–Osman and Parish should be in prison for life for rape, and now their victims can't even get some chump change from the city in compensation for what they endured?
By Diane Bukowski 
July 17, 2011 
DETROIT – A federal judge has ordered the entire Detroit City Council to appear before him July 26 in Port Huron to "show cause" why he should not sanction them. Since March 31, he says they have failed to approve or disapprove a lawsuit settlement involving two Detroit police officers who were accused in 2006 by numerous men of rape—public anal cavity searches. 
Since the order was issued, the Council has set a discussion for Tues. July 19 on "legal representation in lawsuit of Marcon Green and Harold McKinney vs. City of Detroit . . . . Sgt. Michael Osman and P.O. Michael Parish." The officers' badge numbers are, respectively, 4788 and 4431.
The two officers were commonly known on Detroit's southwest side by the derogatory term "the Booty Boys." The case involves one most of the egregious cases alleged against them, their search of Green and McKinney in front of McKinney's 15-year-old daughter in May, 2006. 
"City Council's deliberate indifference has had, and will continue to have, a significant detrimental effect on: (a) the economy and efficiency of the judicial system, generally, and this Court, specifically, (b) the rights and interests of the Plaintiffs to this action, (c) the rights and interests of Defendants Osman and Parish, (d) the rights and interests of the residents of the City of Detroit, and (e) the rights and interests of the many non-residents of the City of Detroit who pay taxes to the City of Detroit," U.S. District Court Judge Lawrence Zatkoff said in his order, dated June 29. (Click on Marcon Green Notice to Appear and show cause to City Council  to read entire order.)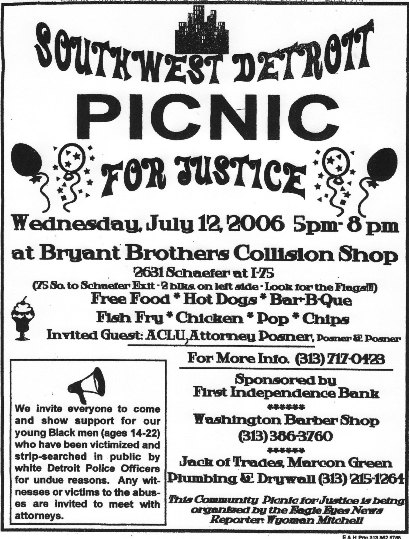 The suit, filed by attorney Gerald Posner, accuses Osman and Parish of engaging in a "pattern and practice of improper, illegal and unconstitutional conduct." 
Posner said, "Each instance has involved one or more of the following acts: stopping, detaining, and searching persons without search warrants, probable cause or even reasonable suspicion, or consent; strip searches; disrobing persons, to a greater or lesser extent; body cavity searches; and searches in which the defendant, either bare handed or with a glove, has touched a person's buttocks, and/or gluteal cleft, and/or spread the buttocks, and/or inserted a finger in the person's anus, and/or has touched, grabbed, and/or fondled a person's genitals and/or genital area." 
The suit (click on Booty Boys Marcon Green and Harold McKinney to read entire complaint) cites at least 16 civilian witnesses in the case, as well as 17 others who have alleged similar acts by the officers and in some cases have filed suit. The witness list includes this author, who with Wyoman Mitchell broke the story of the officers' acts and interviewed numerous witnesses, in multiple articles published in the Michigan Citizen. It also includes other reporters from Channels 2 and 4.
Marcon Green was among four men who testified at City Council in June of 2006 about the alleged assault. He told the council he filed a complaint the same day with the Chief Investigator's Office of the Detroit Police Department regarding the assault. (Click on Marcon Green citizen complaint to read actual complaint.)
"Michael Osman and Michael Parish pulled me over because they claimed my passenger didn't have a seat belt on," Green told the council. "They took him out of the car, along with his 15-year-old daughter. They made her put her hands on the car and then started feeling all on the back of my behind. They did they same to my friend, right in front of his daughter."
Green, who worked as a dry wall contractor in a small business, Jack of Trades, told this reporter at the time,  "I was sexually molested, fondled in between my buttocks, and they handled my genitals several times, over and over again. Then they threw me in the back seat until they ran my name and let me go." 
The suit says the incident happened May 19, 2006 near Annabelle and Schaefer on Detroit's southwest side. Many of the alleged incidents happened on S. Schaefer, including an assault on Byron Ogletree on May 31, 2006. He joined Green, Melvin Shields, and Devon Windom in testifying at City Council.
Posner alleges that the "red-headed officer" (Osman) searched Green, who had been driving and fully details the assault.
"He pulled plaintiff's pants and underwear away from his body, put his hands down the back of the pants and underwear, spread the plaintiff's buttock cheeks and examined the area, inserted a finger into plaintiff's anus, and then turned the plaintiff around, put his hand on plaintiff 's front side, rubbed his hand up and down over plaintiff's genitals a number of times, and then grabbed, squeezed, and fondled plaintiff's testicles a number of times." 
The suit alleges Osman performed these acts without a glove, as did his partner Parish with regard to McKinney. 
It says Osman "conducted both a strip search and a body cavity search of plaintiff McKinney, pulled plaintiff's pants and underwear away from his body, put his hand down the back and spread the plaintiff's buttock cheeks and examined the area, repeatedly rubbing the area between his buttocks and around his anus, and then turned the plaintiff around, put his hand on plaintiff 's front side, lifting, grabbing and fondling plaintiff's scrotum and penis." 
The suit says when Green accused Osman of "acting like a homosexual," the officers threatened to arrest him for being drunk. He demanded a breathalyzer test, which the officers refused to perform, according to the suit. They finally released the three without charges, but made McKinney, who did not have a license, drive. 
Both Osman and Parish denied all allegations in depositions given under oath during multiple lawsuit proceedings.
Posner says the City of Detroit is included as a defendant in the suit essentially because the officers' actions were commonly known both in the community and by their superiors, and the Police Department and City of Detroit took no action to prevent the assaults.
Then Mayor Kwame Kilpatrick would not comment to this reporter through his spokesman Matt Allen.
"The Mayor is aware of the allegations regarding these officers, and he understands the gravity of their alleged conduct. He also understands that there is a joint investigation between the Detroit Police Department and the FBI currently ongoing. Pending conclusion of the investigation, he is withholding comment at this time," Allen said. 
The FBI never took any action against Osman and Parish, and in some cases used statements given to them by alleged victims against them during criminal court proceedings against the victims.
After the City Council testimony, dozens of other men came forward, some at a neighborhood rally July 12, 2006, held outside the Bryant Brothers Auto Collision Shop. The Bryants told this reporter they had witnessed numerous such assaults by Osman and Parish outside their shop. During the picnic-rally, attorneys including those from the law firm of Posner and Posner and from the American Civil Liberties Union appeared to assist the alleged victims. 
It was the incident with Ogletree, who was stopped on Schaefer by Osman and Parish on May 31, 2006, which ignited the fuse, nearly causing a neighborhood rebellion. Community members told this reporter at the time that anger was simmering to the extent that some were considering taking physical action against the Booty Boys.
According to witnesses, during the Ogletree stop, dozens in the neighborhood came out chanting, "Rodney King," and "Starsky and Hutch" (as officers Larry Nevers and Walter Budzyn, who beat Malice Green  to death in 1992, were known.) 
The city's Law Department settled Ogletree's case and that of Marjjo Clyburn for a traffic stop in which Clyburn drove away after the officers smashed his window in, for approximately $350,000 each out of court, creating a negative outcry in some media outlets. Both were represented by attorney Daniel Reid. Osman and Parish filed charges against both men, but judges in their cases dismissed the charges.
Charges against Ogletree, which carried up to 37 years in prison, were dismissed at trial by Wayne County Circuit Court Judge Carole Youngbloode after a police technician testified that neither the officers nor their superiors contacted him to download the police car videotape of the event after an in-station transfer failed. Reid called police the day after the Ogletree incident to demand preservation of the tape.
Suits by Windom, Quentin Curry, and Melvin Akins were settled by Posner and Posner in front of U.S. District Court Judge Sean Cox for unknown amounts on May 3, 2011, according to federal court records, but not before Windom petitioned the court for a protective order against Detroit police. Along with Gerald Posner, attorney Eric Frey worked on the Green and McKinney case, and Zachary Posner worked on others. A Posner suit on behalf of Prince Jeter and Ronald Kinney, Jr. was not settled before Cox, but has been reassigned to U.S. District Court Judge Victoria Roberts and is still ongoing.
A suit by Marcus Wrack, represented by Kenneth Finegood, was settled for an unknown amount in 2008 in front of U.S. District Court Judge Robert Cleland. Wrack alleged that he was stopped and sexually assaulted on two separate occasions by Osman and Parish. A suit by Terence Alan Hopkins was tried in Wayne County Circuit Court. A jury found on behalf of Osman and Parish after negative media coverage of the Ogletree and Clyburn settlements, particularly in the Detroit Free Press.
In his order, Zatkoff explained his reason for the show cause order against the City Council, indicating that a settlement was reached only after lengthy negotiations.  
"On two occasions since March 31, 2011 (specifically, May 4, 2011 and June 7, 2011), the Court emailed Mr. Posner and Mr. Schapka [representing the City] to inquire about the status of the settlement, specifically, whether City Council had approved (or rejected) the proposed settlement. On both occasions, the Court was informed that the settlement is being held up by members of City Council or, more specifically, members of the Internal Operations Sub-Committee, a three-member subsection of City Council, because of concerns regarding indemnification related to Defendant Michael Osman and Defendant Michael Parish.
Councilwoman Brenda Jones chairs the Internal Operations committee. Councilmen Andre Spivey, James Tate, and Council President Charles Pugh (ex-officio) are members. 
"The Court also has been advised that these delays have "become a common problem with [City of Detroit] police department cases[.]" Zatkoff said. "At no time has anyone even provided the Court with a date by or upon which City Council will begin to consider (let alone approve or reject) the settlement agreed to by Plaintiffs, counsel for Plaintiffs, the individual Defendants and counsel for Defendants." 
He ordered all (emphasis his) members of the Council to appear on July 26, 2011, at the Federal Building and U.S. Courthouse, 526 Water Street, Port Huron, Michigan. 
"At 9:30 a.m. on Tuesday, July 26, 2011, all members of the City Council shall be prepared to show cause before the Court why: (i) the City of Detroit; (ii) City Council as a whole; and/or (iii) certain members of City Council should not be sanctioned for failure to take timely action with respect to the proposed settlement of this case, a proposed settlement that City Council has had in its possession fornearly three months." 
Zatkoff said if the Council does not approve the settlement, the case will proceed to trial.
In addition to the Michigan Citizen, The Final Call published an article by this reporter on the "Booty Boys." (To read article, which details other cases and includes comments by ACLU attorney Mark Fancher, click on http://www.finalcall.com/artman/publish/National_News_2/article_6324.shtml)
Ed. note: At the time this reporter was covering the Booty Boys cases for the Michigan Citizen in 2006, it was difficult to locate similar cases across the country. But a search today turned up the following stories among others (click on):
http://articles.nydailynews.com/2011-02-02/local/27738569_1_body-cavity-rectal-search-cops-burst
http://www.newhavenindependent.org/index.php/archives/entry/cavity_searches_decried/
http://www.nashvillecriminallawreport.com/2010/12/articles/search-and-seizure-1/body-cavity-searches-in-tennessee/
http://www.middletownpress.com/articles/2010/06/24/news/doc4c227ab6e05c4021046275.txt
http://www.middletownpress.com/articles/2010/06/24/news/doc4c23c0a34078b480051407.txt
http://hamptonroads.com/2010/09/fbi-investigates-arrest-newport-news-police
http://newyorkpersonalinjurylegalblog.com/2011/02/shawn-schenck-sues-city-for-illegal-body-cavity-search.html