Lewis one of Michigan's 363 juvenile lifers; prosecutors recommended new LWOP sentences for 2/3 of them, violating U.S. Supreme Court rulings
"I don't believe a single court of appeals panel will agree with your decision; I'm willing to bet my life on it"—Lewis at hearing Feb. 15
"An admittedly inaccurate and incomplete file"—Lewis in Feb. 22 pleading
"FOR THE FIRST TIME IN MY ADULT LIFE, I ACTUALLY BELIEVED THAT I WAS FINALLY GETTING OUT OF PRISON." Lewis on recemt transfer to Macomb Re-Entry Program
By Diane Bukowski
March 5, 2019
DETROIT – Charles Lewis, a leader in the battle against "death by incarceration" sentences meted out to Michigan's juvenile lifers, is demanding his right to appeal a judge's certification of a "facsimile" of his lost court file, and other issues, prior to holding a "mitigation hearing" on his case to determine terms of his re-sentencing.
Lewis' official pleading will be addressed Friday, March 8 at 10 a.m. in front of Wayne County Circuit Court Judge Qiana Lillard, in Room 502 of the Frank Murphy courthouse at Gratiot and St. Antoine. Lewis, who is currently part of the Re-Entry Program at Macomb Correctional Facility, will be heard on video.
His full pleading can be read at http://voiceofdetroit.net/wp-content/uploads/CL-letter-to-Lillard-et-al-filestampedcopy.pdf
This will be the FORTY-SECOND hearing on Lewis' re-sentencing, ordered by the U.S. Supreme Court for all juvenile lifers in two decisions in 2012 and 2016. Most of Lewis' hearings have addressed the loss of 43 years of his official court records, and the even more egregious elimination of entries on his Register of Actions (ROA) from 1976 through 1999.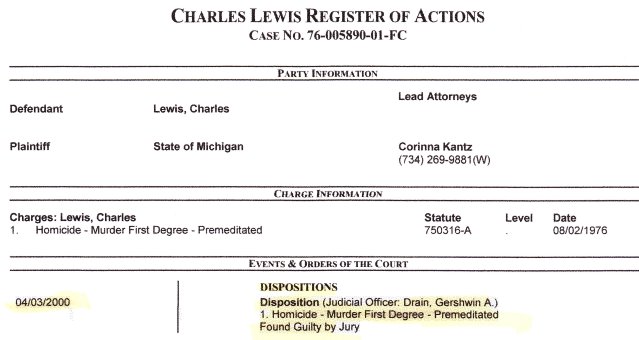 His ROA currently says that he was convicted of first-degree murder by a jury in front of Judge Gershwin Drain on April 3, 2000. The original entry said Judge Drain dismissed his conviction and sentence on that date.
" . . . I will be asking my lawyer Sanford Schulman to appeal your February 15, 2019 decision to CERTIFY THE FILE, an admittedly inaccurate and incomplete file . . .," Lewis wrote Lillard Feb. 22. "It is my sincere hope that you will hold this matter in abeyance until the Michigan Court of Appeals addresses the unresolved legal questions."

Lewis says that he is not the only Michigan juvenile lifer facing the same issue, which could adversely impact the outcome of others' re-sentencing hearings.
He is also not the only juvenile lifer with an innocence claim, which he raised in one of five motions filed earlier in front of Lillard, who promptly denied them all Jan. 10.
"You . . . refused to address my claim of ACTUAL INNOCENCE," he said. "And, my claim of Ineffective Assistance of Counsel. Refusing to address those issues denied me access to the Court. And effectively denied me the right to present mitigating evidence at a mitigation hearing. The Michigan Court of Appeals needs to address this issue before we move forward."
Denial of claims of actual innocence and ineffective assistance of counsel are recognized grounds for federal habeas corpus appeals, say legal experts.
Additionally, the Michigan Supreme Court added "actual innocence" claims to MCR 6.502 on Jan. 1, 2019, on a retroactive basis. The amendment allowed such claims to be raised as valid successive motions for relief from judgment under state law.
Michigan had been one of only four states whose court rules did not recognize innocence claims.
Lewis has been incarcerated for 43 years, since the age of 17, for the 1976 murder of an off-duty Detroit police officer. The officer's partner and numerous eyewitnesses testified at his trials that they saw another man commit the crime.
Lewis and his family and supporters have always maintained his "actual innocence." In a 2006 opinion, Wayne County Circuit Court Judge Deborah Thomas concurred. She called the state's case against Lewis a "scientific impossibility," and said the unexplained dismissal of the jury in his first trial in March, 1977 should have meant his acquittal.
Judge Lillard peremptorily denied five motions to dismiss the case against Lewis Jan. 1o, 2019, which cited the loss of his records, his innocence claim, and ineffective assistance of counsel among other matters. She did not say she ever certified his replacement file. Asst. Prosecutor Thomas Dawson promptly filed a motion and proposed order for her to do so Jan. 10, based on MCR 3.607.
Lewis' previous attorney Victoria Burton-Harris raised that court rule as a means to reconstruct his file, but with the understanding that Judge Lillard would have to certify each document individually. Judge Lillard refused to do so.
"This is the best facsimile of a court file that we will have," Lillard said Feb. 15. Lewis said he told his attorney Sanford Schulman that an adequate mitigation hearing could not be held without the complete court record, and did not want any witnesses called for such a hearing.
"I just want to get this over with," Lewis added. "If there is some way you can re-sentence me to life without parole today, you should do that. I can't keep putting my family through this."
Such a sentence would open the way for Lewis' appeal of right, and subsequent actions by higher courts including the federal courts, releasing him from Lillard's three-year stranglehold. Instead, during the Feb. 15 hearing, attorneys Dawson and Schulman sought to delay things once again. Dawson suggested to Schulman that he could contact the polygraph examiner and mitigation expert Schulman claims to have hired for the hearing and see how long it would take them to complete their reports, then report back March 8. Schulman agreed.
Schulman told VOD that Lewis must first be subject to a lie detector test before proceeding with a mitigation hearing, an unheard of requirement for such hearings.
Lewis challenges Lillard's jurisdiction over his case in his pleading. He notes that she worked as an assistant prosecutor in the Wayne County Prosecutor's office for eight years while his appeals were ongoing, then went straight to the bench, appointed by former Michigan Governor Rick Snyder.
"You can't work for the prosecution while the case is pending then ascend to the bench and declare yourself judge over this matter," Lewis says. "That is a serious conflict of interest. The Michigan Court of Appeals needs to address this issue before we move forward."
In Nov. 2o16, Lillard ordered Lewis' previous defense attorney Valerie Newman, now also employed in the Prosecutor's Office in another evident conflict of interest, to turn over the defense's records to the prosecution, at the time represented by Lewis' current AP, Thomas Dawson.
Lillard then ordered all parties (except defendant Lewis, the only one alive during most of the 42 years covered by his record) to meet with the Wayne County Clerk's office to recreate the record. She cited an ancient ruling in a civil divorce case, Newton v Newton, 166 Mich. 421, as grounds for her order.
Lewis objected strenuously at the time, on the record, that this was a violation of his attorney-client privilege. Newman took records Lewis had given his previous attorneys, which included numerous privileged documents, and put them on a flash drive which she gave to the prosecution, and later to Lewis' subsequent defense attorneys.
She then lied about the matter during a court hearing, claiming the flash drive, which VOD later obtained, contained only publicly accessible documents.
During the recent Feb. 15 hearing, Lewis told Lillard she had already denied his attorney's request for a term of years and thus he had no faith that she would give him anything other than life without parole, even after a mitigation hearing. A recent Michigan Supreme Court ruling in Hyatt/Skinner held that a judge does not have to give any reasons for re-sentencing a juvenile lifer to life without parole.
Lillard claimed she had never denied a motion on his behalf for a term of years, but her order of Nov. 11, 2016 states as much. See full order at http://voiceofdetroit.net/wp-content/uploads/Judge-Lillard-order-reconstructing-Charles-Lewis-file.pdf.
In it, Lillard denied two motions filed by Newman and Lewis himself, which cited numerous U.S. and Michigan Supreme Court precedents indicating that a case must be dismissed when court records are even partially missing. Newman asked for Lewis to be re-sentenced to a term of 40-60 years, while Lewis asked for dismissal. The only motion remaining on the table was the prosecution's motion for life without parole.
During a hearing Sept. 28, 2018, AP Dawson suggested three times to Judge Lillard that Lewis be re-sentenced to a "term of years" in light of the loss of his files.
Lewis told Lillard in his pleading that he had been transferred to the Re-Entry Program at the Macomb Correctional Facility afterwards.
"When I first got here, I was called out by the institutional parole agent, Ms. Shields," Lewis wrote. "She told me that she was instructed by her boss to place me in the institutional parole re-entry program because I was being sentenced to 40 to 60 years at my next court date . . . and would be discharging the day I got sentenced. "
Overjoyed, his mother Rosie Lewis and sister Wendy Lewis came to visit him. Mrs. Lewis earlier told the media that she "could live again" if her son was finally released.
"From there I probably met with an additional twenty people," Lewis continued. "One lady in particular came to the prison specifically to meet with me. She was going to get my Medicaid turned on and she was going to help me get state ID and a doctor's appointment. she was also going to get me a job through Michigan Works."
"FOR THE FIRST TIME IN MY ADULT LIFE, I ACTUALLY BELIEVED THAT I WAS FINALLY GETTING OUT OF PRISON."
#FREECHARLESLEWISNOW, #FREEMICHIGANJUVENILELIFERSNOW, #ENDMASSINCARCERATION, #ENDSCHOOLTOPRISONPIPELINE
Other related stories: