Human Rights Examiner
January 15, 2012 – Like this? Subscribe to get instant updates. 
http://www.examiner.com/human-rights-in-national/10-human-rights-abuses-that-show-u-s-is-police-state?CID=examiner_alerts_article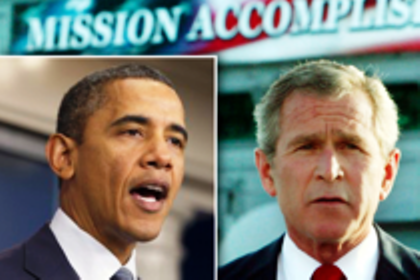 The United States is officially under military dictatorship, martial law, a police state, as detailed in the Jan. 15 Washington Post article, "10 reasons the U.S. is no longer the land of the free," in which Jonathan Turley listed the ten actions that United States leaders, past and present, have taken to replace human rights with a police state.
The U.S. police state process that began under the Bush Administration and completed under the Obama Administration, persecutes thousands of innocent citizens known as "targeted individuals," a term used in the Federal Buerau of Investigation's secret counterintelligence operation, Cointelpro, according to the Church Committee congressional hearings in the 1970's.
Obama signing the National Defense Authorization Act 2012 (NDAA 2012) on New Year's Eve was an "intolerable" action according to one of the nation's key human rights leaders and U.S. Justice Party presidential candidate Rocky Anderson. It was a "historical assault" on the nation according to Turley within hours of the signing and "beyond disappointing" according to Human Rights First advocacy counsel Raha Wala. 
That intolerable assault by congress and the president, nevertheless officiated martial law in the United States, according to civil and human rights defenders. It gave the president and military powers to target and silence anyone opposed to police state corruption, to treat them as enemy of the state targeted individuals to be secretly or overtly silenced.
President Barack Obama proclaimed human rights week 2011 as Sen. Levin revealed on the Senate Floor that, in what constitutes treason and flagrant breach of the Universal Declaration of Human Rights, particularly Article 9, it was Obama who required stripping Americans of their rights in the NDAA 2012.
Article 9 of the Universal Declaration of Human Rights states, "No one shall be subjected to arbitrary arrest, detention or exile." This human right that the U.S. military, CIA and subcontractors have violated in other countries under the Bush and Obama Administrations, is now, under the Obama administration, to be "officially violated" within the U.S.
Innocent targeted individuals persecuted by U.S. Police State
Below is Turley's list of 10 reasons the U.S. is a police state, condensed with additional attention regarding human rights abuses of innocent targeted individuals. As highlighted below, life in a police state is nothing new to innocent American targets, many of whom have pleaded for years, especially since 2001 when their ranks dramatically began increasing, that their families, friends and public advocates learn about police state targeting tactics and help defend them from their government's targeting abuses, including assaults with secret weaponry including directed energy weapons (DEWs) and other high-tech abuses in the U.S.
1. Assassination of U.S. Citizens: President Obama has claimed, as President George W. Bush did before him, the right to order the killing of any citizen "considered a terrorist or an abettor of terrorism," (an individual opposed to regime corruption or one placed on a watch-list for revenge). Last month, administration officials affirmed that power, stating that the president can order the assassination of any citizen he considers allied with terrorists. Assassination requires spying to determine the whereabouts of a target to kill him or her. DEWs can be employed for secret assassinations. (VOD ed.: e.g. the assassination of Imam Luqman Abdullah in Detroit in 2009; click on http://voiceofdetroit.net/2010/10/16/family-religious-and-civil-rights-leaders-outraged-after-doj-exonerates-imam-luqman-abdullah%e2%80%99s-killers/) 
2. Indefinite Detention: Under the NDAA 2012, the law Obama signed on New Year's Eve 2011, the military can hold targeted individual terrorism suspects and the president has authority to indefinitely detain citizens accused of terrorism. While Sen. Carl Levin insisted the NDAA bill followed existing law, "whatever the law is," the Senate rejected an amendment that would exempt citizens. The Administration opposed efforts to challenge such authority in federal court and continues to claim the right to strip citizens of legal protections based on its sole discretion. (China recently codified a more limited detention law for its citizens, while countries such as Cambodia have been singled out by the United States for "prolonged detention.") 
3. Arbitrary Justice: The president now decides whether a person will receive a trial in federal courts or in a military tribunal, a system ridiculed around the world for lacking basic due process protections. Bush claimed this authority in 2001. Obama has continued the practice. (Egypt and China have been denounced for maintaining separate military justice systems for selected defendants, including civilians.) VOD: click on http://www.bbc.co.uk/news/world-16539409 for the latest on the Bradley Manning military trial.
4. Warrantless Searches: The president may now order warrantless surveillance on innocent targeted individuals, including forcing companies and organizations to turn over information on citizens' finances, communications and associations. Bush acquired this sweeping power under the PATRIOT ACT in 2001 and in 2011. Obama extended the power, including searching everything related to a targeted individual, "from business documents to library records." The government can use "national security letters" to demand, without probable cause, that organizations turn over information on citizens – and order them not to reveal the disclosure to the affected party, as targeted individuals have consistently reported since 2011.  
5. Secret Evidence: The government routinely uses secret evidence to detain targeted individuals and uses secret evidence in federal and military courts. "It forces dismissal of cases against the U.S. by simply filing declarations that the cases would make the government reveal classified information that would harm 'national security,' as claimed in various privacy lawsuits and largely accepted by federal judges without question." Even legal opinions have been classified, allowing government to claim secret legal arguments to support secret proceedings using secret evidence. Some cases never get to court and Federal courts routinely deny constitutional challenges to policies and programs. Civil and human rights defender organizations have called to expose and expunge innocent targeted individuals on watch lists subjected to persecution, a call that officials have dismissed to date. 
(VOD: In the case of the Detroit police murder of Aiyana Stanley-Jones, 7, on May 16, 2010, killer cop Joseph Weekley's charges of "involuntary manslaughter" were brought in a secret grand jury proceeding, while her father Charles Jones faces charges of first-degree murder. Click on http://voiceofdetroit.net/2011/10/31/child-killer-cop-weekleys-trial-set-for-april-30-2012-in-death-of-aiyana-stanley-jones/ along with other VOD stories on Aiyana, accessible by putting "Aiyana" in the search engine.)
6. War Crimes:  World-wide pressure to prosecute officials responsible for torturing, including waterboarding, "terrorism suspects" during the Bush administration was dismissed by the Obama administration in 2009, saying it would prevent CIA employees from being investigated or prosecuted for torture and related war crimes, violating U.S. treaty obligations and Nuremberg principles of international law, all based on human rights. When courts in Spain and other countries moved to investigate Bush officials for war crimes, the Obama administration reportedly urged foreign officials to prevent them, despite U.S. historically claiming the same authority regarding alleged war criminals in other countries. The torture business is lucrative. 
7. Secret Court: The government has increased using its secret Foreign Intelligence Surveillance Court that expanded its secret warrants to include targeted individuals deemed to be "aiding or abetting hostile foreign governments or organizations." In 2011, Obama renewed these powers, including allowing secret searches of targeted individuals not part of an identifiable terrorist group. The administration has asserted the right to ignore congressional limits on such surveillance. (Innocent targeted individuals consistently report to this writer being subjected to secret searches, including through unforced break-ins of their homes and worse.) 
8. Immunity From Judicial Review: Like the Bush administration, the Obama administration has successfully pushed for immunity for corporation assisting in warrantless surveillance of citizens, blocking citizens from challenging the violation of privacy. (This is among the list of U.S. human rights violations that Russia recently outlined in a report, accusing the U.S. of double standards.) 
9. Continual Monitoring of Citizens: The Obama administration has successfully claimed that it can use GPS devices to monitor every move of targeted individuals with no court order or review. It is not defending the power before the Supreme Court, a power Justice Anthony Kennedy described as "Orwellian." (Also see articles by this author about targeted individuals' being secretly drugged and secretly implanted in their own communities in the U.S., to track their every move and inflict injury for torture and assassination.) 
10. Extraordinary Renditions: The government now has authority to "render," the highly profitable business of transferring citizens and noncitizens to another country, under "extraordinary rendition" (denounced by Syria, Saudi Arabia, Egypt, Pakistan, Russia and other countries) to torture suspects. The Obama administration says it is not continuing the abuses of this practice under Bush, but insists on the unfettered right to order such transfers – including the possible transfer of U.S. citizens. 
FOI documents revealed in August 2010 that the number of Americans targeted by the U.S. government on U.S. soil in the "anti-terror campaign" could exceed 350,000, at least one-tenth of whom have been secretly implanted for tracking, control and assault. 
In a recent Press TV interview about the NDAA Obama dictatorship, internationally noted human rights defender Don De Bar of WBAIX Radio stated, "These things have actually been done already and they have targeted in the main, over time, American dissidents, and not so-called 'terrorists' or 'suspected terrorists' from abroad." 
That's what is seen in the blueprint of all military police states led by dictators.
Suggested by the author: