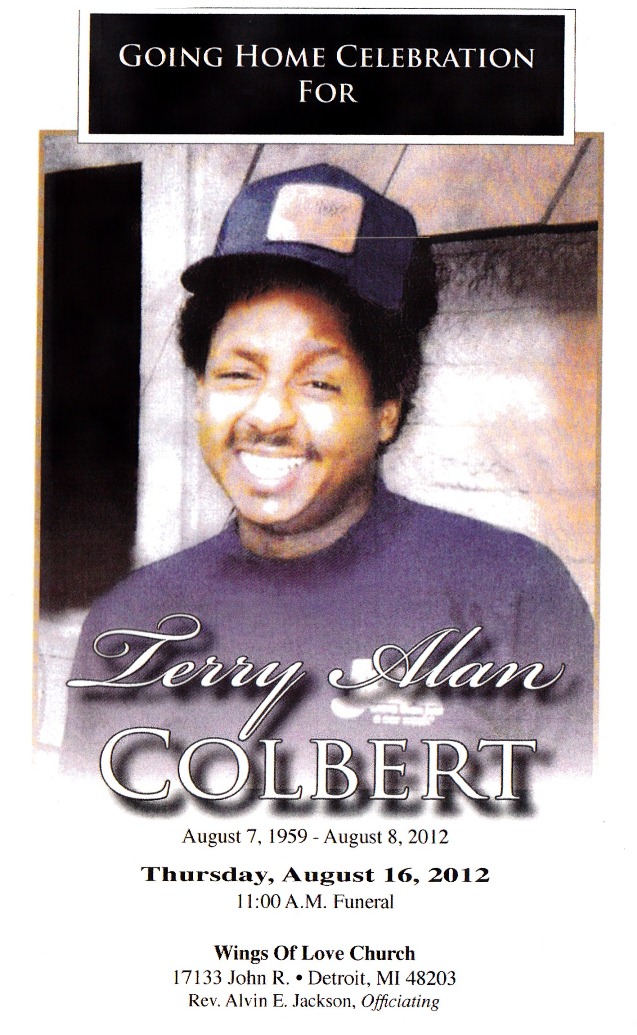 ______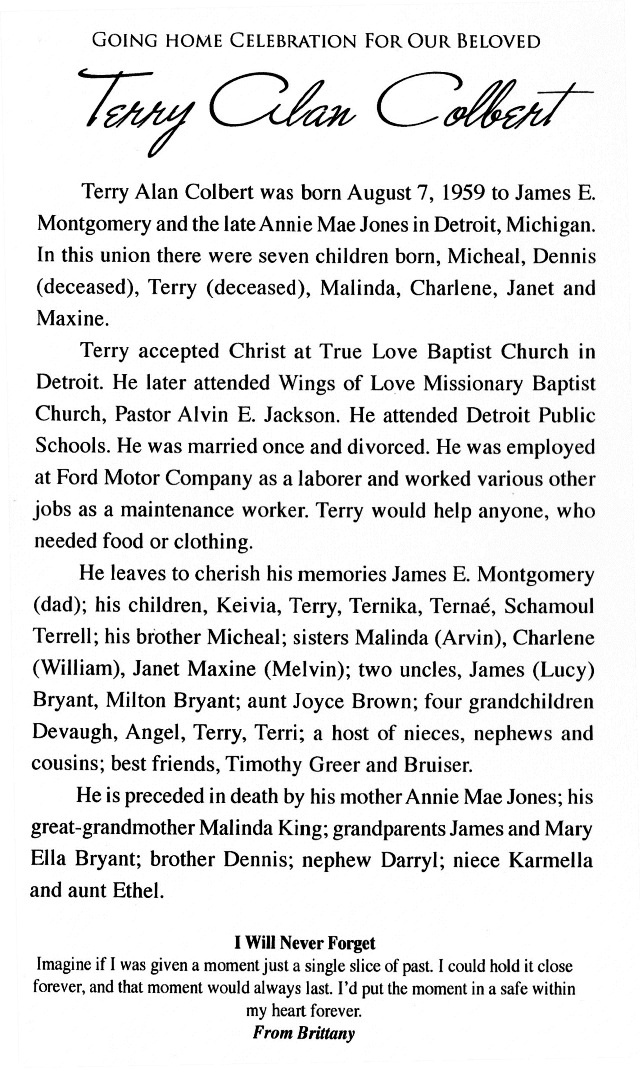 ___________________________________________________________________________________________________
____________________________________________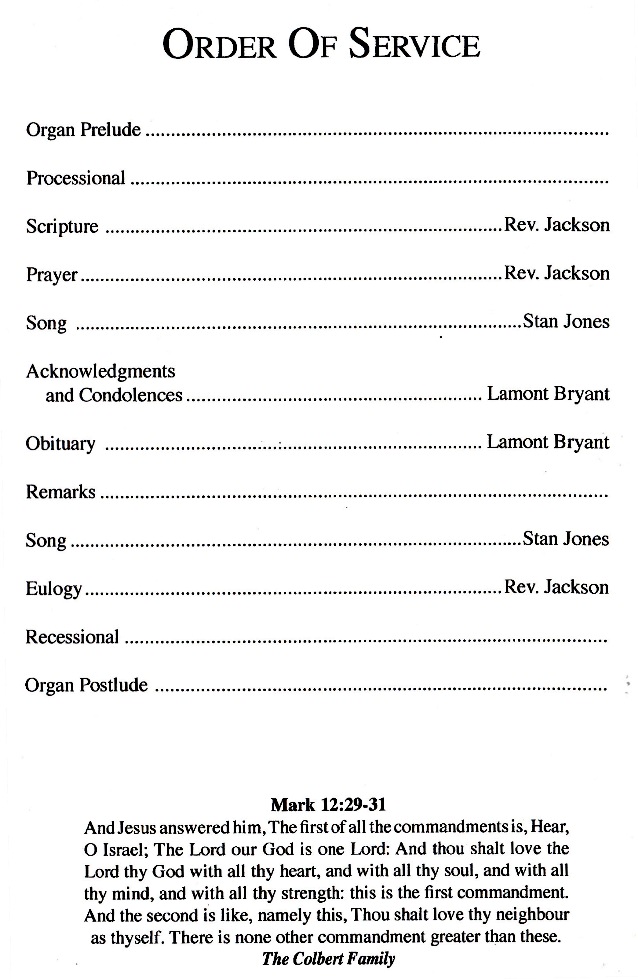 ___________________________________________________________________
____________________________________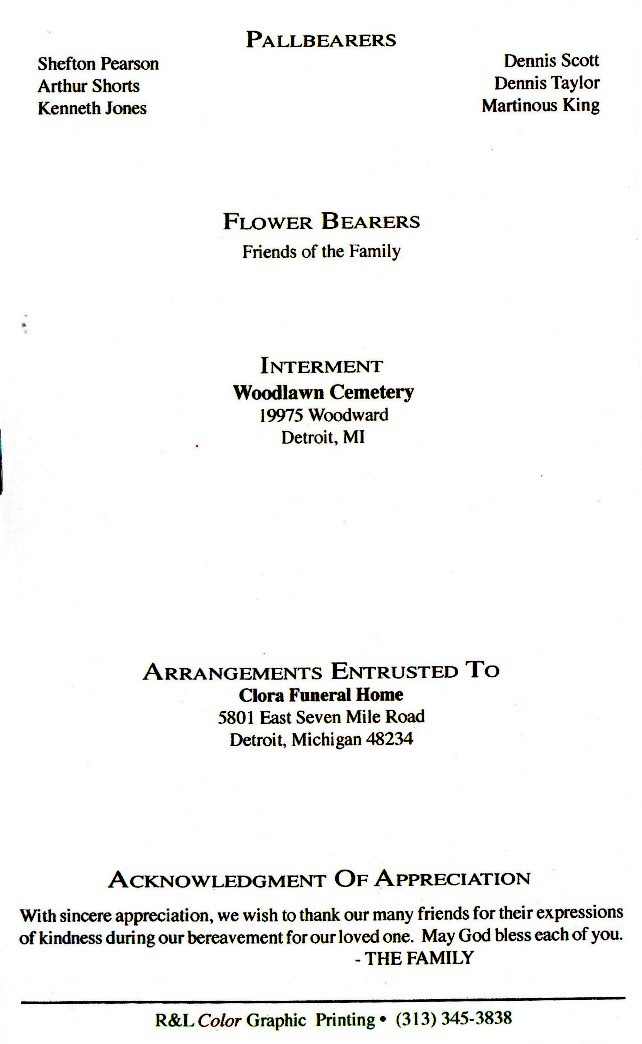 __________________________________________________________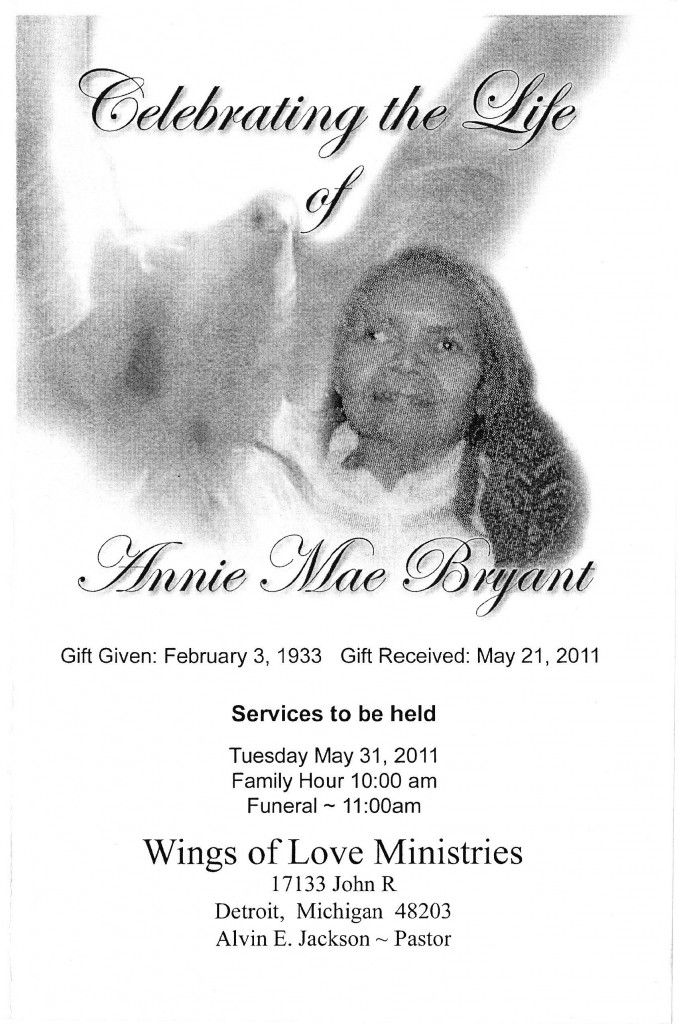 ___________________________________________________________________________________
Rowland Watkins, Jr., affectionately known as "Bus," was born on Feb. 23, 1972 to Rowland Watkins, Sr. and JoMarva Jarrett in Steubenville, Ohio. He was the second of two children born to this union.
Rowland accepted Christ and was baptized at an early age at Zion Christian Church in Troy, Michigan, under the leadership of Pastor Dan Gardner Sr.
Rowland was educated at Zion Christian School in Troy and completed his secondary studies in the Clintondale Public School system in 1990. Rowland went on the attend Michigan Christian College on a basketball scholarship and completed his Bachelor of Arts degree in Political Science in 1995 at Central State University in Wilberforce, Ohio. He was in the final phase of completing his Master's degree in Public Administration at Central Michigan University.
Rowland was united in Holy Matrimony on Dec. 27, 2000, to Montisa Anntoinette Counts. To this union was born Roschard Isaiah Watkins. He was the target of Rowland's mission to raise a strong son who was a leader. Rowland's greatest accomplishments came from being a father to Roschard and a husband to Montisa.
Rowland united with the Living Faith Church in 2004, under the leadership of Pastor Robert Ellis, where he served as a Deacon and youth mentor. Rowland's desire was to change the world using his mind, charisma and the unique ability to function in whatever circle he found himself. He could engage with anyone ranging from the U.S. Department of Housing and Urban Development to the senior citizens at St. Pat's Community Center. He served on the board of the Kiwanis Detroit Club No. 1 and Michigan Legal Services.
Rowland stayed hungry for life, family and people! He also served as a fellow for the National Director's Association with YouthBuild USA. He was an advocate for those who had less, but wanted more. He cherished each of those appointments by helping each organization achieve their mission. In addition, he worked at Youth Detroit Builders for the past 11 years, with his latest appointment being that of Executive Director for the program.
Rowland remained committed to his church, community and family, especially in the rearing of his two nephews, Malik and William, as well as strengthening the family bond between his mother and sister. He was a very loving, giving and caring person. He never minced his words and you knew he was genuine in his efforts and intent to serve others.
Rowland was stylish, outspoken and had a great sense of humor. His hobbies included shopping, traveling and spending time with his family in Ohio. He was a devoted sports fan, always attending sporting events, playing in basketball tournament leagues, and pick-up games around the metro Detroit area. He made time for everyone, especially his buddies. For his recent 39th birthday, Rowland, along with part of his "camp," enjoyed the festivities of the NBA All-Star weekend in Los Angeles.
Rowland Watkins Jr. received "rest for his faithful and tireless labor" when he went home to be with the Lord on Thursday, March 10, 2011. He leaves to celebrate his life, his devoted wife Montisa Anntoinette; one son, Roschard Isaiah; grandmother, Pearl Jarrett of Steubenville, Ohio; his parents, JoMarva and Rowland, St. (Joslyn); his siblings: Kisha Watkins-Miles of Detroit; Tenisha, Yasmine and Maurice of Steubenville, Ohio; five aunts: Linda (John) Donnell of Columbus, Ohio, Leslie Jarrett of Southfield, Michigan, Pam and Peggy Ingram of Steubenville, Ohio; Patsy Lovell-Cross of Cleveland, Ohio; three uncles: Kevin (Lorie) Jarrett of Steubenville, Ohio, Robert Jarrett of Mt. Clemens, Michigan and Marcus (Marie) Jarrett of Columbus, Ohio; one brother-in-law, Robert (Tonya) Counts; one sister-in-law, Janel (Orlando) Scott; three nieces: Robin Smith, Morgan and Cydney Counts and two special nephews, Malik Miles and William Trice, along with a host of other relatives and many, many, many friends — all whom were special in their own unique way.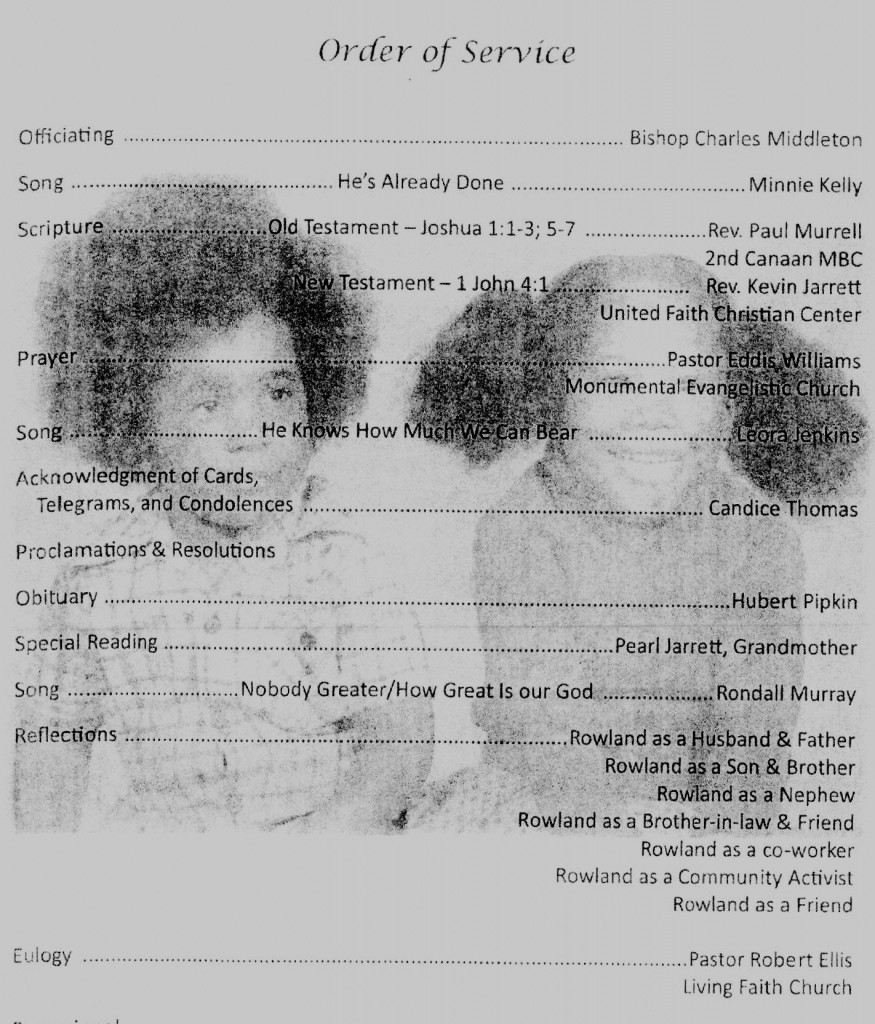 On Saturday, Oct. 23, family and friends of JIMMY THORNTON

, a long-time activist with

Call 'em Out, the Michigan Welfare Rights Organization, and Hood Research, gathered together to remember his legacy.

  

Jimmy passed away unexpectedly October 16 after visitng Call 'em Out member Mary Shoemake

at the

Regency Heights

rehabilitation center at 19100 W. Seven Mile.
More details on Jimmy's life and the memorial, with photographs,  will be coming.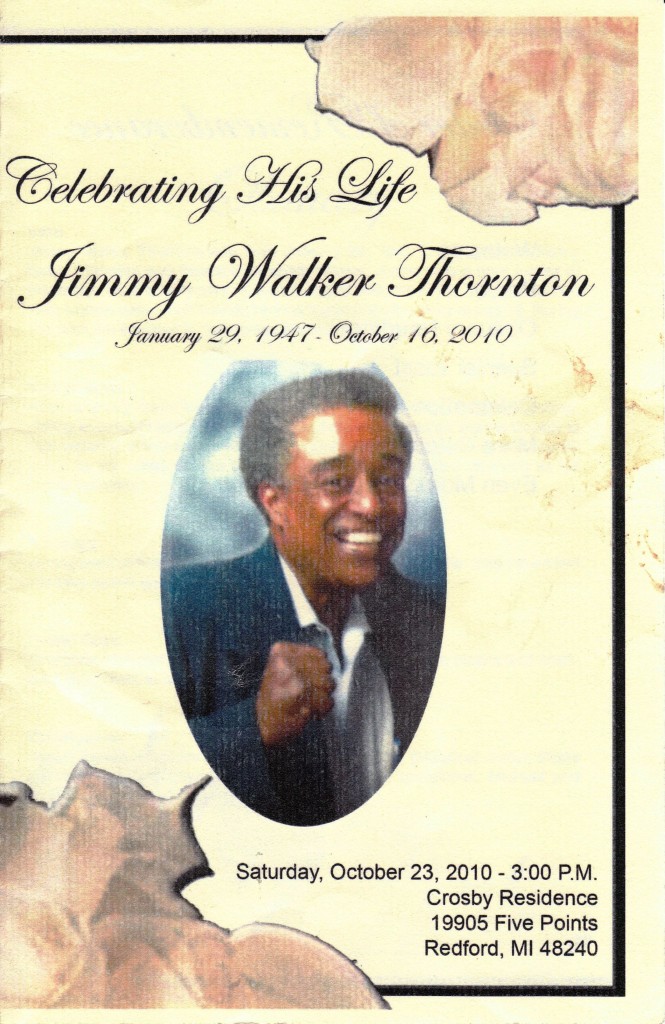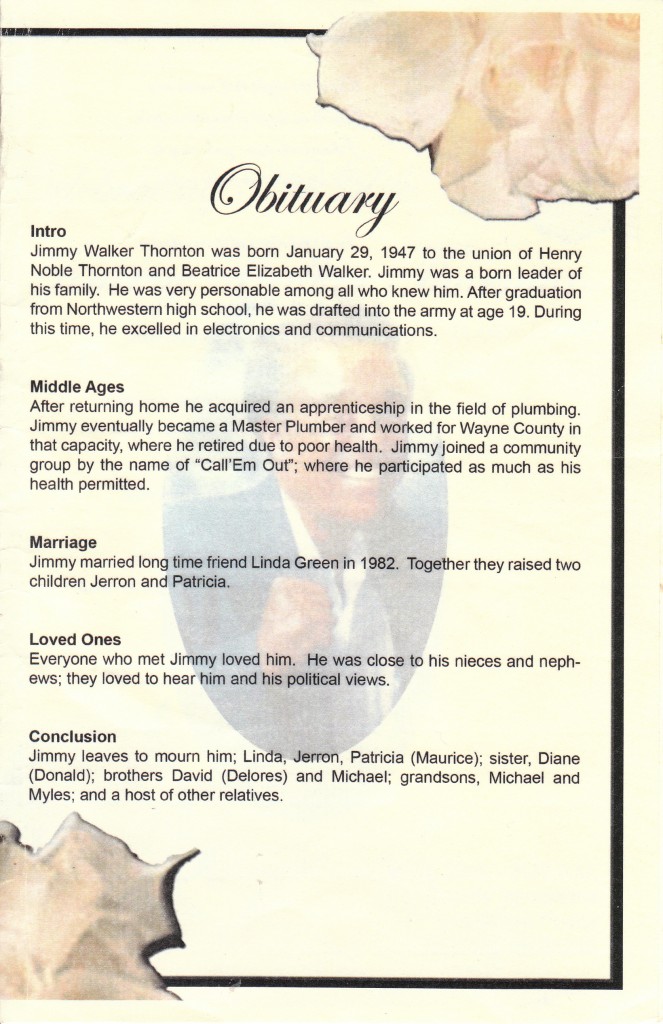 Clarence Henry Hill-Bey   July 8, 1962 – Feb. 26, 2010
Clarence Henry Hill-Bey (affectionately known as "Boo" to all) was born to Barbara Ann Hll and Rural Leander Wiley on July 8, 1962 in Detroit, Michigan. He was the third oldest of nine children. His siblings are Regina Thacker, Derek (Butch) Wiley, Terrence Hill, Derek Hill, LaShawn Brown, Damon Brown, Cory Miller, and Leonis Wiley.
Boo along with several of his brothers followed in their father's footsteps and became well-known prize-fighters. He was an avid reader, chess player, and overall intellectual. Boo was only a few credits shy of receiving an associate's degree and wanted to study substance abuse counseling. He was an advocate for those he considered less fortunate and was always willing to lend a hand or say a kind word. Much of this wisdom came from his life experiences. Though he was very spiritual and respectful of all organized religions, he identified with the message of Prophet Nobel Drew Ali and proclaimed his nationality as a Moorish American on July 21, 1995.
Boo shared his positive affirmation of life messages and the sense of the community by becoming involved in "the cares of the world." He coordinated several events at Wayne State University regarding Black youth and was once employed as a youth coordinator at Leaps 'n Bounds Family Center.
He leaves to remember him his wife Barbara (Northern) Hill, and his children Cierra Northern (Antoine Stackhouse, Sr.), Erica Northern, Charita Stewart, and Marchelle Young. He also leaves grandchildren Kyrstyn Northern, Antionne Stackhouse, Jr., Skylar Stewart and Sha'Naya Young. His nieces and nephews will truly miss his vibrant smile and gentle wisdom. There are a host of other family and friends whose lives he touched that will truly feel the loss of an important person from their lives.
Grand Sheik Craig Fuqua-Bey of the Moorish Science Temple of America #25 officiated over Boo's homegoing ceremony and gave the eulogy in a service at James Cole Funeral Home on West Grand Blvd on March 6.
Ron Allen 1947-2010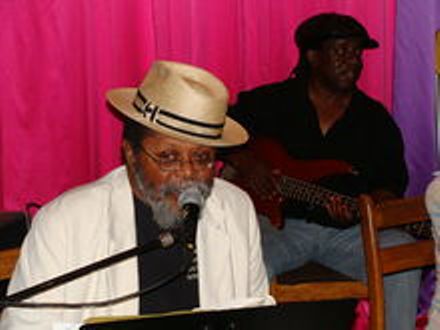 By artremedy20
I got to talk with Ron Allen shortly before his final health crisis.  It was a great telephone conversation.  It was always special to be talking with Ron.  I got his updated address and was going to mail him some "packages."  He was hopeful that he'd be able to visit Detroit in September.
There are plans afoot to publish a new book of his poetry and (hopefully) stage one of his plays here.
Then, I heard that he was in the hospital, in very serious condition.  Then, two days ago, he died, made the transition into that other world.
My condolences to Ron's family and to all his friends  and to those who worked with him.
I first remember Ron from the old Horizons in Poetry series in the 1980′s.  Readings were often (always?) at the old Cobb's Corner bar at Cass and Willis in Detroit.  It also went by the name of H.I.P.  I recall that poet John Mason was one of his collaborators on this project.
Since then, I saw Ron do numerous readings and performances.  The ones at Galerie Jacques, in Ann Arbor stood out.  Ron and I were both good friends with the proprietor, the late Jacques Karamanoukian.
Later, I worked with Detroit's Zeitgeist Gallery and Performance Venue.  They staged a number of Ron's plays.  He often worked with John Jakary in this regard.  I also saw Ron's plays performed at other venues in Detroit.
He was such a unique writer and spirit.  He'll be missed, yet some of us will continue to try to make his work visible and to stage his plays.
Ron's Website:
http://weightlesslanguage.blogspot.com/
Zeitgeist:
http://zeitgeistdetroit.org/newsite/thrhist.html
Fried Poetry:
http://www.lapovertydept.org/fried-poetry/index.php
My Eyes are the Cage in my Head:
http://www.lapovertydept.org/my-eyes-are-the-cage-in-my-head/my-eyes-are-the-cage-in-my-head.html
(Ron did two plays with this group, the other LAPD, not the police department, but the poverty department)
http://www.lapovertydept.org/about-lapd/index.php
Black, Brown and Beige….Ron has work in this book.  There's also a short excerpt from an interview I did with artist Tyree Guyton (Ron had worked with Tyree on a play inspired by his art):
http://www.utexas.edu/utpress/excerpts/exrosbla.html
http://en.wikipedia.org/wiki/Ron_Allen_(playwright)
I've not seen an obituary for Ron as yet.  This site still describes him as being in a coma:
http://www.corridortribe.com/discus/messages/25/622.html?1281648803
http://www.metrotimes.com/arts/story.asp?id=15323
a 1995 article on Ron:
http://www.metrotimes.com/arts/story.asp?id=15338
(Maurice Greenia, Jr.)
POETRY, THEATER, AND MUSIC CELEBRATION TRIBUTE TO RON ALLEN
SUNDAY, SEPTEMBER 26, 2010
HOSTED BY WARDELL MONTGOMERY 
CO-FOUNDER OF HORIZONS IN POETRY
CASS CAFE
TRIBUTE # 2 AT STILL POINT BUDDHIST TEMPLE
* A CEREMONY HONORING THE LIFE AND SPIRIT OF POET RON ALLEN*~
Following Zen tradition, on Tuesday, September 28th, at 6 p.m., there will be a 49th Day Memorial Ceremony at Still Point Zen Buddhist Temple to honor the life and boundless spirit of ordained DharmaTeacher Bodhidharma Ron Allen.
The Still Point Zen Buddhist Temple
http://www.stillpointzenbuddhisttemple.org/
Still Point Zen Buddhist Temple
www.stillpointzenbuddhisttemple.org
Still Point Zen Buddhist Temple is a residential Buddhist Abbey in Detroit, Michigan that offers public services and meditation courses.