MDOC/PCS contract doubles rates with slush fund, kickbacks
 By Diane Bukowski 
July 30, 2011
DETROIT – Members of prisoners' families who marched outside the Michigan Department of Corrections (MDOC) headquarters in Lansing July 7 to protest prison phone rate hikes that have nearly doubled, are now further outraged. They say they were deceived into thinking a bill signed by Governor Rick Snyder July 8 returned rates to a minimal amount. (Click on http://voiceofdetroit.net/2011/07/17/prison-phone-rate-hike-protest-helps-bring-possible-victory/  to read original VOD story.) 
According to a report from the Gongwers News Service, Snyder said while signing the bill that language claiming that rates would not exceed local residential rates was "unenforceable." (Click on http://www.capps-mi.org/Synder%20signs%20supplemental.htm for full Gongwers report.) 
Catherine Johnson-Bachus, who organized the protest July 7, said she is outraged that families were misled, and that they and their loved ones will still suffer from decreased contact due to the unaffordable rates. Contact with families, friends and the outside world while incarcerated has been shown to decrease recidivism once prisoners are released. 
"As of today, any hope that was instilled in the family members and the prisoners following the signing of SB138 is quickly evaporating and turning into frustration and distrust.  In fact . . . now family members question whether or not there was ever any intention of providing any sort of financial relief."  (Read her full letter to several prison advocacy groups by clicking on  Cathryn Johnson Bachus letter.) 
Almost solely responsible for the increase in rates is a "Special Equipment Fund" (SEF) in the five-year contract between MDOC and Public Communications Services, Inc., a subsidiary of Global Tel-Link, which began Feb. 9, 2011. The SEF is expected to rake in $11 to $18 million annually. 
The SEF solely accounts for the huge increase in rates, according to the following chart in the contract: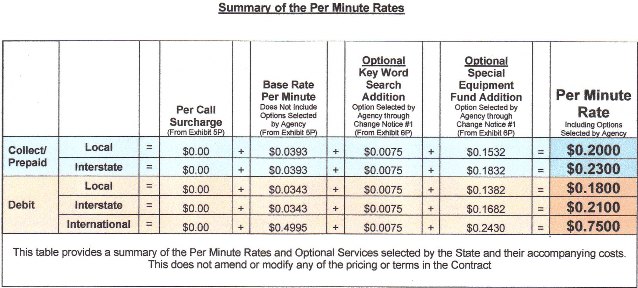 According to PCS itself, it appears that the SEF is really a slush fund/kickback scheme to make sure banks get their pound of flesh out of prisoners and their families by plugging holes in the state budget deficit.  
In their executive summary of the contract, PCS said, "Understanding that budgets are shrinking for all State agencies, as part of our Best and Final Offer, PCS is also willing to work with the MDOC to create a Special Equipment Fund to help bridge any potential budget shortfalls. The amount of this fund can be set at the discretion of the MDOC." 
The Michigan Citizens Alliance on Prisons and Public Spending (Mi-CAPPS) reported earlier, "The proceeds are to be split between the MDOC and PCS, with the Department's share increasing as the volume of calls goes up. At a minimum, 70 percent ($7.8 million) would go into a special equipment fund controlled by the MDOC and 30 percent would go to PCS." 
The contract (click on  Phone contract PCS MDOC  to read entire contract) leaves the purpose of those funds open-ended. 
A Michigan woman denounced the contract on the blogspot, Jubilee on Earth. (Click on Michigan Department of Corrections New Phone Contract is a CRIME  for full statement.) 

"We family and friends of inmates, as a specific demographic of Michigan citizens, are being forced to shoulder this burden and fork over the money for this opaque, special secret fund — rather than Michigan going through appropriate and legal measures (budgets, taxes, etc.) to obtain the additional funds? . . . All while I stop subscribing to cable and eat cheap frozen dinners every night so that I can talk to my loved one on the phone? Excuse me, but does this sound like something completely illegal to you? It sure does to me." 
Such schemes are common in most prison systems across the U.S., according to PrisonPhoneJustice.org. ("Nationwide research finds excessive prison phone rates exploit prisoners' families" According to PrisonPhoneJustice.org's research, a similar kickback scheme under MDOC's previous contractor Embarq was ended in 2008. 
In its original analysis of the contract, Mi-CAPPS noted further that other bidders on the new contract offered substantially lower rates. 
"The $0.10/per minutes in-state debit call now costs $0.18/minute, or $2.70 for 15 minutes," Mi-CAPPS said. "There are similar increases for collect and interstate calls. These increases are occurring despite the fact that all the bidders who passed the initial screening offered base rates that were substantially lower than the rates in the expiring contract. For an intra-state call, these bids ranged from a high of $0.085/minutes to a low of $0.30/minute." 
But all is not lost. The state has the right to revoke the PCS contract at any time for the following reason (among others) stated in the contract: "The state may terminate this contract for its convenience, in whole or in part, if the state determines that a termination is in the State's best interest. Reasons for the termination must be left to the sole discretion of the State."
"The discretion of the State" under its current administration, however, has not proven amenable to one single thing that is good for the working and poor people of Michigan. A massive grass-roots campaign to end this and other atrocities committed against Michigan residents is desperately needed. So far, word is awaited from Mi-CAPPS and other prisoner support groups on what the next step in this battle will be.