KIRK LEWIS, ATTY. MICHAEL MCGEE TOUTED  CONSENT AGREEMENT, ABROGATION OF UNION CONTRACTS AT COUNCIL.
Ezcerpt from "Mac Quarterly" article, Spring 2011 (Municipal Advisory Council of Michigan)
(click on  PA4 and McGee Mac Quarterly  for full issue) 
"Some of the changes evaluated during proceedings included a consent agreement, whereby the governor could argue against bringing in an EFM and instead sign a contract with local officials — a contract with parties agreeing to comply with a list of steps aimed at turning around a distressed local government. It's considered an intermediate step, prior to bringing in an EFM, an opportunity for "locals to take control and work on the problem themselves," said Michael McGee, principal at Miller Canfield Paddock & Stone PLC.  
"Nobody wants circumstances to become so dire that a manager is necessary. A community can enter into an agreement with the Department of Treasury and exercise some of the powers within the Act," explained McGee. Perhaps "communities will get involved sooner," said McGee, "because the later you try the harder it will be." The emergency manager is considered a "final step" in a downward spiral of fiscal unsoundness — one everyone hopes to avoid. 
McGee said the bill addresses some known weaknesses in the prior bill that many EFMs had complained about. EFMs have always had "some power but it was not so clear that existing officers did not have powers," he explained. "Most lawsuits filed against Public Act 72 were brought against managers. Someone on a council or a board of trustees, or perhaps even a mayor would argue that they had authority under the law and would compete with the EFM on who had the final decision-making authority." Under the new Act, the EFM role is clearly defined — with the title emergency manager replacing financial manager and the scope of authority painted with a broader brush. The emergency manager is in charge when appointed and authority supersedes that of a mayor or other official — elected or otherwise. 
Many specialists were involved in drafting PA 4 verbiage, including McGee, Scorsone, labor attorneys, finance directors and members of the Michigan Government Finance Officers Association. Robert Daddow, Deputy Oakland County Executive, is credited with providing a "blueprint" for the bill's draft — "he wrote a white paper for a transition team" explained McGee.
From Mackinac Center for Public Policy, a right-wing think tank which advocates massive privatization of public services:
"Robert Daddow is a Certified Public Accountant. He earned a B.S. in Business Administration and M.B.A. from Central Michigan University. He joined Ernst & Young in December 1974 as a staff auditor, eventually making partner, specializing in governmental auditing and consulting. Clients included — Wayne County, City of Ecorse, numerous school districts and dozens of cities, villages and townships. 
Since 1993, he has worked for Oakland County. First, as the Director of the Department of Management and Budget and concurrently as the Director of the Department of Information Technology. In 2000, Daddow assumed a newly created position — Assistant Deputy County Executive for Special Projects. He is the group leader for Information Technology/Management & Budget. He is largely involved in major financial initiatives, funding, and technology implementation.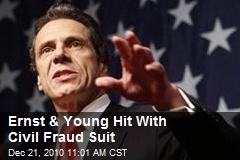 While at Oakland County, Daddow lead (sic) and/or initiated most of the privatization efforts previously cited in publications for Oakland County over the past 8 years. He has lead (sic) many special projects including but not limited to a half dozen privatizations, launch of the Community Corrections program, transition of the Community Mental Health program from a shared-service model to full-service, movement from an attended emergency management radio system, and many computer initiatives."
VOD ed: Kirk Lewis was a candidate for Ernst & Young's "Entrepreneur of the Year." The global accounting firm is being sued by the states of New York and New Jersey for cooking Lehmann Brothers' books before its downfall. It initiated the current crisis in Detroit by meeting in closed session, in violation of the Open Meetings Act,  with the Detroit City Council in November, 2011, and declaring the city would run out of cash by April, 2012. The City of Detroit, however, has its own independent financial auditors, KPMG.