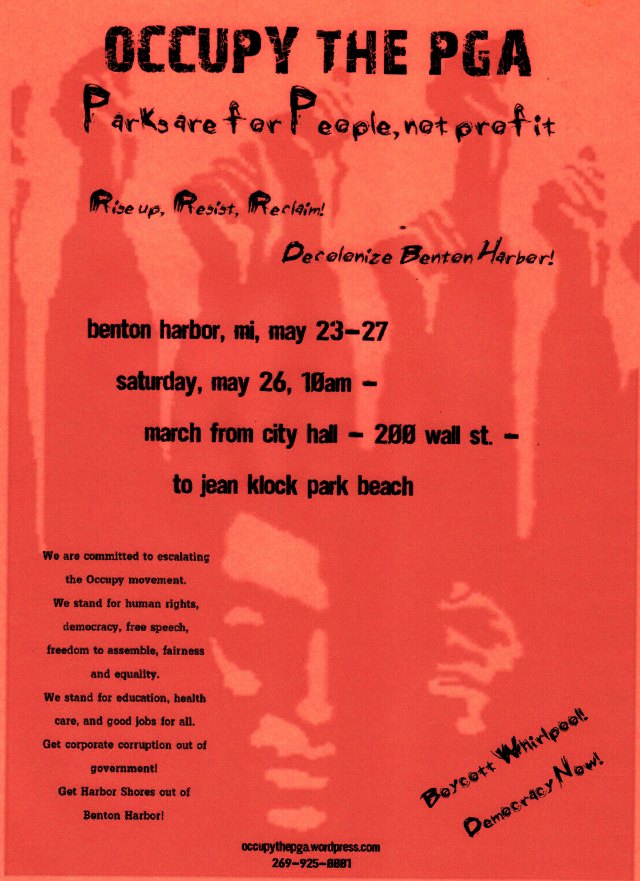 Occupy The PGA
Benton Harbor, Michigan
Senior PGA Golf Tournament 
It is our distinct honor and privilege to invite you on behalf of BANCO to an event scheduled for May 23-27, 2012. 
We are committed to escalating the Occupy Movement to support human rights in housing in addition to the push back against bailouts for fraudulent banks. They are stealing our homes and our lives. 
Democracy is non-existent here in Benton Harbor. Joseph Harris, the Emergency Manager, must go. We have a dictator in Benton Harbor, Michigan! 
The PGA will be played on a $750 million, 530 acre resort near Lakeshore with a Jack Nicklaus Signature designer golf course and with $500,000 condominiums. We cannot forget the three golf holes in the stolen land inside Jean Klock Park. 
If your schedule permits your attendance is needed on May 26, 2012. Alternative action dates are May 23-25. Please let know if you can accept the invitation to Occupy The PGA in Benton Harbor. 
We will meet at Benton Harbor City Hall, 200 Wall St. at 10:00am every day. Then we will March to the golf course! We will have speakers and food. 
 Allow me to thank you in advance. We the residents of Benton Harbor love you! 
For more information contact:
Rev. Edward Pinkney
269-925-0001 
President/NAACP/BANCO & Stop The Take Over Benton Harbor
Rev. Edward Pinkney
1940 Union St.
Benton Harbor, Michigan 49022
Tel: 269-925-0001 
Decolonize Benton Harbor! 
Download and distribute the flyer!