Prisoners in lock-down after heating system failed
As angry families gather in streets, prisoners bang on cell windows
Officials do not move population to available nearby heated jails
By Andy Newman, Christina Goldbaum and Annie Correal
New York Today
Feb. 3, 2019
From the depths of a federal jail on the Brooklyn waterfront, the sound reverberates: a polyrhythmic pounding like a hailstorm on the roof of a shed.
It is the sound of hundreds of men in freezing cells at the Metropolitan Detention Center in Sunset Park, a jail that was virtually without electricity and largely without heat for over a week. With the jail on partial lockdown, inmates have been unable to use phones to call their loved ones, but their percussive banging could be clearly heard to those outside, and to the world beyond.
The inmates bang anything they can — shoes, their fists — against any surface they meet: the walls and windows and bars of the jail that holds them.
Sunday morning, when protesters unfurled a long paper banner across the street from the jail that said "You are heard you are loved," the inmates banged their approval.
When Catana Yehudah, whose brother Jason Smith is serving a gun possession sentence at the jail, led a chant through a megaphone — "No heat, that's torture" — the inmates banged louder.
Ms. Yehudah, 50, called for quiet. "Stop banging for one second!" she yelled. The barrage subsided.
"If there is no heat," she shouted, "bang on the windows!"
The inmates, nearly invisible behind the windows, pounded louder and louder, the fusillade filling the wide empty street.
Around 6:30 p.m., electricity was restored. But problms with the heating system, which are unrelated to the electrical failure, remain, and while parts of the jail have heat, many cells do not.
Prisoners banging out complaints is nothing new, of course. Every old prison movie has a scene where the inmates drag their tin cups along the bars to make a ruckus.
At the Metropolitan Detention Center itself, there is a long tradition of loved ones down on the street shining flashlights up at the prisoners in greeting, and prisoners responding by making noise or waving their own reading lights.
Vincent McCrudden, a former inmate at the jail, recalled how excited prisoners got to see people down below.
"They're freezing in there," said Mr. McCrudden, 57. "They're stuck with their cellies. So it's nice — it's incredible — for them to know people are out there."
But the pounding has taken on a new resonance since Friday, when The Times revealed that most of the 1,600 inmates at the jail had been kept on lockdown in cells without electricity since a Jan. 27 electrical fire. When temperatures outside plummeted to 2 degrees, many cells were virtually without heat.
"The knocking is triggering, it has similarities to the sounds in slave ships, the sounds of solitary confinement," said Tamika Mallory, one of the organizers of the protests that have run continuously since Saturday. "The knocking is a symbol of distress and a cry for attention."
Sunday afternoon, hours before the power was restored, the protests outside the jail grew unruly. A woman, Yvonne Morilla, 51, followed by other demonstrators, walked up to the door crying, "That's my son! You got to let me go!" With that, the protesters entered the building and tried to bypass the security checkpoint.
They were stopped by a line of correction officers inside the building who drove them back with shoves and, apparently, pepper spray. One woman fled the building, waving her hand in front of her face and coughing.
There were no immediate reports of arrests. Lawyers from the federal defenders' New York office said that the pepper spray seeped into the visiting room where they were waiting to speak with clients, forcing them to leave the building. Federal prison officials did not respond to questions about whether pepper spray was used.
There has been unrest inside the detention center, too. People were injured in an altercation at the jail on Sunday, said a person who had been briefed on the situation but not authorized to speak publicly. The Fire Department confirmed that three people were taken to hospitals with minor injuries, but did not release additional details.
Gov. Andrew M. Cuomo called on the federal Department of Justice to determine whether conditions at the jail violated the inmates' civil rights.
"No one in New York should live in fear that they may freeze to death alone in the dark," Mr. Cuomo said in a statement. "These allegations are a violation of human decency and dignity. They also raise questions of potential violations of law."
Federal Bureau of Prisons officials are due in federal court in Manhattan on Tuesday for a hearing ordered by Judge Analisa Torres in response to what she called "disturbing living conditions."
As protesters massed in front of the jail Sunday afternoon, a paper airplane fluttered down from the third floor and landed on the sidewalk.
There was a handwritten message on it: "Call my family tell my wife I'm O.K.," with a telephone number.
After the power was restored, the inmates had one more way to signal their families outside. They flicked the lights on and off in their cells, as cheers erupted down below.
Lynette Griem got a call from her jailed husband, Tyquan Griem, about 10 minutes after the lights started to flutter.
"They just turned the lights back on. Everything is back on," he said on speaker phone, which was held close to the megaphone for the crowd to hear. "You all did your job. I've got to thank you for real."
His 2-year-old daughter, Malaya, perked up at the sound of her father's voice echoing through the street.
"It feels amazing to hear his voice, to know he's actually O.K., that he's all right now," Ms. Griem said.
Judge Torres transcript: 'I Said The Man Is Suicidal. They Took It As A Joke'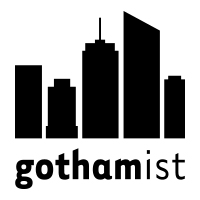 by Jake Offenhartz in News on Feb 6, 2019
Following yesterday's evidentiary hearing on the "humanitarian crisis" at the federal Metropolitan Detention Center, Judge Analisa Torres visited the Sunset Park facility along with public defenders, jail officials, and state Attorney General Letitia James. Torres, a federal judge presiding over one of several cases related to the conditions at MDC, spent several hours inside, but gave no public indication about what she'd seen during the visit. Later in the evening, the judge denied requests to transfer two detainees, and declined to make a ruling on whether a special master should be appointed to investigate the troubled jail, punting that to another case.
But a transcript of the visit published on Wednesday offers a disturbing look at life inside MDC, and suggests that mistreatment of detainees goes far beyond the recent electrical issues. While heat and electricity did return to most units earlier this week, those who met with the judge described immense suffering inflicted by corrections officers, and an "incredible fear of retaliation" among anyone who spoke up.
According to the transcript, which was recorded by a stenographer and released by the court, several detainees told Judge Torres that they had medical problems that had been ignored by jail staff—in some cases, life-threatening issues that were exacerbated by the dark and freezing conditions they were forced to endure during last week's bitter cold snap.
On the seventh floor, the judge described observing "abundant water" and "black, blotchy mold" on the ceiling of a jail cell. She spoke to the man incarcerated in that cell, relating that he was showing her "a very dingy yellowed blanket that is obviously water damaged" and also "his left arm that has a rash on it, and he says it's from the water dripping." Several others told Torres that they were not given adequate clothing or blankets during the heat outages, with one person saying it was like "sleeping under a waterfall."
Another detainee said that he didn't receive his medication for an entire week, causing him to pass out in his cell this past Sunday after attempting to call for help. He accused security officials of jamming the alert button, and purposefully ignoring his cries for assistance. "I still haven't been seen yet," he told the judge. "I am still in pain."
(During the hearing earlier in the day, a medical technician at MDC, Rhonda Barnwell, had seemed to admit that the jail was failing to provide adequate health care to its 1,600-person population. She added, "If the media didn't come, we'd still be in the same situation.")
The judge also met with a detainee who said his cellmate experienced a mental breakdown during the heat outages. "He asked for attention because when the power was off the emergency buttons were not working," the man said. "The officers were walking around only every hour or so. When we finally got the officers' attention…I said the man is suicidal, and I think they took it as a joke."
The man added that he "literally had to take the noose out of his cellmate's hand [as] he was trying to kill himself."
When the judge said that she was sorry to hear that, the man replied: "Thank you for being worried about us, ma'am, and treating us like human beings."
A spokesperson for the Bureau of Prisons did not respond to Gothamist's request for comment. You can read the full transcript here.
UPDATE 6:00 p.m. The Department of Justice is requesting that the Inspector General "undertake a review of this matter to determine if BOP responded appropriately to the heat and electricity failures at MDC Brooklyn and to assess whether BOP has in place adequate contingency plans for such an incident."
The statement continues, "The BOP will also conduct a thorough investigation of the infrastructure at the facility and review the emergency response and contingency planning for this type of incident. DOJ and BOP will continue to work to ensure that MDC Brooklyn meets all required standards."