This story has been updated Jan. 17, 2020 and later Jan. 19, 2020 with an account from Nikita Landrum's family members detailing and honoring the life of their beloved daughter and sister, and their research into her death and that of their grandchildren.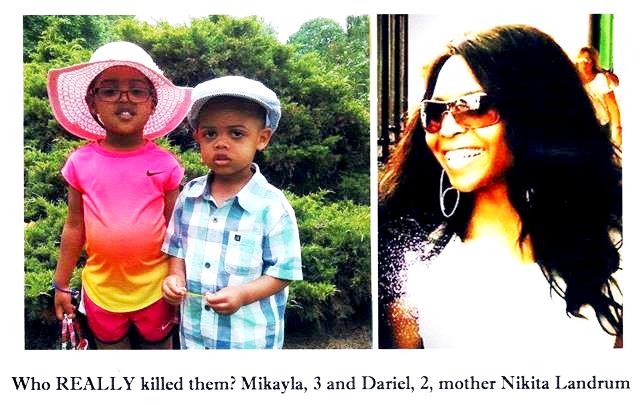 Mainstream media neglects to investigate suspicious circumstances behind death
Mother, children's father (not married), in bitter custody dispute
Mother's autopsy report, photos differ drastically—was forehead entrance wound actually exit wound from shot in back of head?
Shell casings scattered around scene, lack of blood spatter, no gunshot residue or fingerprints inconsistent with reports of deaths
Bay County Sheriff, Michigan State Police conducted incomplete investigations, told media outlets it was "murder-suicide" early on
By Diane Bukowski
December 20, 2019
VOD editor warning: this story contains graphic photos published with the permission of Nikita Landrum's family.
BAY CITY, MI—Nearly tw0 years ago, on Feb. 21, 2018, Bay County workers, state sheriffs, and Michigan State Police discovered a horrific scene on the desolate, muddy grounds of a Bay County drain commission facility just outside of Bay City, Michigan in Bangor Township.

The bodies of Nikita Landrum, 31, an Oak Park resident who worked as an IT specialist at Secure 24 in Southfield, Michigan, and her toddlers Mikayla, 3 and Dariel Walker, Jr., 2, lay inside and next to Landrum's black Lincoln, on a field near the building. According to all family sources, the young mother and her children had never been to Bay County and were not familiar with the area, 100 miles away from home.
Initial reports by police investigators on the scene made no mention that a handgun was allegedly found on the floor of the driver's seat, but photos given to the Michigan State Police showed the gun on the driver's seat floor next to her  loose hand.
Photographs taken by the Bay County Sheriff's Office show Ms. Landrum's body casually draped on her back across the front seat and its divider, with her right hand casually positioned toward the floor, and a huge bloody wound in the top of her forehead.
Little Mikayla was in her car seat in back of the car, Dariel was found lying outside the rear side of the car. Both had been brutally shot in the back of the head, according to their autopsy reports.
Only one day later, media headlines from Bay City and metro Detroit to the United Kingdom and Latin America trumpeted variants of MOTHER, CHILDREN IDENTIFIED IN BANGOR TOWNSHIP DOUBLE MURDER-SUICIDE" (WXYZ-TV, Feb. 22, 2018).
Stories focused on the grief of the children's father, Dariel Walker, Sr., who readily submitted to numerous interviews and supplied photos and videos of the children, gaining media support. Most reporters conducted no further investigation after Bay County sheriff Troy Cunningham declared the deaths to be a case of "murder-suicide," on the day the bodies were discovered, long before autopsies and forensics reports were complete.
Reporters also initially neglected to indicate that Walker had been in a lengthy custody dispute with Ms. Landrum, to whom he was not married. Walker had been convicted in domestic violence situations involving injuries while living with Ms. Landrum in Farmington Hills, 0n Oct. 16, 2014, and on Sept. 23, 2016. Ms. Landrum's personal notes discovered by police showed that she also suspected Walker of abusing the children while they were staying with him. She said she found bruises on them when they returned to her.
Ms. Landrum moved out of their home in Farmington Hills to Oak Park with her children after the second occasion, according to court documents and police records.
Oakland County Judge Mary Ellen Brennan granted joint custody to parents despite father's DV convictions
Despite the domestic violence history, Oakland County Judge Mary Ellen Brennan granted the two parents joint custody of the children in on Sept. 19, 2017, according to court records. The official Michigan Custody and Parenting Time Investigation Manual, issued by the State's Friend of the Court, however, cites domestic abuse as the first factor to investigate in such cases.
"While reviewing the pleadings and questionnaires, the investigator should attempt to identify any indications of domestic violence as well as other issues related to the best interests of the child," says the manual. "If there are indications (e.g., complaints for divorce, pleadings, sworn statements, personal protection orders between parties) of domestic violence, the investigator should refer to office policy on screening domestic violence cases and take the appropriate steps."
But, despite his domestic violence-related convictions, Walker continued to file court motions to extend his visiting times with the children after winning joint custody on Sept. 19, 2017.
Ms. Landrum had just filed her response to his latest motion asking to have the children overnight on Wednesdays, a school night. A lawyer friend she was dating helped her with the motion. The hearing was set for Feb. 22, 2018, one day after the family's bodies were found. Ms. Landrum was also pursuing a claim of indigenous heritage in an attempt to have the case moved out of Oakland County Courts, according to her mother.
On the Wednesday night previous to their disappearance, Walker kept the children overnight with no notification to their mother, although the court order allowing that was still pending. Ms. Landrum was terrified that Walker would eventually win full custody. Interviewed by police investigators, her c0-workers at Secure 24 said she "lived for her children" and was frightened of Dariel Walker, Sr.
Nikita's parents, Mr. and Mrs. Landrum, say they have never believed their daughter killed herself or her children. Grieving heavily, they have been conducting their own investigation since February 22, 2018, meeting with Bay County officials and others over the intervening months seeking the truth.
They have run into numerous roadblocks, first told by the Sheriff's office that they could not see the bodies of their daughter and grandchildren because "the coroner was still conducting other autopsies in the area." They were only shown their partially obscured faces on camera for identification purposes
Afterwards, Bay County officials stonewalled the family's requests for access to reports and personal effects, particularly those related to the grandchildren. Apparently the officials considered the father the children's official surviving representative.
Ms. Landrum's parents, siblings and supporters visited Bay County offices numerous times for months after the killings. VOD accompanied them on their last visit, when the group met with representatives of the Bay County Office of the General Counsel as well as Bay County Executive James Barcia. Barcia said he too had doubts about the discovery of the mother and children's bodies.
The Office of the General Counsel finally provided extensive, yet incomplete documentation in response to two FOIA requests.
AUTOPSIES, POLICE/COURT RECORDS CONFLICT WITH MURDER-SUICIDE THEORY; QUESTIONABLE CERTIFICTIONS OF OFFICIALS
The Autopsy Report on Ms. Landrum was written by Dr. K​a​n​u​b​h​a​I​ Varani, Consulting Forensic Pathologist for the Bay County Medical Examiner.  In addition to the written autopsy reports on Ms. Landrum and her children, VOD received autopsy photos of Ms. Landrum, but not the children.
Varani is now the Deputy Medical Examiner for Oakland County, where Walker still lives. Walker's sister is an Oakland County Deputy Sheriff.
Varani previously held the Deputy Medical Examiner position in Bay County, but stepped down due to a conflict over organ donation. He  obtained the well-paid Oakland County position shortly after conducting the Landrum autopsies. Otherwise, he had floated around the state on a contractual basis to other county ME offices for years. He has a state license as a medical doctor, but no state licenses related to forensic pathology.
His published curriculum vitae says also that he is "board-certified" by the American Board of Pathology in Anatomic Pathology & Clinical Pathology, and Forensic Pathology. However, his name does not come up on a member search of the ABP website.
In 2018, The Tribune published an article by Brenda Battel that says the state of Michigan is seen as "living in the Stone Age" in comparison with other states' regulation of medical examiners and forensic pathologists. A state-appointed panel is currently drafting proposals to update deficiencies including:
Lack of mandated qualification and standardized training for ME's and medical examiner investigators (MEI's).

No mandated death scene investigation standards, forensic autopsy standards or accreditation of forensic pathologist.

Shortage of forensic autopsy facilities and forensic pathologists.

No standardized data collection and reporting requirements.

No coordinating entity or leadership within the system to provide support, vie for funding or represent the system at the state or national level.
Battel says medical doctors are not trained in forensic pathology. See article at http://voiceofdetroit.net/wp-content/uploads/Group-aims-to-bring-medical-examiner-code-up-to-date-Virani-handles-Huron.pdf. 
VOD left messages on Varani's personal line at the Oakland County Medical Examiner's office about evident conflicts between the written reports and photos from the Bay County autopsy. VOD has also left messages with the Bay County Medical Examiner's office. To date, no response has been received.
Is bullet wound in forehead an exit wound, not an entrance wound?
Dr. Varani's report on Ms. Landrum says she died of a "gunshot wound of the head, with 1) Contact entrance wound; forehead; 2) Perforation of skull and brain; 3) bullet recovered from occipital [rear] area of the head; 4) Mild blood aspiration." It says the contact entrance wound was 1/2 inch in diameter.
Is the wound in Ms. Landrum's forehead actually the exit wound, while the wound at the rear base of her skull is the entrance wound, meaning she was shot in the back of the head?
The "entrance" wound in Ms. Landrum's forehead,  is massive, ovoid in shape, with unknown dark particles mixed in with copious blood, as seen in photos from the morgue and at the crime scene. Close-ups of the wound appear to show a flap at its top, blown out from the inside.
Forensic literature on contact entrance gunshot wounds says, "In hard-contact wounds, the muzzle is pressed firmly against the body. All the muzzle emissions accompanying the bullet—the flame, the hot gases, the soot, the propellant particles, the primer residue, and metal particles—are forced into the wound. The wound appearance can vary from a small perforation with searing and blackening of the wound edges caused by the hot gases and flame, to a large, gaping stellate [star-shaped] wound, with soot visible within and around the wound and searing of the wound edges from hot gases and flame."
A photo of the alleged "exit wound" in the occipital area (back) of Ms. Landrum's head  shows what appears to be a bullet protruding, with Dr. Virani determining that was where the bullet from the front of the head ended up. After removing that item, the examiner pulled the wound back into its original shape, a small hole more consistent with an entrance wound. (See box above). Other photos show the "entrance wound" without the top flap seen in photographs taken on the scene.
The autopsy report also states there was NO GUNSHOT RESIDUE found on Ms. Landrum's hands. Police reports say there were no fingerprints found on the gun in the car. There are no reports linking that gun with the wounds that killed Ms. Landrum and her children, despite VOD's FOIA requests for just such ballistics reports.
Dr. Virani also failed to note evidence of scratches and apparent bruising all over Ms. Landrum's arms and legs, and dark areas on her feet, although the shoes she was wearing would have covered any sun exposure.
Oddly, initial police and crime lab reports from the scene make no mention of the gun as part of the property collected from the crime scene. It only appears later in reports from the State Police, and in photographs allegedly taken at the time the bodies of Ms. Landrum and her children were discovered.
Narratives from the Oak Park Police Department say they visited the Oak Park home where Nikita lived with her children and a sister and brother. They say that the brother told them he had a gun and showed them the box in which the gun was kept, surprised to find that the gun, a Smith & Wesson SD 40 VE, was missing.
Some gun experts consider that model gun to be equivalent to the Glocks used in most police departments nationally. In Detroit, however, police use the 40 cal. Smith and Wesson according to national records.
There are no records of ballistic reports indicating what type of bullets were recovered from the bodies of the young mother and her children.
However, police claimed it was the same gun found on the driver's seat floor of Ms. Landrum's car, below her hand, almost as if the scene had been set up. The photo of Ms. Landrum in the car shows her lying casually on her back, with her head on the console in the middle of the seat, as if she had gone to sleep there. It is hard to imagine that she shot herself in the head while sitting in the driver's seat, then peacefully laid back down, with the gun casually dropping to the floor a long ways from her hand and head.
The Crime Scene 
Police reports and photos of the crime scene show up to 23 shell casings a significant distance away from Ms. Landrum's car. (See photos below.)
A shell casing normally drops from a gun at the location where the gun is fired. Ms. Landrum's car appears to have been subjected to several rounds of fire from OUTSIDE the car, including the bullet hole found in the rear passenger door. The fact that no significant blood splatter was found inside the car, as seen in crime scene photographs, is not consistent with an assumption  that Ms. Landrum killed her children inside the car, then shot herself, and laid peacefully down on the front seat afterwards.
While State Police reports noted the presence of the shell casings surrounding the car, no explanation was attempted before the case was declared a "murder-suicide."
Police also found packs of food and clothing supplies in the trunk of the car, possibly indicating that Ms. Landrum was fleeing Walker in fear for the lives of her children and herself. Double sets of tire tracks at the scene show she may have been pursued by another car to the final site.
DARIEL WALKER, SR.
Dariel Walker, Sr., the children's father, is evidently living a pretty prosperous life, touting himself as a motivational speaker on his Facebook page, which is also replete with photos of attractive women (https://www.facebook.com/dariel.walker.3
He was employed at Tom Holzer Ford in Farmington Hills at the time of the murders, but according to the company is no longer working there.
Walker handled the children's funeral arrangements and then set up a business entity  called "My Little Champions, LLC" in honor of his children, on April 10, 2018. He also sponsored a GoFundMe page for the children's funeral expenses. The program "My Little Champions" garnered extensive media coverage, but state records show that Walker has not submitted annual financial reports since the organization's original incorporation.
Nikita Landrum's mother says Walker called her at the time of her daughter and grandchildren's disappearance, telling her he feared Nikita might have done something to herself and the children. She says she told him, "If anyone did anything to my daughter, it was you."
Dariel Walker Sr. held funerals for the children at the Lomax Temple AME Zion Church on 17441 Dequindre in Detroit, on March 1, 2018.
Nikita Landrum's parents say they are still seeking the truth and justice for their daughter and grandchildren and will not stop. They particularly want their daughter's name cleared, after the global publicity naming her a murderer of her own children.
***********************************************************************************
DONATE TO VOICE OF DETROIT
Donations for the Voice of Detroit are urgently needed to keep this paper, which is published pro bono, going. Among ongoing expenses are quarterly  web host charges of $360 (due this month Dec. 26), costs for court documents, internet fees, office supplies, gas, etc. Please, if you can:
DONATE TO VOD at
************************************************************************************
RESURRECTING NIKITA LANDRUM FEB. 16-20, 2018
(VOD: this heart-rending addendum to the story of Nikita Landrum and her children has now been provided by her family members using their own research and photos showing Nikita's stunning beauty in life.)
Apparent Possibilities
Law Enforcement Agents of Bay City, Michigan State Police, And Oakland County committed a Felony when a presumption of depression was used to diagnose and assassinate Nikita.
(Numerous mainstream media reported a murder-suicide due to depression the day after the bodies of Nikita and her children were found, even providing links to sites advertising mental health assistance. Most did no further research into the Bay County Sheriff's unfounded declaration that the deaths were a murder/suicide, except to indicate many days later that the father of Nikita's children had been convicted of domestic violence against Nikita twice and was in a bitter custody dispute over the children.)
Her HIPPA Rights were violated; there was never a release of any records giving credence to the notion of mental depression. To hint or allow inconclusive rationalizing without basic facts shows bias.
The police case narrative presents only hearsay without any concrete proof. The Department officially closed the case without an Affidavit of Facts or Truth, which makes the whole publication defamatory. These Administrators have shown Malfeasance, and Malicious injury motives inflicted on Nikita, Mikayla, Dariel Jr., and all of Nikita's people.
A timeline of mother and children's last days, which refutes contention that Nikita was contemplating suicide

Wednesday 14, of February 2018: Children's dad kept them overnight, violating the actual Administrative Order. Nikita was highly upset about this, however, a brother suggested working some of the frustration off at the gym. Nikita then called upon a friend to proof read the Motion regarding the dad's actions.
February, Thursday 15th 2018: a legal Motion was filed at the Court and emailed to the Attorney of Dariel Walker [Sr.] Plaintiff. That evening Nikita spoke with her mother informing her something had happened. She said because they were in transit she would talk about the matter over the weekend. Mikayla and Dariel Jr. spoke joyfully over the speaker about the dessert they were to get. [The text below verifies that after the incident of Wednesday she was arranging for the next exchange with the Dad.]
Friday 16, February 2018. Early that day preparation was being made for the drop off of children.  When Nikita did not show up later nor on Saturday it became a concern to all. The Law Enforcers were not called because foul play wasn't expected. It had not been contemplated until the Dad expressed "He believed she had hurt herself and the children."
The last known validated texts on Nikita's phone between her and her brother Friday morning are shown in photo below. They discuss arrangements for picking up the children, which fly in the face of contentions that Nikita was planning to harm them.
Nikita's cell phone and work laptop were found at the house, after her disappearance. Which raises the question of  how she found her way to Bay City, where she had never been before. There was no known connection.
It was a work day, their clothing did not reflect how they dressed when going out.
Nikita had moved on from the children's dad, because of tension between them after leaving him. Others were asked and allowed to stay with the children to give aid to each other. Autochthonous women nurture all that is part of their world if given the chance.
There was a new guy in her life who had met some of her loved ones. That weekend there were to be events they planned to attend. They were engaged, he was to meet her parents in March and inform of their future plans.
The proposed Court Order was not set in stone! They were planning to address it when time allowed. Nikita was looking to have her day with a jury trial. Members of her bloodline were already asked to give testimony. Exhibits were being gathered for the trial.
There was also a Motion showing violations from the Plaintiff [Dariel Walker Sr.] Nikita Landrum told those close to her, "the case was not being handled fairly". Yet she did not despair; other alternatives were being worked on. Which made the whole Murder/Suicide unthinkable.
Lately she had begun working more from home which was a perk, more time for the children. Her first home was being painted inside. The whole idea that she had in some way lost hope is a one-sided assumption. Which asks who implied it and why?
Nikita honored life and cherished Mikayla as well Dariel Jr. They had just begun a new learning center; Spanish was to be a new language. Nikita noticed being followed and stated it on occasions. The night before their disappearance she seemed tense at times. "He [children's dad] was calling and chiding to cause her frustrations," a friend stated. Nikita planned to renew the PPO against Dariel Walker, Sr. [who had two earlier domestic violence convictions related to Nikita].
Nikita listed herself as an Organ Donor, and allowed the umbilical cords of her children to be used for medical purposes, because she believed that doing this would allow others to live a better life if their organs were saved for those in need.
When she spoke of the reason for advocating, it was thought the organs wouldn't be available until she died, hopefully of natural causes. Why were she and the children found 100 miles from home? Who would or could benefit from this happening? What made the Murder/Suicide speculation ideal and then confirmed?
Nikita's mother: These pictures are from different periods of her metamorphosis as a woman, the first taken as a model.
The photo at right, while breastfeeding Dariel Jr. Motherhood brought a need to give more towards nurturing her children. Everyone marveled at the way she provided for them.
************************************************************************************
Crime scene and autopsy photos do not correspond to law enforcement conclusions about the deaths of Nikita, Mikayla and Dariel Jr.
This picture shows Dariel Jr. lying on his back, the face is intact, no blood shows. The structure has no disfigurements. The Bay County Sheriff's department told the world Nikita Landrum shot both children then killed herself with a 40 caliber S&W, before any investigation including autopsy reports were complete. What impact would show if that action was done to the children's heads?
It was reported that Dariel Jr. was found right outside the vehicle. Examining photo, he is seen lying alone, where is the car? If this was a murder suicide, what purpose would there be to separate the children? The car seats had them restricted from a quick escape! Why kill them in different locations? It was stated that Dariel Jr. was shot in the back of the head. Shouldn't there be some type of damage to the frontal head or face?
(VOD: The Bay County Sheriff and Medical Examiner denied Nikita's family access to morgue photos of their grandchildren and to their personal effects.)
 AUTOPSY FINDINGS CHILDREN
Gunshot wound of head: Entrance wound; occipital region of head [Dariel Jr.] Perforation of skull and brain, Exit gunshot wound; left side of the forehead.
Gunshot wound of head: Entrance wound; left occipital region [ Mikayla] Perforation of skull and brain, Exit gunshot wound right temple area.
______________________________________________________________
ME, CSI, OTHER PHOTOS OF NIKITA POST MORTEM
Why would these bruises show if Nikita shot both children and then herself? Why are her hands swollen? Photos of her in the car have the body relaxed. The pants worn were loose. People, does the body resemble what was told?
How did a woman who modeled and took extra efforts to work out, eat a certain way, end this life, punched in the face and bruised throughout her body? Why were those signs ignored by Law Enforcers, and Medical Physicians? Nikita was last seen Thursday night February 15, 2018 at the home she shared with Mikayla, Dariel Jr., a brother, and sister. Her car was viewed in the yard early Friday morning. A text message was sent from her number that asked a brother would he be able to take the children? There wasn't any other communication from her or the children.
The right foot has a swelling with possibility of being broken. The discoloration is not Livor Mortis, when the Mortician was asked the reply "I've never seen anything like it before." What happened to Nikita and why did it take Bay County Law Enforcers over 16 months to give any evidence? The bloodline had to submit an FOIA over three times. An attorney was paid to set up a meeting to view any and all findings. It never happened.
The clothing and shoes reflect how you would see Nikita early possibly from dozing after a full day with the children. Starting off the day Mikayla and Dariel Jr. would be getting fed and dressed.
Friday June 21 2019 we finally received some of the rest of Nikita;s items. A week later her brother Naseer Landrum was found drowned. To date there has been a refusal of total transparency.
Basic ballistics state that the entry wound is always smaller than the exit wound.
Why was this massive wound on Nikita's head characterized in the written autopsy report as a 1/2 inch entrance wound?
********************************************************************************
OPEN LETTER TO THE U.S. GOVERNMENT AND ITS MEMBER STATE GOVERNMENT OF MICHIGAN AND SUBSIDIARIES
INVESTIGATE THE FOLLOWING BECAUSE I AM AN INDIAN AND UNDER ATTACK!
(Please see attached news article at http://voiceofdetroit.net/2020/01/19/who-really-killed-nikita-landrum-children-in-bay-city-mi-murder-suicide-evidence-questioned/)
I, Landrum, Ms, implore you to launch an investigation at all governmental levels,  because I am an American Indian by blood heritage and my ancestors helped your ancestors establish the United States, as well as its Constitution; therefore, I require and request your aid, because Congress passed House Joint Resolution 331, December 1988, which is:
"A concurrent resolution to acknowledge the contribution of the Iroquois Confederacy of Nations to the development of the United States Constitution and to reaffirm the continuing government-to-government relationship between Indian tribes and the United States established in the Constitution." — 100th Congress (1987-1988)
The United States Government owes an obligation of protection and preservation to my people. My consort and progeny are what I am; therefore, I bring to your attention the following incidents:
First, my consort Landrum, L was repeatedly harassed by City of Detroit Police from August 2015, through August 2017, based on false allegations of assault made by M. MONTREUIL, which resulted in him being kidnapped twice, thrown into an alternative culture, held against his will for ransom, tried on February 13, 2017, and ultimately exonerated of all charges by a jury of 12.
Second, my daughter, Landrum, Nikita, as well as both her children were all suspiciously assassinated.  Unfortunately, I have battled with intimidation, bullying, fraud, deception, collusion, harassment and conspiracy before/since their demise.
All three were found executed in Bay City, Michigan on February 20, 2018. However, despite the fact that my daughter's body showed definite signs of a physical struggle, efforts are repeatedly made to compel me to accept her assassination as suicide.
Moreover, I have been repeatedly denied access to important evidence, reports, my daughter's children effects – auto, and all contents (which all, by blood right belong to our clan now, because they hold sentimental significance for us all).
Third, my son Landrum, Naseer, suffered a suspicious drowning death on June 28, 2019, that is also being pushed on me as yet another doubtful suicide!  We request Federal intervention, because it appears that our bloodline is being targeted for extermination, assassination, and genocide.
As an Indigenous Aborigine of America, I am invoking federal jurisdiction, using Title 42 USC Section 14141, to launch an investigation into everyone and every agency that violated the following Federal laws involving my clan: Title 18 USC Section 241; Title 18 USC Section 242; Title 18 USC Section 249; Title 25 USC Section 174; Title 25 USC Section 194
Thank you in advance for any protections you can offer, because it appears that suspicious efforts are being made to bully my clan and drive my bloodline to extinction, while labeling all these executions as suicides that I do NOT accept – especially when vital information is withheld, as well as personal property, from us by repeatedly stalling and avoiding my requests.  Please help protect and preserve us before we no longer exist!
WHERE IS ALL OF NIKITA's PROPERTY? WHY WAS SHE MADE TO ENTER INTO FAMILY COURT WITH SOMEONE WHO HAD A POLICE PROTECTION ORDER AGAINST THEM?   HOW DID SOMETHING LIKE THIS HAPPEN? WHAT TYPE OF COUNTY ALLOWS WOMEN AND CHILDREN TO BE DONE IN THIS MANNER?
It was alleged that Nikita committed the murder and suicide in the car. Multiple close-range gun shots from a .40 caliber weapon should create large splatters. There are none..
The question is how did the Investigation reach its findings/opinions? Why did the media quickly give a report without substantiating or inquiring for balance? We do not Consent and Openly Object to this lack of Investigation by all involved in anyway. The only reason we have obtained what is being viewed is due to continued "Demanding, and FOIA requests."
Addendum to the people at large: Many letters were sent seeking and demanding that Authorities answer questions. People, you are being asked to give a voice to those that have no voice. Reminisce over the many faces and names. That come over the radio, news station, internet and paper. What is told does not add up nor make sense.
Nikita, Mikayla, and Dariel Jr. meant something to "Us" because we are like you. Many are joined with us. If what you've read and seen gives doubt of Murder, Suicide! Affirm that the "Soulless" wicked ones shall be brought to light. Any and all who have any information do find strength to give it openly or anonymously! Wherever you are, give a measure of support, do something to secure this world by acting. Whenever "We" resonate energy together for a purpose it shall cause real Luvv [ Luminating Universal Vigilantly Victoriously] 
During 2018 different government departments were sent letters, or emails because of the constant onslaughts against our People. Only the prior Attorney General William Schuette of Michigan responded, while other offices and elected Members refused to respond or act. The offices are being shown for any and all to give power, strength, and clarity for a Public Resolve. Call them, fax, or email!
We enter this document and any other validations, For Proof on the Record.
Truly,
Landrum, Ms.
cc: File, and
The Honorable Donald Trump. President of the United States 
The White House
1600 Pennsylvania Avenue NW Washington, DC 20500
Phone Numbers Comments: 202-456-1111 FAX: 202-456-2461
The Honorable Chad F. Wolf, Acting Secretary of Homeland Security
Washington, D.C. 20528
Comment Line: 202-282-8495
The Honorable Christopher A. Wray, Director, U.S. Federal Bureau of Investigation
935 Pennsylvania Avenue, NW
Washington, D.C. 20535-0001
(202) 324-3000
Detroit (Covers the entire state of Michigan)
477 Michigan Ave., 26th Floor
Detroit, MI 48226
detroit.fbi.gov
(313) 965-2323
The Honorable Donald Washington, Director, Office of the U.S. Marshals Service
General Information (202) 307-9100
The Honorable William Barr
U.S. Attorney General
U.S. Department of Justice 950 Pennsylvania Avenue, NW Washington, DC 20530-0001
Department Comment Line: 202-353-1555
Department of Justice Main Switchboard: 202-514-2000
OFFICE OF STATE ATTORNEY GENERAL, MICHIGAN
DANA NESSEL, ATTORNEY GENERAL
Mennen Williams Building
525 W. Ottawa Street
P.O. Box 30212
Lansing, MI 48909
Phone: 517-335-7622
Fax: 517-335-7644
Email: miag@michigan.gov
DETROIT OFFICE
Cadillac Place, 10th Floor
3030 W. Grand Blvd., Ste. 10-200
Detroit, MI 48202
Phone: 313-456-0240
Fax: 313-456-0243
OFFICE OF BAY COUNTY EXECUTIVE; James A. Barcia
Bay County Building
515 Center Avenue, Suite 401
Bay City, Michigan 48708-5125
Voice: (989) 895-4130
Fax: (989) 895-2094
countyexecutive@baycounty.net
OFFICE OF BAY COUNTY ADMINISTRATIVE SERVICES; Craig Goulet
Bay County Building
515 Center Avenue, Suite 401
Bay City, Michigan 48708-5941
Voice: (989) 895-4133
Fax: (989) 895-2094
OFFICE OF BAY COUNTY CORPORATION COUNSEL
Amber Davis-Johnson – Director, Corporation Counsel
Heather Brady Pitcher – Assistant Corporation Counsel
Jayson Hoppe – Administrative Supervisor
Nicole LaDouce – Risk Management & FOIA Facilitator
515 Center Avenue, Suite 402
Bay City, Michigan 48708-5941
Voice: (989) 895-4131
Fax: (989) 895-2094
OFFICE OF THE BAY COUNTY PROSECUTOR
Nancy Borushko, Prosecuting Attorney
1230 Washington Avenue, Suite 768
Bay City, Michigan 48708-5737
Voice: (989) 895-4185
Fax: (989) 895-4167
OFFICE OF THE BAY COUNTY SHERIFF
Troy Cunningham, Sheriff, 
Christopher Mausolf, and Detective Matthew Pett
Bay County Law Enforcement Center
503 Third Street
Bay City, Michigan 48708
Voice: (989) 895-4050
Fax: (989) 895-4058