Prisoners Demand Human Rights, Education, Wages For Work 
To hear radio interview with Elaine Brown on Democracy NOW! go to
http://www.democracynow.org/seo/2010/12/14/prisoner_advocate_elaine_brown_on_georgia
To hear radio interview between Glen Ford, Elaine Brown and striking prisoner, go to
http://www.blackagendareport.com/?q=georgia_prison_strike_interview_update_dec15)
Wed, 12/15/2010 – 04:50 — The Editors, Black Agenda Report
Georgia prisoners who began a courageous, peaceful and nonviolent protest strike for educational opportunities, wages for their work, medical care and human rights have captured the attention of the world. Black Agenda Report intends to closely cover their continuing story. Glen Ford recorded a conversation with activist Elaine Brown and one of the striking inmates in Georgia on Wednesday, December 15.
Story by Bruce A. Dixon, audio interview by Glen Ford
The historic strike of Georgia prisoners, demanding wages for their labor, educational opportunities, adequate health care and nutrition, and better conditions is entering a new phase. Strikers remain firm in their demands for full human rights, though after several days many have emerged from their cells, if only to take hot showers and hot food. Many of these, however, are still refusing their involuntary and unpaid work assignments.
A group that includes relatives, friends and a broad range of supporters of the prisoners on the outside has emerged. They are seeking to sit down with Georgia correctional officials this week to discuss how some of the just demands of inmates can begin to be implemented. Initially, Georgia-based representatives of this coalition supporting the prisoner demands included the Georgia NAACP, the Nation of Islam, the National Association for Radical Prison Reform, the Green Party of Georgia, and the Ordinary Peoples Society among others. Civil rights attorneys, ministers, community organizations and other prisoner advocates are also joining the group which calls itself the Concerned Coalition to Protect Prisoner Rights.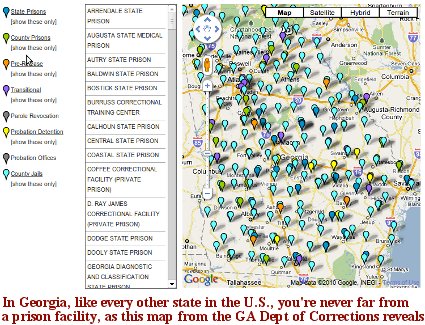 Prisoners have stood up for themselves, and the communities they came from are lining up to support them. Today, at a groundbreaking for a private prison 300 miles southeast of Atlanta in Millen GA, residents of that local community opposed to the private prison are greeting the governor and corrections brass with a protest. They will be joined by dozens more coming in from Atlanta who will respectfully urge state authorities to talk to the prisoners. We understand that one person there has been arrested. Black Agenda Report will have photos and footage of that event on Thursday.
The broad-based Concerned Coalition to Protect Prisoners Rights fully supports the heroic stand of Georgia's prisoners. "This isn't Attica," one representative of the coalition explained. "No violent acts have been committed by any of the inmates involved. We hope state corrections officials will be as peaceful and respectful as the prisoners have been, and start a good faith dialog about quickly addressing their concerns."
Right now, the ball is in the hands of state corrections officials, and reports are that in some of the affected prisons, authorities are fumbling that ball, engaging
"They transferred some of the high Muslims here to max already," one prisoner told Black Agenda Report this morning. "They want to break up the unity we have here. We have the Crips and the Bloods, we have the Muslims, we have the head Mexicans, and we have the Aryans all with a peaceful understanding, all on common ground. We all want to be paid for our work, and we all want education in here. There's people in here who can't even read…
"They're trying to provoke people to violence in here, but we're not letting that happen. We just want our human rights."
The transfers are intended to deprive groups of leadership and demoralize them. In some cases they may be having the opposite effect, stiffening prisoner morale and making room for still more leaders to emerge.
"The prisoners insist that punitive transfers are an act of bad faith, the opposite of what we should be doing," said Minister Charles Muhammad, of the Nation of Islam in Atlanta. "The coalition supports them and demands no punitive transfers, either within or between institutions, and absolutely no transfers to institutions outside Georgia."
Members of the public should continue to call the prisons listed below, and the GA Department of Corrections and the office of Georgia's governor, Sonny Perdue. Ask them firmly but respectfully to resolve the situation non-violently and without punitive measures. Tell them you believe prisoners deserve wages for work and education. Ask them to talk to prisoners and the communities they come from.
It's simple. With one in twelve Georgia adults in jail or prison, parole or probation or other court and correctional supervision, prisoners are us. They are our families. They are our fathers and our mothers, our sons and daughters, our nieces and nephews and aunts and uncles and cousins. Most prisoners will be back out in society sooner, not later. It's time for us all to grow up and realize that warehousing, malnourishing, mistreating and abusing prisoners does not make us safer. Denying prisoners meaningful training and educational opportunities, and forcing them to work for no wages is not the way to do.
It's time to fundamentally reconsider prison as we know it, and America's public policy of mass incarceration.
Bruce Dixon and Glen Ford are reachable at bruce.dixon@blackagendareport.com and glen.ford@blackagendareport.com, respectively. Black Agenda Report intends to provide ongoing coverage several times per week of the ongoing struggle of Georgia prisoners.
Macon State Prison is 978-472-3900.  
Hays State Prison is at (706) 857-0400
Telfair State prison is 229-868-7721
Baldwin State Prison is at (478) 445- 5218
Valdosta State Prison is 229-333-7900
Smith State Prison is at (912) 654-5000
The Georgia Department of Corrections is at http://www.dcor.state.ga.us and their phone number is 478-992-5246
To read "Lockdown for Liberty," the article on the prison strike by Charlene Muhammad in The Final Call, the Nation of Islam's national newspaper, go to http://www.finalcall.com/artman/publish/National_News_2/article_7498.shtml.