By Diane Bukowski
DETROIT – The auditorium of Central United Methodist Church was filled with supporters of Attorney Vanessa Fluker March 25, including victims of foreclosure, and members of numerous groups including Moratorium NOW, the People's Crime Lab Task Force, the Original Coalition Against Police Brutality, and other activists of all colors, ages, and sexes.
Fluker is called the "people's lawyer" by many, since she works 84 hours a week fighting to keep Detroit's poor and working people in their homes, and has been active in the campaign for a state and national moratorium on the foreclosures that have devastated cities like Detroit.
 Her office mate, attorney Jerome Goldberg, said she takes cases even he wouldn't take.
"Her legal work has led to significant legal victories," Goldberg said. "She won the first case in Michigan holding that MERS [a temporary holding organization for mortgages] has no standing to foreclose.  She has won cases asserting that the failure to evaluate loans for modifications is a defense to a foreclosure.  She has testified in front of the U.S. Congress exposing the 'silent bailout' of the banks by the federal government through Fannie Mae and Freddie Mac that occurs with virtually every foreclosure."
But on March 1, 2011, Michigan Third Circuit Court Judge Robert Colombo, Jr. assessed $12,200 in sanctions against this distinguished attorney and her client for what he called a "vexatious appeal" of an eviction stemming from a foreclosure by RBS Services (Royal Bank of Scotland).  Her support committee is trying to raise $18,000 to allow for late fees to keep her out of jail for contempt.
"It's not just about me," Fluker said. "It's about my client and all those fighting foreclosures. Judge Colombo's action could have a chilling effect on every attorney, making them fear that vigorous advocacy could result in such sanctions."
Fluker is an extremely passionate, precise, and articulate speaker with a rapid-fire style that calls to mind the late Kenneth Cockrel, Sr. in his heyday.
"Today, we are actually foreclosing on each other," Fluker told the crowd. "The U.S. government through Fannie Mae and Freddie Mac now owns and controls 75 percent of predatory, toxic loans foisted on homeowners by the banks and mortgage companies."
Fluker explained that the government insured those loans and has paid the full cost of defaulted mortgages to the original lenders, who received billions in tax-funded bail-outs to boot. This is despite the fact that only a very small percentage of the lenders complied with the requirements of the Troubled Asset Relief Program (TARP) that they negotiate affordable terms with homeowners to keep them in their homes.
"We must understand the vast profit the banks are making off the people," Fluker said. "I have numerous clients who are making their mortgage payments every month and still get foreclosure notices. But no one will work with them because of the profit the banks can get out of foreclosing on them. We have to let the banks, the legal system and the legislatures know that we will NOT take this anymore!"
Other speakers supporting Fluker at the rally along with Goldberg were Rev. Ed Rowe of Central United Methodist Church, U.S. Congressman John Conyers, Wayne County Commissioner Martha Scott, and labor author Steve Babson. Conyers said he will sponsor fund-raisers for Fluker in New York City and Washington, D.C.
Many believe the role of Judge Colombo in this matter should be closely scrutinized for conflict of interest.  Colombo has not filed Campaign Finance Reports since 1988, when he received what is evidently an eternal waiver from the Secretary of State.
James Woodham, spokesperson for the Secretary of State, said that Colombo asserted in 1988 that he was not spending more than $1,000 on his campaigns. Woodham said he does not have to request a waiver again, EVER. This reporter, however, has reviewed numerous campaign finance records in her 11-year career, and NEVER found a candidate who had not filed a single report in 23 years.
SOS records confirm that Colombo lives at 754 Lakeland in Grosse Pointe. Wayne County Register of Deeds records show that a $200,000 mortgage on the home, taken out in 2007, was written off  in 2009 by the very same bank that is foreclosing on Fluker's client, the Royal Bank of Scotland.
One of Fluker's contentions in her "vexacious" lawsuit was that her client had been named by the Center for Community Justice and Advocacy (CCJS) in a federal Fair Housing Complaint against RBS. CCJA accused RBS of discriminating against Blacks by steering them to high interest loans, and then selling their homes at Sheriff's auctions for low values, thus precluding their six-month right to redemption which is guaranteed under state law.
"Discrimination complaints are an accepted affirmative defense in eviction cases," Goldberg noted.
Folks in RBS' home country are not overly fond of the bank either.  Over a half-million demonstrators protesting huge government budget cuts in London, England last week  included some who chose to target a branch of RBS, throwing paint and bottles at the building.
Colombo ran for State Supreme Court last year, but his candidacy was dismissed by many in labor who still remember his infamous 2008 asbestos case ruling.
According to the National Law Journal, Colombo threw out the testimony of an expert witness on asbestos cases, Dr. Michael Kelly, putting thousands more lawsuits brought by victims of asbestos exposure "in limbo."
In 2007, Colombo sentenced Kathryn Gillis, R.N., former director of nursing at the Northland Nursing Center, to a term of five years probation for causing the heat-related deaths of four patients in the home. She pled guilty to involuntary manslaughter and could have received 15 years in prison on each count.
An investigation by the Attorney General's office revealed that "the facility's air conditioning system was not functioning, the facility's windows did not open, and there was a lack of fans for residents to use" when temperatures in Detroit reached 87 to 90 degrees during three days in June, 2001. The patients died from conditions related to heat exposure, but Gillis remained free in her (presumably) air-conditioned home.
Prior to that, Colombo, as head of the Third Circuit Court's docket review committees, recommended that Judge Deborah Thomas, be removed from the bench, allegedly for non-adherence to trial timeline guidelines. Thomas argued back that she was being forced to hold time-consuming jury trials by Wayne County Prosecutor Kym Worthy, who had ordered no bench trials for judges she felt favored the defense.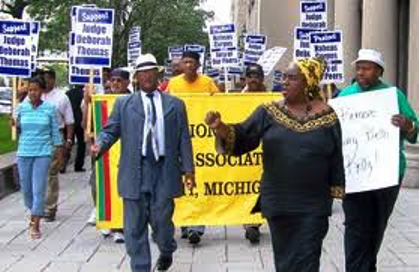 Thomas was well known for her battle, begun in 2004, to get more proportionate representation of Blacks on Wayne County juries, another reason Kelly wanted her gone. Colombo was an ardent supporter of Kelly's. Kelly presented him with a trophy in 2007 that called him the "Third Circuit Court Outstanding Judge of the Year.
Both Kelly and Colombo eventually lost out. A mass community movement in support of Judge Thomas' advocacy for constitutional jury representation forced her to step down. When judges on the bench voted to replace Kelly with Colombo, the State Supreme Court snubbed them, instead appointing Virgil Smith, who came direct from the Prosecutor's office.
Checks to the Vanessa G. Fluker Appeal Fund can be sent to 2920 E. Jefferson, Suite 101, Detroit, MI 48207. For more information about Moratorium NOW, call 313-680-5008 or go to their website at www.moratorium-mi.org.