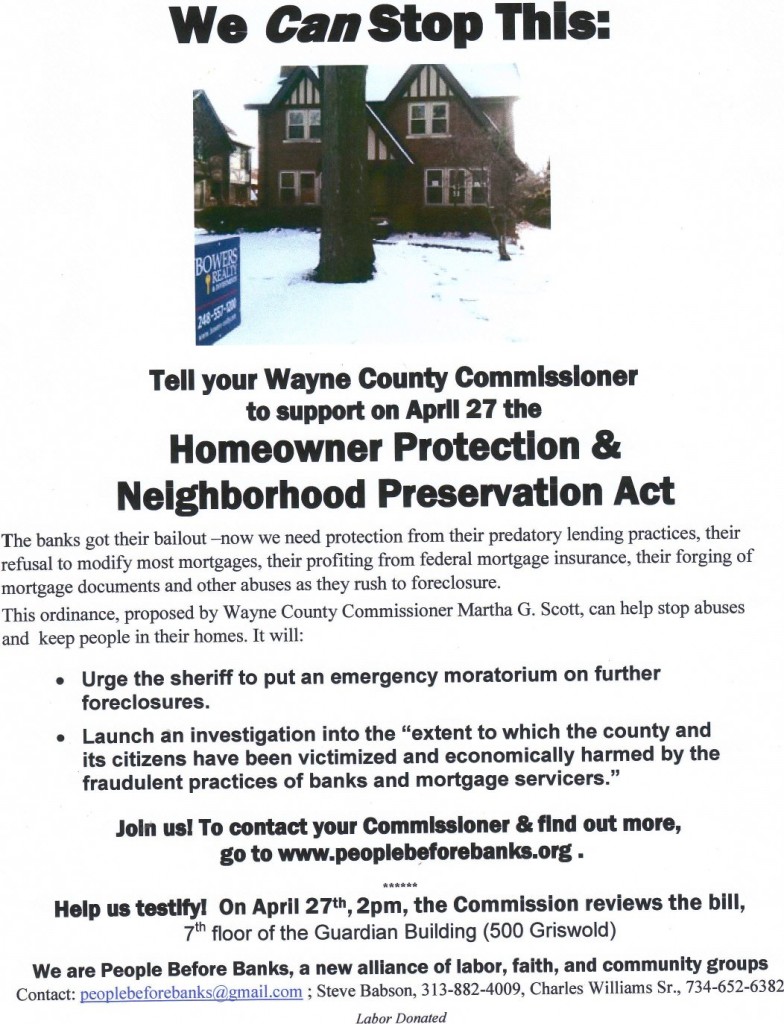 Come to a public hearing this Wednesday, April 27, 2011, 2:00 pm, 500 Griswold, 7th where the Wayne County Commission committee that is considering the Homeowner Protection and Neighborhood Preservation Act will be meeting. 
This bill introduced by Commissioner Martha Scott would:
A. Call for investigation on the effects of the fraudulent and racist foreclosure practices of the banks and the impact on
Wayne County.
B. Urge the Sheriff to immediately implement a one year moratorium on foreclosure sheriff sales in Wayne County.
C. Ask the commission put the issue of a moratorium on foreclosures on the November 2011 ballot as an advisory question.
It is critical that we have a large turnout at the Wayne County Commission hearing on Tuesday.  The pressure of the banks is already being felt as commissioners are finding excuses not to support this resolution despite the devastating and continuing impact of foreclosures in Wayne County, and the recently released Senate report documenting the massive foreclosure fraud and the inaction of the government in dealing with this fraud.  For more information see the attached flyer or visit the People Before Banks website at http://peoplebeforebanks.org/.
Support Attorney Vanessa Fluker this Friday, April 29, 2011, 9:00 am, Judge Virgil Smith's courtroom, 7th Floor, Coleman A. Young Muncipal Center, 2 Woodward Ave., Detroit, MI 48226 where there will be a hearing on the motion to have Judge Robert Colombo disqualify himself from consideration of the appeal of the sanctions he imposed against Vanessa for fighting RBS Citizens Bank, the same bank who gave Judge Colombo a mortgage and two refinancings in a five year period. 
Funds are still needed to appeal this outrageous $12,200 sanction.  Send donations to Vanessa G. Fluker, PLLC, appeal fund, at 2920 E. Jefferson, Suite 101, Detroit, MI 48207. 
Also go to www.moratorium-mi.org.