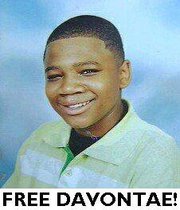 HEARING IN CASE OF 14-YEAR-OLD CHILD FALSELY CONVICTED OF MURDERS ANOTHER MAN HAS CONFESSED TO.
TUESDAY, MAY 10, 9 A.M. TO 12 NOON
FRANK MURPHY HALL, St. Antoine at Gratiot (courtroom to be announced)
Click on  FREE DAVONTAE SANFORD Voice of Detroit to read and/or print out the shocking story of this young man, who has been held in prison by Wayne County Prosecutor Kym Worthy for four years, despite the fact that another man confessed to the crime, a hit killing of four people that happened when Davontae was 14.
Most reent post  on Davontae's Facebook page (see link below), from Taminko Sanford, Davontae's mother (as Mother's Day approaches);
i miss u so much,when i seen u wednesday tears came to my eye,u have became away from home,seen so much,heard so many lies fortold on u,missin holidays together,missin hearing ur voice,but reguardless of what,my heart holds a place for u that no one can feel,ma ma luvs u man,am prayin for u.
Davontae's Facebook page at  http://www.facebook.com/event.php eid=135209816510145#!/free.davontae.sanford.