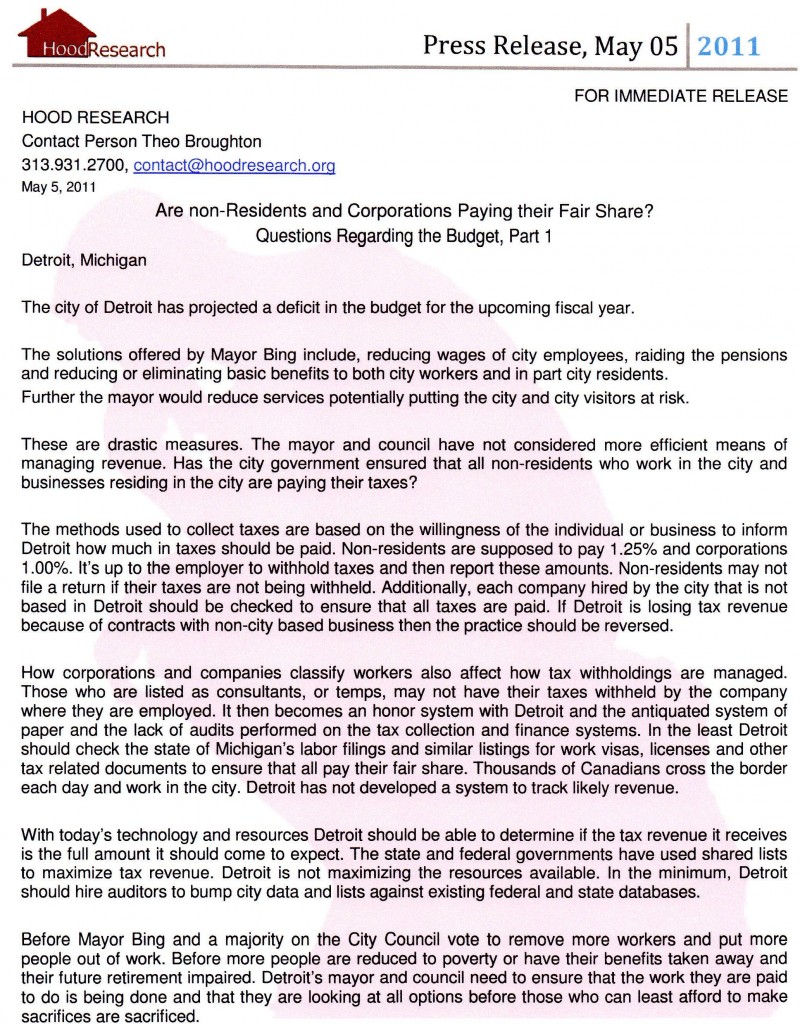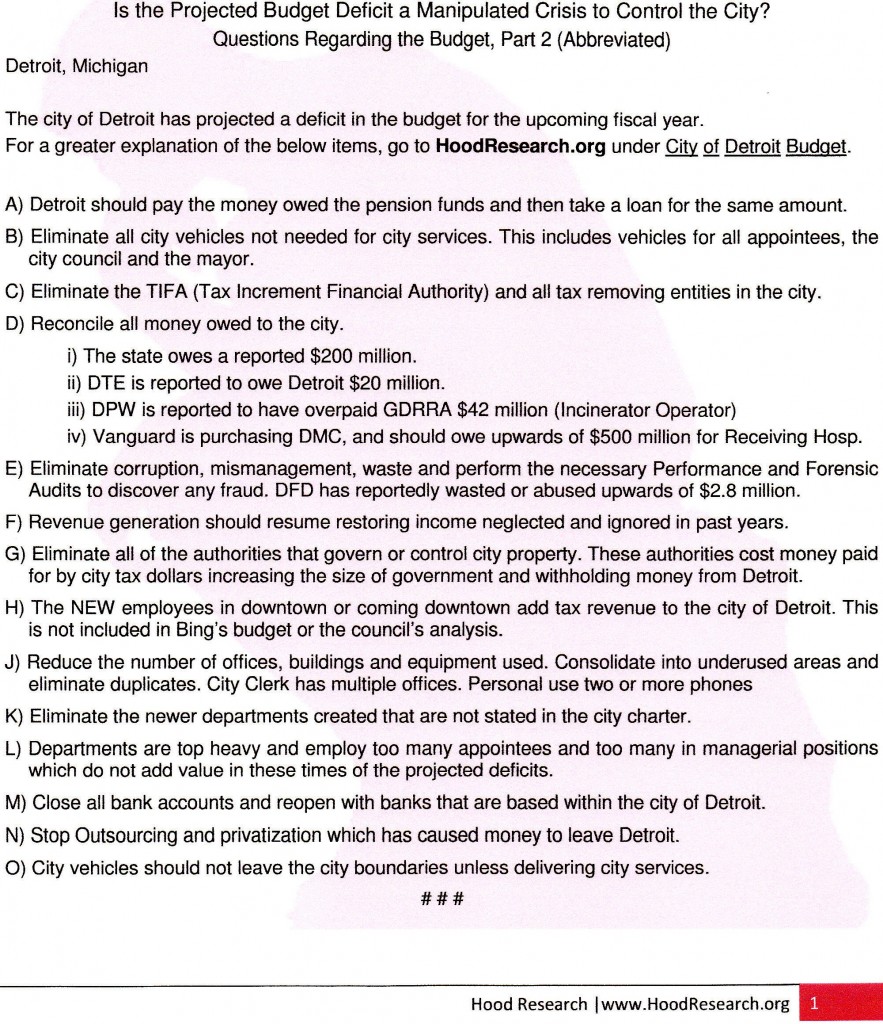 Click on Hood Research city budget analysis in detail for further information. There is a link to the Hood Research website on VOD at right under links.
Hood Research's monthly meeting is this Saturday, May 14 at 2PM  8222 Joy Road Part of the Agenda includes a discussion on the Budget for the City of Detroit.
This Friday Hood Research is sponsoring a Black History Tour right here in the City of Detroit.  For Details call, 313.931.2700
 Hood Research is on Facebook; http://www.facebook.com/HoodResearch Pictures from its Black History Tour to Battle Creek are posted. Stay tuned for pictures related to more problems with city vehicles. 
Go  http://HoodResearch.org for further updates. 
BING DEMANDS MORE CONCESSIONS!
Commentary from AFSCME Local 207 (Water and Public Lighting Depts.) 
Mayor Bing is demanding that city unions and even the pension boards cave in to more concessions just 6 months after he imposed the worst concessions in Detroit city workers' history. While Bing is still working out the details, he is clearly out to radically reduce our pensions and increase our health insurance costs. Bing is threatening us with a state-imposed financial dictator to void our union contracts if we don't submit to his demands. AFSCME Council 25 is meeting with the City Friday May 13th to hear his proposals. They are currently saying they are against opening the contract to negotiate more concessions (the contract doesn't expire till July 2012). Local 207's response to Bing's attacks on Detroit is:
 
• Don't Open the Contract!
• Hands off Our Pensions!
• No More Health Insurance Concessions!
• No Emergency Financial Managers! No Dictatorships!
• Fight to Save Our City, Our Schools, Our Neighborhoods, Our Jobs!
 
The fight to defend public education is the cornerstone of our fight to defend our city, our services and our jobs. These are inseparable issues. If we show the community that city workers are helping to lead the fight for Detroit, we will build the unity all Detroit needs to defeat the many attack against us as the powers-that-be attempt to enforce a new form of Jim Crow, second-class status on our community, including the assault on our wages and benefits.
 
If we raise enough hell, Bing, Snyder and their super-rich, tax-dodging backers will be afraid to impose a dictator over our city. If Bing fears the consequences of a takeover of the whole city, then he has nothing to threaten us with. The rich have no right to treat us like dogs, and we not stand for it! Let's start taking united actions with all those who are fighting to save our city. Come demand that they stop the attack on our schools, and stop the attack on city workers. DETROIT: RISE UP! 
 
ATTEND LOCAL 207 MEMBERSHIP MEETING – THURS. APRIL 12 – 4:30 PM