Aiyana Jones: One Year Anniversary of the Death of a 7-Year-Old Detroit Girl: MyFoxDETROIT.com

 Click on http://www.tv20detroit.com/news/local/Community-Remembers-Aiyana-Jones-on-Anniversary-of-Death-121965704.html to watch Channel 20 coverage.
Outraged Community Activists From Around the World  Organize
 Aerial Protest of the One-Year Anniversary of the Death of Aiyana Jones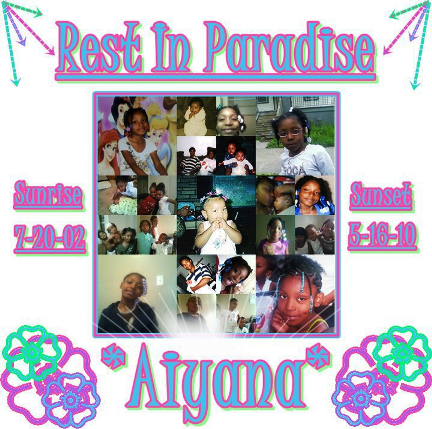 DETROIT – As of 12:00 a.m., May 16, 2011, the Wayne County Prosecutor's Office in Detroit has not charged Detroit Police Officer Joe Weekley or anyone with the senseless and brutal murder of 7 year old Aiyana Jones.  And despite the numerous complaints, and worldwide outrage, justice for Aiyana Jones in Detroit appears to have gone cold.
Thus, the Justice for Aiyana Jones Committee (JAJC) has arranged for an aerial banner to fly from the house where Aiyana Jones was killed to downtown Detroit beginning at 1 pm, May 16, 2011 which is the one-year anniversary of her demise.  The small plane will pull a banner that will read "Justice for Aiyana Jones" and is scheduled to make 3-4 round trips.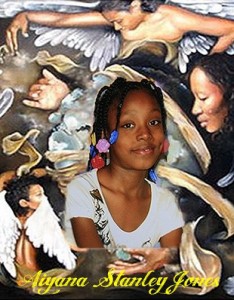 JAJC spokesperson, Roland Lawrence aka Fige Bornu said, "It has been a complete year since little Aiyana was snatched from life as a result of a reckless and/or intentional act by the Detroit Police Department.  To add fire to her demise, local, state and federal authorities have literally ignored the gross and ghastly inhumane actions of the Detroit Police Department that took place in the wee hours of the morning when Aiyana's push to death was scripted and videotaped by the A & E cable program, The Next 48 Hours.  We are demanding that the Detroit Police Department and A & E be criminally charged with the death of Aiyana Jones, and that Detroit Mayor Dave Bing and the Detroit City Council acknowledge that the Detroit Police Department acted in total disregard when they actively participated in the killing of Aiyana Jones."
Community activists from London, England, Ohio, Florida, Washington, DC, Los Angeles, New York and Detroit worked with JAJC to create this one-year aerial protest of the death of Aiyana Jones.
For more information, email The Justice for Aiyana Jones Committee (JAJC) at justice4aiyana@hotmail.com or call (313) 989-8850.  The Committee is also on Facebook.
From Aiyana Jones' grandmother Mertilla Jones on her Facebook page:
"Im hurtn so bad everyday all day 4 tha last u. Livin w/o you. U were my strength n my Proud! Missi & Lovin You AIYANA !
Aiyana, Granma mini-me. What cn I say? I Love u & miss u so much !!!!!! Even tho I watched ur life leave ur body b-4 my eyes Im still havn trouble w/tha way u left Earth. I dnt think I cn do 2day ! Sumbody plz. ! N Jesus name ! Get me 2gether
Ohhhh My BABY Ms. AIYANA JONES !!!! ITS 1 YR. SINCE THAT DAY I WATCHED N HORROR AS THE DIRTY COPS N DETROIT,MI MURDERED U.!"