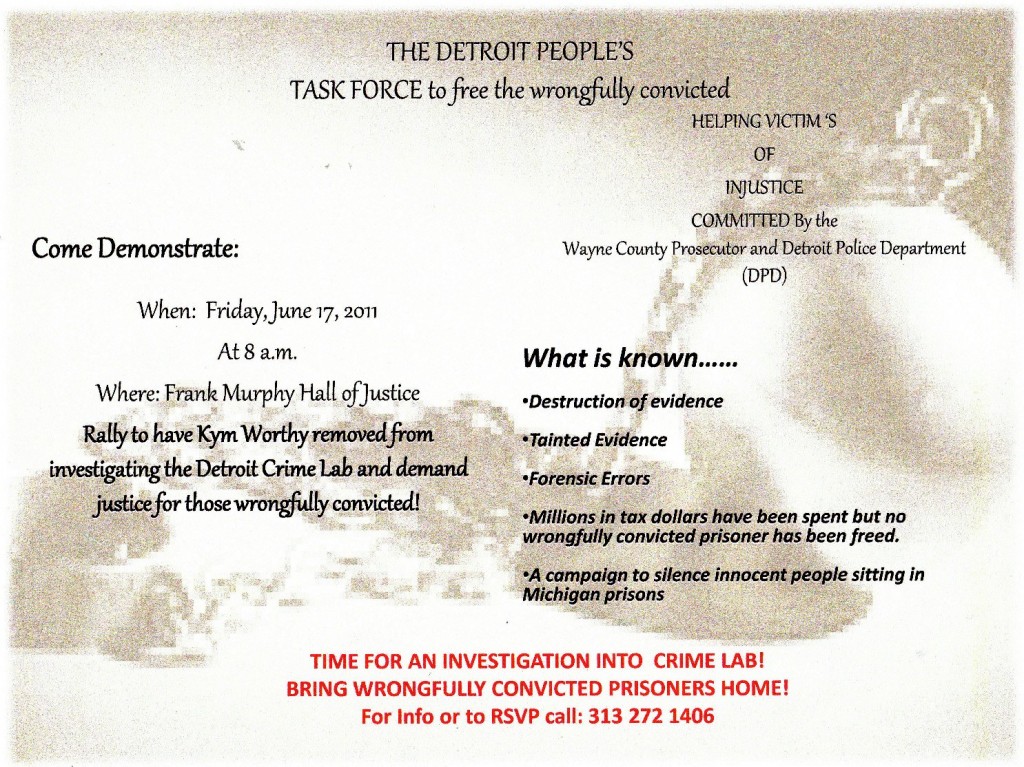 (VOD ed.: story coming shortly.)
 The Detroit People's Task Force to Free the Wrongfully Convicted will be hosting a protest on Friday, June 17, 2011 at 8 a.m. in front of the Frank Murphy Hall of Justice at 1441 St. Antoine Street to address the ongoing scandals involving the Detroit Crime Lab and the cases of many wrongfully convicted defendants.  The lab has been closed for three years, and there have been no new trials, despite the Wayne County Prosecutor's pledge to confess error three years ago and award new trials to those wrongfully convicted.  In addition, the Prosecutor and the Detroit Police have engaged in a campaign of denying justice by destroying evidence and case files while at the same time illegally obtaining funding of city tax dollars to conduct sham investigations that went nowhere.   
The prosecutor should not be meddling with the files her staff handled in fraudulently convicting people to prison.  And the Detroit Police should not be in charge of guarding the very fraudulent evidence they produced to obtain those convictions.  The task force has been fighting for three years for an independent audit into the investigations of adjudicated cases of wrongful convictions.  And with the recent revelations of yet more scandals involving Detroit Police and the Prosecutor as it concerns these cases, enough is enough.  Our freedoms from unjust imprisonment are at risk; our rights to due process of law are at risk; and every fundamental right to a fair trial has been lost.  We cannot sit idly by while this attack on humanity continues.  Please come out and support the task force in calling for an independent federal probe into the Detroit Crime Lab.  Let not your silence become betrayal and defend the lives of those whose freedoms were stolen from them.  The life you save from such capricious government today may be your own tomorrow. 
For more information about the protest, please contact Roberto Guzman, Paralegal and Activist at (313) 272-1406 or Marilyn Jordan, President of the Task Force at (313) 784-4021 or Kevin Carey, Executive Director, at (313) 887-4344