New Catherine Ferguson charter operator Evans Solutions runs prison schools as Blanche Kelso Bruce Academy (BKBA)
Blair Evans (shown at left) is former DPD Police Chief and Sheriff Warren Evans' brother
Original BKBA resident agent was Jeriel Heard, now Chief of Wayne Co. Jails and Courts
For-profit Evans Solutions not registered with state as a business
Non-profit BKBA not registered with IRS
Numerous past no-bid contract scandals involving Evans Solutions, Inc.
 By Diane Bukowski
June 29, 2011 
DETROIT – The major daily media, and even so-called "progressive" media, have celebrated the supposed "salvation" of Catherine Ferguson Academy and its young mothers and children by Blair Evans. Evans allegedly runs a for-profit company variously called Evans Solutions, Inc., or Evans Educators, as local activist and urban farm advocate Grace Lee Boggs termed it (http://michigancitizen.com/cfa-an-important-victory-p9982-77.htm.).
Evans Solutions runs Blanche Kelso Bruce Academy (BKBA), an alleged non-profit agency, which will also take over two other Detroit public schools this fall, Barsamian and Hancock. BKBA primarily runs charter schools in juvenile prisons and involuntary "residential" settings.
Evans is the brother of former Wayne County Sheriff and Detroit Police Chief Warren Evans, who previously co-owned Evans Solutions. According to Detroit Free Press columnist Rochelle Riley, Blair Evans "began his career in juvenile justice and information technology before moving into charter education 10 years ago."
Evans touted as farmer
 "Evans is well-known by CFA," Michigan Citizen weekly columnist Shea Howell said on the Boggs Blog. "He accompanied the group to South Africa. He is committed to ideas of urban agriculture and has worked with Will Allen of Growing Power in Milwaukee. Evans came to the school saying he was glad they had 'found a solution to what was becoming not just a local but a national and international concern.'"
CFA advocates earlier expressed apprehension about its takeover by Evans Solutions and/or Blanche Kelso Bruce Academy. CFA is an alternative school for teen mothers and mothers-to-be, one of only three in the country according to its principal Asenath Andrews. Infants and children come to school with their young mothers, where they also receive age-appropriate instruction.
 "When I was told I was being assigned to CFA, I thought I was going to a detention center of some kind, but CFA turned out to be entirely different," one young CFA graduate told VOD during the June 16 rally (see VOD story at  .) She and her mother credited CFA with her current post-high school education and career ambitions. CFA graduates 90 percent of its students, all of whom continue on to college.
Another CFA advocate said, "CFA students are not 'criminals' because they are teen mothers or pregnant. They deserve not to be treated as such."
CFA has complete curriculum, not just urban farm
CFA has a complete academic curriculum in addition to its much touted urban farming program.
Its qualified Detroit Public School teachers, however, have been told that they will have to re-apply for their jobs at CFA. Evans Solutions' human resources representative has so far missed two meetings scheduled with them to talk about their terms of employment, wages and benefits.
"Blanche Kelso Bruce Academy is a strict discipline academy that opened in September 2001 in two sites," according to an Oct. 2010 report by BKBA's charter authorizer, Wayne RESA.
"It now has six sites, with plans to open two more. As a strict discipline academy, B.K. Bruce Academy enrolls students who have been placed by the courts or students who have been expelled from their previous schools and are required by law to attend strict discipline academies only, or are referred by their parents. . . . Due to the demographic nature of student population (i.e., court placement), the number of students fluctuates throughout the year. Although enrollment figures show approximately 375 students are enrolled in the six sites operated by the Academy, it is estimated that the Academy serves approximately 2000 students annually."
Blanche Kelso Bruce runs lock-up schools, files no non-profit reports required by IRS
According to Wayne RESA and other state records, Blanche Kelso Bruce Academy runs schools in the following "residential" (read lock-up) institutions: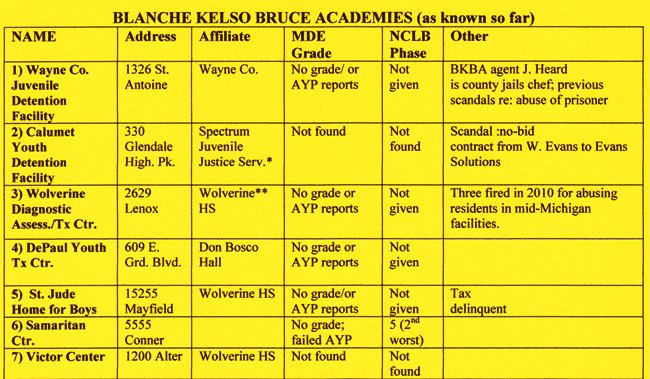 *Spectrum Juvenile Justice Services: HQ Westland, MI. The mission is to rehabilitate delinquent youthful offenders, substance abusers, sex offenders, violent offenders and those with specialized learning needs.
**Wolverine Human Services, based in Grosse Pointe Park, got more than $37 million state funds in 2007 to lodge and provide education and counseling for juvenile offenders who commit violent crimes, the company's tax return indicates. The not-for-profit organization runs residential camps, mostly for 13- to 17-year-olds, in Buena Vista, Detroit and Vassar.
1. Wayne Co. Juvenile Detention Center: numerous past reports of abuse of residents.
2. Calumet Center: Spectum  operates two juvenile detention centers for males, Calumet Center in Highland Park and Eliot Center in Detroit.  Unclear if BKBA still operates Calumet.
3. The Wolverine Assessment and Diagnostic Center: emergency placement for males, ages 6-18. Many clients have been removed from violent or emotionally tense situations. Clients are also placed at the center after being removed due to the client's behavioral problems.
4. Depaul Youth Treatment Center: A medium-security mental health facility, The Center will provide short and long term mental health treatment services.Will serve youth referred by the Wayne County Care Management Organizations. 27 Boys, 12 to 17 years old.
5. St. Jude's Home for Boys: residential group facility for males, ages 12-17 suffering effects of abuse and/or neglect. Many of these clients have failed in foster homes or relative placements.
6. Samaritan Center:  A Michigan charter school, serving youth outside of "the educational mainstream" in grades 5-12. Partnering with local, regional and national resources to effectively serve  students and their families. 
7. Victor Center: WHS provides long-term treatment services to male adolescents, ages 12-17, who present as cognitively low functioning and have a history of sexually reactive behavior or sexual acting out. All clients are referred through the Michigan Department of Human Services.

BKBA receives per-pupil state aid, approximately $7,600 for each student, along with unknown amounts of other federal funds available for at-risk and impoverished children through various grants.

Records of how it uses these public funds are not publicly available. BKBA is not listed on Guidestar.org, which provides copies of financial reports and annual IRS form 990's for non-profits. If the non-profit does not send these to Guidestar, the IRS does.
As indicated above, state records show no evaluation of academic achievement for BKBA facilities, except for one "level 5" rating for Samaritan Center under the No Child Left Behind (NCLB) Act.
VOD has filed a Freedom of Information Act request with Wayne RESA for these records for all BKBA facilities with its charter authorizer, Wayne County RESA.
Evans Solutions not registered with state or county
It is questionable whether Evans Solutions, Inc. itself even exists. It is not registered, either under that or any similar name, including Evans Educators, with the Michigan Department of Energy, Labor and Economic Growth. All private corporations in Michigan are required to register with the state. Neither is it registered on Wayne County's "assumed names" list. It has no website.
According to earlier media reports, Evans Solutions, Inc. was co-owned by Blair and Warren Evans until Warren Evans allegedly put his share of the business into a trust. Warren Evans headed the police department under Mayor Dave Bing until the existence of a secret contract with a film company to profile him in a regular series surfaced last year, and he was fired.
He was police chief when Detroit cop Joseph Weekley and a Special Response Team (SRT) shot and killed seven-year-old Aiyana Jones after bombing her home, while A&E's "48 Hours" was filming. No discipline, discharge, or criminal charges have been brought against them to date.
Evans Solutions is headquartered at 8045 Second Avenue, former home of the Akwaaba Center.
Wayne County Treasurer records show only two taxpayers at that address: the Pan-African Orthodox Church and Residential Care Alternative, Inc. In the Wayne County Register of Deeds, Evans Solutions, Inc. appears only because of numerous liens placed on it by the Michigan Employment Security Commission (MESC).
BKBA President is Genesee Asst. Prosecutor; agent is Chief of Wayne County Jails
Blanche Kelso Bruce Academy is registered with the state, but Evans' name is not listed as its resident agent, president, CEO, or director. He has been described as its superintendent in one report. Its president is listed as Anson E. Rhodes, of 950 Dewey St. Lapeer Michigan, an attorney currently employed as an Assistant Prosecutor in Genesee County.
According to state documents, BKBA was incorporated in 2001. Its resident agent then was Jeriel Heard, currently Chief of Wayne County Jails and Courts under county Sheriff Benny Napoleon. According to the County's website, he was an Assistant Wayne County Executive and Director of the Wayne County Department of Community Justice from 1997 through 2002. Prior to that, Heard held the position of Deputy Director of the Department of Community Justice from 1991 to 1997.
(Click on http://www.waynecounty.com/sheriff_divisions_exec_jheard.htm.)
Neither Evans Solutions, nor Evans Educators, nor Blair Evans, nor BKB were among the eighteen charter operators who bid on 45 Detroit Public Schools slated for the chopping block under former DPS czar Robert Bobb (victim of what some might call a "what goes around comes around" fate).
Evans Solutions involved in numerous no-bid contract scandals
The connections between Evans Solutions, BKBA and law enforcement figures are likely no accident. Scandals have surfaced repeatedly since 2000  regarding  Evans Solutions contracts  involving Wayne County, the Wayne County Jail, Detroit Public Schools, and the Wayne County Airport Authority.
They include:
A whistleblower lawsuit filed in Wayne County Circuit Court against Wayne County Executive Robert Ficano, Asst.Exec. Azzam Elder, and Sheriff Benny Napoleon in Nov. 2010 by Ralph Kinney. Kinney, employed by the County since 1986, was Director of its Dept. of Community Justice in 2003, and later Asst. County Executive until he was fired in Nov. 2007. 
He alleges among other matters, "In approximately Feb. 2003, Mr. Kinney discovered and turned over information to the FBI regarding questionable contracts between Wayne County and Evans Solutions, Inc., a company closely connected to then Wayne County Sheriff Warren Evans." Kinney says Wayne Co. Undersheriff Larry Meyers met with him to threaten him with being charged with a crime if he continued cooperating with the FBI. He was in fact later charged, but the charges were dismissed in 36th District Court.

Former Wayne Co. Commissioner Susan Hubbard filed an affidavit stating, "In March, 2003, Daniel Mercier informed me he had been hired by Ralph Kinney to investigate suspected illegal activity in the Wayne County Dept. of Children and Family Services, including various contracts between the Department and various entities who were supposed to provide services for the Depart. Mercier said such contracts included those related to Evans Solutions, Inc., a company owned at least in part by Blair Evans, the brother of Warren Evans."

As a result of allegations by Kinney and Hagans, Inspector General David Esper audited Dept. of Children and Family Services (formerly the Dept. of Community Justice) contracts. In a 28-page report, Esper found that the department failed to bid out two multiyear contracts for the operation of an 80-bed secure juvenile treatment facility. One contract was with Calumet Center for $20 million and one with Spectrum Human Services Inc for $25 million.

The Free Press reported, "Among those named in the report were Jeriel Heard, director of the community justice department from 1997 to 2002, and Wayne County Sheriff Warren Evans. Heard is alleged to have steered a lucrative contract to a company — Evans Solutions Inc. — co-founded by Evans and run by the sheriff's brother, Blair Evans."

Previously, Wayne County Auditor General Brian Dunleavy filed a whistleblower suit against county officials alleging that he had been discharged for forwarding audits to the FBI identifying more than $1 million in overpayments to nonprofit agencies contracted to provide care for troubled youth, and claims that Warren and Blair Evans benefited from no-bid contracts with the Wayne County Airport Authority.

Robert Bobb's Inspector General John E. Bell, Jr. of the FBI should have been looking into Bobb's no-bid contracts.

Apparently, Blair Evans was not scared off by the Auditor Generals or the FBI, which has never lodged charges against him. A Wayne County jail employee alleged later, "Blair Evans received $373,000 thru 7 different payments to Evans Solutions between August 2007 to September 2008. He was supposed to design a program to get inmates working in the jail kitchen certifed in culinary arts. Problem is they have all the cashed checks, but cannot find ANY inmates that went through the program." 

According to a May, 2011 report by former DPS czar Robert Bobb, a company called Evans Consulting Services, also not listed with the state, received total of $421,855 from a DPS no-bid contract in the previous six months. In his Nov. 2010 report, Bobb also listed over $55,000 in payments to an unregistered company called Evans Food Services. 
VOD ed. note: Prior to this story's publication, Blair Evans did not respond to a phone call and a follow-up email from VOD asking to interview him, although he has been quoted extensively in various other newspapers. He is welcome to respond to this article in writing to Voice of Detroit, P.O. Box 32684, Detroit, MI 48232.