Probation officers routinely stamp Family Court judge's signature 
By Diane Bukowski
Aug. 1, 2011
 DETROIT – Children are routinely being removed from their homes in Wayne County on the word of a state worker with a bachelor's degree, and a Wayne County Family Court probation officer who stamps Presiding Judge Leslie Kim Smith's signature on a court order without her authorization. The judge never even sees the order or accompanying documentation. 
That was the testimony of Vikki Kapanowski, Juvenile Intake interim supervisor, on Aug. 1 in the Ariana Godboldo case. Detroit police, along with a Special Response Team including tanks, helicopters and assault weapons, removed the frightened 13-year-old child from her home March 24 as a result of such an order. 
Her mother faces criminal charges for resisting what she and her attorneys say was an illegal home invasion and seizure of the child.  
Attorneys for Maryanne Godboldo and Mubarak Hakim, Ariana's parents, were outraged. 
"It was the intent of the legislature, to ensure the protection of families, to make sure that the judge has reviewed and signed the order on their own, not to leave that responsibility to a referee or probation officer, " argued Wanda Evans, co-counsel for Ariana's mother. 
Under state law, she said, probation officers must be officially sworn in as referees to function in that capacity, and referees can only make recommendations. Referees must also have law licenses. 
She referenced the state Probate Code, 712 A.10, which reads as follows: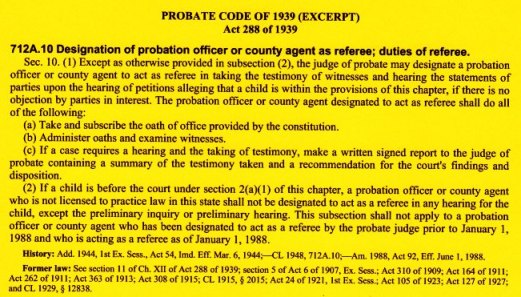 "It is the fundamental right of the parent to have custody of their child and raise their child," co-counsel and well-known Detroit attorney Adam Shakoor chimed in. "This was an improper protective custody order, and everything that flows from it is void. To get to the point where the law allows the seizure of a child, the rights of the parent have to be protected. The court is left with no other option than to quash the order." 
Kapanowski testified that one of three probation officers on her staff designated to do so reviews petitions for removal submitted by CPS workers. 
"Once they are convinced there are sufficient grounds, they issue protective orders," Kapanowski said. "Then they are file stamped and stamped with the presiding judge's signature." 
She said a probation officer named Marcia Hurst stamped Wayne County Family Court Presiding Judge Leslie Kim Smith's signature on the petition to remove Ariana Godboldo March 24. Although the order provided 30 days for execution, Wenk went to Godboldo's home on Blaine immediately and called 911 to summon police. 
Kapanowski also testified that her staff members have not been sworn in to function as referees and have no law licenses.  
In the Godboldo case, the worker, Mia Wenk, had a bachelor's degree in criminal justice, three weeks on the case and one year on the job with a brief period of on-the-job training.  State regulations provide that a probation officer "may" have a bachelor's or master's degree. 
Assistant state attorney general Deborah Carley argued several times that unproven allegations that Maryanne Godboldo fired a shot at the police were sufficient to override any flaws in the court order, and cited an unpublished Court of Appeals decision. She said the probation officer was designated as a referee, ignoring Kapanowski's testimony to the contrary. 
Attorney Roger Farinha, who represents Ariana's father, angrily denounced her references to the gunshot. 
"If the attorney general can argue such an issue, than I can argue that nothing shows that they can medically treat a child," Farinha said. "There is no doctor's letter in the file. They can't take a child and warehouse her to experiment on her." 
The chief reason Wenk cited for Ariana Godboldo's removal was her mother's decision to take her off the psychotropic drug Risperdal, which many medical professionals have said is dangerous. The consent form Maryanne Godboldo signed when she agreed to have her child take the drug specified that she had the right to take her off it at any time. 
Family Court Judge Lynne A. Pierce struck Carly's statements related to the alleged gunshot, but upheld her other arguments. 
In ruling that the order was valid, and disallowing testimony on its legality in the upcoming jury trial, set for Aug. 2, Pierce also ignored Kapanowski's testimony that her staff was not authorized to function as referees.
She said state law authorizes a referee to review and approve petitions for removal of children. 
"Based on CPS/DHS's provision of a petition with allegations under MCR 3.963, and that the allegations were made to a referee and the fact that the statute allows non-judicial action, the court finds the written order stamped with the judge's signature by the referee/probation officer authorized DHS to enter the premises."
 That rule , MCR 3.963 (B) Court-Ordered Custody, reads in part:
(1) The court may issue a written order authorizing a child protective services worker, an officer, or other person deemed suitable by the court to immediately take a child into protective custody when, upon presentment of proofs as required by the court, the judge or referee has reasonable grounds to believe that conditions or surroundings under which the child is found are such as would endanger the health, safety, or welfare of the child and that remaining in the home would be contrary to the welfare of the child." 
Part A of the section allows a child to be taken without a court order under extraordinary circumstances, but in this case, a court order was used as the pretext for Ariana's removal. 
Pierce also ruled that an amended order to remove Ariana Godboldo would be the only one allowed into testimony at the trial, not the original order that led to her removal. 
Pierce would have had to reverse her own after-the-fact ruling in a subsequent show cause hearing if she had granted the defense motion to quash the original order. 
Pierce also refused to allow the hiring of Attorney Michael Bishai to represent Ariana Godboldo, in addition to current court-appointed Guardian Ad Litem Daniel McGuire. Bishai said he wanted to represent the child to safeguard her legal rights to remain with her family and not to be medicated against her will or their will. 
After Ariana was taken, she was placed in Hawthorne Psychiatric Hospital in Northville and medicated with Risperdal along with three other drugs until attorneys for her mother obtained a court order from Wayne County Circuit Court Judge Richard Skutt barring the forced medication. 
Pierce denied Bishai's request to represent Ariana, but said he could act as co-counsel for her mother.