Some of those who participated in national rallies against state child abduction, including supporters of Maryanne Godboldo, outside the Lincoln Hall of Justice in Detroit Aug. 12; Neema Yacef is second from right front
 Parents, attorneys, supporters vow to continue fight for child
CPS abductor Wenk testifies, "I didn't want the mother to end up shooting her daughter," and claims she was "scared" of Ariana
Wenk faces federal lawsuit in another case (see next story)
Cops who took child also being sued in other cases
Police invade Godboldo home second time (see coming story)
By Diane Bukowski
August 12, 2011 
DETROIT – Despite testimony that Mia Wenk, a "social services specialist" with a bachelor's degree in criminal justice, authorized the  psychiatric hospitalization of Ariana Godboldo-Hakim, 13, and the administration of four dangerous psychotropic drugs, without reviewing the child's  medical records, a jury found Aug. 9 that it was Ariana's mother Maryanne Godboldo who had neglected her. 
Godboldo, who obtained alternative holistic treatment for her daughter from a medical doctor, testified earlier that she was suffering from a reaction to immunizations administered in Sept. 2009. She said Ariana had been diagnosed with encephalitis, not a psychiatric disorder. Neither she nor Ariana's father Mubarak Hakim authorized their daughter's treatment at Hawthorn Children's Psychiatric facility after an army of police seized her from her home on Blaine near Linwood in Detroit March 24, 2011. 
Wenk said that as she watched the stand-off with police that resulted at Ariana's home, her only concern was, "I didn't want her to end up shooting her daughter."  Wenk is currently facing a federal lawsuit  filed by Nathaniel Brent (see next story) for taking his five children, who are of Native American heritage.
Wenk, who was present throughout the proceeding, heard testimony from Godboldo that "Ariana is my life," and from Hakim, Ariana's aunt Penny Godboldo, and her treating physician Dr. Margaret Betts that the best outcome for Ariana would be to return to her mother, who had provided her with a warm and loving life.  
It took the eight-member Wayne County jury, with two Black women on the panel, one-half hour to reach their finding of neglect after a one-and-half-week trial. The trial included testimony from Detroit police who claimed Godboldo fired a gun in the house, a charge which has not yet been adjudicated. The remainder of  the preliminary exam in the criminal case is set for Aug. 29 in front of Judge Ronald Giles in 36th District Court. 
Attorneys for Ariana's parents, who include Adam Shakoor, Wanda Evans, Allison Folmar, Byron Pitts, Roger Farinha, and Michael Bishai and supporters around the world have said they will continue the fight to bring Ariana home, ensure a safe medical regimen, and defeat multiple criminal charges against Godboldo.
"This is absolutely crazy," said Neema Yacen (in photo at top) who attended every day of the one-and-a-half- week trial.  
"The testimony showed that the mother took her child every day to a treatment program where all she saw was counselors. No psychiatrist saw her except to prescribe Risperdal. The mother comes and says 'I don't like what this drug is doing to my child.' An ethical doctor would have taken her off the medication. Instead the counselors reported her to Child Protective Services (CPS)—no doctor reported her. Then mother took Ariana to the Children's Center for 31 out of 35 appointments. The very day the Children's Center called CPS was the day they were making another appointment for the mother to come in with Ariana. Then they kidnap the child and take her to [Hawthorn Psychiatric hospital] where they tried to kill her with Haldol, Risperdal, Abilify and Lithium."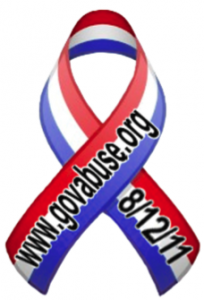 Yacen is a retired Detroit Public Schools speech and language pathologist who also worked in a mental health institution. She spoke during a rally outside the Lincoln Hall of Juvenile Justice in Detroit Aug. 12. The rally, sponsored by Govabuse.org, was part of a national protest. Thousands of other families across the U.S. marched outside local courthouses the same day to demand an end to what they say is massive abduction of children by government and private agencies for profit and medical experimentation. 
Wayne County Family Court Judge Lynne Pierce, who presided over the trial, and who normally holds court at the Lincoln Hall, is to rule on Ariana's custody and continuing care Sept. 29. The child is currently living with her aunt Penny Godboldo and being treated by renowned Detroit Dr. Margaret Betts, an M.D and licensed allopath. 
Before the verdict, Pierce ruled that a court order, authorized by a probation officer and never seen by a judge, was sufficient to seize the teen. She would not allow arguments from the defense challenging the validity of the order during the jury trial. Pierce told the jury they had to find Maryanne liable on only one out of multiple counts to rule against her. Jury members did not even have to specify which count. 
Pierce earlier overturned an order by Wayne County Circuit Court Judge Richard Skutt barring Hawthorn doctors from administering the psychotropic drugs to Ariana. 
"In my opinion, it was an improper order given without this court's knowledge or consent," Pierce told the jury. 
Pierce, a Grosse Pointe Woods resident, was obviously hostile to the defense throughout the trial, upholding the majority of objections made by Assistant State Attorney General Deborah Carley.
Carley contended the Department of Human Services had the authority to institutionalize and medicate Ariana for six weeks at Hawthorn Children's Psychiatric Hospital in Northville. She grilled Godboldo without mercy regarding the birth of her only child, who had to have her right leg amputated below the knee shortly after birth due to medical complications.
Carley was also the subject of a lawsuit in the infamous Thal and Julian Wendrow sexual abuse and child removal case.  Although U.S. District Judge John Corbett O'Meara upheld claims of governmental immunity against Carley and Gorcyca, he has allowed the lawsuit to proceed against the CPS worker involved.  (http://www.freep.com/article/20110615/NEWS03/106150431/Sex-abuse-claims-Wendrow-case-fall-apart-court and five other Detroit Free Press articles on that case.)  
During the trial, Child Protective Services (CPS) worker Wenk, who has no state license of any kind, took the stand Aug. 8 and 9. 
She testified that she had been assigned to the case on March 10, and had never met Ariana or her parents face to face, except during a brief discussion through a closed security gate with Godboldo at her home on Mar. 16. Godboldo refused to let Wenk into the home, which Wenk admitted she had the right to do. 
But Wenk's constant refrain was, "Maryanne would not administer prescribed medication [Rispedal] to her daughter." 
On cross-exam by Godboldo's attorney Wanda Evans and Hakim's attorney Roger Farinha, she admitted Godboldo had in fact administered the medication "at one point, yes."  
Wenk also testified that she herself signed the paperwork to admit Ariana to Hawthorne, and to medicate her "if necessary" with Risperdal, Haldol, Abilify and Lithium, powerful psychotropic drugs with numerous side effects.
 She said she also authorized a list of 14 immunizations "if needed," including one of those that Ariana's mother believed caused Ariana's severe reaction in Sept. 2009. 
Wenk testified she had not received any medical records on Ariana prior to her call to 911 March 24, to summon the police to the child's home on Blaine near Linwood. Referring to her case notes, Wenk admitted that she had already decided to seize Ariana prior to holding a "Permanency Planning Conference" Mar. 23 with her parents.
She also admitted she told Tracy Dorsey, a caseworker at Children's Center, that she was going to take the child and have her medicated with Risperdal in an inpatient psychiatric facility. 
She said two other police cruisers passed the corner of Blaine and Lawton, where she was waiting in her car with another DHS employee and a Wayne State University intern, before a car containing Officers Thomas Trewhella [#2601] and Kevin Simpson [#3674] stopped by her car. She said she passed a court order out her car window to Simpson but never exited the car. 
Wenk said the officers' supervisor Lt. Michael Nied came running up to her after the three forced entry into Godboldo's side door, to show her what he said was plaster dust on the shoulder and arm of his jacket, allegedly resulting from a bullet fired into a house wall. He then ordered them to leave the scene.  
Trewhella, Simpson, and officer Benjamin Wagner, who also testified at the Godboldo hearing, are currently facing federal lawsuits over a case in which they allegedly participated in a traffic stop of Michael Dickinson and Taryn Markoe in Sept. 2009. The lawsuit says the stop was originally carried out by three plainclothes officers in long white T-shirts and an unmarked car, wearing no badges and brandishing guns.  Later uniformed cops arrived on the scene. Click on Trewhella Simpson Markoe case and Simpson Trewhella Wagner federal lawsuit to read ongoing lawsuits.
Markoe's lawsuit alleges that the cops derided Dickinson of Commerce Township for dating Markoe, who they called a "N—–."  and for not being able to protect her. 
Trewhellen also faces a Wayne County Circuit Court lawsuit, "Nancy A. Coon, Personal Representative of the Estate of Geofrey William Coon, WCCC Case No. 10-004981 NI," along with officers John Lohmeir and James Demps.
Nied testified during the custody hearing. His Facebook page shows he is a shift lieutenant, and served as a major in the Military Police of the U.S. Army from 1984 to 2008. It says he was deployed four times. He attended high school in Harper Woods, Michigan. He is a very large, heavyset man who appears to have gained quite a bit of weight  since the accompanying photo was taken.
Wenk said she returned the next morning to Children's Hospital, where police had taken Ariana. She testified she told Ariana's aunt Penny Godboldo and her father Mubarak Hakim to leave the room where Ariana was being seen because it was "DHS policy." 
She said, "I was scared" as she sat with Ariana alone. She claimed Ariana kicked off her prosthetic leg and was yelling and screaming. Hakim testified earlier that his daughter was calm at the hospital during his and her aunt's presence.
Wenk testified at Godboldo's preliminary exam that the child needed to be put in the back seat of the police car because "it has a cage," and repeatedly testified that she was diagnosed with "psychosis NOS" (not otherwise specified), which is actually not a diagnosis but an admission that doctors really didn't know what was wrong with her.
Farinha had her review CHM's final report on Ariana before they released her, which indicated "no protective concern for the child" and that she had been examined without her clothes and no evidence of trauma, bruising or abrasions was present. 
He also had her refer to her case notes which indicated psychiatric hospitals including Hawthorn and Kingswood refused to admit Ariana repeatedly because there was no order for treatment. Wenk admitted that when the order to admit was finally authorized, it indicated "NOT FOR MEDICATION." 
Farinha asked her if she herself had accompanied Ariana to Hawthorne. Farinha said the child had bruises on her arm and the end of her prosthetic leg as well as what appeared to be a cigarette burn in her hand. Wenk denied she was present during transport.
It took a lengthy court battle in front of Judge Pierce, with the Northville facility's chief psychiatrist testifying that Ariana should not be there, and reaching a mutual treatment plan with Dr. Betts, before Pierce finally ordered the child released. Ariana had begged to go home numerous times.
The Justice 4 Maryanne Committee says they are in need of funds, particularly to hire expert witnesses in the case, as well as to help finance the attorneys' dedicated work.
The Committee's website is at http://www.justice4maryanne .  The site includes a donation link: Donate securely through our online donation page.
*Thank you to everyone who supported our rally on April 2nd! We raised just over $3,000. However, our work is NOT over!" says the site. There is also a link to a petition to free Ariana Godboldo-Hakim on the website.