VOD: IS IT THE WRATH OF ALLAH IN RETRIBUTION FOR U.S. WAR CRIMES?
 (CBS/AP) 
WASHINGTON – A 5.9 magnitude earthquake centered northwest of Richmond, Va., shook much of Washington, D.C., and was felt as far north as Rhode Island and New York City.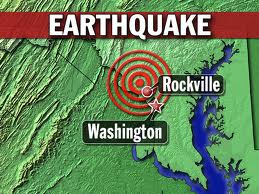 The quake sent hundreds of people spilling into the street a block from the White House, with other buildings evacuated in North Carolina and tremors felt as far away as New York City.
The U.S. Geological Survey said the earthquake was 3.7 miles deep. Shaking was felt at the White House and all over the East Coast, as far south as Chapel Hill, N.C. Parts of the Pentagon, White House and Capitol were evacuated. The quake was in Mineral, Va., in Louisa County. The Pentagon was later deemed safe for reoccupation. (VOD: of which country or countries?) 
Huffington Post
Today 2:41 PM 5.9 Magnitude Earthquake In D.C.
From the D.C. Alert system:
"United States Geological Survey reports an earthquake in the Metropolitan Area registering at 5.9 on the Richter Scale. Small aftershocks reported. As safety measure if experiencing please take cover under a desk, table, bed or door frames. Stay clear of windows and other glass. Please stay put. If you are outdoors find areas clear of buildings. Stay tuned to radio and tv news updates."
Today 2:45 PM 'Muffled Thud' Heard Outside Eisenhower Executive Office Building
HuffPost's Howard Fineman reports:
The quake produced an odd muffled thud outside the Eisenhower Executive Office Building next door to the White House. The old granite 19th century pile of the "Old EOB" is under renovation, and the tremors evidently shook metal scaffolding that girds the north face of the building to the point where passersby could hear what sounded like construction material falling from one part of the facade to another.
Today 2:56 PM U.S. Geological Survey Spokeswoman: Stay Indoors
HuffPost's Dan Froomkin reports: If you're outside right now, you might want to come back in. Leslie Gordon, a spokeswoman for the U.S. Geological Survey, said that people are safer inside a modern building than they are standing outside where things could fall on them.
"The biggest danger in an earthquake is something falling on top of you," she said. "Our advice to start with is the duck, cover and hold, and not run out of a building into a street." If you are outside, "you need to look around and think: What's going to fall on top of my head? If you're standing right on the side of a building and glass could fall on you, that's not a good idea." (VOD: DUH!)
Today 3:04 PM HHS Chief Kathleen Sebelius Forced To Conduct Conference Call Outside
HuffPosts Joy Resmovits reports: A Washington, D.C., Health and Human Services Building was evacuated, forcing HHS chief Kathleen Sebelius to conduct a conference call with reporters and U.S. Secretary of Education Arne Duncan from a noisy street corner. "We're here on the sidewalk, waiting for our building to be secured," Sebelius said, over sirens, after she finished describing the new criteria for the early childhood version of Race to the Top, a federal education grant competition. (VOD: DEFINITELY THE WRATH OF ALLAH FOR DESTROYING U.S. PUBLIC EDUCATION)
The U.S. Education Department's building was deemed safe. "This is my first earthquake, so it's quite an experience," Duncan said. "But everyone's fine."
Today 2:59 PM National Operations Center Remained Operational
HuffPost's Andrea Stone reports: An official at the Department of Homeland Security, speaking on background, said that "out of an abundance of caution, individuals did leave the building, however the National Operations Center remained operational through the event." (VOD: DARNNIT! WHICH ANTI-WAR ACTIVIST ARE THEY GOING TO OPERATE ON NEXT?)
Today 2:59 PM Pieces Have Reportedly Fallen from D.C. National Cathedral
Pieces have reportedly fallen from the National Cathedral in DC, structural assessment underway – via @walkeje http://bit.ly/ndy3Bk  (VOD: told you, the wrath of Allah)
Today 2:51 PM FAA Grounds Flights
| | |
| --- | --- |
|   | @ Reuters : FLASH: FAA grounds flights in Washington DC, Philadelphia, New York airports after east coast quake |
Today 2:44 PM Today's Virginia Earthquake Matches Record
Today 2:43 PM Washington Metrorail Stays Open
HuffPost's Dan Froomkin reports: Washington's mostly underground Metrorail system is staying open after the earthquake. "Trains are running," a Metro spokesman said. There are significant delays, however, he said, as trains are traveling at a maximum speed of 15 miles per hour until a systemwide track inspection is complete. (VOD: GOTTA KEEP THOSE TRAINS RUNNING, AS MUSSOLINI SAID!)