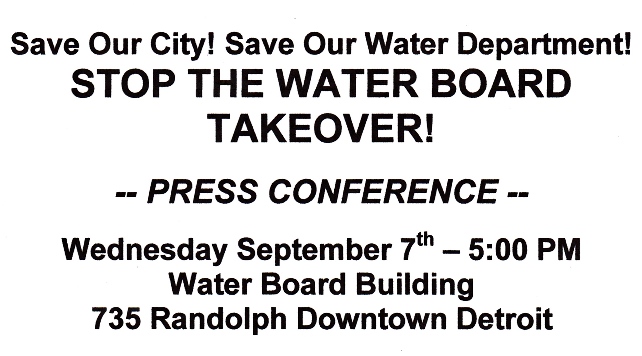 Detroit is under attack! Authorities from Oakland and Macomb Counties have asked Federal Judge Sean Cox to take the Water & Sewerage Department away from Detroit and convert it to a stand-alone entity which they can control. This will lead to massive privatization of the entire system. We can and we must defeat this latest assault on the nation's largest black community. Everyone that believes in equality and democratic rights must say, "Hell no!" We will not allow Detroit to be stripped of its assets and jobs like we were an abandoned building being stripped of its metal. 
In July 2011, the Water Department requested that Judge Cox (brother of former Republican state Attorney General Mike Cox) release the department from control of the federal courts, a situation in effect since 1977. So Oakland and Macomb counties submitted legal responses asking the judge to legally separate the Water Board from the City of Detroit, specifically "overriding, as necessary conflicting provisions in the Charter, ordinances, city polices and labor contracts." Since Judge Cox has effective control over the Department, this poses a real threat to Detroit beyond the many undemocratic rip offs, takeovers and takeaways to which Detroit is frequently subjected. 
Last year, Detroit Mayor Dave Bing diluted Detroit's control of the department by giving up the right to appoint all the members of the Water Board of Commissioners, now Oakland and Macomb politicians hope to push their advantage by taking the Board away from Detroit without compensation. Bing and the City Council must oppose this thievery or lose whatever credibility they may have left in the community. 
The organizations and individuals sponsoring this press conference are announcing our intention to organize, fight and defeat this blatantly racist attack on Detroit's assets and future. We urge all those who believe in basic democracy and fairness to join us.
 AFSCME Local 207: 313-965-1601, 313-919-5011, 313-995-5691
Lynna Kaucheck, Food & Water Watch: Cell: (586) 556-8805, Email: lkaucheck@fwwatch.org