Families of juvenile lifers, and of victims, campaigned in Michigan's legislature in 2006 to give their loved ones a second chance
KEY MICHIGAN JLWOP CASE REMAINS ALIVE AS STATE APPEALS
STATE HAS 2ND HIGHEST RASE OF JUVENILE LIFERS IN COUNTRY, SPENDS $2 BILLION ON PRISONS, WHILE CUTTING 15,000 FAMILIES OFF PUBLIC ASSISTANCE
CALIFORNIA STATE ASSEMBLY FAILS TO TAKE UP SB 9
(VOD Ed. note: This is a revision of the original VOD article which inadvertently ignored the juvenile lifers' motion to keep all nine plaintiffs in the case, and an update with regard to the California bill.)
By Diane Bukowski
DETROIT—U.S. District Court Judge John Corbett O'Meara denied the state of Michigan's motion to dismiss a key lawsuit to allow nine juvenile lifers to be considered for parole July 15, a partial victory for the plaintiffs.
He is now considering motions from the juvenile lifers and the state for reconsideration, from opposing standpoints.
Judge O'Meara's full decision can be read by clicking on Hill decision.
Many juvenile lifers, those sentenced to die in prison for crimes committed when they were under the age of 18, and their advocates hailed parts of O'Meara' ruling in what is now known as Hill v. Snyder (click on Hill v. Granholm complaint to read original suit).
While striking eight of the nine plaintiffs, all but Keith Maxey, who was sentenced in 2007, from the case on statute of limitation issues, the judge left alive key elements relating to the U.S. Supreme Court's 2009 decision in Graham v. Florida.
In that case, the nation's highest court ruled that it is unconstitutional to sentence juveniles to life without parole in non-homicide cases.
O'Meara ruled that Michigan's claims that the Graham v. Florida decision barred any consideration of claims by juvenile lifers involved in homicide cases did not hold water.
"Defendants [the state] suggest that the Court 'effectively reaffirmed' the constitutionality of life without parole sentences for juvenile homicide offenders. The Graham court did not expressly consider that issue, however, and much of its reasoning could be read to call into question the constitutionality of such sentences," O'Meara said.
He also cited the U.S. Supreme Court's ruling in Roper v. Simmons, which outlawed the death penalty for those who were juveniles when their crimes were committed, as another example of a ruling recognizing that the treatment of juvenile offenders should be differentiated from those who are mature. 
Later, he denied a motion by the National Organization of Victims of Juvenile Lifers to file an amicus brief in the case after they missed the deadline. 
Attorney Deborah LaBelle of the Michigan American Civil Liberties Union, co-counsel for the plaintiffs in the case, said O'Meara's decision is a "first step."
"By ignoring a child's potential for rehabilitation and denying judges and juries any discretion, the state doles out unforgiving sentences that violate basic fairness and human rights principles." LaBelle said. "This decision is the first step toward correcting this fundamental injustice" 
The ACLU, however, filed a "motion for partial re-hearing or reconsideration" of O'Meara's ruling July 28. It argues that the suit should be kept alive for all nine plaintiffs despite O'Meara's finding upholding the state's statute of limitations claims for eight of them.
"First, prior to Graham v. Florida, 130 S. CT. 2011 (2010), plaintiffs did not have a viable Eighth Amendment claim," the ACLU wrote. "Graham changed the Eighth Amendment  legal landscape . . . Plaintiffs allege that Michigan's statutory scheme violates the Eighth Amendment by failing to recognize the lesser culpability of juveniles. . . . Second, Defendants continue to deny Plaintiffs access to the Parole Board on a regular basis by ongoing implementation of an unconstitutional statute, thereby sontinuously violating their constitutional rights."
The ACLU cited the state parole board's refusal on Oct. 21, 2010, to hear lead plaintiff Henry Hill's request for parole eligibility and lifer review.
Edward Sanders, who has been in prison since 1975, convicted of first-degree murder at the age of 17, but not as the shooter, earned his bachelor's degree in Michigan's prisons while college education was still part of the Michigan Department of Corrections (MDOC) curriculum. He has studied law and acted as a "jail-house lawyer" for many years since. 
"The District opinion came out just about as I viewed it—hold on to just one plaintiff which is what is needed," Sanders said. ". . . Everything the court said about Graham v. Florida reads very much on point . . .  The defendants have nothing to appeal. They would not want to take this to any appeals court and have it upheld."
Sanders said ongoing legal proceedings in the suit would "allow defense and appeals attorneys around the state to use this discovery and expert reports. This may move Michigan lawmakers sooner or later Allah willing."
Despite Sanders' assessment, however, the state filed a "motion for certification of interlocutory appeal and request for stay pending appeal" July 28, meaning they want to take the case to the U.S. Sixth Circuit Court if O'Meara certifies their request."
The state essentially claims that it has the right to contest O'Meara's assessment of the U.S. Supreme Court decisions at a higher court level.
Attorney Kimberly Thomas, writing about Graham v. Florida in the Michigan Bar Journal, noted that Michigan stands out among other states for its recalcitrance on the juvenile life without parole issue.
"This scrutiny should be a signal to Michigan to examine its own jurisprudence on juveniles receiving sentences of life without parole," Thomas said. "Michigan has the second-highest number of persons serving sentences of life without parole for offenses committed when they were 17 years old or younger. Michigan's constitution, article 1, §16, provides broader protection than the federal constitution under its analogous ban on "cruel or unusual punishment." Further . . . .in many cases, juveniles sentenced to life without parole in Michigan will never have a judge assess anything about their individual culpability, maturity, or relative role in the offense."
Even the Detroit Free Press, in articles by editorial writer Jeff Gerritt, has repeatedly campaigned for the elimination of Michigan laws allowing children to be sentenced to die in prison.
Michigan plans to spend $2 billion a year on its prison system beginning Oct. 1 under Governor Rick Snyder, $11 million more than last year. At the same time, 15,000 families, including children and babies, will be cut from state assistance effective Oct. 1, supposedly saving $75 million a year, leaving them to starve in the streets.
 Snyder did not see fit to comply with a plan laid out in a March, 2011 symposium that would cut $500 million from the prison budget. The symposium, "Finding the Path to a $1.5 Billion Corrections Budget," was not a gathering of wild-eyed radicals, but instead a joint effort of the generally conservative Citizens Research Council, the Center for Michigan, and the Citizens Alliance on Prisons and Public Spending.
According to the Center for Michigan, there are 18 reasons for cutting Michigan's prison budget. Click on http://www.thecenterformichigan.net/18-reasons-michigans-prison-costs-cannot-be-ignored/ .
It cites the first five as follows: "1) Inflation-adjusted prison expenses are up 10-fold since 1973; 2) The prison system has grown from 2 percent of state general fund budget to 23 percent since 1973. 3) For many reasons, other states are finding far more strategic, and future-oriented investments for their tax dollars. For example, for every dollar Michigan spends on universities, we spend $1.19 on prisons. For every dollar Minnesota spends on universities, it spends 17 cents on prisons. 4) Since 1973, Michigan's prison population has grown 474 percent, much faster than the crime rate. 5) The average stay in a Michigan prison was 28 months in 1981. By 2005, it had grown to 44 months."
Many states have already outlawed juvenile life without parole sentences, or have no one serving them, according to Human Rights Watch (HRW).
"Commendably, twelve states either forbid JLWOP or presently have no such juvenile offenders that we know of serving that sentence," says HRW. "The states that currently prohibit JLWOP are: Alaska, Colorado, Kansas, Kentucky, Montana, New Mexico, and Oregon. The states where there are no people known to be serving JLWOP are: Maine, New Jersey, New York, Vermont, and West Virginia. There is also no one known to be serving a JLWOP sentence in the District of Columbia. The federal government does sentence youth to LWOP—there are currently at least 36 people serving JLWOP in federal prison."
Altogether, according to The Juvenile Justice Project of Louisiana, ONE-HALF of states in the country either have abolished JLWOP or have less than 10 individuals serving these sentences (http://jjpl.org/new/?page_id=428).
According to HRW, there were 2,750 individuals serving juvenile life without parole as of 2009.
The map below, by the national ACLU, shows their distribution by state as of 2007. Pennsylvania, Michigan, Louisiana and California have the highest numbers and rates, with Michigan running second in total numbers, and barely third in per capita rate.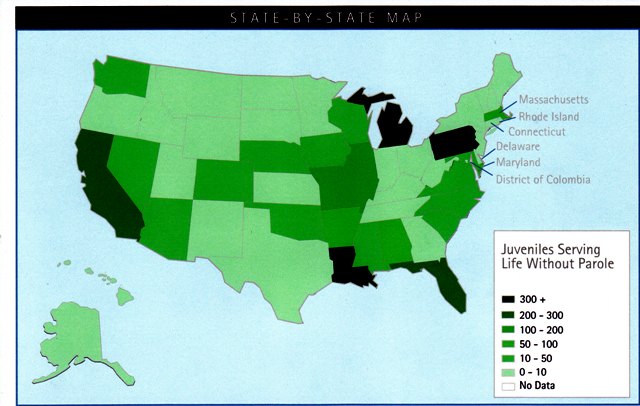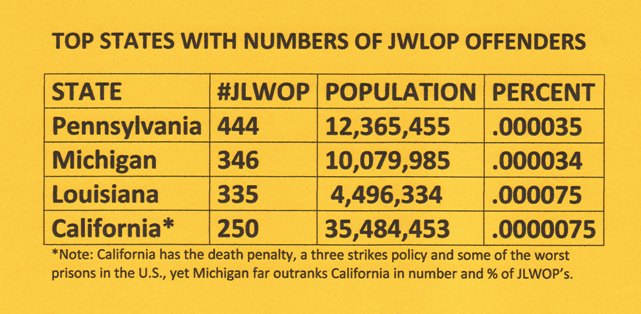 CALIFORNIA ATTEMPT TO ABOLISH JLWOP DELAYED
On Sept. 12, the California State Assembly failed to take up Senator Leland Yee's Senate Bill 9, which would have brought California in line with the rest of the world by ending life without parole (LWOP) sentences for children.
"I am confident we had the 41 votes for passage, but disappointingly the Assembly failed to take up this important measure," said Yee. "The neuroscience is clear – brain maturation continues well through adolescence and thus impulse control, planning, and critical thinking skills are not yet fully developed. SB 9 reflected that science and provided the opportunity for compassion and rehabilitation that we should exercise with minors. The bill was an incredibly modest proposal that respected victims, international law, and the fact that children have a greater capacity for rehabilitation than adults. We cannot give up on our kids or this bill."
The Huffington Post reported at http://www.huffingtonpost.com/2011/08/17/juveniles-life-in-prison-sb9_n_929648.html,  "According to the bill, defendants who were sentenced to life with no parole for a crime committed as a minor would be eligible to apply for a lesser sentence of 25 years to life. 
"If the bill passes, an eligible defendant would need to first serve 15 years before submitting a statement of remorse, as well as evidence supporting work towards rehabilitation. Defendants would have three opportunities to apply. If accepted, a case would then be reviewed and considered for a lesser sentence. As a minimum, defendants would need to serve at least 25 years total, with no exceptions. But the bill would give some defendants the opportunity to someday live outside of prison."
Prosecutors here in Michigan, including Wayne County's Kym Worthy, and Oakland County's Jessica Cooper, testified against earlier bills that were even more stringent than California's. Those bills died in session despite the round-the-clock efforts of the Second Chance coalition of juvenile lifers' families as well as some victims.
But San Francisco District Attorney George Gascón testified in support of SB9 at a hearing, saying, "I recognize the ability of young people to reform their behavior and rehabilitated as they mature. SB 9 holds youth responsible for their actions. It creates a rigorous system of check and balances, and provides a limited chance for young offender to prove they have changed – both to a judge and to a parole board."
Here in Michigan, the hopes of over 350 individuals serving JLWOP, having been repeatedly thwarted at the legislative level, by county prosecutors such as Worthy and Cooper, and by state courts, now rest to a great degree on the speedy progress of Hill v. Snyder in the federal court.
VOD will provide updates as this case progresses.
For previous VOD articles on this issue, click on
http://voiceofdetroit.net/2011/04/23/aclu-argues-against-michigan%e2%80%99s-no-parole-law/
http://voiceofdetroit.net/2011/03/06/voice-of-juvenile-defendants/ 
http://voiceofdetroit.net/2010/11/24/aclu-lawsuit-challenges-life-without-parole-for-michigan-juveniles/