In the very controversial "prison version" of "They Don't Care About Us," Michael Jackson showed that he, as an artist, cared about the issue of mass incarceration and had the courage to speak out on behalf of prisoners in a way that made the whole world listen. Prison hunger strikers need today's artists who have the ears of the world to advocate for ending solitary confinement, which is officially considered torture.

Hip hop community, support our hunger strike!
Oct. 5, 2011
by Mutope Duguma, s/n James Crawford, for the Pelican Bay Human Rights Movement
Prisoners are being held in solitary confinement indefinitely on the word of a prison debriefer – i.e., snitch, informer, rat, turncoat – or some false prison gang validation. Therefore, we seek your support and give you all the right to advocate on our behalf:
MC Lyte, Baby, Keyshia Cole, Lil Wayne, Eve, Jay-Z, Goapele, Scrappy, Lil Kim, Kam, Yoyo, Kwame Kweli, Nicki Minaj, The Coup, Erykah Badu, The Game, Foxy Brown, Kanye West, Free, Mos Def, Diamond, Chuck D, Queen Latifah, MOB Deep, Rashida, E-40, Terez McCall, Snoop Dogg, Jada Pinkett, Rihanna, Scarface, Lena, Ryakin Rip, Slim Thug, Solange, Tyrese, Solē, Bun B, Jamie Fox, Will Smith, Chris Brown. Jadakiss, Gorilla Zoe, Black Rob, Rev Run, Busta Rhymes, Ice-T, Ice Cube,WC, Mack-10, Ti, Dr. Dre, Joe Budden, Eminem, T-Bone, LeCrae, Drake, Too Short, Flame, 50 cent, Loyd Banks, Raphael Saadiq, Maino, Terrence Jenkins, Rosci Diaz, Big Boi, KRS-One, DMX, 2-Mex, Gucci Mane, JT The Bigga Figga, Chino XL, Chingo, Bling, Rebel Diaz, Fat Joe, Tego Calderon, Pitbull, Bubba Sparks, Cypress Hill, Nas,
And all the original hip hop heads etc.
We ask that you all support us in our struggle to be liberated from these man-made torture chambers by doing the following:
1. Support the peaceful hunger strike by having your fans contact the governor of California, Edmund G. (Jerry) Brown Jr., and the president of the United States of Amerika, Barack Obama, to end torture in California prisons, where prisoners are held indefinitely in solitary confinement – in PBSP SHU, Corcoran SHU, New Folsom SHU and Tehachapi SHU.
2. Donate $10 or more to our Prisoner Hunger Strike Solidarity coalition, via California Prison Focus' PayPal account, which can be accessed at www.prisons.org, and mark it for the hunger strike coalition, or mail your donation to California Prison Focus, 1904 Franklin St., Suite 507, Oakland CA 94612. Watch our blog, www.prisonerhungerstrikesolidarity.wordpress.com, for information.
3. All of you have power, and that power is in your voice. We ask that you lend that power to our hunger strike. Yes, we will make the sacrifices. There are countless prisoners held in solitary confinement throughout this nation, who come from exclusively poor communities, being tortured. Contact the following New Afrikan prisoners who have been held in SHU since as long ago as 1976 to 2011:
• Mutope Duguma, s/n James Crawford, D-05996, PBSP, D-1-117, P.O. Box 7500, Crescent City CA 95532
• Michael Mutawally Cooperwood, C-46411, PBSP, D-1-214, P.O. Box 7500, Crescent City CA 95532
• Abdul Olugbala Shakur, s/n J. Harvey, C-48884, PBSP, D-4-212, P.O. Box 7500, Crescent City CA 95532
• James Baridi Williamsun, D-34288, PBSP, D-4-107, P.O. Box 7500, Crescent City CA 95532
• Yafeu Iyapo-I, s/n Leonard Alexander, B-73388, PBSP, D-3-104, P.O. Box 7500, Crescent City CA 95532
• Marcus Tashiri Harrison, H-54077, PBSP, D-3-122, P.O. Box 7500, Crescent City CA 95532
• Abasi Ganda, s/n Clyde Jackson, C-33559, PBSP, D-2-101, P.O. Box 7500, Crescent City CA 95532
• Kubaua Gitu, s/n Rubben Williams, B-72882, PBSP, D-2-121, P.O. Box 7500, Crescent City CA 95532
• Paul Redd Jr., B-72683, D-2-117, PBSP, P.O. Box 7500, Crescent City CA 95532
• J. Heshima Denham, J-38283, COR SHU, 4B-1L-46, P.O. Box 3481, Corcoran CA 93212
• Michael Zaharibu Dorrough, D-83611, COR SHU, 4B-1L-53, P.O. Box 3481, Corcoran CA 93212
• Kambui Robinson, C-82830, COR SHU, 4B-1L-49, P.O. Box 3481, Corcoran CA 93212
It is important that you in the public know that all of us come from the very communities you all come from. Unfortunately, we have been held in these solitary confinement units from 10 to 40 years, simply put, for nothing. The CDCR (California Department of Corrections and Rehabilitation) has used every strategy and tactic to get us to debrief, as the only way for us to get out of solitary confinement.
Since we refuse to be emasculated and become the prison stoolie for the prison gang intelligence unit, CDCR has sanctioned the torture of each and every last one of us. Therefore, we prisoners, all races, decided to come together in order to end this cruel and unusual punishment.
Yes, many of you have heard or know firsthand of the horror stories CDCR officials have used to propagate us to the world in order to label us the "worst of the worst" held in Pelican Bay state prison solitary confinement units. Yet ALL RACES – i.e., New Afrikans, Mexicans South and North, and whites etc. came together to end and fight against the torture we all have endured for 21 years here at PBSP SHU by way of a peaceful hunger strike, which we intend to carry out indefinitely.
END SOLITARY CONFINEMENT THROUGHOUT CALIFORNIA and THIS NATION!
We, Sitawa Nantambu Jamaa, George Franco, Arturo Castellanos and Todd Asker, the four principle negotiators and representatives of the Pelican Bay hunger strike, are requesting for all bodies and minds who are participating in the Sept. 26, 2011, human rights movement to be mindful that we prisoners are in a protracted struggle so that no other prisoners will be held in solitary confinement. All California-held prisoners can be subjected to inhumane, torturous and intentional harsh treatment by CDCR officials, enforced by their subordinates, if the use of solitary confinement is not stopped.
For this struggle to go forward, we need supporters to donate $10 or more to our prisoners' cause, to shut the SHUs and all solitary confinement units within the state of California and spread this resistance across the U.S. by way of peaceful hunger strikes and other peaceful demonstrations.
Prisoner Hunger Strike Solidarity is a coalition of non-profit organizations that have been working many years on prisoner rights issues and shutting solitary confinement units throughout California and the U.S. We prisoners appreciate and continue to need their legal support.
Note: California Prison Focus is the member of the coalition responsible for meeting with the spokesmen for the prisoners. Donations will be used to travel to Pelican Bay once a week and to travel to the other SHUs as often as possible this winter in order to report to the state legislature and to protect the spokesmen as much as possible. Each trip costs $300 to $400 for two investigators for two days for gas and lodging only.
MIN. JR VALREY AT FOREFRONT OF PUBLICITY FOR HUNGER STRIKE
News from sfbayview.com
Do you know who broke the story of the California hunger strike on KPFA? According to General Manager Andrew Phillips, it was our own Minister of Information JR, the volunteer host of two weekly shows on KPFA, as well as associate editor of the Bay View! Until the mainstream media picked up the story in the last few days, if you weren't listening to KPFA or reading the Bay View, you might not know that 12,000 – yes, 12,000, according to the court-appointed receiver – prisoners across California are literally starving themselves, risking their lives, to end the state's unconstitutional torture of their brothers in security housing units (SHUs).
The prisoners themselves count on KPFA and the Bay View to help them organize and build the strike, because they aren't allowed to speak or write letters to each other, those in the Pelican Bay SHU can't send or receive mail that mentions the strike, their attorneys have been banned and this past weekend their families weren't even allowed to visit them.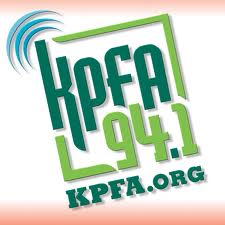 But KPFA's super-powerful 59,000 watts, boosted by KFCF in Fresno, reaches millions of Californians, including tens of thousands of prisoners, throughout Northern and Central Cali. And we mail the Bay View to hundreds of prisoners, which infuriates their keepers.
The prisoners love JR because he respects them as newsworthy. You know that if the media don't mention you and your issues, you're nobody in the world today. You might as well be Dred Scott, who, when he sued for his freedom after his "owner" wouldn't let him buy himself, was told by the U.S. Supreme Court that he and all Black people are "so far inferior that they had no rights which the white man was bound to respect." In California prisons – and much of the rest of the world – that's still the rule.
I'm writing again with an appeal for funds – and to profoundly thank the beloved benefactor who paid for printing the October Bay View paper! – but this time funds for KPFA. Every KPFA show, even those hosted by unpaid volunteers like JR, is assigned a fundraising goal during fund drives, like the one that started today. And it's understood that a show must meet its goal to stay on the air.
Tomorrow morning, JR's Wednesday Morning Mix show must raise $2,000! The show runs 8-9 a.m. on KPFA 94.1 FM or listen live or on the archives at kpfa.org. You can call in to make a pledge during that hour or pledge any time online at https://secure.kpfa.org/support/. Be sure to leave a comment at the bottom of the page that your pledge is your vote for JR's Wednesday Morning Mix.
When JR started writing for the Bay View 10 years ago, in 2001, he was already volunteering at KPFA. As controversial as he is, even at KPFA – because he insists that what's important to Black people should be important enough to everybody to be reported as NEWS – it took all these years of pushing and prodding for him to finally get regularly on the air just in the past couple of months.
The Wednesday Morning Mix is a hot gumbo of taboo-breaking news and views that will expand your worldview and inspire you to join one or several struggles for justice. The Block Report on Friday night (technically Saturday morning) from midnight to 2 a.m. resounds with the latest hip hop releases and hot talk from the young people crowded into the studio whose brilliant insights into current affairs will blow you away.
As a punchdrunk world begins to come to its senses and fight back against the fascism and neo-colonialism that are turning our world into a police state and prison nation, WE NEED THESE REVOLUTIONARY VOICES ON THE AIR AND IN PRINT. KPFA takes no corporate funding. Keeping the revolution in the news depends on us. Please support tomorrow's Wednesday Morning Mix 8-9 a.m. on KPFA as generously as you can.