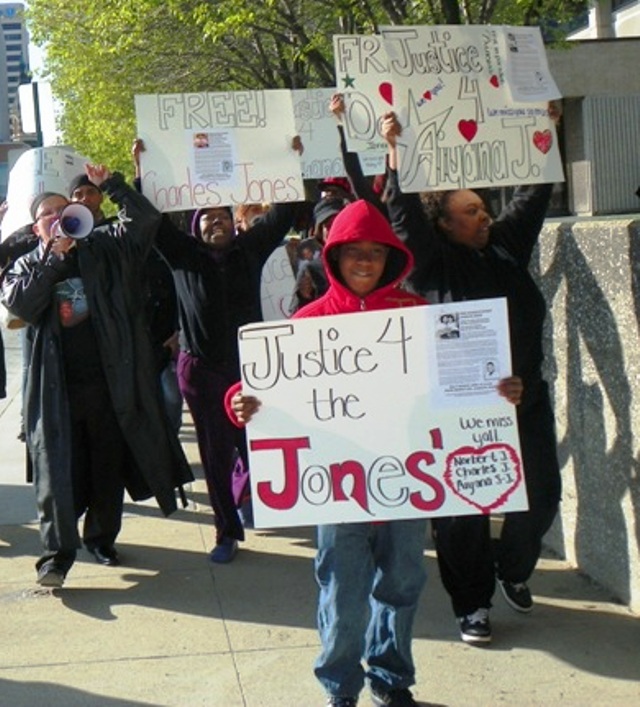 14-year-old Rafael Jones leads march April 23 at Frank Murphy, with his grandmother Mertilla Jones, aunt LaKrystal Sanders holding signs behind him.
Judge considers "flash-bang" demo to show Weekley's "disorientation;"  defense and prosecution agree to delete parts of audio from video
By Diane Bukowski

June 16, 2012

DETROIT – Wayne County Circuit Court Judge Cynthia Gray-Hathaway, Prosecutor Robert Moran, and Stephen Fishman, defense attorney for Detroit cop Joseph Weekley, who shot seven-year-old Aiyana Stanley-Jones to death two years ago in a violent raid. appeared to collude on Weekley's behalf during motion hearings in the case June 15.
Weekley shot the child in the head, after a so-called "flash-bang" stun grenade was thrown through the window under which Aiyana and her grandmother were sleeping.
The diminutive Weekley, who appears no taller than five feet, faces involuntary manslaughter charges for negligently executing a search warrant, and perjury charges.
Gray Hathaway took "under advisement" the possibility of providing a real-life demonstration of the impact of the stun grenade on the individuals inside, including Weekley. She scheduled a "trial run" for judge and attorneys only on July 27 at 11 a.m. Press would not be permitted at the trial run, while it remains unclear whether press coverage will be allowed if the jury sees the demonstration.
"I ask the court to be able to allow the jury to experience the impact of a flash-bang [grenade]," Moran said. "The grand juror asked that this be done for him, to understand the effects of the device on people in the house as well as police officers in the home. He said it was 'enlightening.'"
Moran said the device is intended to disorient people in the home.
Wayne County Circuit Court Judge Timothy Kenny was the grand juror who took secret testimony in the case.
Mertilla Jones, Aiyana's grandmother who was sleeping on the couch below the window with Aiyana at the time, told VOD later that day that Weekley did not enter the home until after the grenade went off, so could not have been affected by it. She said it did not even stun her.
"I heard the flash bang hit the window, and a lot of light came through," she said. "I hit the floor before it could hit me, but my grandbaby jerked when it hit her blanket and set it on fire. Weekley came in after that with his gun pointed down at her head. I told him, hold on, don't shoot, that's a seven-year-old baby girl, but he just went POW."
Jones said she saw the look in his eyes as he shot Aiyana.
"He didn't look shocked or stunned or even remorseful," she said. "They came there to kill, not to arrest someone."
Moran is also prosecuting Aiyana's father Charles Jones on first-degree murder charges in a case that was the pretext for a Special Response Team assault on the Jones' family's home on Lillibridge May 16, 2010, It was filmed in the dead of night by a camera crew from A&E's The First 48. Some have questioned whether this is a conflict of interest.
"My client is facing charges for being grossly negligent, but this didn't have anything to do with him," Fishman said.
"He didn't make the decision to have a camera following them, it was made by [then Police Chief] Warren Evans. He didn't come up with the idea of let's go out in the middle of the night and use a flash-bang grenade. He was not the person who threw the grenade. That person was inept. He was supposed to have thrown it earlier. I would hate to defend the department in a civil lawsuit on this case."
Moran said Weekley and other SRT officers have been trained to operate properly while a stun grenade is going off, even nearby.
The Jones' family's attorney Geoffrey Fieger said in 2010 that a police car was outside their home during the day and could have arrested the person they had the warrant for, Chauncey Owens, peacefully when he exited the upper flat of the house during the day.
Fishman delayed asking for dismissal of the charges against Weekley, but indicated he would do so in future hearings. A trial date for Weekley was set for Oct. 22, 2012.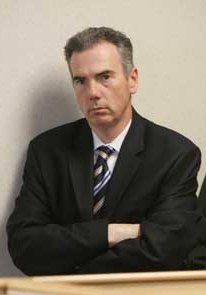 Moran and Fishman also agreed to delete certain audio potions of the two videotapes taken by the A & E crew when they are shown to the jury.
Fishman said afterwards there are dogs barking, and crying and wailing from the family on the tapes, but also comments from police officers. He said he could not see whether Weekley was already in the house by looking at the videos.
The case against Allison Howard, a producer for A&E, for committing perjury by claiming she did not show or provide copies of the videotapes to a third party, has been severed from Weekley's case. She is expected to go to trial in December.
New information came to light during the hearing June 15 on Howard's case.
Howard's defense attorney Robert Harrison said one witness who refused to testify against Howard spent three months in Wayne County jail on contempt of court charges before acquiescing. He said another witness was threatened with the same, and eventually agreed to comply.
Later, he named the two as John Cassar, who runs Italio Collision and Auto at 19049 W. Warren in Detroit, and Lee O'Brien. During the hearing, he implied that some of the witnesses may have criminal records related to "theft and dishonesty."
"It was common knowledge that she [Howard] went out to a party going on in the Canton home of one of the witnesses that night, with a police officer friend, and that she sold a copy of the tape to a third individual for $2500," Moran said. Harrison said afterwards that there was no party.
Gray Hathaway granted a joint motion made by Moran and Harrison for a "bill of particulars" detailing the exact elements of the charges brought against Weekley and Howard.
Jones family members later noted the dissimilar treatment of Weekley, who has been out on personal bond since his arraignment and was allowed to have his trial severed from Howard," and that of her son Charles Jones and Chauncey Owens. The two face first-degree murder charges in the death of Je'Rean Blakely, 17, during a contentious incident two days before the police raid on the Jones house.
They are being held without bond in Wayne County Jail. Owens has been incarcerated there for two years, after making statements admitting to the killing, while Jones was arrested after an investigation that took more than a year and a half.
Wayne County Circuit Court Judge Richard Skutt, while barring the third-person testimony of jail-house snitch Jay Schlenkerman against Jones, did not sever the cases. Jones has said he had nothing to do with the Blake shooting, and did not provide Owens with the gun as contended by Schlenkerman. Owens refused to testify at his preliminary hearing and was held in contempt of court by 36th District Court Judge E. Lynise Bryant-Weekes.