THINK…..BEFORE YOU VOTE
By Lisa Plunkett, Waterford Township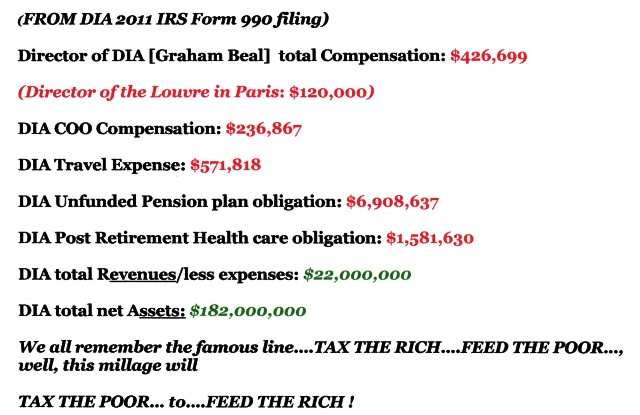 I  have been asking many questions regarding this millage and Mr. Gene Gargaro, Chairman of the Board of the DIA has kindly answered all of them.
However, two issues give me pause:
First, it feels like this is just not the right time to ask for such a tax. Right now……..at this moment in time….. We need to ensure that the essentials are taken care of……police, fire, schools, roads, libraries; and
Second, I just cannot wrap my head around the over-bloated salaries of the key employees of the DIA.
Yes, I did review the AAMD (Association of Art Museum Directors) salary survey of directors and yes, I did my research on the qualifications directors must possess. However, the Director of the most visited, most recognized museum in the world, the Louvre, makes $120,000 per year.
Italian museum directors make even less……why….because these museums are funded by the government (tax dollars) and the government sets the salaries.
Click on http://www.artinfo.com/news/story/788565/basta-the-heads-of-italys-storied-museums-unite-in-fury-over-their-appallingly-paltry-salaries'.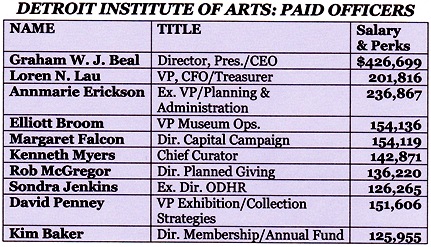 I am all for people making loads of money here in the U.S., but, when a non-profit corporation asks struggling taxpayers to support over bloated salaries, costly travel accounts, unfunded obligations……..I take great pause!
Click on DIA FORM 990 (FILED 2012 FOR 2011) 2010 FORM 990 FY10-11 FINAL to read entire tax filing.
BALLOT PROPOSAL DOES NOT MENTION DIA, SETS UP SEPARATE AUTHORITY FOR EACH COUNTY; EACH COUNTY MUST APPROVE FOR FREE ENTRANCE TO TAKE EFFECT
This example from Oakland County's primary ballot shows DIA millage language that will appear with slight variations in Macomb and Wayne. Each county has its own Art Institute Authority and different projected revenues if the proposal passes. (cited in the Grosse Pointe Patch at http://grossepointe.patch.com/articles/august-primary-dia-millage-proposal ).
"The three county boards of commissioners this year established separate Art Institute Authorities, allowed under a 2010 state law, to submit the August millage question and monitor the use of funds if it passes. The four-sentence ballot wording (see below) asks for a yes or no vote on a tax "to continue providing art institute services to benefit the residents" of the voter's county.
The phrases "Detroit Institute of Arts," "DIA" and "museum" aren't used. (Grosse Pointe Patch)
"OAKLAND COUNTY ART INSTITUTE AUTHORITY MILLAGE
The Oakland County Art Institute Authority established pursuant to Public Act 296 of 2010 to allow for continuing support of art institute services for the students, residents and visitors of Oakland County. The law allows the Authority to seek authorization from the electors to levy a tax of not more than 0.2 mill (20 cents per $1,000 of taxable value) on real and personal property to provide revenue to an art institute services provider for this purpose. Accordingly, to continue providing art institute services to benefit the residents of Oakland County, shall a 0.2 mill on all of the taxable property located within the County be imposed for a period of ten (10) years, being years 2012 through 2021? It is estimated that if approved and levied, this new millage would generate approximately $9,847,191 in 2012."