Toronto's Union Station is flooded in water. Royal Bank Plaza concourse flooded, June 2012 (You Tube commentary on video above):
 At about 12:30 p.m., water inundated Toronto's Union Station, one of Canada's busiest transportation hubs. More than three dozen people were trapped on a street car in the Harbourfront tunnel when the flooding began. They have since been rescued and evacuated. Subway services have been suspended on a portion of the Yonge-University-Spadina line — but GO train services continue to operate.

A sewage back-up, mixed with a heavy influx of rain, has caused significant damage. Power has been shut off as crews work to clean and sanitize the station, which is expected to remain closed until Saturday. Witnesses said the water came down "like a monsoon" Water also flooded the lobby of neighbouring Royal Bank Plaza as well as part of the PATH system linked to Union — prompting the closure of the underground walkway at 2 p.m.
Toronto hired EMA in 1996; now DWSD wants to use company too 
By Diane Bukowski 
August 22, 2012 
DETROIT – The city of Toronto was virtually underwater in June due to backed-up sewage lines affecting its subways, homes and streets. Such floods have been common over the last decade, according to media reports, since EMA, Inc. revamped Toronto Water.
Now the EMA Group wants to re-do the Detroit Water and Sewerage Department using  a plan similar to the "Works Best Practices" Program (WBP) they initiated in Toronto in 1996. The EMA Group is headquartered in Minneapolis, Minnesota, and has a subsidiary, EMA Canada Inc. with offices in Toronto and Winnepeg.
EMA Vice-President Brian Hurding told the Board of Water Commissioners (BOWC) Aug. 8 that EMA wants to reduce the DWSD workforce by 81 percent, and force the remaining workers to do the jobs of many others by merging classifications.
DWSD Director Sue McCormick told the BOWC why she had selected EMA.
"They utilize significant employee input," she said. "They have conducted desk audits and reviewed technological and business processes. They have track records in 400 communities of producing results that achieve or exceed projected savings. They never compromise safety or quality and maintain regulatory compliance."
Hurding, who works out of EMA Canada's Toronto office, touted Toronto Water as his company's prime success story.  He presented slides featuring laudatory quotes from Toronto Water managers.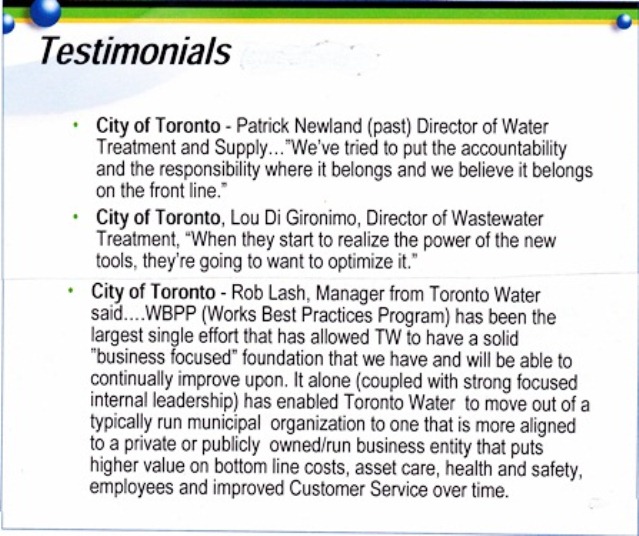 Toronto hired EMA Canada in 1996. A 1999 memorandum from Toronto City Auditor Jeffery Griffiths to the city council detailed a proposed Phase II EMA contract for the Works Best Practices (WBP) Program, costing $14.5 million.
"The WBP Program is a long term improvement initiative undertaken by the Water and Wastewater Services Division of the Works and Emergency Services Department," Griffiths wrote.  "The objective of the program is to ensure that the Division provides the most cost effective and efficient service to its customers. Phase 1 of the project focused on the design of new work practices, new technologies and organizational change.
EMA has already carried out Phase I of its Detroit plan. Phase II is set for a BOWC vote soon.
"Phase 2 includes full implementation of redesigned work practices and organizational units, integrated business and operations systems and technologies, detailed design, and construction and commissioning work for new process control systems across the major water and wastewater operating facilities," Griffiths said. "Staff estimates that annual savings of approximately $36 million will be realized upon completion of the project."
Hurding told the BOWC that after 10 years, DWSD will realize a total savings of $.9 billion.
In Toronto, by 2002, Frank Morrissey, who was chair of  the water and wastewater division of Local 416 of the Canadian Union of Public Employees (CUPE) and preventive maintenance coordinator at the Ashbridges Bay water treatment plant, told the group Water Watch that the city's sewage system had deteriorated in the wake of EMA's work.
He spoke during a campaign to stop eventual privatization of Toronto Water, which was partially successful but resulted in an altered governance structure with less accountability.
He said recommendations to transform the system into a "public corporation" were "a stepping stone on the bridge to privatization. It sets the system up as ripe for the plucking."
Water Watch wrote, "Wastewater, often less scrutinized than what comes out of the tap, has already come under the cost-cutting knife. Morrissey says corporate pressure has ratcheted down standards for sewage treatment at the Highland Creek plant. An American consulting firm, EMA, has deployed a cost-reduction scheme that cut staff and drastically reduced the quality of the plant's discharge.
"With the city's higher standard, any system failure meant the plant's discharge would still meet the province's requirements. Now, failure means contaminated water. 'The effluent used to be treated to a higher standard than the provincial minimum, and that meant security. But we've got no margin any more,' says Morrissey."
According to a report from Watergy, under EMA's Works Best Practices Program,  "the utility revamped its management structure to empower line workers to maximize efficiency in operations. Facilities have been divided into distinct geographic areas that are managed in a business unit fashion by a team of line staff. The teams meet on a daily basis to discuss operational and maintenance strategies. Team supervisors provide oversight and regularly meet among themselves to discuss interteam collaboration on efficiency projects. This team structure has helped optimize operational performance and provide a more rapid response to redressing inefficiencies."
That process is very similar to what EMA proposes to use in DWSD.
In 2005, the Toronto passed a $1 billion 10-year plan to address ongoing problems, still working with EMA.
Fast forward to 2012. Continuing reduction in staff, training, vehicles and other supplies was detailed in a previously confidential  budget release after CUPE Local 416 voted to accept the changes early this year. Toronto;s Mayor Rob Ford has led an anti-public worker campaign since he took office.
By June, 2012, Toronto's water and sewerage infrastructure had deteriorated so badly that massive flooding of basements, streets and even the city's world-renowned subway system took place. As shown in the video at the end of the story, a similar flood happened in 2009.
Toronto Post reporter Vidya Kauri wrote regarding this year's floods, "It is believed a backed-up storm sewer may have caused the flooding. Heavy rains may have contributed to water pumping issues."
Kauri said that two feet of water put Toronto's Union Station completely out of operation, while the system ran bus shuttles through the city to make up for service interruptions in other stations.
"Toronto fire spokesman Adrian Ratushniak confirmed that fire crews 'assisted passengers from track level and in some cases had to lift them through water,'  but added there were no reports of injuries," Kauri wrote.
"I could smell for sure what I thought was sewage," pedestrian Michael Tomlin told the Post. Tomlin was about to enter the station but turned back when he saw the gushing water.
"Police blocked vehicle access along Front St. from York St. to Bay St. while crews worked to clean up the mess," Kauri added. "Parts of the PATH underground walkway connected to the station were also closed due to flooding."
The paper also interviewed numerous homeowners whose basements flooded in four major regions served by Toronto Water, which it said are "often shut down during major storms."
One homeowner, a Toronto City Councillor, told the Post her home has flooded six times in the last nine years.
"Ward 35 Councillor Michelle Berardinetti visited the homeowners wearing thick galoshes that almost came up to her knees." said the Post. "Sewage backed up into her home near Danforth Ave. and Kennedy Rd. as well, and she is worried about the presence of E.Coli."
Toronto Mayor Rob Ford also visited homeowners.
As he stood in one basement with four inches of sewage, he told Kauri, "My heart bleeds for these people to have to go through this. They fix up their basement. A lot of people live in their basement. You come home to have sewage in your basement and all your furniture ruined, your chairs are ruined, your TV's ruined, then you start over again. You know how frustrating that is.".
It is unclear jjust how drastic Toronto's staffing cuts have been. But in light of the massive floods and sewage back-ups Toronto's residents experienced in July, it appears the reduction of an astounding 81 percent of the DWSD workforce portends a similar nightmare for residents of the six-county DWSD service area.
VOD contacted EMA Vice-President Hurding at his office in Toronto for comments on this story, but to date he has not returned the call.
You Tube video below of similar Union Station flood in 2009.