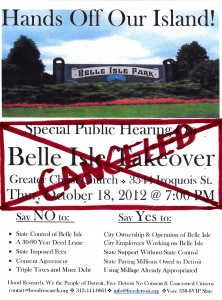 Six members vote to cancel Oct. 18 hearing
Members earlier open to revised 'lease'
By Diane Bukowski 
October 17, 2012
DETROIT– The Detroit City Council voted 6-3 to postpone an Oct. 18 hearing on Belle Isle indefinitely, two days before it was to happen. Free Detroit-No Consent, Hood Research, and We the People had blanketed the city with fliers, going to Wayne County Community College campuses, churches and other venues, according to one member.
The City Clerk's office posted the hearing on Oct. 12. It was to be sponsored by the council's Neighborhood and Community Services Committee, chaired by Councilman James Tate. During public comment at the beginning of the Oct. 16 meeting, Valerie Glenn of Free Detroit-No Consent thanked Tate and other members for holding the hearing. No one told her they were considering canceling it.
"We haven't had a formal discussion about the actual [state lease] proposal we would be voting on," Tate said later on Oct. 16.  "Questions have been sent to the state, and deliberation needs to be done. It is unnecessary at this point. I voted no on this [hearing] in committee and am voting no on it now."
Tate said in an earlier on-line chat on freep.com, "Belle Isle is an asset, but it is not a core service of ours. I have been and remain open to any and all suggestions (and assistance) on how we can improve the park."
The six who voted to postpone the meeting were (in alpabetical order), Gary Brown, Saunteel Jenkins, Charles Pugh, Andre Spivey, James Tate and JoAnn Watson.
"It would just generate more confusion," Jenkins said. "There is already fighting and correcting inaccurate reports that Council is voting down a Belle Isle lease proposal."
Councilwoman JoAnn Watson earlier co-sponsored a rally against a state takeover of Belle Isle.
Councilwoman JoAnn Watson listens to City General Services Dept. Director Brad Dick at hearing on Belle Isle Sept. 25, 2012.
"The request for a public hearing had nothing to do with it had to be this week," she said. "It was disrespectful not to check with us. We ought to have all proposals shared with all our colleagues [first]. Everybody needs to have time to review all the proposals, then yes, have a hearing scheduled for the public. We can look at all proposals and what's behind the green door, including why not just manage it ourselves. We also need to discuss the matter with experts including experts on historic designation." (See story below which indicates that Belle Isle is on the National Register of Historic Places.)
Proposals other than a revised lease which have been raised by council members include the city's 2005 Belle Isle Master Plan, and private proposals, including one from an agency which wants to bring the Bob-Lo boat back.
"I requested the public hearing," said Councilman Kwame Kenyatta, who voted to hold it as planned. "There was nothing in writing that it was to discuss the state proposal. I had asked the Mayor to set up a committee to discuss the various proposals to look at how Belle Isle should go forward. We have in committee discussed a number of proposals to take the six million dollars off table, and leave the island open to community without a fee. . . A public hearing is for the public to speak on any issue of the day."
The Bing administration has alleged that it costs the city $6 million annually to operate Belle Isle, although the cost that appeared in last year's budget is much less.
Councilman Kenneth Cockrel, Jr., who voted to continue with the hearing, agreed with Kenyatta that the hearing was to be a broad discussion for the community.
Councilwoman Brenda Jones also voted to go ahead with the hearing, but said she would not be able to attend due to a prior engagement.