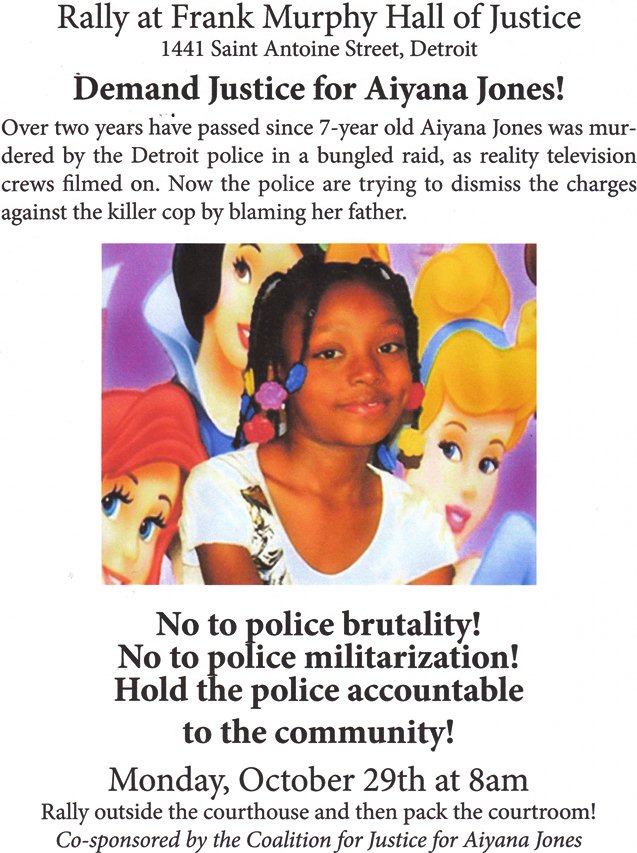 ______________________________________________________________
Joseph Weekley, the Detroit cop who shot Aiyana Stanley-Jones, 7, to death on May 16, 2010, is scheduled to be in court on continuing action related to a motion to dismiss his case, on Oct. 29 at 9 a.m. in the courtroom of Judge Cynthia Gray Hathaway, Frank Murphy Hall, Room 801.
To download and print flyer, click on Aiyana rally.
See links below for further details.
Related articles:
http://voiceofdetroit.net/2012/09/29/judge-may-dismiss-case-against-cop-who-killed-aiyana-jones-7-after-childs-father-is-tried/
http://voiceofdetroit.net/2012/06/16/riot-police-terrorize-aiyana-jones-family-the-night-of-killer-cop-court-hearing/
http://voiceofdetroit.net/2012/06/16/court-attorneys-collude-in-killer-cop-joseph-weekley-hearing/
http://voiceofdetroit.net/2012/05/15/judge-throws-out-jail-house-snitch-statement-against-aiyana-jones-dad-charles-jones/
http://voiceofdetroit.net/2012/04/28/free-davontae-and-charles-justice-for-aiyana-and-trayvon/
http://voiceofdetroit.net/2012/04/24/stop-the-war-on-our-youth-davontae-aiyana-and-dad-trayvon-kenny-snodgrass-production/
http://voiceofdetroit.net/2012/04/24/stop-the-war-on-our-youth-davontae-aiyana-and-dad-trayvon-kenny-snodgrass-production/
http://voiceofdetroit.net/2012/01/22/aiyana%e2%80%99s-family-joins-other-police-victims-at-national-meeting-in-metro-detroit/