Gov. Snyder announces EFM review, "stricter" consent deal in 2013
Residents call for new fight-back strategies 
By Diane Bukowski 
December 22, 2012 
DETROIT – City Council's narrow approval of the Miller-Canfield contract Dec. 11 and other items in Detroit Mayor Dave Bing's "Milestone Agreement" with the state, along with the Hantz Woodlands land sale, has only accelerated the war on the nation's poorest major city. 
The Council's "Fatal Five," many of whom met with Michigan Gov. Rick Snyder's chief of staff Dennis Muchmore prior to the meeting, acted after State Treasurer Andy Dillon threatened to appoint an emergency financial manager under the now defunct Public Act 72.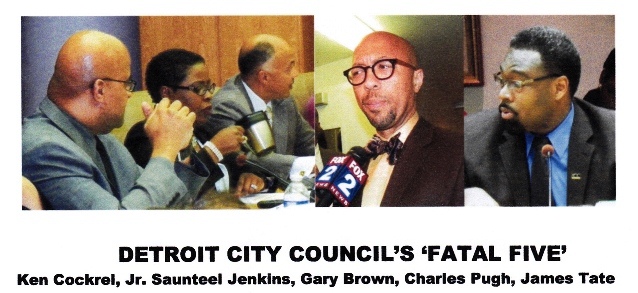 A week later, on Dec. 18, Snyder empaneled a six-member review team to begin the EFM process anyway, and is now threatening as an alternative to impose a "stricter" consent agreement under a new "emergency manager" act voted in during the state legislature's lame duck session.
"My administration has worked, and will continue to work in collaboration, with Mayor (Dave) Bing and city officials to ensure a revitalized and successful Detroit," Snyder said in a statement. "However, given the financial crisis that continues to grip the City of Detroit, we must move quickly to ensure city residents have continued access to essential services they expect and deserve."
Snyder ignored the fact that Detroit's financial crisis has been caused by its huge debt to banks like UBS, which recently agreed to pay $1.5 billion in fines resulting from its criminal interest-rate rigging in the "LIBOR" scandal. (Click on  The City of Baltimore and other municipalities and states are suing UBS and other global banks to recoup their losses fr0m those "LIBOR" deals, but Detroit's leaders insist on blaming the people. (Click on http://voiceofdetroit.net/2012/12/19/ubs-admits-fraud-in-1-5-billion-libor-rigging-settlement/.)
Life-long community activist and former Detroit School Board member Marie Thornton strongly opposes Snyder's assault. She conducted a civil-rights style protest at the Dec.11 council meeting, lying down on the floor after Council President Charles Pugh at first ordered her to leave because he didn't like her comments, and repeatedly insulted her. (See video at top of story.)
"Pugh came up to me and others in the audience before the meeting and asked us if we were going to be 'good,'" Thornton recalled. "I am old enough to be his mother. He tried to remove me prior to the meeting and during the meeting, but I was determined not to let him succeed."
Audience member Tyrone Travis called out repeatedly, "Get your hands off her," and "assault" as police surrounded her, begging her to get up so they could take her out. Pugh eventually relented and told Council police hovering over her to let her stay.
Thornton got over 93,000 votes in the 2005 Detroit school board elections, ranking third because of voters' admiration for other protests she conducted against school board practices, protests Pugh disparaged as "disruptions."
Pugh refused to apologize for wrongly blaming Thornton on Dec. 4 for the "grapes of wrath" protest Call 'em Out leader Agnes Hitchcock conducted against the board's vote to close 50 schools in 2005.  During her term, Thornton opposed numerous costly private contracts and hundreds of school closings, despite constant attacks on her instigated by Board president Jimmy Womack.
She was the only board member to vote "No" on the consent agreement which led to former Governor Jennifer Granholm's imposition of an EFM on the district. A recent report revealed that 51 percent of children attending DPS now live in poverty, up from 39.4 percent in 2007. More than half the district's schools are now closed.
"Everyone should have sat on the floor Dec. 11," Thornton told VOD, "including the Council members who voted no. We are living under lawless officials. I watched the Council relive Public Act 72 , which is dead, and act as if they didn't know it. They are playing into the hands of Gov. Snyder. They should never even have conducted a second vote on Miller-Canfield because the agenda said no reconsiderations were to be voted on. That was nothing but a dog and pony show in violation of the Open Meetings Act."
As during Council's previous meetings, hundreds of residents waited in the hallways for hours, unable to see or hear the proceedings, only to be allowed in for one-minute comments.
The Council voted 8-1 against the Miller Canfield contract Dec.4, citing the firm's conflicting role on behalf of the state in writing the original "emergency manager" Public Act 4, the so-called Detroit "consent agreement," the "Milestone Agreement," and brokering the $137 million state loan deal.
The Council "Fatal Five" who voted "Yes" to Miller-Canfield  Dec. 11 were Pugh, Gary Brown, Saunteel Jenkins, James Tate, and Kenneth Cockrel Jr. The same crew approved the April 4 "Fiscal Stability (consent) Agreement."
That pact essentially put the city under the control of 13 emergency managers, including a nine-member corporate-dominated "Financial Advisory Board," Program Management Director Kriss Andrews, CFO Jack Martin, Dillon, and Snyder. All can override the decisions of Detroit's elected officials.
It led to the unilateral imposition of "City Employment Terms" on city workers despite an earlier union pact which would have saved the city at least $68 million, the closure of three federally-funded city departments, a proposed 90-year "lease" of Belle Isle to the state, wage and benefit cuts, and threats to the city's pension system.
Many residents who spoke at hearings before the Council vote April 4 asked the body to wait until after the Nov. 6 referendum vote on Public Act 4, which birthed the proposed consent agreement. Michigan voters resoundingly repealed the act. A case is now pending before the state Supreme Court challenging Snyder's use of Public Act 72 to maintain EFM's in most of the state's majority-Black cities.
However, neither City Council nor the city's major unions have joined plaintiff Robert Davis in that suit or in filing one of their one, despite the fact that Michigan Supreme Court Chief Justice Robert Young cited MCL 8.4 in a hearing before the Court ordered the PA 4 repeal referendum on the ballot.
 "Whenever a statute, or any part thereof shall be repealed by a subsequent statute, such statute, or any part thereof, so repealed, shall not be revived by the repeal of such subsequent repealing statute," MCL 8.4 says.
"Public Act 72 does not exist," Thornton said. "But the Mayor, the City Council and the state won't let it die.  Snyder could not get away with what he is doing if the Council would stand up to him. As far as the upcoming city elections in 2013, it's going to be the same game but different players. The powers that be want to control Detroit in any lawless way possible because it is the largest city in the state, with the most people and the most resources."
In addition to the Miller-Canfield contract, the Council voted for a $300,000 one-year contract, with one-year renewal, with an outside firm to search for fraud in the city's workers' compensation and benefits process, which the Milestone Agreement required to be retained before Dec. 14, 2012. The firm is Kessler International of New York City. 
Ironically, that firm's CEO Michael Kessler exposed a $370 million Ponzi scheme by Nicholas Cosmo, CEO of Agape World, in 2008, which led to Cosmo's arrest by federal officials. http://www.time.com/time/business/article/0,8599,1874283,00.html#ixzz2FtR8ofLz 
But the Council's "Fatal Five" blithely voted to approve the largest land sale in the city's history, 143.8 acres for $520,000 to Hantz Woodlands, LLC.  
They were well aware that Hantz' parent company, Hantz Financial, is embroiled in litigation over a $2.2 billion Ponzi scheme the company recommended to investors, and that it paid a $675,000 settlement in 2005 for "fraud stemming from misleading, inaccurate and fraudulent representations, misstatements, omissions and patently incorrect statements about its independent status." 
VOD reported this matter, with sources cited, to the Council at its public hearing on Hantz Dec. 10, handing out copies of this VOD article to each Council member. http://voiceofdetroit.net/2012/12/10/hantz-off-our-land-council-vote-set-for-tues-dec-11-10-am/. 
The Hantz hearing was attended by at least 600 people, all but a few in opposition to the deal. During the hearing, as one speaker pointed out, it was clear that Pugh at least had already made up his mind, since he told another speaker who inquired whether Hantz would pay taxes on the land, "Oh, yes, they WILL pay taxes." 
Riverbend Community Association President Jay Henderson asked the audience, "What will you do if the Council votes against your wishes?" He later told VOD that Detroit residents must create new direct strategies to win back control of their city in the New Year.
On Dec. 4, the Council had unanimously supported Councilwoman JoAnn Watson's request that Corporation Counsel Krystal Crittendon send a "letter of demand" to State Treasurer Andy Dillon for the $30 million he was withholding from the city until Council obeyed his demands. But on Dec. 11, they turned down the resolution which would have authorized that letter. 
Instead, they approved the following resolution authored by Watson: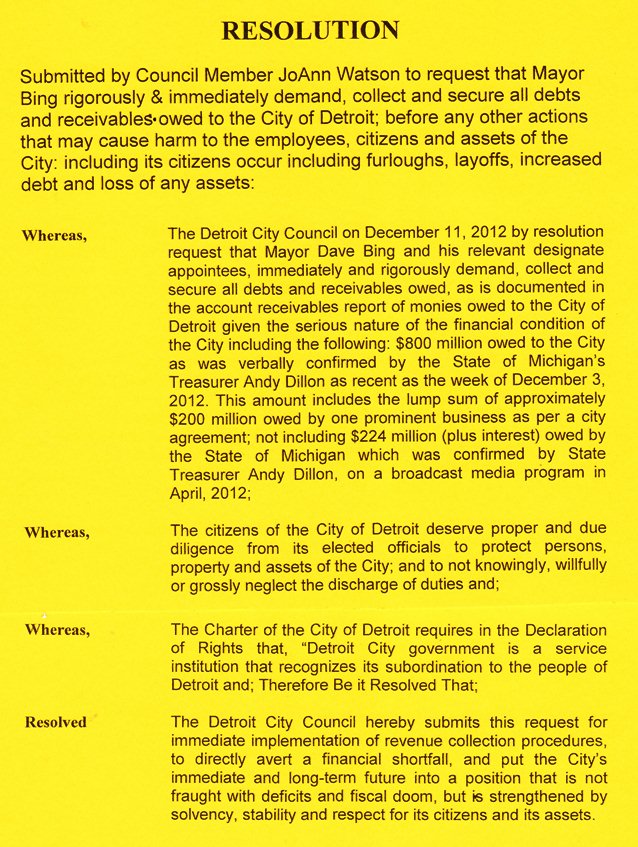 After the council votes on Miller-Canfield and Hantz, the audience erupted in anger. According to Cecily McClellan of Free Detroit-No Consent, not only Council police but deputy sheriffs from county courts in the Coleman A. Young Municipal Center were summoned to eject them forcibly from Council chambers. 
Videos of the Council session Dec. 11 and its public hearing on Hantz Farms Dec. 10 have not been posted in their archives as is normally the case. 
SELECTED PUBLIC COMMENTS FROM COUNCIL MEETING DEC. 11  
Valerie Burris: I'm wearing red in support of the unions in Lansing today and in support of our children being slaughtered in the streets because of the policies of the city. No to Miller Canfield. No to the bogus consent agreement. Stand up and fight for the people.  
Cecily McClellan: The Council very much aware that the state has no jurisdiction over you to force you to approve these contracts. This is clearly extortion. The Council is very much aware that PA4 is dead and PA72 as Robert Young indicated cannot  be revived. This will not provide you cover. You need to stand your ground, not be disrespected. The citizens fought hard and long to repeal PA4. We restored your responsibility so now stand up and do your job. 
JoAnn Jackson: The people of Detroit voted Nov. 6, Asians, Blacks, Latinos and whites, we all voted no on PA 4. We the people pay your salaries and we want you to vote no on anything dealing with an emergency manager. If you don't we are taking to the streets and get rid of every one of you. 
Lynnette Bowens: "I see this contract with Plante Moran, and one for a workers comp fraud audit. Do we no longer have any city employees in the accounting department? The health care dependent eligibility audit—do we no longer have a Human Resources Department. Miller-Canfield—have we gotten  rid of our law department? I see there is also a a resolution to increase the contract procurement threshold for the City Council, a resolution to circumvent your authority. 
Attorney Richard Mack, AFSCME Council 25: – What this honorable body should consider is that this cash crisis has been created  by Dillon holding the city's money. The city borrowed $104 million, and $86 million is left. Twenty-four$ million has already been paid. So prior to the Nov. 13 Milestone Agreement, someone came along and changed the contract under which you would get your money. This body can go to court and contend that  Dillon is abusing his discretion. 
Keith Hines: I'm going to take 10 seconds to say "The Trolley Riot of 1891." (He referred to a worker-community uprising in Detroit during which workers on the city's horse-drawn trolleys struck for better pay and conditions, and riders supported them, demanding electrification of the private trolley system. Large crowds took over the trolleys and ran many into the river. This was the beginning of Detroit's public sector.) 
Edith Lee Payne: Different corporations including Mike Illitch owe the city in excess of $800 million. There is no financial crisis, this is strong-arming and extortion by the state, which also  owes money to city. The Council should initiate forfeiture proceedings against Bing, he has mismanaged every single department. 
Ann Grimmett: Why is this meeting not in the auditorium. It is such disrespect to the citizens of Detroit when they are not allowed to participate in whole meeting. This is a terroristic tactic. (Many speakers commented on this issue. VOD is recruiting plaintiffs and attorneys for an Open Meetings Act lawsuit like those already filed by unions after the right-to-work vote in the state legislature. If successful, such a lawsuit would void all actions taken during the meeting.) 
Julia Enright, Pres. AFSCME Local 1023: ask you again to really look at the fact that the City of Detroit is owed money, and turned down savings from its unions. But this past Friday longevity payments were given to non-union employees and appointees. (Her contentions were later confirmed by city officials. Unionized workers have not received longevity pay, ranging from $150 to $750, since 2009.) 
Chris Griffiths: Vote No on the Hantz land grab and Miller Canfield. They cannot resurrect PA 72 from the dead. Only Jesus resurrected someone from the dead. This reminds me of slavery days. You guys are doing the exact same thing the white people did to us. 
Morris Mays: You are afraid to face the public in an open meeting. I want to exercise my right and authority to have the Corporation Counsel present so she can open up the  books on you and break out the law on you so when you get ready for privatization. I hate what you're doing, the people hate it. 
HANTZ FARMS COMMENTS DEC. 1o and 11 coming later.