February 8, 2013 
By Diane Bukowski 
DETROIT—A jubilant crowd of supporters packed Bert's Place in Eastern Market Jan. 31 to hear Detroit's former Corporation Counsel Krystal Crittendon formally announce she will run for Mayor this year. Many pledged to work on her campaign.
"I believe you must stand up for what you believe in," Crittendon told the cheering crowd of over 200. "There is absolutely no reason we should be discussing the lease or sale of Belle Isle. Our assets are not for sale. . . . We have an obligation to the people of Detroit to seek justice and fairness. It has been difficult to live here in a city where you don't know if the street lights are going to come on, and people in high places continue to live in  pockets inhabited by the very wealthy while ignoring the needs of the people."
She added, "I am sick and tired of hearing people say that 'those' people down in Detroit can't manage our business. We don't need an emergency manager, we need to manage our own emergency. I'm sick and tired of hearing them blaming the overworked, underpaid city employees who are doing the best they can do with little resources for the city they love."
Crittendon's supporters included many who have fought against Public Act 4, the dictator act signed by Michigan Gov. Rick Snyder in 2011, and the city consent agreement tied to it, which remains in place despite the repeal of PA4. Using powers newly bestowed on the Corporation Counsel by the City Charter, Attorney Crittendon sued the state over the consent agreement, citing city and state rules that a municipality cannot contract with an entity that owes it money.
Wall Street ratings agencies immediately downgraded Detroit's bond ratings. The U.S> Justice Department has just sued one of the three major agencies, Standard and Poor's, for $5 billion to compensate for fraudulent ratings activities.
Crittendon contended, as Michigan Treasurer Andy Dillon confirmed, that the state owes Detroit at least $224 million in revenue-sharing funds. She also said the state owes the city various water, electric and parking ticket bills.  The consent agreement essentially put 13 emergency managers in charge of Detroit, a nine-member advisory board appointed largely by Gov. Snyder, Project Management Director Kriss Andrews, CFO Jack Martin, and Dillon and Snyder, cutting city services and slashing workers' pay and benefits.
Ingham County Circuit Court Judge William Collette said he had his mind made up from the beginning.
"This is such an obvious situation," Collette opined at the outset of the hearing. "I saw it from the moment it happened. People just need to learn to live with this and move this ahead. I don't know how anybody else can sue the state. Dave Bing is the mayor and he has the authority."
Crittendon and her supporters from Free Detroit-No Consent also opposed a contract with Miller Canfield, a law firm whose attorney Michael McGee co-authored Public Act 4.
During a hearing on the contract at City Council Nov. 20, 2012, Crittendon said,"There are a number of conflicts of interest [in the contract] that I cannot ethically advise this body on.The Charter requires the Corporation Counsel to prepare or approve all contracts with outside legal firms. I did neither. . . .My opinion is that you would be violating the Charter."
Bing and the Council Rogue Six fired Crittendon at the state's bidding shortly afterwards, on Dec. 4. She maintains a position as a Law Department attorney meanwhile.
Krystal Jackson, who co-chaired the meeting, said, "Krystal Crittendon is a beacon of light in the darkness, who can put an end to the corruption, male chauvinism, and extortion that is currently rampant in city government. She has zero tolerance for fraud and lawlessness. She is a warrior armed with devotion, she IS Detroit."
Crittendon's mother and sister took the podium to detail her life. (See biography at end of article).
They stressed Crittendon's campaign slogan, "Courage, Commitment, and Character."
"This is a Lincoln Moment," Valerie Simmons-Glenn of Free Detroit, No Consent said in introducing Crittendon. "Krystal would be Detroit's first African-American female mayor. Our organization started April 4, 2012, when the Council approved the consent agreement [despite Crittendon's legal advice]. We want to go with someone who knows the law and will not let the city be stolen. We need to get out there to educate the people, tell them to stop reading the mainstream media, whose editors will change anything the reporters write."
Former U.S. Congresswoman and City Council member Barbara Rose Collins also addressed the rally in Crittendon's support.
"I prayed that God would send us a leader, like Harriet Tubman, Dr. Martin Luther King, Jr. and Erma Henderson," Collins said.
"He sent us Krystal Crittendon, who didn't move into the city for the election, who has been here all along, who looks just like you, and loves Detroit. Gov. Snyder needs to go back to Lansing with his kinfolk. He is just like the European settlers who fought Native Americans at Wounded Knee and Bloody Run after they found gold in the Black Hills. We have lost a battle, but we are going to win this war. People like Roger Penske and Dan Gilbert didn't build Detroit or America, you did, they took their money off your labor.
During the remainder of her talk, Crittendon stressed the courage it takes to stand up to the powers that be.
"I am not stubborn as I have been portrayed," Crittendon said. "I have been a city litigator who is able to deal with the corporations, but I will not compromise with them if they will hurt the people of Detroit. My decision to fight for the people of Detroit and those who work for the city is the right thing to do. I will make sure the city's legal interests are protected. I will not be the Mayor of downtown or midtown, the people need a Mayor of all around town. Investors need to know their money won't be wasted or squandered. I know the city government inside and out. I believe elected leaders paid by the public do not have a right to disrespect the people's Charter. What is coming will be better than what has been."
 
_______________________________________________________________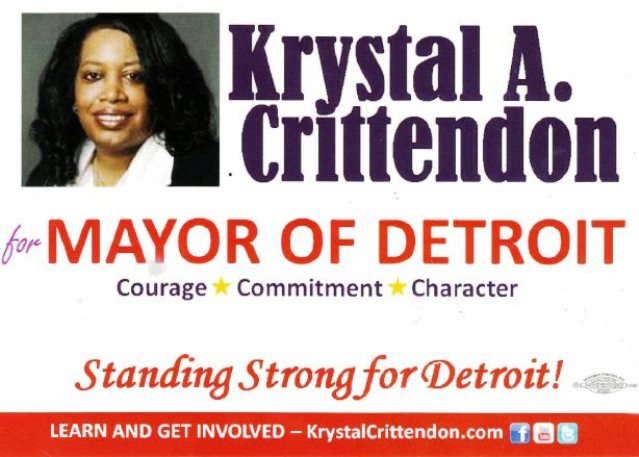 _______________________________________________________________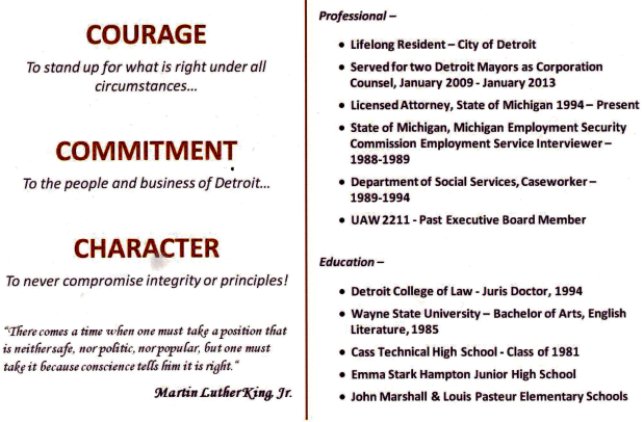 ______________________________________________________________
Contact info:
The Committee to Elect Krystal A. Crittendon Mayor
P.O. Box 442080, Detroit, MI 48244
313-822-4758