Some of Michigan's 371 juvenile lifers involved in current litigation: (l to r, top through bottom row), Cortez Davis and Raymond Carp, awaiting re-sentencing under USSC decision; plaintiffs in USDC case Henry Hill, Keith Maxey, Dontez Tillman, Jemal Tipton, Henry Hill, Nicole Dupure, Giovanni Casper, Jean Cintron, Matthew Bentley, Bosie Smith, Kevin Boyd, Damion Todd, and Jennifer Pruitt; Edward Sanders and David Walton, in prison since 1975 at the age of 17; (photos show some lifers at current age, others at age they went to prison).
 USSC 'Miller' decision that JLWOP is unconstitutional ruled retroative;    State AG Schuette, appeals court fight to keep prisoners until death
By Diane Bukowski 
February 10, 2013 
DETROIT – A federal district court judge ruled Jan. 30 that the U.S. Supreme Court decision, Miller v. Alabama/Jackson v. Hobbs, which made mandatory juvenile life without parole sentences unconstitutional, is retroactive and applies to all of Michigan's  juvenile lifers. They are those sentenced to death in prison while they were children, under the age of 18. 
The decision means all juvenile lifers are now eligible for parole, says Deborah LaBelle, attorney for the plaintiffs, calling it a significant victory. Click on Hill 1 30 13 highlighted to read U.S. District Court Judge John Corbett O'Meara's entire ruling.
According to varying sources, there are from 362 to 371 juvenile lifers in Michigan's prison system, 70 percent of them prisoners of color. Many have spent decades behind bars. Michigan has the second highest number of  juvenile lifers among the states. Before the Miller decision, the U.S. was the only country in the world that allowed juvenile life without parole. 
"Indeed, if ever there was a legal rule that should – as a matter of law and morality – be given retroactive effect, it is the rule announced in Miller," said Judge O'Meara, ruling in Hill v. Snyder.  "To hold otherwise would allow the state to impose unconstitutional punishment on some persons but not others, an intolerable miscarriage of justice." 
Although Hill v. Snyder is not a class action case, involving just 13 named plaintiffs, Judge O'Meara extended the reach of his ruling, setting precedent for all Michigan juvenile lifers. 
Judge O'Meara said he did not have jurisdiction to grant the  plaintiffs' request for re-sentencing. But he ruled, "The court declares M.C.L. 791.234(6) [Michigan life without parole statute] unconstitutional as it applies to these Plaintiffs . . . As a result, Plaintiffs will be eligible and considered for parole. It remains to be determined how that process will work and what procedures should be in place to ensure that Plaintiffs are fairly considered for parole." 
Michigan Attorney General Bill Schuette and a state appeals court, ruling in Michigan v Carp, had contended that the Miller ruling applies only to new sentences, dashing the fervent hopes of Michigan's juvenile lifers.
On Jan. 16, an appeals court blocked the anxiously awaited re-sentencing of Cortez Davis, set for Jan.25 in front of Wayne County Circuit Court Judge Vera Massey Jones. The re-sentencing was set prior to the Carp decision. The appeals court in Davis was headed by Judge Michael Talbot, the chief appeals judge as well as the original sentencing judge in the Carp case. 
Click on Cortez Davis COA 1 16 13 for the Davis ruling.
"We are reviewing the [Hill] decision and considering options for appeal," Joy Yearout, Schuette's director of communications, said in a statement. "Attorney General Schuette … will continue to fight for crime victims and their families, who should not be forced to relive these horrific crimes at parole hearings." 
Most recently, Schuette trumpeted his success in making Michigan a "four strikes and you're out" state. 
"Gov. Rick Snyder has signed into law the Violent Offense-Fourth Felony (VO-4) legislation, which requires at least 25 years in prison for violent repeat offenders. Attorney General Bill Schuette proposed the law as part of his public safety plan," his office said in a release. . . . SB 1109 is now Public Act 319 of 2012."
 This act will likely swell the ranks of Michigan's prison population, which the MDOC reported as 42,904 at the end of 2011. Michigan spends over $2 billion a year on its prison system, one-fourth of the state's general funds, and is one of only four states in the country to spend more on prisons than education.
O'Meara noted the recalcitrance of Michigan's state courts and government in his decision. 
"It may be that Plaintiffs are granted new sentencing hearings in state court, which mayobviate the need for changes in the parole system," he said. "It appears, however, that the State and state courts (see Carp) intend to resist granting such hearings. Under these circumstances, the court believes that compliance with Miller and Graham requires providing a fair and meaningful possibility of parole to each and every Michigan prisoner who was sentenced to life for a crime committed as a juvenile." 
Damion Todd was sentenced at the age of 17 to life without parole in 1986, for his role in a shoot-out between two groups of youths which resulted in the death of a 16-year-old bystander. He also faced Judge Michael Talbot, who gave him not only life without parole, but said he should serve it in solitary confinement and at hard labor, provisions which are not used by the Michigan Department of Corrections. 
"I was totally overwhelmed," he reacted. "I guess the best way that I can describe it was surreal. The morale is high with the men that I have spoken to. Even those who aren't directly affected by this decision have congratulated me and expressed how pleased they were with Judge O'Meara's decision. I, along with several men I have conversed with, are extremely grateful for Judge O'Meara's decision, and we are humbled with the confidence that [attorney] Deborah Labelle will present a just recommendation to Judge O'Meara on our behalf.
He continued, "From a personal standpoint, while never glorifying this tragic ordeal, I yearn for opportunity to educate not only at-risk youth, all youth. The consequences of one bad choice will not only change the course of your life, but it will also administer so much psychological harm and pain on the lives of people that you don't even know. As a man, I refuse to allow anyone's life that has been tragically lost go in vain, and not at least try to open the eye's and ears of some at-risk youth. So Judge O'Meara's decision, the work of Deborah LaBelle and all the lawyers who have assisted her with the body of work that she has put forth, is monumental."
Attorney Deborah LaBelle, who represented the plaintiffs on behalf of the Michigan chapter of the American Civil Liberties Union, explained the outcome in detail to VOD.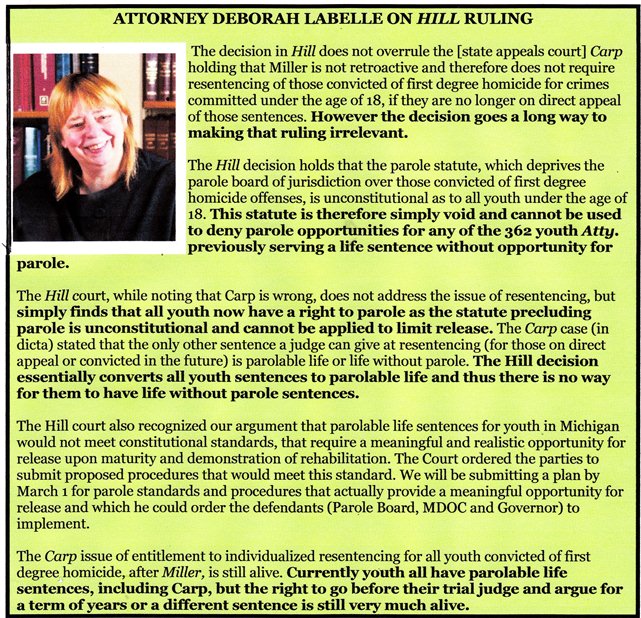 In the wake of the Miller ruling, LaBelle has coordinated a coalition of progressive attorneys and organizations which have pledged to represent every one of the state's juvenile lifers, pro bono if need be. The organizations include the ACLU, the State Appellate Defenders' Office, the University of Michigan Juvenile Justice Law Clinic, and the Criminal Defense Attorneys of Michigan.
For more information on the legal campaign for Michigan's juvenile lifers, contact attorney Deborah LaBelle's office at  (734) 996-5620 or email her at deblabelle@aol.com.