U.S. govt. agencies behind majority of 16 million foreclosures, evictions
Ground-breaking federal 'due process' Mandry case to be heard Wed. Feb. 20, 2 pm, before U.S. District Court Judge Nancy Edmunds
By Diane Bukowski 
February 15, 2013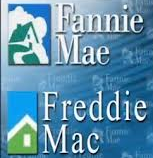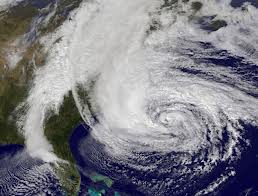 DETROIT – Foreclosed homeowners, community leaders, and activists from the metropolitan Detroit area rallied Feb. 13 against what they called "Hurricanes Fannie Mae and Freddie Mac," the federal agencies currently responsible for most foreclosures and evictions. They demanded that President Barack Obama issue an executive order declaring a moratorium on all such actions. 
The group also announced a ground-breaking federal lawsuit demanding Fifth Amendment "due process" hearings before foreclosures, which can expose bank fraud and predatory lending. U. S. District Court Judge Nancy Edmunds will hear a motion by federal agencies and the Bank of America to dismiss the case on Wed. Feb. 20, at 2 p.m. at 321 W. Lafayette. The case was filed by Attorney Jerry Goldberg on behalf of Ray Mandry of Canton, Michigan, a disabled Vietnam veteran. 
"This was a set-up," Attorney Vanessa Fluker told a packed auditorium at the Metro Detroit AFL-CIO headquarters in downtown Detroit. "The government bailed out the banks during the mortgage meltdown, then gave them the power over loan modifications instead of giving it to the people. It took over Fannie Mae and Freddie Mac, which then insured toxic, predatory loans so that the banks would get paid the full mortgage balance instead of the market value of the homes." 
Fluker, whose practice is devoted to foreclosures and evictions, testified before a House Judiciary Committee panel in Washington, D.C. in 2010. 
"People are still being thrown out on the streets every day," Fluker explained. "We don't go to court with them because we will win through litigation, we go to court to fight what is being done with our tax dollars by the Federal Housing Finance Agency [FHFA—the conservator for Fannie Mae and Freddie Mac] to evict millions of people. Entire communities are being destroyed. I challenge everyone to take this another step. We need people in the streets. There have been 10.9 million foreclosures since 2007, and it is estimated there will be another six million from 2012-13." 
The rally featured personal testimonials from homeowners who have fought foreclosure and eviction, assisted by the Moratorium NOW! Coalition, People Before Banks,  Detroit Eviction Defense, Occupy Detroit, and others. 
Angela Crockett of Detroit said she was making payments on her mortgage through an assistance program beginning in June, 2011, with the promise she would not be subject to foreclosure.
"Then the insurance agent told me they were not making payments into escrow any more against foreclosures," Crockett said. A Sheriff's deed was issued at the end of 2011, but Crockett said she began a court fight with the assistance of attorneys Fluker, Jerry Goldberg, and Bob Day. 
"Don't ever sign a consent agreement in court," Crockett warned. "You give up all your rights. You have a right to fight and defend yourself against eviction, against losing your home. I thought about the fact that mine and my mother's tax dollars were being used to put us in the street. I encourage people not to be afraid, to be warriors." 
Ray Mandry's lawsuit, to be heard Feb. 20, says that because Fannie Mae and Freddie Mac are governmental agencies, they are subject to the Fifth Amendment, and therefore must give due process before foreclosure and eviction. 
"I lost my job in 2010," Mandry said. "I was looking for work. We sold my wife's car, furniture and jewelry, did whatever we could to pay the mortgage. In March 2011, we contacted the Bank of America for a loan modification. They wanted everything, W-2's, tax returns, blood samples, but when they asked for stool samples, I decided to fight," he added sarcastically. 
"They sent me a letter they were not going to meet with me or grant a modification. Then they snuck the sheriff in in the middle of the night, but we're still fighting. The bank did not provide everything they were supposed to do by law. They don't have the right to take our homes and property without due process. You are warriors, fight, don't roll over." 
Bob Goss of Troy said he asked his bank for a loan modification, supposed to be guaranteed under President Barack Obama's TARP (Troubled Asset Relief Program), which bailed out the banks. He said he repeatedly sent all the documents required, but the bank kept claiming they had lost various pages. He contacted numerous government officials to no avail, and his house was sold five days before he even knew there was a sheriff's deed on it. He and attorney Fluker are continuing to fight his case in court. 
Other homeowners speaking were Jennifer Britt and Jerry Cullors of Detroit, as well as Jerome Jackson of Inkster. Their struggles have been covered in Voice of Detroit. For the sake of brevity, links to those stories are included at the end of this story. 
Attorney Joe McGuire and Steve Babson of Detroit Eviction Defense and People Before Banks said the coalition has been conducting weeks-long encampments in front of homes, to physically stop evictions as masses of people did during the 1930's Great Depression. 
They said they organize neighbors, who have carried out actions like parking their cars all over the streets and property to stop a dumpster from being placed, and filling dumpsters with debris. In one case, a homeowner laid in her doorway until a representative of the bank involved agreed to meet with her. 
"The best lawyers can do is fight in court while we fight in the streets," McGuire said. "We get the public as well to pressure the banks through emails, fliers, phone calls and the internet. The banks don't want their dirty laundry aired in public." 
He noted that homeowners in Spain just won a two-year moratorium on foreclosures during this global economic meltdown. 
Attorney Jerry Goldberg of the Moratorium NOW! Coalition to Stop Foreclores, Evictions and Utility Shut-offs, analyzed the struggle to date. He said the group first asked former Michigan Governor Jennifer Granholm to declare a state of emergency in Michigan so a moratorium could be declared, but that Granholm responded, "The banks wouldn't like it." 
"In the 1930,'s, Michigan had a five-year moratorium on foreclosures and evictions," Goldberg said. "Such moratoriums were enacted in 25 other states as well. They involved an automatic stay on foreclosures, with a mandate that a judge hear the case to give the homeowner an affordable payment schedule." 
Goldberg said Hurricane Fannie-Freddie is chiefly responsible for the devastation of Detroit. 
"Detroit wouldn't have lost 250,000 people, neighborhoods wouldn't look like bombs had been dropped on them, if Granholm had enacted our demand for a moratorium in 2007," Goldberg said. "Today, the case for a moratorium is stronger than ever. In 2008, Fannie Mae and Freddie Mac were taken over by the federal government. The Federal Reserve spent $2 trillion dollars to buy out defaulted mortgages; there has been $180 billion of taxpayers' money paid to the banks. This is a complete government takeover of the mortgage industry." 
He reiterated a demand that the Moratorium NOW! Coalition has been making for several years, that President Barack Obama issue an executive order declaring an emergency moratorium on all foreclosures and evictions because housing is a "fundamental human right." 
Upcoming events: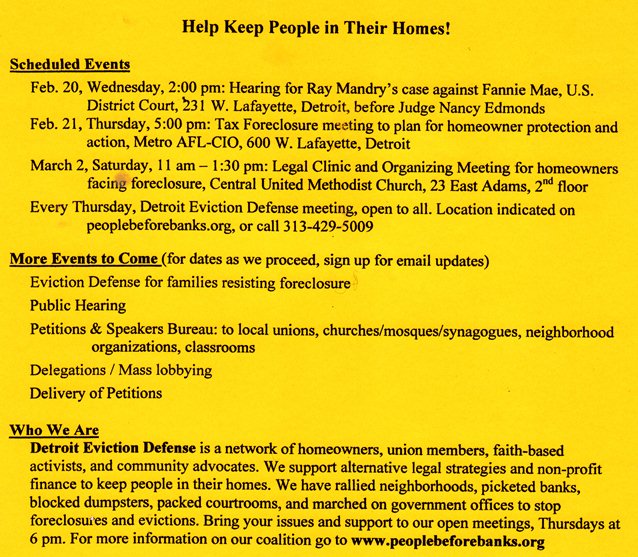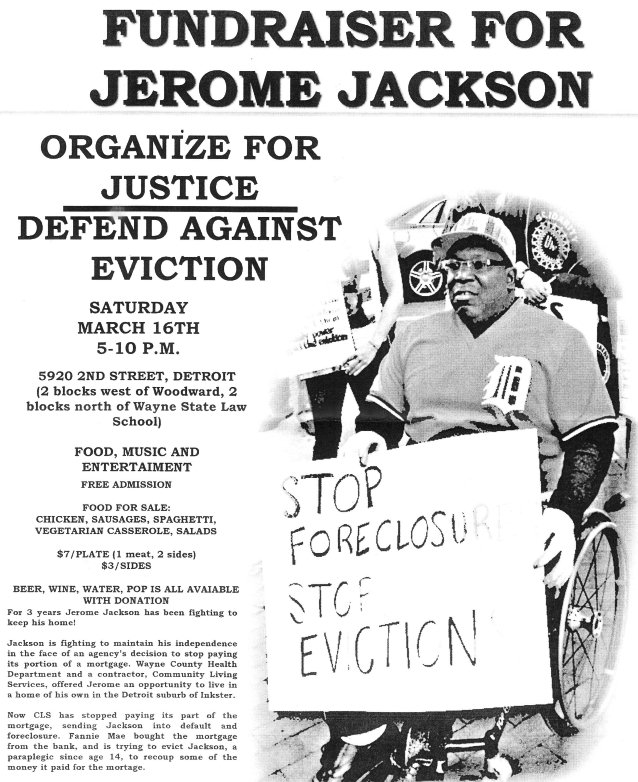 For further information: 
Detroit Eviction Defense @ https://twitter.com/EvictDefense or DetroitEvictionDefense@gmail.com
People Before Banks @ http://www.peoplebeforebanks.org and Steve Babson at 313-882-4009
Moratorium NOW! Coalition @ 313-744-7912  and https://www.facebook.com/pages/Moratorium-NOW-Coalition/243268662379197
UAW Local 600 c/o AJ @ 313-429-5009
Related VOD articles:
http://voiceofdetroit.net/2012/07/12/fannie-mae-stop-eviction-of-jennifer-britt-let-her-pay-actual-value-of-home/
http://voiceofdetroit.net/2012/05/31/flagstar-stop-the-britt-family-eviction/
Related documents:
To see the enormity of the government's effort to stop Ray Mandry's precedent-setting 5th Amendment countersuit, click on Ray Mandry federal docket. Copy of initial complaint will be appended shortly.