Jones Day is city's "restructuring counsel" under EM Kevyn Orr 
Clients include:
Banks who hold most of city's debt
Major media, including McClatchy, which owns News and Freep
Far right-wingers opposed to Voting Rights Act, contraception and abortion, corporate regulation
The tobacco industry  
By Diane Bukowski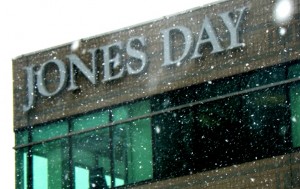 CLEVELAND – A busload of Detroiters protested the emergency manager takeover of their city outside the Cleveland, Ohio offices of Jones Day March 25, the first day of for Jones Day attorney Kevyn Orr's tenancy as Detroit EM.  The Jones Day law firm is the "restructuring consultant" for Detroit. 
Ranging from young children to seniors with walkers, marchers picketed for two hours in snow and cold, chanting, "Jones Day has got to go," "Kevyn Orr, get out the door," and "Detroit will live and not die." 
Jones Day staff  brought coffee and tea to the picket line, which the protesters would not touch, but executives refused to answer questions from the media. 
Jones Day is the third largest law firm in the world, with 2,407 attorneys and gross revenues of $1.6 billion in 2012. It was founded in Cleveland and is currently managed by Stephen Brogan out of its Washington office. It has 37 offices across the globe, in the U.S., Australia, Brazil, England, France, Spain, Italy, Russia, both Chinas, Japan, and the Kingdom of Saudi Arabia (where it has three).
Former Detroit school board member Marie Thornton was among the protesters. 
"Here we are in Cleveland, walking in front of Jones Day with seniors and babies," Thornton said. "They had the nerve to bring hot coffee to us, while taking complete control of our city. This is a complete travesty.' 
Rev. Charles Williams, leader of the Michigan chapter of the National Action Network (NAN), said "We believe Jones Day and Kevyn Orr's real goal is to protect the banks, in addition to disenfranchising our people. We are standing up and calling on other folks across the country to join us as we protest at Jones Day locations. This is just the beginning. This is a protracted struggle that will continue until we get our vote back. We fought too hard and marched too long. Too many of us were hit by water hoses, bit by dogs, and lynched; too much of our blood has been shed." 
Jones Day represents most of the global banks which hold the City of  Detroit's total debt of over $12.9 billion, including UBS AG, Citigroup, Goldman Sachs, Bank of America's Merrill Lynch,  and Muriel Siebert and Co., an affiliate of the SBS Financial Group. (See   )
"I am very very upset that the EM going to strip the history of Detroit away from our children's children," Phyllis McMillon, President of AFSCME Local 542 which represents Recreation Department workers, said during the protest. "The citizens of Detroit will not have access to the taxes they pay in their own city. They are planning to take away Belle Isle like they took away Jean Klock Park in Benton Harbor.  Roger Penske, who wants Belle Isle, and others said they are going to donate vehicles to the city, but contractors will be driving them, while city workers are laid off."
Wonder why Detroit media including the Detroit News and Free Press strongly favor the installation of Orr and Jones Day and the elimination of Detroiters' right to self-determination? 
Jones Day represents some of the biggest media and media-related companies in the country, including the McClatchy Company (formerly Knight-Ridder), which owns the News and Freep. Others include DirecTV, GE, Goldman Sachs, Halliburton, Lehman Brothers Holdings, Liberty Media Group, Time Warner, the Tribune Co. and the Washington Post Co. 
The law firm is tied to ultraconservative organizations including the Federalist Society, the Heritage Foundation, the Cato Institute (co-founded by Charles Koch of the infamous Koch Brothers), the Becket Fund for Religious Liberty, and the Center for  Competitive Enterprise. It produced U.S. Supreme Court Justice Antonin Scalia, appointed by former U.S. President Ronald Reagan in 1986.
Many Jones Day clients oppose provisions of the National Voting Rights Act, patients' rights to contraceptive care and abortion at federally- funded religious hospitals, regulation of  corporate executives under the Sarbanes-Oxley Act, and anti-trust laws.
It is notorious for representing the tobacco industry for decades in state and national litigation that continues to the present.
Most recently, Jones Day partner Michael Carvin spoke at a Heritage Foundation briefing on the "(Un)Constitutionality of Section 5 of the Voting Rights Act," in Washington, D.C, as the U.S. Supreme Court heard arguments in Shelby County v. Holder. 
Section 5, which Shelby County, Alabama is trying to overturn, requires that certain States and localities, located primarily in the South and Southwest, obtain federal preclearance for all voting changes before they may be implemented. To obtain preclearance, a jurisdiction must demonstrate that the change neither has a discriminatory purpose nor a discriminatory effect. 
White voters are "wide open to electing black Democrats … as much as white Democrats," Carvin told the audience, according to a Feb. 24 article in the Roll Call newspaper.
Jones Day, represented the National Federation of Independent Business which along with dozens of other groups unsuccessfully challenged "ObamaCare" before the  U.S. Supreme Court.
In league with the U.S. Conference of Catholic Bishops, it zeroed in on the contraception mandate in the health care reform law.
"Forty Catholic agencies and institutions across the country launched a veritable legal holy war against the Obama administration, filing coordinated lawsuits against the Department of Health and Human Services over the proposed contraception mandate in the new health care reform law," Mother Jones magazine reported in Feb. 2012,  
"The effort is being spearheaded by the US Conference of Catholic Bishops (USCCB), which has been clashing with the Obama administration for months over the mandate and other White House decisions that the bishops view as anti-Catholic. The church certainly brings a lot of money and high-powered legal fire to the fight—the lawsuits were filed by the Jones Day law firm, where Supreme Court Justice Antonin Scalia once worked." 
In 2008, Jones Day represented the Free Enterprise Fund in a challenge to provisions of the Sarbanes-Oxley Act before the U.S. Supreme Court. 
Sarbanes-Oxley is a federal law that sets stricter standards for U.S. corporations and accounting firms. It requires top management to individually certify the accuracy of financial information and increases the severity of penalties for fraudulent activities. The bill was enacted in response to major corporate and accounting scandals including Enron, Tyco International, and WorldCom among others.
In June 2010, the USSC held in a 5-4 vote that restrictions on removal of members of the  Public Company Accounting Oversight Board, which supervises Sarbanes-Oxley compliance, were unconstitutional. The act had limited the power of the U.S. President to remove the principal officer of the PCAOB.
Most notoriously, Jones Day represented R.J. Reynolds and Phillip Morris, two of four defendants, against lawsuits from 46 state attorney generals, which resulted in the 1998 "Tobacco Master Settlement Agreement." That agreement provided $206 billion over 25 years in compensation to the states for Medicaid-related health care costs resulting from tobacco smoking.
Jones, Day, Reavis and Pogue, as it was then known, authored a 460-page document setting forth common arguments against the tobacco companies, and then refuting them.
To this day, Jones Day continues to defend tobacco companies against ongoing litigation, arguing meanwhile for changes in the MSA that would benefit the companies.