Posted on Facebook by Daymon J. Hartley: 
Now these are the stories you didn't see on CNN and the evening news. Coming into your homes and pulling you out at gunpoint.
This is what fascism looks like. Please like and share this widely…just incredible.
The person taking this video also risked being shot and/or arrested.
Now I want to hear from some of my "liberal' friends how they can justify and rationalize this.  Imagine this in your neighborhood.
Published on Apr 20, 2013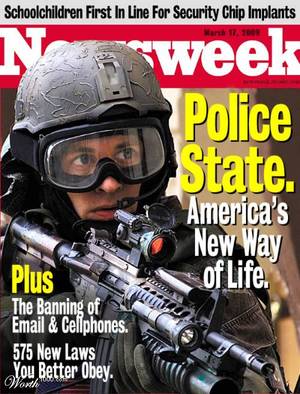 WATERTOWN, MA — On Friday, April 19, 2013, during a manhunt for a bombing suspect, police and federal agents spent the day storming people's homes and performing illegal searches. While it was unclear initially if the home searches were voluntary, it is now crystal clear that they were absolutely NOT voluntary. Police were filmed ripping people from their homes at gunpoint, marching the residents out with their hands raised in submission, and then storming the homes to perform their illegal searches.
This was part of a larger operation that involved total lockdown of the suburban neighborhood  to Boston. Roads were barricaded and vehicle traffic was prohibited. A No-Fly Zone was declared over the town. People were "ordered" to stay indoors. Businesses were told not to open. National Guard soldiers helped with the lockdown, and were photographed checking IDs of pedestrians on the streets. All the while, police were performing these disgusting house-to-house searches.
https://www.facebook.com/PoliceStateUSA 
MORE COVERAGE OF HOUSE-TO-HOUSE RAIDS IN WATERTOWN:
http://www.youtube.com/watch?v=B_Gb6i… 
FROM ALEX JONES' INFOWARS SITE: http://www.infowars.com/category/police-state/
Total media blackout now under way on most likely suspects in Boston marathon bombing
 VIDEO ABOVE ALSO FROM INFOWARS STORY