Top: Detroit EM Kevyn Orr andf Jones Day boss Stephen Brogan (center); Gov. Rick Snyder (l) and Mayor Dave Bing (r).
Second row: Sandra Pierce, chair Financial Advisory Board (l), State Treasurer Andy Dillon (r), third row (l to r) Ken Whipple, co-chair FAB, Charles Pugh, City Council Pres. Kriss Andrews, City Project Manager; bottom: council members (l to r) Ken Cockrel, Jr., Saunteel Jenkins, Gary Brown, Andre Spivey, James Tate. PHOTO MONTAGE BY VOD, DOES NOT NECESSARILY REFLECT MR. BARROW'S POSITIONS.
"Conservatives Play Chess, City Leaders Play Checkers and Get Played Out," Barrow Says
May 10, 2013     
Contact: Tom Barrow 313-922-7769 Option 4
Text: Keyword "BARROW" to 313131
DETROIT – Mayoral candidate Tom Barrow today put on his psychic turban to predict the anxiously awaited report by Emergency Financial Manager Kevin Orr due out next week.
"First the set up," said Barrow. "He will claim things are much worse than he ever thought," and then will come the sting. "He will claim that because things are so bad, he will move at lightning speed to a near complete privatization of Detroit's core services and  regionalization into suburban- controlled authorities" Barrow predicted.
"Oh yes, he will recommend that the state take over the city's pension funds because that's where a lot of money sits."
Barrow explained further.
"This entire plan was mapped out years ago in the conservatives' play book commonly known to insiders as the Michigan Privatization Report published in 2001.
"Since its release, Bing, Dillon, Gov. Snyder and conservative republicans all over the U.S. and their accomplices have all been setting it up and are now the playing pieces are being moved to the end-game, which is the end of democracy and self-governance to be replaced by a corporate republic," declared Barrow.
The report, issued by the conservative Mackinac Policy Center, detailed every step of the process to strip the state's largest city of its assets through outright sales, privatization of core city services, regionalization and destruction of employee unions.
"While the Conservatives play chess, our leaders play checkers and get played out," Barrow says. "Their plans have been brain-stormed, think-tanked and game-simulated all to ensure that their success is thorough, total and defensible due to the contrived financial crisis they themselves create."
At a meeting in December where he accompanied City Councilmember JoAnn Watson, Barrow, an expert in municipal finance and accounting, personally challenged Michigan State Treasurer Dillon on the incorrect conclusions he has made about Detroit's finances and concluded after extensive questioning of the Treasurer that the so-called financial crisis was "contrived". To date, neither the Treasurer nor the Governor has disputed Barrow's conclusions.
"Step by step, here is how they play the game and now, the king will be checkmated as Kevin Orr follows the script written for him and other emergency managers throughout Michigan," Barrow offered, "and next week we will see these predictions come true in his report."
READER NOTE: THE FOLLOWING SUBJECT HEADLINES ARE TAKEN DIRECTLY FROM THE MICHIGAN PRIVATIZATION REPORT; THE ITALICIZED PORTION IS A QUOTED EXCERPT FROM THE REPORT OF THEIR ASSIGNED "MISSION"; AND THE STEP-BY-STEP CHESS MOVES TO ACCOMPLISH THE OBJECTIVE OF PRIVATIZATION:
Privatization: The Motor City's Renaissance Engine
Motor City Needs Budget Boost: Privatizing Detroit City Services
MISSION: If properly implemented, an aggressive privatization campaign including sales of city assets could provide Detroit with the revenue it needs to pay creditors, improve services, and maintain its infrastructure during the next decade. Privatization of city services also could prevent Detroit from becoming the first major American city to have its democratically elected leadership replaced with an appointed financial oversight panel – a fate that befell one of its suburbs, Ecorse, in the 1980s.
Asset Sales: Accounting for Privatization
MISSION: In the end, government asset sales shift assets away from non-productive political uses and toward their most productive economic uses. At the same time, such sales reduce the costs taxpayers must pay for the maintenance and improvement of government-owned facilities. Government asset sales are just one of privatization's many win-win scenarios.
The Conventions of Privatization: Selling Cobo Center. Regionalized asset where Detroit now has minority voting power.
MISSION ACCOMPLISHED!
______________________________________
Detroit Lighting Department
Step 1: Turn off the lights in strategic areas to create crisis.
Step 2: Get media to select Detroit residents of color, and comments they want street lights!
Step 3: Contract with DTE to provide lights
Step 4: Repeatedly publically decry loss of lights in neighborhoods
Step 5: Get conservative legislature to create new Lighting Authority for Detroit
Step 6: Appoint EFM
Step 7: Surprise! Lights come back on.
Step 8: EFM unilaterally gives Lighting Dept. to new state created Authority, Detroit has
minority voting power.
MISSION ACCOMPLISHED!
______________________________________
Privatization Should Drive Detroit Transportation
Step 1: Mayor Bing cuts bus service – creates self inducing crisis
Step 2: Get media to select Detroit residents of color, and comments they want buses!
Step 3: Repeatedly publically decry loss of Bus service and late busses.
Step 4: Legislature creates Regional Transportation Authority
Step 5: Suburban Controlled SEMCOG Board, Changes Funding formula to steal $7 million from DDOT to give to FAILING low ridership suburban bus system.
Step 6: Now de-funded and deliberately choked, EFM Kevin Orr forces DDOT to Regionalize into the newly created Transportation Authority. Detroit given minority voting position despite being by far the overwhelming users of public transportation by its citizens.
MISSION ACCOMPLISHED!
__________________________________
For Whom the Private "Belle Isle" Tolls
MISSION: Of all of Detroit's assets, Belle Isle, the 985-acre island park situated in the Detroit River just inside the U.S. border with Canada, could very well be the city's most attractive privatization opportunity.
Step 1: Mayor Bing deliberately neglects Belle Isle keeps concessions closed;
Step 2: Repeatedly publically falsely decry that Belle Isle filthy and dirty.
Step 3: Have media find residents of color to exclaim they want island cleaned up!
Step 4: Bing coordinates the Belle Isle crisis with Gov. Snyder to pressure citizens to give it up and make it a State Park for 99 years.
Step 5: Attempted blackmail of the Detroit City Council with threat of EFM unless they give over Belle Isle to the state. But, unforeseen public outcry scares off Council majority.
Step 6: Snyder makes good on his threat, EFM appointed.
Step 7:  Using phony steps (1) and (2) as basis, Snyder's EFM, Kevin Orr recommends state take-over of Belle Isle and negotiates his own terms to give it away forever.
MISSION ACCOMPLISHED!
______________________________________
Water Privatization Can Help Detroit Avoid Drowning in Debt
Step 1: Have suburban controlled board hire restructuring consulting firm to tell the suburban director what they want to hear about restructuring the Detroit Water and Sewerage Department.
Step 2: Release report from self serving, but objective-appearing restructuring firm, that Water Dept. has to fire 80 percent of its union employees.
Step 3: Conservative Republican-appointed Federal Judge mysteriously and unexpectedly releases Detroit Water Department from 45-year old Consent Decree and Oversight.
Step 4: Create phony public claim that Detroit is drowning in Bond Debt and point at DWSD even though its bonds are being paid as agreed and are guaranteed by revenue from customers as anticipated. Keep those facts secret.
Step 5: Find residents of color to agree (Failed to Find Any.)
Step 6: Because of Detroit African-American community's sensitivity to Detroit Water and Sewerage Department, have conservative Republican Governor appoint a Black Emergency Financial Manager.
Step 7: EFM recommends REGIONALIZATION/PRIVATIZATION/LEASING of DetroitWater and Sewerage Department.
Step 6: Detroit loses control Detroit of the Detroit Water and Sewerage Department and begins to pay higher rates for its own former asset.
MISSION ACCOMPLISHED!
______________________________________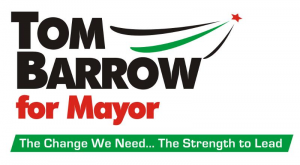 "It doesn't take a mind-reader to know what comes next," lamented Barrow, 64, "the August 6 primary will be a referendum on the city's leadership and their losing streak with the conservatives now in control of the city, and we hope the voters choose better players who have studied offense rather than the defense players we have in the game right now."
VOD ANALYSIS OF ORR'S REPORT WILL BE PUBLISHED SHORTLY.