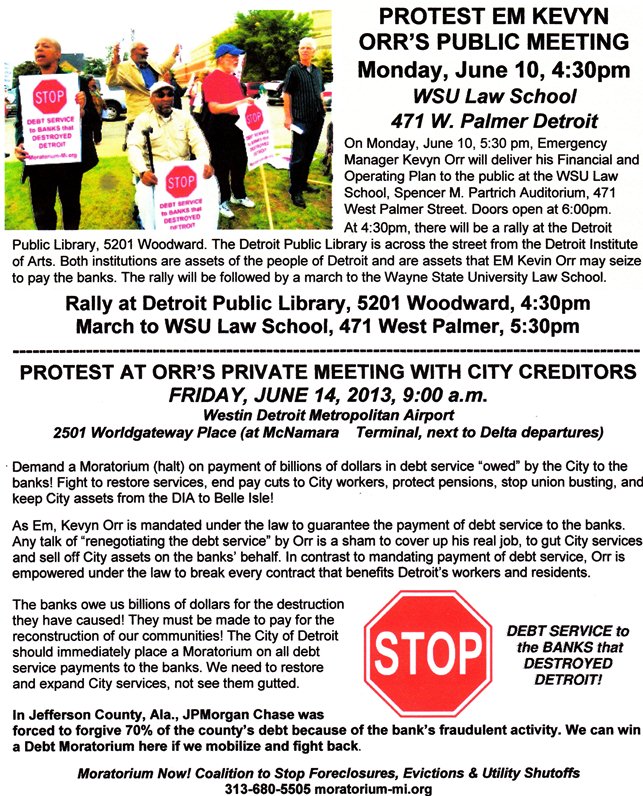 See EM Orr's letter to creditors, sent from JONES DAY!
Visit DetroitDebtMoratorium.org to view articles and documents on how the banks destroyed Detroit. Call today to have a speaker give a presentation to your church, union or community organization on "How the Banks Robbed Detroit."
PROTEST HELD AT FIRST MEETING THURS. JUNE 6; ORR DIDN'T SHOW
PROTESTERS TELL ORR: MAKE THE BANKS, NOT THE PEOPLE PAY! 
By Diane Bukowski 
May 9, 2013 
DETROIT – Chants of "Orr is the tool of the bankers' rule" and "Too big to fail, they're not too big to jail," rang out outside Greater Grace Temple in northwest Detroit as protesters turned out by the dozens May 6. Detroit's Emergency Manager Kevyn Orr, however, failed to show as scheduled, opting instead to hold his required public meeting in the tiny auditorium of Wayne State University's Law School June 10. 
Baxter Jones showed up in his wheelchair, holding a sign calling on Detroit to cancel its debt payments to resolve the city's crisis. Protesters said that must be done instead of preying on city pensions, public assets, jobs and services. 
"Emergency Manager Robert Bobb fired me from my job at the Detroit Public Schools and denied me my pension in 2010," Jones said. Jones said DPS hired him in 1983. He is now living on paltry federal SSI benefits of about $700 a month and is in poor health. 
"Now I'm facing eviction by Freddie Mae," he said. "They're holding up the judgment until Aug. 4 because I have a bankruptcy stay, but they've been trying to get me out since 2002. It's not fair that they can build up the banks and give them all the money, then turn around and show me no mercy. It's nothing but greed going on, and it's not right." 
Cynthia Johnson took the bullhorn to declare repeatedly, "Detroit is under attack." 
"It's not by mistake that we have all these properties foreclosed on and razed," she said. "The banks don't want your property, they want our land. Do not allow the banks, Kevyn Orr, Rick Snyder and the other big business agents to take your property. Do not walk away from your properties. Do not allow your children watch you give up on the city of Detroit. Don't give up, stand up!" 
Apostle Linda said, "Kevyn Orr is another finger on the hand of the banks and Rick Snyder. If he cared about the people, he wouldn't have bailed out like he did today. He came to our house, now we want to go to his." 
Cecily McClellan, a laid-off City of Detroit worker who is vice-president of the Association of Professional and Technical Employees (APTE), announced that Orr just issued Executive Order #7, which seizes all funding from the U.S. Department of Housing and Urban Development (HUD) and puts it under his control. 
The order says, "The City's Housing and Urban Development grant and guarantee programs, including but not limited to, Community Development Block Grant (CDBG), HOME, and Neighborhood Stabilization (NSP) . . . .and related actions . . . .will not be valid or approved by the Emergency Manager or his designee in writing." (Click on Kevyn Orr Executive Order 7 to read order.) 
McClellan said, "This will include Section 8 and money for entrepreneurs to build low-income housing. This has nothing to do with the city's debt. Instead, they're going to use federal funds to tear down properties. Kevyn Orr is nothing but a vampire." 
She added, "We've got to let the churches now that they're not going to be allowed in our communities if they allow Orr the dictator to come into them. Dr. Martin Luther King, Jr. would never ever have allowed this." 
Attorney Jerry Goldberg of the Moratorium NOW! Coalition, which called the protest, said Orr has the authority under the new Emergency Manager law to take criminal action against banks which have defrauded the city. 
"In the Jefferson County, Alabama bankruptcy, of its debt payments because it was involved in criminal activity," Goldberg said. "Orr must go after the banks, not the people. We know he's not going to do it, so we the people must do it. Make the banks pay!' 
Abiyomi Azikiwe, also of Moratorium NOW!, said "The banks destroyed the City of Detroit by foreclosing over 150,000 families in seven years. They wreaked havoc and destroyed our tax base and our neighborhoods. We must have the complete elimination of fraudulent bank deals with the City. We don't have decent buses, street lights and streets. Our schools are closed. The future holds nothing but more austerity and destruction. We built this city. We must demand no more payments to the banks."
Related:
http://voiceofdetroit.net/2013/06/08/chase-gives-up-70-percent-of-fraudulent-jefferson-county-ala-debt-in-bankruptcy-deal/