By Gilda Jacobs
Michigan League for Public Policy
August 5, 2013
The July 18 bankruptcy filing for Detroit was shocking, though in many ways, it wasn't a surprise at all. Detroit's struggles have been evident for years. Still, as a native Detroiter, my heart broke a little that day.
One thing that is clear in this multilayered controversy: Detroit's problems and solutions do not stop at the city limits.
We all have a stake in this — not only in Michigan, but across the country as Detroit may be the canary in the coalmine for other regions.
What should be the response from policymakers?
First and foremost, let's remember that this is about people. Stronger state and federal strategies that invest in children and families, reduce poverty and grow jobs will be good for all. And we have lots of room for improvement. 
Michigan lawmakers should move quickly to restore the state Earned Income Tax Credit from 6% to 20% of the federal credit. It encourages work and helps families gain independence. Detroiters lost about $44 million in state EITC payments this year. Restoring the EITC as part of a targeted jobs strategy for the beleaguered city would be a great first step.
In addition, the shredded safety net means that millions of dollars have been pulled from Detroit at a time when it has nearly unbelievable and unacceptable levels of unemployment and poverty. Policies under Gov. Snyder to restrict access to food and cash assistance resulted in $75 million a year less in Wayne County alone. These harmful policies need a second look in light of the struggles of Detroit where nearly 60% of kids live in poverty.
 Another way to help is to revisit the broken promises on revenue sharing to Detroit and other municipalities across the state. Detroit was dealt a double dose of revenue sharing cuts. A modernized revenue system is needed to restore revenue sharing and provide enough to pay for needed health ]care, education, protection for abused children and other essential services. Think sales tax on services, the capture of Internet sales, restoration of a portion of the corporate income tax and a more progressive income tax. 
Of course, those most at risk of harm from bankruptcy are the pensioners, people who work for contractors owed money by the city and those who purchased Detroit municipal bonds. If there is a way for Michigan or the federal government to reduce this harm, it must be explored. In fact, the state Constitution may require Michigan to back the pensions. 
Many agree that hardworking people with modest pensions should not end up with just a small fraction of the original promise. Detroit is also a cautionary tale as we move forward: Pensions and healthcare promises must be funded adequately and not simply left for future generations to figure out. 
At both a state and federal level, an education and jobs strategy that strengthens foundational skills will help grow literacy and job skills. Detroit needs an infusion of jobs. In June, the Detroit –Livonia-Dearborn area posted the highest unemployment rate among 34 metro divisions with unemployment at nearly 12%. It also posted the biggest loss of jobs from June 2012 to June 2013. 
Economist Jared Bernstein makes a compelling case that creating jobs to clean up urban blight and restore the city's infrastructure is a win-win. 
In addition, the snarled debate over public transportation must take on a greater urgency to help connect the unemployed to jobs. This must be supported at all levels of government. 
Detroit is Michigan's major urban center and a touchstone for our state history, giving us the Motor City and the Motown sound. The muscle and ingenuity of Detroit in the last century grew our country's auto industry, the middle class and our state and national economy. Let's remember that when Detroit was prosperous, its revenue and jobs helped support our state and country.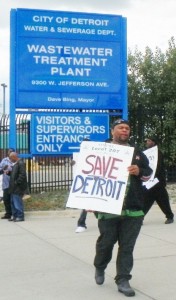 The city's economic contributions aren't just in the rearview mirror, however. Detroit is the epicenter of the auto research and development that continues to help drive the auto industry. The revived auto industry that emerged from bankruptcy continues to grow. And with its sports teams and museums, Detroit is a cultural resource for all of us. 
The people of Detroit need to know they are not standing alone. What's good for Detroit is good for us all. 
Michigan Center for Public Policy website it at http://www.mlpp.org/.