95-year project to be 61% publicly-funded, tax-exempt
Utilizes remaining Empowerment Zone bond credits
Expands DDA to create "city within a city," displacing residents, businesses
Eliminates millions in city fees assessed under Joe Louis Arena plan
Cato Institute: no communities have benefited from sports projects 
By Diane Bukowski 
Sept. 8, 2013 
DETROIT – As Detroit bankruptcy proceedings present a massive threat to city assets and workers' pensions, downtown czar Mike Illitch plans to replace Joe Louis Arena with a new tax-free Red Wings hockey stadium and adjacent private developments at a cost of at least $881 million, 61 percent publicly-funded.
An estimated $536 million would come from tax increments "captured" by the Downtown Development Authority, including school, library, city, county and state taxes.
These figures differ from previously announced lower amounts because they include an estimated cost of bonds to be issued by the Michigan Strategic Fund. The bonds would utilize the remainder of Detroit's federal Empowerment Zone credits, set to expire at the end of 2013. They cover 30 years of a 95-year agreement, according to a report from the City Council's Legislative Policy Division (LPD).
Art Papapanos, vice president of board administration at the Detroit Economic Growth Corporation  (DEGC), described plans for an  "Events Center" and "Catalyst Development Project, during a Council committee meeting Sept. 5. He said they would be located in a Downtown Development Authority area expanded to include land north of I-75 (the Fisher Freeway), west of Woodward, south of Charlotte and east of Grand River.
The project takes advantage of Public Act 396 of 2012, signed by Michigan Governor Rick Snyder in Dec. 2012. That Act amends the Downtown Development Authority Act of 1975 to exempt a DDA in a city of more than 600,000 residents from all taxation on its earnings or property, including real estate transfer taxes.
"When Proposal A passed, it limited a DDA's ability to capture revenue streams," Papapanos said. "[The new Act] says show us a project of at least $300 million to recapture the revenue stream. So we presented a $650 million project, $450 million for the arena and $200 million for the ancillary area."
Papapanos said the DEGC wants the Council to approve the expansion of the DDA district amend the DDA Tax Increment Finance Plan, and approve the contribution of 37 city-owned parcels of land there at no cost.
He said that Illitch's Olympia Development of Michigan will also fund three stations on the proposed Woodward Corridor M-1 rail line. The Catalyst Development Area surrounding the arena would include retail and residential construction and modernization.
Papapanos said the Council must vote on the plan within 60 days, but the LPD report says the real urgency comes from the amended expiration date on Empowerment Zone funds. A Council vote on the project was set for Nov. 12, with a discussion by the full Council sometime in October.
Council Neighborhood and Community Services Committee chair James Tate said regarding the project, "What excited me is the Empowerment Zone aspect."
Councilwoman JoAnn Watson, who did not run for next year's term, was angry.
"This proposes a free transfer of city-owned land," she said. "State law requires any transfer to be at fair market value. We need information from the assessor's office."
Watson also objected to the fact that the city is not included as a party in the "Concession Management Agreement" (CMA) covering the project. The parties are Olympia Development of Michigan (an Illitch holding), the Michigan Strategic Fund, and Wayne County.
Council President Saunteel Jenkins agreed that the value of city land for the project should be assessed, but appeared to accept that the city would not be party to the CMA.
Watson added that hundreds of millions in city fees and surcharges from Joe Louis Arena will be lost and questioned what will happen to the facility.
"This would be an opportunity for a replica of the agreement put together by Mayor Coleman A. Young and Bella Marshall for Joe Louis Arena to provide compensation for the city," Watson said. "Every time they appear on TV, why not demand a share before approving this agreement?"
In Dec. 2012, the Detroit News reported that Illitch's Red Wings owed the city up to $70 million in cable television rights and millions more in rent, concessions and other revenue and property taxes. The LPD report says only a fraction of that amount, owing since 1980, has been paid since then pursuant to negotiations with Illitch Holdings.
During a Council hearing in 2011, a city analyst from the Assessor's office said many other fees associated with the city's sports franchises, including income taxes from Tigers, Lions and Red Wing team members, had not been paid. Watson eventually estimated outstanding corporate debt to the city at $800 million.
Watson also demanded a task force to monitor the hiring of city residents and businesses similar to that utilized for Comerica Park and Ford Field. Illitch's proposal says he will comply with Exec. Order 1, which requires 51 percent of the workers on the project to be Detroit residents.
Empowerment Zone funding requires 37 percent of the workers to come from the Empowerment Zone itself but does not set wage levels or hours worked. The proposal says a third-party task force will be set up, but does not indicate who will choose it.
Detroit residents present expressed outrage during comments restricted to one minute by committee chair James Tate, who threatened their removal if they exceeded the time limit. Tate also unsuccessfully attempted to limit questions from Councilwoman Watson, and refused to have LPD's David Whitaker give a summary of their report.
"People are being removed under this project, and they have no idea where they're going," Marie Burton said. "You know these people are going to burn your stuff down, tear it down brick by brick. People need decent housing with flowers and trees, and the city needs its tax dollars. Give us respect. We are not rats or dogs, we are human beings."
Representing "Detroiters Resisting Emergency Management," Attorney Tom Stephens said, "[Publicly-funded sports arenas have] not worked as an economic development strategy to create high-quality living wage jobs, either in Detroit – where taxpayers funded both Comerica Park and Ford Field during the same years that the city slid into its current fiscal crisis and bankruptcy—or anywhere else . . . .Desperately needed financial assistance has long been and is still being denied to children mired in poverty, to public safety, transit, education, health, environmental protection . . .and other social necessities. lWhy should elected officials appropriate hundreds of millions of tax dollars to benefit a multibillionaire owner of a sports franchise?" (Click on TStephens coments  for Stephens full written comments.)
A Cato Institute study cited in the LPD report found that not one community has benefited economically from similar sports arena projects anywhere in the U.S. in previous years.
Jerry Balenger, owner of the building housing the popular Cliff Bell's Jazz Club and Bucharest Grill on Park Avenue in the DDA area, said Illitch is employing a "scorched earth policy."  He said the DEGC has not consulted with other business owners in the district, who are trying to ameliorate 27 years of blight there. He said Illitch wants to build a wall around his holdings with this project, located diagonally north of the Illitch's Detroit Tigers' Comerica Park and the Detroit Lions' Ford Field.
Forbes Magazine lists Illitch as one of the "400 Richest Americans." He owns the Red Wings, the Detroit Tigers, and Little Caesar's Pizza, as part of the $1.7 billion Illitch Holdings empire, along with large amounts of land in downtown and midtown Detroit.  His wife Marian owns the sole controlling interest in the Motor City Casino, and is also involved with Gateway Casino Resorts, LLC and other gambling enterprises.
Bill McMasters, head of Taxpayers United of Michigan, which has 300 members from Detroit, called the project the "creation of a city within a city by a secret organization with taxing power by people who are not elected."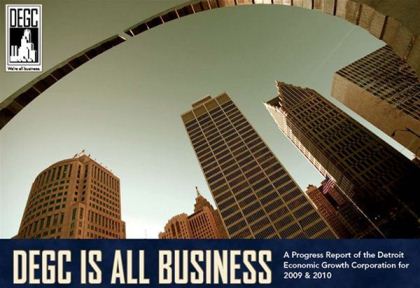 He showed a Freedom of Information Act request he submitted to the DEGC and the DDA asking for a list of tax breaks given to major companies in Detroit Renaissance Zones. A denial letter from Papapanos, who identified himself as the "FOIA Coordinator for the DDA only," said the DEGC is not a "public body" and therefore not subject to FOIA and Open Meetings Act laws. He said the DDA does not keep such records. (Click on McMasters FOIA and response for full letter detailing all businesses McMasters wants information on. Click on DEGC Directors 2010 2011 for most recently available listing of directors.)
The DEGC staffs the DDA and numerous other city authorities. Its board members represent a broad range of major corporate CEO's in the region.
Pastor Alonzo Bell of the Martin Evans Missionary Baptist Church on the city's east side said he bought property adjacent to the church land, but now is losing it because the tax rates have skyrocketed.
"This shows the inequality of billionaires getting tax breaks for profit," he said. "Everybody in the City of Detroit needs to get a tax break."
Laverne Holloway said, "This is an absolute shame! People keep saying Detroit is destroyed and worthless, but people are coming every day with their hands out for more public money. Mike Illitch owes us $200 million. PAY THE MONEY! We need every single dime every corporation owes us collected first."
Ray Litch, Vice-President of the Cass Tech Alumni Association, said they have been planning to construct a field for "boys and girls" baseball on the site of the old school, since razed. He said the football field built with the new school is too small.
Others, primarily from businesses and construction unions, favored the proposal.
They included Ken Harris, President and CEO of the Michigan Black Chamber of Commerce, which he said has 72,000 members in the state and 32,000 in Detroit, and the largest Black supplier data base in the country. He said Detroit is ranked #4 across the nation in numbers of Black entrepreneurs.
"I commend Mike and Marian Illitch for their history of supporting us," he said.
Chris Jackson, who is partnering with Jenkins Construction in the Queen Lillian medical building project just north of the expanded DDA, said the project will be an "opportunity for Black businesses and developers."
Toney Stewart, Delegate of Local 687 of the Michigan Regional Council of Carpenters and Millwrights (MRCC), said, "We need jobs!" The Carpenters Union has 14,000 members across the state, the vast majority of them white males. The MRCC is a major contributor to the campaigns of powerful politicians state-wide. 
For complete information on the project, see:
City Council Legislative Policy Division Report at CCLPD analysis of hockey stadium project
Documents from DEGC: MOU Memo Reso with Exhibits 6-19-13
MOU Events Center and area Memo Reso with Exhibits 6-19-13
Related article from Spark submitted by Keith Hines at DETROIT Destruction of the Cities 9 4 2013 KMH D II