UBS AG pressed predatory 2005 $1.5 billion POC loan on Detroit
EM Kevyn Orr cited loan as a prime cause of city's crisis
Archer's former debt manager was point man for loan
UBS had close ties to Obama
By Diane Bukowski 
September 11, 2013
DETROIT — U.S. Congressman John Conyers (D-Detroit) reported during his forum on Detroit's bankruptcy Sept. 7 that he has been able to have little contact with President Barack Obama on the matter.
However, former Detroit Mayor Dennis Archer, an advocate of the bankruptcy filing, and a group of business leaders including his gambling buddies Dan Gilbert of Quicken Loans and the Greektown Casino and Matt Cullen of Rock Ventures got an extensive audience with top aides to the President Aug. 29, according to the Detroit News.
Also present in the White House meeting were Kresge Foundation CEO Rip Ranson, and Henry Ford Health Systems CEO Nancy Schlichting. The News said it was held "to discuss Detroit's struggling finances and to determine how the city could maximize existing federal programs and grants," said the News.

Archer reported, "It was a very productive meeting."
But, said the News, "White House officials explicitly ruled out any federally financed bailout or special legislation to support the cash-strapped city. Instead, they pushed for ways the administration could help the city's business and political leadership leverage existing federal tools to speed the restructuring and soften the blow of bankruptcy."
Gilbert's co-czar of downtown Detroit, Mike Illitch, is already taking advantage of federal Empowerment Zone funds to build an $881 million hockey stadium and adjacent private development.
Conyers said Sept. 7 that he would "make sure by legislation that we provide a backstop to protect public pensions," along with other plans. Evidently, according to those White House officials, the Obama administration does not plan to support his efforts. (VOD—separate story on the bankruptcy forum still to come.)
White House meeting participants also appeared to take Detroit's bankruptcy as a done deal, although U.S. Bankruptcy Judge Steven Rhodes has not yet determined whether Detroit is even eligible to file for bankruptcy.  During a hearing Sept. 10, Rhodes moved the date for hearings on legal eligibility objections from Sept. 18 to Oct. 15, likely delaying the start of the eligibility trial, currently set for Oct. 23.
Archer, who told Fox 2 Business News in an interview July 19 that he favored the bankruptcy, and blamed it on the pension funds,  may have played a key role in drowning Detroit in the debt Emergency Manager Kevyn Orr has blamed for the bankruptcy filing. 
Archer is also close ally of Gilbert, who owns the Cleveland Cavaliers (and is famous for his racist rant about star LeBron James leaving to go to the Miami Heat), Quicken Loans, and the Greektown Casino. Archer has been working with Gilbert and Cullen to get casino gambling in Ohio and is also seeking to partner with him on the retail center he referred to in the Fox 2 interview at right.
According to a Feb. 10, 2005 article in Bloomberg Businessweek, Archer was on the payroll of UBS AG at the time that the behemoth global bank and its minority partner Siebert, Brandford and Shank loaned the city $1.5 billion in controversial "Pension Obligation Certificates (POC's)," intertwined with interest rate swaps backed by Bank of America's Merrill Lynch, in 2005. In 2006, they re-negotiated the deal.
At the time, UBS AG was the largest underwriter of municipal bonds nationally and had the most consultants on its payroll.
"The Zurich-based bank paid $2.4 million last year to 28 consultants, including Dennis Archer, former Detroit mayor, and Ray Sullivan, a spokesman for President George W. Bush when he was governor of Texas," said Bloomberg.
The magazine noted that such payments to former politicians were coming under increasing scrutiny by the Municipal Securities Rulemaking Board, for possible corruption. It reported more than 80 percent of municipal bonds were privately arranged across the country at the time, without competitive bidding.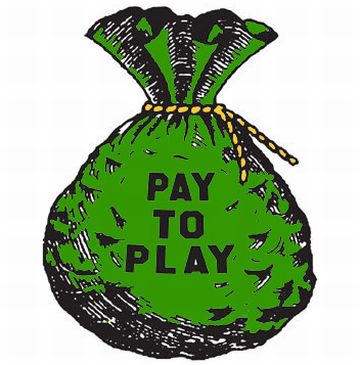 "Last year, the MSRB sought to ban underwriters from hiring consultants," Bloomberg said. "In a notice filed April 5, 2004, on the proposal, the MSRB wrote: 'Some consultant practices challenge the integrity of the municipal securities market.'
"In the notice, the rulemaking board said political contributions by consultants may conflict with its 1994 pay-to-play rule, called G-37, which bars underwriters from contributing more than $250 to local officials who award bond work."
It said such "sales are more expensive for taxpayers, six academic studies have shown. A 2002 study of 148 New Jersey sales by University of Connecticut professor Mark Robbins found that governments using competition saved $1.26 million."
Bloomberg said it talked directly to Archer.
"Former Detroit Mayor Archer said his political connections raised no ethical issues in his work as a consultant for UBS," the magazine reported. "He said he had a personal friendship with Atlanta Mayor Shirley Franklin and held a fund-raiser for Franklin when she was running for office in 2001. He said that relationship had nothing to do with Atlanta choosing UBS to manage an $849 million bond sale in September for the city's water system."
Later in the article, Bloomberg said Archer told them, "At the end of the day, it's the municipalities that make the decision. They're not going to be influenced by Dennis Archer or anybody else."
With regard to this story, Archer responded to an email from Voice of Detroit asking whether he thought the POC debt should be disallowed due to conflicts of interest with the following comments:
"I had no involvement. I did not consult on the loans and I did not receive any remuneration. I had no involvement with Sean Werdlow regarding the loans. Sean worked in the Finance Department when I was mayor. Sean was not a direct report to me. He resigned from his position before I left office and began to work for the DMC. I had no conflict of interest. I was not involved in the transactions. I did not follow what was occurring in the Kilpatrick Administration as it relates to his appointees.
"Thus, beyond what I have just answered, I have no additional response to the assertions.  I did not meet with President Obama as he was not present at our meeting. Moreover, the POC debt was neither raised nor discussed. I have no position on the debt as I am not involved in the proceeding before Judge Rhodes. My legal practice area does not include bankruptcy, and therefore have formulated no position regarding any assertion that the POC debt should be disallowed."
The 30-year POC's constituted a risky bet on the vicissitudes of Wall Street, during the glory days of the housing market boom, which turned out to be built on the quicksand of predatory home mortgage lending. The global economy crashed in 2008. Detroit defaulted on its payments and ended up turning its casino tax revenues over to a trustee to guarantee future debt payments.
Many other cities, including those who have preceded Detroit in filing bankruptcy, such as San Bernadino, California, were also caught up in the pension obligation certificates craze of the period.
Former Mayor Kwame Kilpatrick held an economics forum in Jan. 2005, during which Henry Sciortino,  head of the Pittsburgh Intergovernmental Cooperation Authority, cited a pension bond deal as partially responsible for the city's debt default takeover. He called POC's "one of the seven deadly sins of municipal finance."
The point man for the POC deal in 2005 was Detroit's Chief Financial Officer Sean Werdlow, at the time an appointee of former Mayor Kwame Kilpatrick.
Werdlow previously worked in the city's Finance Department from 1995-99, becoming head of its debt management division during the Archer administration.
A Werdlow resume says during that time he "maintained total responsibility for the daily operation of the Debt Management section of the Finance Department. Coordinated and managed the City's capital financing activities, systematically reviewed and evaluated financing opportunities, provided direction to Investment Bankers on optimal financial structures and served as the liaison between the City and rating agencies and other interested financial parties." 
After a brief interlude as Vice-President of Finance and Treasurer for the Detroit Medical Center from 2000 to 2002, Werdlow returned to city government as Kilpatrick's CFO. 
He likely used his ties with Wall Street ratings agencies to get Stephen Murphy of Standard and Poor's and Joe O'Keefe of Fitch Ratings to the City Council table on Jan. 31, 2005. This reporter covered those Council hearings for the Michigan Citizen (MC) at the time. 
Murphy and O'Keefe were apparently leery of their role there. Ratings agencies, although paid by the banks, do not normally intercede to help them get loans. 
"It took a lot to get them here," Werdlow told the Council. 
"Werdlow objected loudly when Councilwoman Sharon McPhail got a representative of Fitch Ratings, a bond rating agency, to admit his company had 'frequently been apprised' of the city's plan to use layoffs and service cutbacks to deal with a $300 million budget deficit," the author's first MC article said.
"The representative, Joe O'Keefe, said his agency currently rates the city's credit as 'A, with a negative outlook,' unless the city enacts those cuts." 
Despite vehement objections from pension trustees and union leaders, Werdlow insisted that the city had to borrow enough to cover 30 years of its obligations to the city's pension systems, instead of borrowing only enough for the coming year. 
A short-term borrowing would constitute a "soft liability," whereas the long-term borrowing would be a "hard liability," said Werdlow and others. While both ratings agency reps demurred for a while, Murphy finally said it would be "financially prudent" to make the debt a hard liability. 
A week later, the City Council caved and voted for the POC debt. In November of that year, Werdlow took a top management position with Siebert, Brandford and Shank, now known as SBS Financial, and remains in that position. SBS Financial has remained a party to numerous loans to the city since then, as uncovered by an FOIA filed by Detroit retiree David Sole, an objector in the bankruptcy proceedings. 
Werdlow was contacted by email about this story, but it is unclear if the email address was correct. VOD has received no response from him.
Pres. Obama himself is well-known to have close ties with a former UBS top manager.
Obama has received major campaign contributions from his friend Robert Wolf, at the time he worked for UBS. Wolf was characterized in news reports as the "largest contributor" to the campaign.  Wolf served as President and Chief Operating Officer of UBS Investment Bank, as well as Chairman and CEO of UBS's Group Americas division. He was a member of UBS's Group Executive Board from 2008-2010.
Obama appointed Wolf to the President's Economic Recovery Advisory Board from 2009-2011, then to the President's Council on Jobs and Competitiveness from 2011-2013, then to the Homeland Security Advisory Council's Border Infrastructure Task Force in 2012, and in June 2013, to the President's Export Council.
VOD has reported extensively on the involvement of UBS in fraudulent schemes world-wide, from the rigging of world interest rates as a member of the LIBOR (London-Interbank Offered Rate) board to the $1.5 billion fine exacted from UBS by the U.S. Department of Justice related to other fraudulent practices.
VOD has also called on the Justice Department and its Fraud Division to investigate the 2005-06 UBS POC loan to Detroit for evident conflicts of interest and likely outright criminality. Under Public Act 436, Detroit EM Orr is supposed to investigate possible criminal activity that has led to Detroit's debt crisis. In the case of the POC loan, although Orr admitted in his June 14 Proposal to Creditors,  'The City has identified certain issues related to the validity and/or enforceability of the COPS [POC's] that may warrant further investigation," he has refused to do so.
(See portion of Orr's recent deposition by attorney Jerome Goldberg at orr dep extracts, in which he admits to knowledge of fraudulent activities for which UBS and Bank of America have been charged by the U.S. Dept. of Justice and the U.S. Securities and Exchange Commisision. Orr skirted the question of his obligation under PA 436 to investigate possible criminal activities that led to Detroit's debt crisis.)
VOD calls again for the cancellation of the city's entire debt to UBS, SBS, and the Bank of America including swaps, hedges and penalties, rather than including it as part of the outstanding "pension liabilities" Orr has used as an excuse to file bankruptcy.
The debt is NOT a debt of the pension systems, which vehemently opposed it, It is a debt set up under false pretenses through contrived "non-profits" called the Detroit General Retirement System Trust and the Detroit Police and Fire Retirement System Trust. It is a likely criminal instrument set up by predatory lenders and their lackeys in city government.
VOD has started a petition on Change.Org at http://www.change.org/petitions/jeffrey-knox-usdoj-criminal-fraud-division-investigate-criminal-bank-ubs-ag-for-predatory-1-5-billion-loan-to-detroit.  Please click link and sign.
Related articles:
Archer et. al. meeting at White House http://www.detroitnews.com/article/20130910/METRO01/309100031
Archer consultant for UBS: http://www.bloomberg.com/apps/news?pid=newsarchive&refer=&sid=arIsuoqg34OI
http://voiceofdetroit.net/2013/09/09/illitch-plans-881-million-red-wings-stadium-project-with-public-funds-despite-detroit-bankruptcy-filing/
DETROIT POC DEAL STORIES FROM MICHIGAN CITIZEN BY DIANE BUKOWSKI, BANKOLE THOMPSON
To watch Fox Business News video from which Archer's quotes in the green side box above were taken, click on http://video.foxbusiness.com/v/2553555311001/former-detroit-mayor-on-citys-bankruptcy/,
Also see the following interview with Dennis Archer on Detroit Channel 7, in which he re-iterates his stance that bankruptcy will benefit the city.