Council Pres. Jenkins supports illegal "done deal"
Councilwoman Watson cites "rape" of city
Belle Isle costs $6 million/yr; bankruptcy consultants cost $62 million in last 7 months: Councilwoman Jones 
By Diane Bukowski
 Oct. 2, 2013
 DETROIT – Michigan Governor Rick Snyder and his kept man,* Detroit Emergency Manager Kevyn Orr, along with other state officials, signed a 60-year free deal to take over Belle Isle, the largest public island park in the U.S., owned by Detroit and its residents since 1876, on Sept. 30, 2013.
Except for a few minor changes, the lease is identical to that the state took off the table in January. The City Council failed to vote on it then due to broad public opposition citing the lack of any benefit to Detroiters, including the loss of millions in federal, state and private revenues, and resident jobs and contracts.
One interesting change: the state says it will post "No Beach Guard" signs on Belle Isle beach, per state park beach rules. Apparently they don't care if a patron drowns.
(Link to current signed lease is below article; see box below for key points.)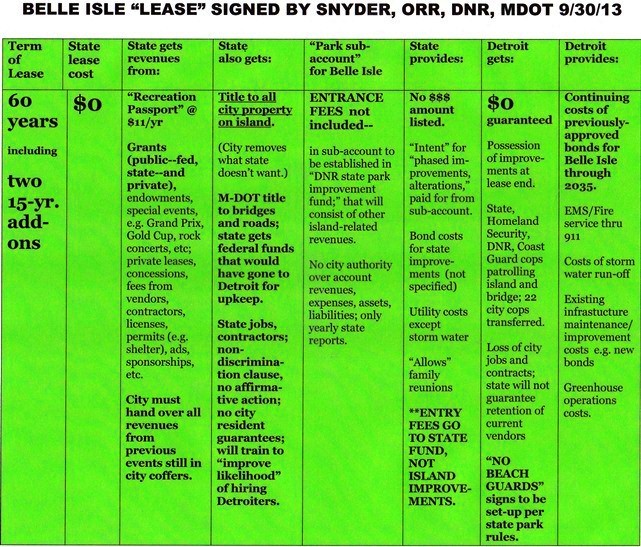 "This is unfathomable; it's as if Central Park was leased away from New York City," said Councilwoman JoAnn Watson during the body's regular session Oct. 1. "The City paid for Belle Isle. It is an asset of Detroit. All assets are supposed to be frozen during bankruptcy proceedings. Two federal lawsuits challenging the authority of the Emergency Manager are still pending.  Over 2.3 million Michigan residents voted to  repeal EM rule in Nov. 2012. Instead of the state helping us, this is a rape, a disgrace before God."
The Snyder/Orr action appears to violate Public Act 436 on its face. The law (MCL 141.1559 Sec. 9) requires the EM to submit proposed actions to the "governing body of the local government" first. It says the governing body then has 10 days to take action. If it disapproves it, it must submit a plan to to the local emergency financial assistance board to save an equivalent amount of funds, in this case six million dollars.
Councilwoman Brenda Jones came up with such a plan during the discussion Oct. 1.
"This is true disrespect for someone to come in on the pretense of saving money when they have spent $62 million on bankruptcy consultants in the last seven months," Jones said. "It only takes the city six to seven million dollars a year to take care of Belle Isle. If this had happened in the '50's or the '60's the city would be shut down."
The Public Act 4 "Consent Agreement" which the City Council approved 5-4 April 4, 2012 included a state lease of Belle Isle among other plans.
"I voted against that agreement," Jones told reporters later. "I think the Council majority opened the door to a whole lot with it. It was supposed to stop the Emergency Manager from coming, but bingo he's here. I have told the Emergency Manager I have a concern not only with Belle Isle, but also with the Water and Public Lighting Departments when it comes to assets being sold under the State Constitution. But the EM said he would do what he needed to do under Public Act 436. This is complete disrespect for the people of Detroit."
A meeting focused on regionalizing the Detroit Water and Sewerage Dept. is allegedly set for Sept. 7, according to news sources.
Most Council members said they knew nothing of the deal until late the night before, after it was already signed.
Council President Saunteel Jenkins told reporters afterwards that Watson's remarks were "inflammatory."
She that Orr called her personally and she emailed other members. Council members said Oct. 1 that they had no copy of the "lease," but Jenkins' remarks after the meeting seemed to show broad familiarity with its terms, as well as approval.
Jenkins, along with Councilman James Tate, who recently proposed setting goats and sheep loose in the city's neighborhoods to trim the grass, and Gary Brown, now Orr's Chief Operating Officer, voted for the Council to bring the deal to its full session at the beginning of this year.
The Council voted down an earlier lease in Sept. 2012.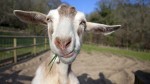 Asked whether the Council should have more input and hold a public hearing on the "lease," Jenkins said, "If this is the lease that was before the Council in January, then we have had plenty of input. . . . I certainly think Belle Isle is important enough with the citizens of Detroit to let them know [how the lease will affect them]."
Jenkins is running for re-election this September.
Councilmen James Tate, Kenneth Cockrel, Jr., and Andre Spivey said they would have to see the lease before expressing their opinion. Spivey claimed Detroiters who said they would volunteer to help clean up the island during earlier discussions had not done so.
Belle Isle had a city maintenance staff including grass cutters, foresters, and building attendants prior to a series of repeated cutbacks. President Phyllis McMillon, of AFSCME Local 452, who represents city workers on Belle Isle, said at a rally in Sept. 2012, "Bing told a lie when he said we have 36 workers here. There are only four permanent workers, the rest are seasonal from April to September. The seasonals are being laid off Sept. 23, and the four permanent workers have been re-assigned even though the lease deal is not approved."
(*Snyder is paying the costs of Orr's residency in the Westin Book-Cadillac during his EM term.)
Click on Bellie Isle lease 9 30 13 for complete copy of Sept. 30 lease signed by Snyder, Orr, other state officials
Related VOD articles on Belle Isle:
http://voiceofdetroit.net/2013/05/26/boycott-detroits-belle-isle-grand-prix-and-its-bankster-sponsors/  
http://voiceofdetroit.net/2013/02/03/bing-will-hurt-detroit-kids-shutting-parks-to-retaliate-for-belle-isle-lease-failure/ 
http://voiceofdetroit.net/2013/01/27/people-rise-up-against-lease-of-belle-isle-committee-votes-no-council-still-to-meet-mon-jan-28-2-pm-tues-jan-29-9-am/ 
http://voiceofdetroit.net/2013/01/27/city-council-reject-the-unfunded-proposal-the-lease-of-belle-isle/ 
http://voiceofdetroit.net/2013/01/26/belle-isle-is-black-land/ 
http://voiceofdetroit.net/2013/01/23/bing-and-detroit-council-set-to-give-belle-isle-to-state-let-the-people-vote-council-meets-jan-24-1-p-m-jan-28-29/ 
http://voiceofdetroit.net/2012/10/17/council-sabotages-oct-18-public-hearing-on-belle-isle-lease/ 
http://voiceofdetroit.net/2012/10/17/city-council-members-favorable-to-revised-lease-sept-25/ 
http://voiceofdetroit.net/2012/09/27/peoples-rally-hands-off-belle-isle-council-hearing-thurs-oct-4-1-pm/ 
http://voiceofdetroit.net/2012/09/18/councilwoman-watson-hears-citizens-on-belle-isle-rally-at-belle-isle-casino-sat-sept-22-12-noon-council-hearing-tues-sept-25-1-pm/ 
http://voiceofdetroit.net/2012/09/15/90-yr-belle-isle-lease-entry-fees-go-to-state-fedstate-cops-to-patrol-council-hearing-mon-sept/ 
http://voiceofdetroit.net/2012/09/14/belle-isle-in-detroit-is-our-last-dance/ 
http://voiceofdetroit.net/2012/08/05/save-belle-isle-save-detroit/ 
http://voiceofdetroit.net/2012/07/30/occupy-belle-isle-stop-the-takeover-of-detroit/ 
http://voiceofdetroit.net/2012/07/30/belle-isle-belongs-to-us-2/