Cases of Aiyana Jones, Davontae Sanford, Lamar Grable, Cornell Squires, Gary Doppelberger highlighted in first protest under new police chief
Craig's promotions, endorsements of LAPD, Cincinnati cops, Stop/Frisk questioned 
October 22, 2013 
DETROIT – The families of Aiyana Jones, Davontae Sanford, Lamar Grable, Cornell Squires, Gary Doppelberger, and other victims of Detroit police sent a message to newly-appointed Police Chief James Craig, his "All-Star Team," and Wayne County Prosecutor Kym Worthy Oct. 21, chanting:  "You are not worthy—no police state!" 
Over 50 people rallied outside the Frank Murphy Hall in downtown Detroit to call for freedom for Aiyana's father Charles Jones, whose trial was set to begin that day, and to observe the October 22nd National Day of Protest Against Police Brutality.  Jury selection in Jones' trial was re-set for Tues. Oct 29, with that of Chauncey Owens re-scheduled for Mon. Oct. 28.
Aiyana Jones, 7, was shot to death by an MP-5 submachine gun wielded by Detroit police officer Joseph Weekley during a horrific military-style raid on her home May 16, 2010. 
Aiyana's mother Dominika Stanley, grandmother Mertilla Jones, aunt Krystal Jones, and numerous other family members attended the rally to call for justice for Aiyana and freedom for Charles, who they say was framed up in the killing of Je'Rean Blake, 17, two days earlier. Questions remain as to Owens' guilt in that case as well. 
Aiyana's cousin Rafael Jones, who attends Lincoln High School in Warren, said, "I got my school to dedicate a whole page of their yearbook to Aiyana."
Hundreds of young metro Detroiters attended a concert by J. Cole Oct. 10 at the Masonic Temple in Detroit. Cole has dedicated a video, "Crooked Smile," to Aiyana and met with her mother and others during the concert.
Aiyana's cousin Mark Robinson, a key witness in the Weekley trial, which has been re-set to December 4 after a mistrial was declared earlier, was recently caught up in a series of what her family says are retaliatory frame-ups. He faces a court hearing Wed. Oct. 23 in 36th District Court. Robinson testified at Weekley's trial that he warned the raid team there were children in the home after they threw him to the ground outside the house. 
Herman Vallery, father of Lamar Grable, killed by three-time killer cop Eugene Brown in 1996, and Lamar's mother Arnetta Grable initiated the protest after learning that Brown's partner during the killing, Vicki Yost, was just promoted to Deputy Chief by Chief Craig, selected by Detroit's Emergency Manager Kevyn Orr with no input from Mayor Dave Bing. 
"I feel that Vicki Yost had a little more to do with my son's death than what was testified to," Vallery said. "As Deputy Chief, she will be more out for the cops than for the people. This is part of a broader plan for how police are going to be handling people in Detroit in the days to come." 
Lamar Grable's family won a $4 million jury verdict against Brown after a lengthy civil trial during which renowned forensic pathologist Werner Spitz testified that Grable, 20, was literally "executed" by Brown. Yost was promoted several times after the killing. Multiple brutality lawsuits, including one filed by the Michigan ACLU, were later brought against her in other cases. 
"It seems like all the cops who are violating people's rights are being promoted," said Cornell Squires, whose son was framed by new-promoted Deputy Chief David LeValley and his partner at the time, notorious William "Robocop" Melendez.  LeValley has been sued in federal court in multiple instances for brutality and misconduct. 
"This is consistent with Detroit Police Department practice," Squires explained. "The worse you are, the better promotions you get. Being a bad cop does pay." 
Melendez and 17 other southwest side cops were indicted by the U.S. Department of Justice in 2003 in an L.A. "Ramparts" style scandal involving brutality, frame-ups, perjury and other allegations. Chief Craig spent 28 years with the LAPD and served on the internal police review board that whitewashed the Ramparts cops, many of whom went to prison while their victims were released. The LAPD came out from under a USDOJ consent decree after 13 years in June. 
But news articles show that police brutality in LA continued unabated after the Ramparts scandal subsided, while Craig was in command positions, until and after his 2009 retirement.  One incident in 2005 involved LA's own Aiyana Jones, Suzie Pena, 19 months old when she was killed by an LA SWAT team. (See LA related articles at end of story.)
Craig lauded both the Los Angeles and Cincinnati Police Departments during his announcement of 43 promotions Oct. 8. Cincinnati cops also spent eight years under federal oversight after the police murders of 14 Black men. The murder of Timothy Thomas, 18, in 2001, sparked three days of rebellion in the Black community there. 
Khalid Fareed expressed concern about Craig's announcement that he will step up "Stop and Frisk" policies in Detroit, which have already been rampant on the streets of Detroit for at least the last two decades. In 2000, Squires confronted two cops who had stopped his son to frisk him and a cousin, and was beaten as a result. Attorneys in the city told this reporter, who was hearing numerous other such reports then, that each case had to be handled "on an individual basis." 
"Stop and Frisk was just declared unconstitutional by a federal judge in New York," Fareed said, referring to a class action lawsuit.  "It should be held as unconstitutional here as well." (See: http://voiceofdetroit.net/2013/08/13/an-end-to-nypds-racist-stop-and-frisk-what-you-need-to-know-about-landmark-ruling/,) 
The Rev. Richard Johnson El-Bey told VOD recently that he witnessed a crew of two white "skinhead" undercover cops stop a young Black man walking down the street in the Wyoming/Curtis area to make him show his ID and tell them where he was going. Shortly afterwards, Rev. Johnson El-Bey said, the same cops stopped a man who was unloading his truck in his own driveway, demanding his ID as well. 
Roberto Guzman, a paralegal who has provided support to numerous prisoners and their families, led chants during the march and called for the resignation of Wayne County Prosecutor Kym Worthy over the case of Davontae Sanford, 14 when Detroit police elicited a false confession from him to four drug-house murders in 2007. 
Admitted hitman Vincent Smothers later confessed to the killings, testifying Sanford had nothing to do with them. An appeals court ruled recently that Smothers and his attorney must be allowed to testify at a hearing to set aside Sanford's guilty plea. 
"Kym Worthy has no shame," Guzman said. "She needs to set Davontae free, not tell us what it costs to run her office. She knows he is innocent."
Sanford's mother Taminko Sanford-Tilmon said, "We're back at the Court of Appeals. Our lawyer has filed a motion to have a private investigator testify that he talked to Smothers as well. The Prosecutor's office has 56 days to appeal, but we haven't heard anything from them yet."
The most recent report from Worthy's office shows they have filed no appeal. 
Sanford's stepfather Jermaine Tilmon told VOD, "It is the season for grace. He is coming home. He's doing all right in prison, but he's been under constant spiritual attack by the guards there after the news blew about the Appeals Court decision. Everybody needs to know how the prison system really is—brutality from the guards, sexual assaults on young prisoners. They're targeting all the youngsters, not just those in prison but those outside in the world as well. I just pray the new Chief allows God to use him to make the right decisions."  
The daughter and fiancé of Gary Doppelberger attended the rally as well. They say Detroit police have failed to do any real investigation of his death on Christmas Eve, six years ago. 
"He was found in his truck in his underwear," said daughter Gabrielle Harrison. "The police told us it's not illegal to dump a dead body in Detroit, and they have found no leads and done no investigation. My dad was silenced, but they are not going to silence us." 
Her mother Stacy Harrison said, "It's just really sad how this was handled. I had his cell phone, and the people we think we involved in his murder kept calling it. But the police did nothing. We know we will never get justice for him, but I feel sorry for the other families who are here today for their loved ones." 
Detroit News reporter George Hunter reported regarding Chief Craig's reaction to the protest, "Detroit Police Sgt. Michael Woody said Craig was willing to talk to Bukowski, but that she declined.  'Chief Craig has opened his doors to Ms. Bukowski and her fellow protestors to sit down and have an open discussion about her concerns, however she did not respond to the invitation,' Woody said."
 http://www.detroitnews.com/article/20131021/METRO01/310210088/1409/METRO/Protesters-call-reforms-DPD-Wayne-Co-criminal-justice-system
In fact, Craig's comments to VOD are reflected in the earlier article VOD did on his promotions, at http://voiceofdetroit.net/2013/10/18/httpvoiceofdetroit-net20131018chief-craig-intensifies-detroit-police-state-march-mon-june-21-9-am-as-trial-of-aiyana-jones-father-opens-in-frank-murphy-to-new-dpd-hq/. VOD did not request a sit-down interview from the department's official spokesperson Kelly Miner, only specific responses regarding specific allegations about the officers. 
Arnetta Grable said the families involved in the protest discussed an invitation to meet with Craig made by Kelly Miner, but said they were reluctant to do so because their past experience has shown that complaints about police brutality only bring more of the same.
To contact the Original Detroit Coalition Against Police Brutality, which sponsored this protest, call 313-768-7202.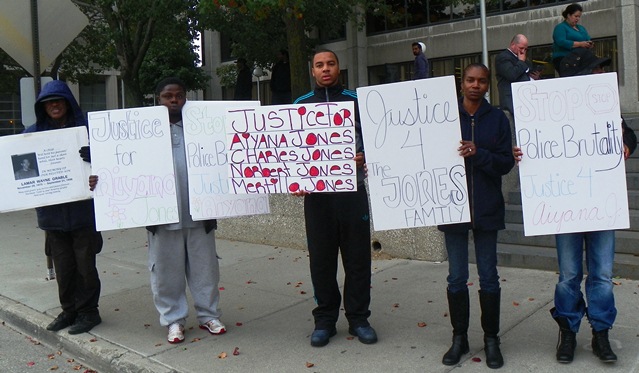 LA-related articles
http://www.thedailybeast.com/articles/2012/11/24/in-los-angeles-questions-of-police-brutality-dog-lapd.html;
http://articles.latimes.com/2012/jun/10/local/la-me-cop-shootings-20120610;
http://www.laactivist.com/2010/10/24/two-days-of-actions-against-police-brutality-reveals-unheard-voices/.
http://www.pbs.org/wgbh/pages/frontline/shows/lapd/later/reports.html 
Previous VOD article:
http://voiceofdetroit.net/2013/10/18/httpvoiceofdetroit-net20131018chief-craig-intensifies-detroit-police-state-march-mon-june-21-9-am-as-trial-of-aiyana-jones-father-opens-in-frank-murphy-to-new-dpd-hq/