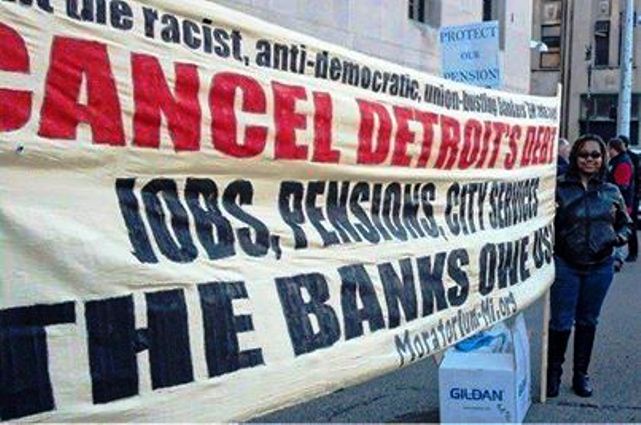 DEMAND: FUND PENSIONS AND SERVICES –NOT THE CRIMINAL BANKS 
TUESDAY, NOVEMBER 12, 2013 – 12 NOON @ BANK OF AMERICA, 500 GRISWOLD (at Congress, downtown Detroit)
Release by: Moratorium Now! Coalition
Nov. 10, 2013
VOD Editor Note: THIS AGREEMENT WOULD PREVENT DETROITERS FROM RECOUPING THE CITY'S LOSSES DUE TO PREDATORY, FRAUDULENT $1.5 BILLION PENSION OBLIGATION CERTIFICATES LOAN FROM UBS AG, SBS 
Emergency Manager Kevyn Orr and Governor Snyder negotiated a sweetheart deal with Wall Street banks that would increase Detroit's debt by $350 million by paying $250 million to Bank of America (a client of Orr's law firm Jones Day) and UBS (United Bank of Switzerland). Barclays, the new lender, would then have a super-priority lien on Detroit's assets and income tax revenue.
Under this swindle, 20% of Detroit's income tax revenues, $48 million per year for six years, will be pledged to these banks even after the bankruptcy is completed. At the same time, workers' pensions are subject to being reduced to 16 cents on the dollar.
This scam is intended to pay off the interest rate "swaps" Wall Street banksters sold to the City.
Bank of America and UBS, two of the main predatory mortgage lenders who destroyed our neighborhoods with massive home foreclosures, and whose executives have been jailed (UBS) and indicted (Bank of America) for their municipal bond crimes, already have pocketed $250 million in profits off Detroit city tax revenues on this scheme, even before this new deal goes into effect. UK-based Barclay's is one of the chief banks indicted in the global LIBOR interest-rigging scheme.
While City Council unanimously voted this deal down, Snyder and Orr are once again ignoring the democratic process. They have already filed a motion to have this deal approved by Bankruptcy Judge Steven Rhodes. Rhodes has set a hearing for Dec. 10, 2013, 
DEMONSTRATION CALLED BY:
Moratorium Now! Coalition http://www.moratorium-mi.org  313-671-3715
Detroiters Resisting Emergency Management (DREM)