Wafer shotgunned Detroit teen in face as she sought help on his porch
Pros. Kym Worthy: "We obviously do not feel .  .  . that the defendant acted in lawful self-defense"
Killer freed on $250,000, 10 percent cash or surety bond
Parents call for his conviction, life in prison
By Diane Bukowski
November 15, 2013
DETROIT—Wayne County Prosecutor Kym Worthy today announced charges of second-degree murder, manslaughter and felony firearm against 54-year-old Dearborn Heights homeowner Theodore Paul Wafer, in the Nov. 2 death of 19-year-old Renisha McBride of Detroit, who wandered on to his porch after an earlier car accident seeking help. Police reports showed she was unarmed and had not tried to break into the house.
"We obviously do not feel that evidence in this case shows that the defendant acted in lawful self-defense," Worthy said, surrounded by a phalanx of assistant prosecutors, police, and other judicial officials.
Wafer used a 12 gauge shotgun to shoot McBride in the face after opening his solid inner front door. According to a police report, McBride was wearing a "blue zip-up hoodie." After his arraignment that day, Wafer was freed on a $250,000, 10 percent cash or surety bond.
The case has brought international cries of outrage, and comparisons to the Trayvon Martin case in Sanford, Fla. Wafer is white and McBride was Black. A jury acquitted George Zimmerman of Martin's death last year, leading many to express fear that it is now open season on Black youth.
Since Wayne County Circuit Court juries are predominantly comprised of white suburbanites, despite the County's 42 percent Black population, it is not a given that Wafer will be convicted.
"Thirteen days ago, 19-year-old Renisha McBride was involved in a car accident in Detroit," Worthy said at the outset of the press conference. "At the accident scene, witnesses reported that she was bloodied, disoriented and appeared to be confused. She left the scene on foot. Hours later, her lifeless body was found by the police near the porch of a Dearborn Heights home. She was found with a very large (emphasis Worthy's) gunshot wound to the face. It's alleged that she was shot to death by the homeowner after she knocked on his locked front screen door. By all reports she was unarmed and there were no signs of forced entry to the home.
She announced the following charges:
• Second degree murder, which carries a penalty of any term of years
• Manslaughter—death by weapon aimed with intent but without malice, which carries a penalty of up to 15 years in prison, and
• Felony firearm, which carries a penalty of two years mandatory consecutive.
Worthy said Michigan's self-defense law does not equate to Florida's notorious "Stand Your Ground" statute.
"Under Michigan law," Worthy explained, "there is no duty to retreat in your own home, however, someone who claims self-defense must honestly and reasonably believe that he is in imminent danger of either losing his life or suffering great bodily harm, and the use of deadly force is necessary to prevent that harm. "
VOD and the Huffington Post were the only newspapers to report the defendant's name prior to Worthy's announcement. VOD obtained the information from county tax records of his home at 16812 W. Outer Drive and Dolphin.
At a press conference an hour later, McBride's parents called for Wafer to spend the rest of his life in prison.
"I want to thank the community for standing out and speaking on justice on behalf of my daughter," said Monica McBride, Renisha's mother. "I thank Kym Worthy for her verdict and taking her time and getting the accurate evidence and all the facts before she made any decision. I was very patient and prayerful and faithful that she would come to the right charges to charge this man. I know her father called him a monster but I'm not going to call you a monster. You said it was an accident. When you accidentally do something to someone you say you're sorry or you apologize. You did no accident. You took a life, you took a beautiful life that was starting to blossom into a beautiful woman and for that I hope you stay in jail for the rest of your life, because I have to go on with my life, and her father, without our daughter."
They said Renisha graduated from Southfield High School, worked at Ford Motor Company, and has two sisters. They added that she loved animals and soccer.
Senior Pastor Willie J. Rideout of "All God's People Ministries" in Detroit, a prominent civil rights activist, said, "I am very pleased at the charges, but I'm also absolutely surprised, because I was expecting something like manslaughter only. No one needs to be shot down like a dog. I feel that race was involved. The man looked out his window and saw her on his porch and grabbed the most powerful weapon he had. He has not apologized for the killing. But these charges show that if you are in the Detroit area, you shouldn't feel like you can shoot someone and get away with it."
He added that Dearborn Heights police should have arrested Wafer on the day of McBride's killing.
"If that had been an African-American shooting someone there, they would have been under the jail," he said.
Wafer, a tall well-built man with a prominent mustache, was arraigned that afternoon in front of Judge Mark Plawecki of 19th District Court in Dearborn Heights. He stood mute on the charges and a preliminary examination date of December 18 was set. No one from his family was present. .
He is now free once again on a $250,000, 10 percent cash or surety bond, after having been released by the Dearborn Heights police the day of the killing. Judge Plawecki set the bond after a whispered bench conference with attorneys for the prosecution and the defense. The prosecution did not object to the bond.
Calling Wafer "Teddy," his attorney Pat Carpenter said, "My client has a very strong defense to this charge. He has no history of substance abuse or mental illness, just a couple of 20 year old drinking and driving charges. He is currently working at the Wayne County airport, where he has been for 10 years in the highest security class. He cares for his 81-year-old mother. His brother Tim was supposed to be here today, but isn't."
Earlier police reports indicated that Wafer lives alone.
His attorneys have alleged that he will be exonerated, referring to a medical examiner's report that showed McBride had a .0218 toxicology reading, twice the legal limit in Michigan for alcohol, along with trace amounts of marijuana. They have also stated variously that Wafer feared for his life and that the shooting was accidental.
Attorney Gerald Thurswell, representing McBride's family, countered, ""There was no physical confrontation. We know she was intoxicated, but that does not give anybody the right to blow off her head."
Worthy said during the press conference that Dearborn Heights police did not test Wafer for alcohol or other substances after the incident, despite his earlier history.
Long-time criminal defense and appellate attorney John Royal, of Detroit, said the inclusion of "manslaughter" in the charges "preserves the option" for a jury to convict Wafer of that instead of second-degree murder.
Regarding the bond set for Wafer, Royal said, "There is a provision in the Michigan constitution that anyone in a capital case, where the penalty is up to life in prison, where the proof is evident and the presumption is great, must be remanded with no bond."
He said however that other factors enter in, including age, links to the community, and any history of not appearing for scheduled court hearings. He said he has gotten some bonds lower than that for second-degree murder charges. He added that the Assistant Wayne County Prosecutor at the hearing would likely have consulted with Worthy before agreeing to the bond.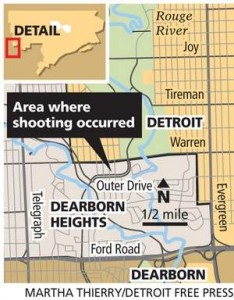 Regarding the failure of the Dearborn Heights police to test Wafer for alcohol, Royal said, "I would be critical of that. During a thorough investigation, it would be appropriate for him to submit either voluntarily or through a court order to a blood test for alcohol use. I would also hope that they did a gunpowder residue test on his hands and arms; even if he is admitting that he fired gun, that should be a routine procedure."
The police case report indicates that several witnesses were interviewed at the scene of McBride's earlier accident in Detroit, on Bramell near Warren Avenue. Click on RM police report for full report.
The report says a woman sitting in a car next to the one that was hit reported that "victim exited her Taurus (airbags had depoyed) alone (wearing jeans and a hoodie) and walked away, then came back and tried to drive away, and then walked south on Bramell, turned east, and rounded the corner of Warren Ave."
Warren runs into Dearborn Heights; Wafer lives just off Warren there.
It says the individual tried to get McBride to stay at the scene, and offered help because McBride did not have a cell phone, but McBride left, bleeding from a cut hand. The remainder of the witness statements are redacted, as was much of the report before release.
Related articles:
http://voiceofdetroit.net/2013/11/13/worthy-has-renisha-mcbride-police-report-sign-petition-to-bring-full-charges-vs-killer/
http://voiceofdetroit.net/2013/11/09/justice-for-renisha-mcbride-detroits-trayvon-martin-dearborn-hts-homeowner-is-theodore-paul-wafer/