Kilpatrick's CFO Sean Werdlow engineered deal, then hired by lender SBS, recently promoted to SBS COO
EM Orr cited deal as key factor in city's crisis
Detroit defaulted after 2008 economic crash
Kilpatrick in prison, why not Werdlow, UBS, SBS, Fitch, S&P, others?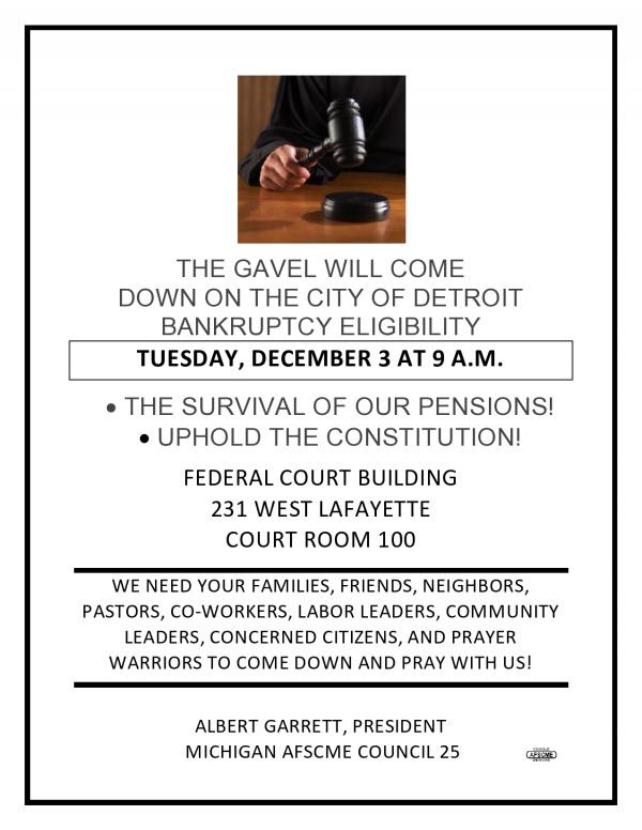 December 2, 2013
DETROIT — On the eve of U.S. Bankruptcy Court Judge Steven Rhodes' decision on Detroit's eligibility for bankruptcy, there has still been no criminal investigation of a predatory $2.8 billion Pension Obligation Certificate (POC) deal, cited by Emergency Manager Kevyn Orr as a key factor in the city's alleged debt crisis. 
Under Public Act 436, Michigan's "emergency manager" (EM) law, Orr is obliged to investigate possible criminal dealings which may have helped cause the crisis. 
The deal's point man, Sean Werdlow, Detroit's Chief Financial Officer at the time, spoke at a Wayne State University Law School symposium about the disastrous deal Nov. 21, according to a Detroit Free Press article. He blamed it not on himself, hired by one of the POC lenders after the deal in a clear conflict of interest, but on the pension boards, which vehemently opposed the loan in 2005. 
The loan was not taken out by the pension boards, but by two "non-profit" corporations formed at the time of the loan. The legality of that situation has also been challenged. 
"Werdlow said the 2005 deal was prompted by a 'rogue' pension system and that without the deal Detroit city government would have gone bankrupt years ago," Freep business reporter John Gallagher wrote.  He quoted Werdlow, "We would have been having this discussion in this auditorium back in 2005 but for that transaction." 
Gallagher said further, "when. . . . the financial industry collapsed [in 2008] . . . . the city's debt stemming from the pension deal swelled to $2.8 billion for principal, interest and insurance payments over the next 22 years." 
SBS just promoted Werdlow to Chief Operating Officer (COO) and Managing Director ("coincidentally," according to Gallagher), although he has only a bachelor's degree in corporate finance. Neither he nor the SBS public relations firm Butler and Associates had responded to a request for comment on this story before press time. 
"The current GRS Board has made decisions that have resulted in a top quartile performance for the last several years," Tina Bassett, spokesperson for the Detroit General Retirement System, said. "In fact, today, Detroit pension funding levels are among the top three cities of the top 25 cities in the USA." 
Her statement along with the following explanation was sent to Gallagher at his request, but he barely cited it in his article. 
"First and foremost, the mandate of the GRS Board of Trustees of the City of Detroit is to best serve the interests of its members and beneficiaries," Bassett explained. "The benefits provided and authorized by the Board must be consistent with the approved Plan benefit provisions adopted by the City and various unions. The Board of Trustees does not negotiate benefits or have the discretionary authority to grant benefits not authorized by the retirement plan.  Simply, the Board administers the approved Plan benefits. 
"GRS Board members adhere to the Boards' Trustee Education Policy of achieving and maintaining proficiency for prudent administration of the retirement system and investment of funds through professional educational programs and conferences throughout the year."  
Werdlow had said of the boards, "They don't take orders. They don't listen to the City Council. They don't listen to the mayor. They're completely on their own." 
VOD, and earlier, the Michigan Citizen, have published dozens of articles regarding blatant and likely criminal conflicts of interest involved in the POC deal. They included Werdlow's hiring by the loan's junior partner Siebert Brandford and Shank (SBS) nine months after he and Wall Street representatives got the Detroit City Council to approve the original loan of $1.44 billion in Feb. 2005. 
The chief POC lender was UBS AG, which faces charges globally over fraudulent lending practices on a mammoth scale. Several of its agents from Japan and New York City have been criminally convicted. It has also paid the U.S. Department of Justice a $1.5 billion fine. 
VOD has repeatedly questioned Orr about the POC deal at press conferences, and reported it to the U.S. Department of Justice. VOD editor Diane Bukowski gave explicit testimony in writing and verbally before Judge Rhodes as an official eligibility objector. 
This writer was at the City Council, reporting for the Michigan Citizen, during heated discussions on the loan in 2005.  Councilwoman JoAnn Watson asked Stephen Murphy of Standard & Poor's, "If the transaction is approved but the stock market goes south in the following years, what would that do to the city's bond rating?" 
She cited negative influences on the economy, including competition from automakers in China, and the war in Iraq.
"That would be a significant problem," Murphy said. He said that for the deal to succeed, the pension boards would have to resist demands for better retiree benefits and distribution of excess profits (the "13th check" city retirees used to receive, which Gallagher cites as a negligent practice of the pension boards in his article). 
"This is a very risky transaction," then Councilwoman Sharon McPhail, who sat on the Detroit Police and Fire Retirement Board, told Mayor Kilpatrick during a follow-up session Feb. 4, 2005. "Your own people at your economic forum called this one of the seven deadly sins of municipal finance. If the deal doesn't do what is expected, we could face receivership under the local government Fiscal Responsibility Act. If the stock market does well, that $1.2 billion in unfunded pension liability could go away, but we'd still owe it in bonds."
But Werdlow told the WSU audience, "Nobody anticipated you would have a financial meltdown," referring to the global 2008 economic crash that began with the collapse of Lehman Brothers. (Ernst & Young, the bookkeepers for Lehman Brothers and currently one of EM Orr's chief advisors on the bankruptcy, was later sued by the states of New York and New Jersey for losses they suffered as a result of the collapse.) 
Murphy and Joe O'Keefe of Fitch Ratings were at the Council table in 2005 at Werdlow's invitation. Werdlow told the Council regarding the highly unusual practice of ratings agencies advocating for a bank during municipal government proceedings, "It took a lot to get them here." 
In fact, then Council President Ken Cockrel, Jr. ordered the Detroit police to roust recalcitrant council members boycotting the vote from their homes. Councilwoman Barbara Rose-Collins came to the table in a wheelchair. 
The Council eventually caved, without a clear explanation from its previous opponents, and agreed to the deal. 
Of hundreds of other debt documents obtained by the Detroit Debt Moratorium Coalition through a Freedom of Information Act request, a large number involve Siebert, Brandford and Shank, leading to the question of the firm's further involvement in predatory lending to the City of Detroit. The documents are online at http://detroitdebtmoratorium.org/. 
A 2007 magazine cover from Ticker featured Werdlow, calling him "Mr. Bond." According to the article, he and SBS partners Suzanne Shank and Napoleon Brandford also formed another company to manage municipal funds in partnership with Ambassador Capital. The new company was known as BSW Partners. 
"We want to make Detroit more of a major financial cen­ter," Werdlow told the writer, R.J. King. King said Werdlow "chooses his words wisely. Case in point: Mayor Kwame Kil­patrick once dubbed Werdlow the 'Grim Reaper' for his abil­ity to deal forthrightly with bad financial news."
Related articles:
Ex-Detroit official defends 2005 pension deal blamed in city's downfall http://www.freep.com/apps/pbcs.dll/article?AID=2013311210149
DETROIT POC DEAL STORIES FROM MICHIGAN CITIZEN BY DIANE BUKOWSKI, BANKOLE THOMPSON
http://voiceofdetroit.net/2013/11/05/detroit-bankruptcy-testimony-retirees-get-16-cents-wall-street-gets-billions-assets-stolen/
http://voiceofdetroit.net/2013/10/27/a-thousand-take-streets-to-stop-detroit-bankruptcy-repeat-action-mon-oct-29-12-n-as-snyder-testifies-rhodes-should-recuse-self-led-pro-em-forum/
http://voiceofdetroit.net/2013/10/09/constitutional-civil-human-rights-before-detroit-bankruptcy-groups-say-protest-tues-oct-15-10-am/
http://voiceofdetroit.net/2013/09/23/detroit-retirees-residents-committee-blast-bankruptcy-filing-at-court-hearings/
http://voiceofdetroit.net/2013/09/17/official-retirees-committee-in-detroit-bankruptcy-blasts-em-orr-gov-snyder-asks-for-stay-pending-higher-court-ruling-what-will-judge-rhodes-do-sept-19/
http://voiceofdetroit.net/2013/08/20/detroit-bankruptcy-objections-raise-possible-bank-crimes-related-to-poc-debt-and-casino-tax-deal-hundreds-protest-banks-in-downtown-detroit/
http://voiceofdetroit.net/2013/07/03/sign-petition-to-request-us-doj-fraud-investigation-of-ubs-re-predatory-1-5-billion-detroit-loan/
JUDGE TO RULE ON DETROIT BANKRUPTCY PETITION TUES. DEC. 3, 10 AM
U.S. Bankruptcy Judge Steven W. Rhodes (center with red tie) with participants in Oct. 10, 2012 forum on Chapter 9 and Emergency Managers (l to r) State Treasury official Frederick Headen who has participated in the state takeovers of numerous majority-Black cities and school districts, Edward Plawecki, Douglas Bernstein and Judy O'Neill, who trained EM's, with O'Neill co-authoring Detroit's original EM law PA 4, and Charles Moore of consultant Conway McKenzie, a major witness for Detroit EM Kevyn Orr during the bankruptcy trial. No representatives of pension systems, retirees, unions, or Detroit residents were on the panel.
By Joseph Lichterman
Nov 25, 2013 5:56pm EST
DETROIT (Reuters) – The judge overseeing Detroit's historic bankruptcy petition set December 3 as the date for issuing his decision on whether the cash-strapped city qualifies as bankrupt under federal law, according to a court filing posted Monday.
U.S. Judge Steven Rhodes will hand down his ruling in federal bankruptcy court in Detroit at 10 a.m. EST on that day. [VOD: time is per updated notice from court.] A written decision will be available shortly afterward, the court filing said.
No matter how Rhodes rules, it is expected that his decision will be appealed. Rhodes also is considering a request from one of the objectors, the American Federation of State, County and Municipal Employees, Detroit's largest union, which asked the judge earlier this month to allow any appeal to go directly to the U.S. 6th Circuit Court of Appeals, bypassing the U.S. District Court in Detroit.
Rhodes' ruling will cap months of anticipation, since Detroit filed its bankruptcy petition on July 18. During a nine-day trial that wrapped up on November 8, Detroit sought to prove that it is bankrupt.
Under Chapter 9 of the federal bankruptcy code, it is Detroit's burden to prove it is insolvent, it had proper approval to file for bankruptcy and that it negotiated in good faith with creditors or that negotiations were impractical.
The city's unions, public-sector retirees and two pension funds have objected to Detroit's bankruptcy filing, arguing that Kevyn Orr, Detroit's state-appointed emergency manager, purposely drove the city into bankruptcy court and did not negotiate with creditors for an out-of-court settlement.
The trial included a rare appearance from a sitting governor on the witness stand as Michigan Governor Rick Snyder, who approved the city's bankruptcy filing, testified. Orr also testified along with a long line of other government officials, consultants and union leaders.
City lawyers argued during the eligibility trial that Detroit acted in good faith prior to the bankruptcy filing, but that negotiations were impractical because of the large number of creditors and an unwillingness on the part of union, retiree and pension fund negotiators to make concessions.
Bruce Bennett, one of the city's lead bankruptcy attorneys, said in his closing arguments earlier this month that the city recognized it would be nearly impossible to negotiate with creditors, but decided to try anyway.
"You absolutely can believe in your head that this is never going to work, but try anyway," he said. "And I think that is the situation in this case."
With $18.5 billion in debt and liabilities, Detroit is the largest U.S. city to file for bankruptcy. Its liabilities include $5.7 billion for healthcare and other obligations, and $3.5 billion involving pensions, the city says.
[See report from the national think tank Demos which strongly disputes the figures above and will be cited in tomorrow's VOD articles at Demos Detroit bankruptcy report.] 
The unions, retirees and pension funds have argued that Michigan's constitution protects city pensions from being cut, but Orr has said pensions are likely to be reduced as part of the city's restructuring.
Bankruptcy opponents also argued Detroit rushed into court without providing enough time or information to facilitate negotiations between the city's release of its initial proposal to creditors on June 14 and when it filed for bankruptcy in July.
(Reporting by Karen Pierog; writing by Dan Burns; editing by James Dalgleish and Matthew Lewis) 
Related Reuters article on Stockton CA bankruptcy results, which protected pensions and exacted 50 percent debt cuts from some corporate creditors, while enacting a regressive sales tax on residents, at http://www.reuters.com/article/2013/11/04/stockton-bankruptcy-idUSL2N0IP1UZ20131104.