Developers' ads may violate federal law
Tenants mobilizing for City Council meeting Thurs. Feb. 20, 10 a.m.
Dan Gilbert's contractor Sachse Construction has office there now
 By Diane Bukowski
 February 18, 2013
News flash: Griswold tenant Willie Griffith reports he was able to get all the contractors currently creating dangerous conditions at the Griswold, while residents still live there, barred from the premises. He said they had pulled no city permits to do the work.
 DETROIT –The new developers of the Griswold Apartments, currently occupied by 117 senior, disabled and largely Black tenants, have posted large picture window ads at the site which depict new residents and patrons of the building, renamed "The Albert." They are all white.
Ads depicting all whites violate the Federal Fair Housing Act, according to Attorney Margaret Brown, Executive Director of the Fair Housing Center of Metropolitan Detroit. VOD sent photos of the ads to her. Brown said the Center will open an investigation.
"The depiction of any single race in an ad or a series of ads is a violation of the Fair Housing Act," Brown, formerly Director of Equal Opportunity and Fair Housing for the Michigan State Housing Development Authority (MSHDA), told VOD.
"This was first litigated in 1992 and it has been re-litigated over and over and upheld. It is very important for all landlords and developers to understand this Act. Its whole purpose is to make housing available to all persons. Especially in Detroit, which has a history of being one of the most segregated cities in the country, this has special meaning. As Detroit re-develops, it has to be a new Detroit that includes all."
Brown sent VOD a 1992 New York Times article which detailed the first litigation against such ads. It resulted in an $850,000 jury award to plaintiffs against Colonial Village in Arlington, Virginia.
"The plaintiffs argued that the use of exclusively white models over a five-year period, from 1981-1986, had sent a message that Blacks were not welcome there," said the article. (Read full article at Fair housing ads Keith newspaper clipping 2014.)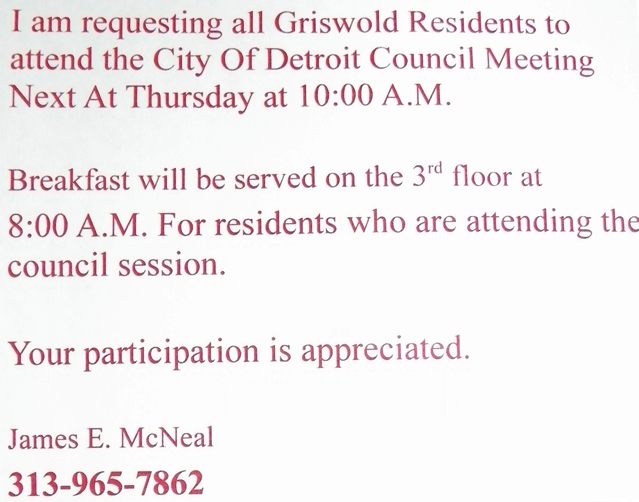 The Griswold tenants are mobilizing to attend a City Council meeting to protest their situation on Thurs. Feb. 20 at 10 a.m. They face eviction March 31, 2014 after 1214 Griswold Apartments, LLC, a developer with ties to downtown's co-czar Dan Gilbert, bought the building. The developer had to give them one year's notice under HUD guidelines.
In November, 2013, the Council approved a 10-year "Commercial Rehabilitation" tax abatement for the developers after the new owners negotiated a pact with the Neighborhood Service Organization (NSO) and United Community Housing Coalition (UCHC) to provide minimal moving and placement services for the tenants. UCHC's director Ted Phillips told the Council he is representing the tenants, but that they have signed no representation agreement and are free to pursue their own legal representation.
His organization received a $481,000 "Tenant Resource Network" HUD grant to finance similar roles with a total of 18 developments in Southeastern Michigan.
VOD met with Griswold tenants once again on Feb. 15. They had brought complaints to the City Council that the original deal with the developers, which would have allowed 10 tenants to remain with "enhanced vouchers," as guaranteed by Phillips, fell through.
They also told VOD that moving from their downtown Detroit location will interfere with access to their doctors, most of whom are in the Detroit Medical Center, and transportation. Most do not own cars. They said UCHC has provided them only with bus tickets to go see possible placements, while a private individual has volunteered her time to drive them to the locations. Many of the complexes involved have also sent buses to allow residents to tour their sites, at the complexes' expense.
A Feb. 7 report from David Whitaker, Director of the Council's Legislative Policy Division, absolved the developers of any blame for the loss of "enhanced vouchers."
"Based on its new rents, which will be in excess of $1,100 for a one-bedroom apartment, the rents for this building exceeded MSHDA's guidelines," Whitaker reported. "MSHDA indicated that the new rents were far more than the average rents in the area for comparable buildings of a similar size and age. Therefore the building was deemed ineligible for enhanced HUD vouchers." He said two Council members are asking the developers to lower the rents on the 10 units to comply with the MSHDA guidelines.
Phillips earlier told this reporter that the problem was a "rent comparables" report. VOD accessed the MSHDA "rent reasonableness" site from which such reports are generated, using a standard five-mile radius. MSHDA's press representative Katie Bach said VOD's first results were inaccurate.
"The Rent Reasonableness report generated off the Michigan Housing Locator site pulled a number of fully furnished corporate suites as comparable properties," Bach said. She said rents would have to be comparable to the units at the Griswold in their current condition.
"MSHDA was not party to any agreement between City Council and the owner to allow 10 current residents to remain at Griswold," she added, belying Phillips earlier promises to City Council and the developers.
So VOD did a second report, excluding the corporate suites, and produced three regular high-rise apartment buildings in downtown Detroit charging more than $1100: the Lofts of Merchant Row at $1795, East Jefferson and Chene condos at $1190, and regular Broderick Tower units at $1,350. Only three comparable units have to be identified under MSHDA regulations to validate rent reasonableness. See report at 1214 Griswold Rent Comparables Report revised.
Whitaker also reported that the tax abatement was provided under Public Act 10 of 2005, the "Commercial Rehabilitation Act." (See link below for full Act.)
That act, however, says, "Commercial property" means land improvements classified by law for general ad valorem tax purposes as real property including real property assessable as personal property pursuant . . . . the primary purpose and use of which is the operation of a commercial business enterprise. Commercial property shall also include facilities related to a commercial business enterprise under the same ownership at that location, including, but not limited to, office, engineering, research and development, warehousing, parts distribution, retail sales, and other commercial activities. Commercial property also includes a building or group of contiguous buildings previously used for industrial purposes that will be converted to the operation of a commercial business enterprise."
The Act also says, "'Qualified facility' means a building or group of contiguous buildings of commercial property consisting of 1,000,000 or more square feet of space that is 40% or more vacant for 12 or more consecutive months immediately preceding the date of application for the certificate and that is 15 years old or older."
None of those definitions fit the Griswold Apartments, which is listed on the National Register of Historic Places. It has been a residential building housing seniors and disabled tenants for more than 30 years, and has at least 117 tenants occupying its 127 units.
Resident Willie Griffith, who is assisting tenants in the move, told VOD earlier, "The senior citizens that helped build this country should be entitled to stay down here among the wealthy. This is nothing but financial discrimination. The tenants don't want to move, they resent it with a passion. If all Blacks and poor whites would get together, like in the Million Man Marches I attended, we can shut them down."
Meanwhile, Sachse Construction, which does the renovation work on Gilbert's numerous holdings, has established an office on the building's ground floor, next to the large ads. Its officers include Todd Sachse, CEO, Steven R. Berlage, President and COO, and Richard Broder, Vice-President. All staff shown on its website at http://www.sachseconstruction.com/index.php/our-team are white.
According to the company's 2014 state filing, Broder is the owner/agent for 1214 Griswold Apartments, LLC. Gilbert's representative Paula Silver has in the past denied that Gilbert owns the building. However, according to articles in other newspapers listed in previous VOD stories on the Griswold Apartments, Gilbert is known for using front companies to purchase property. He already owns most of the buildings on Capitol Park, where the Griswold building is located, along with a wide swath of buildings throughout downtown.
His "Bedrock Real Estate" and "Opportunity Detroit" signs adorn most of his holdings as well as DDOT buses and other vehicles. He is also CEO of Quicken Loans, Rock Financial, and owner of the Cleveland Cavaliers. He excoriated player LeBron James for leaving the team to go to the Miami Heat, creating a furor in the Black community, many of whom took his statement to mean that he did not like a slave leaving the plantation.
Related:
Fair Housing advertising manual
PA 210 2005 — The Commercial Rehabilitation Act
Report on Colonial Apartments ads: http://www.fairhousing.com/index.cfm?method=page.display&pageID=3498
http://voiceofdetroit.net/2014/01/27/tax-abatement-deal-with-devil-in-downtown-griswold-tenants-eviction-has-gone-to-hell/
http://voiceofdetroit.net/2013/12/15/city-council-state-feds-non-profits-in-bed-with-developers-destroying-black-detroit/
http://voiceofdetroit.net/2013/11/18/developers-hud-non-profits-collude-to-move-detroit-seniors-disabled-out-of-downtown-griswold-apts/