First target: fraudulent foreclosures by state, county, city officials, lawyers
 Congressional candidate David Trott among worst offenders
 Whole court system is corrupt at all levels, group says
By Diane Bukowski
VIDEOS BY RICOBUSTERS, INCLUDING DAVID SCHEID, CORNELL SQUIRES, CRYSTAL PRICE
August 2, 2014
Novi, Michigan – Leaders and supporters of RICObusters gathered at the home of David Scheid July 29 to announce and view newly-produced videos describing their battles against fraud and corruption in the entire criminal justice system.
 They are beginning with the issue of fraudulent foreclosures, but they are taking on wrongful criminal convictions and other issues as well.The stunning videos are professionally done, aided by Scheid's previous experience in Hollywood, and are being reproduced here with the permission of RICObusters, which has a YouTube site at https://www.youtube.com/channel/UCd3xqk6Kc778ASLAsRpV5ag .
Their leaders include Krystal Price, who has been battling the theft of her own home by Bank of America and Trott & Trott for years, Scheid, who has a background in investigative journalism as well, and paralegal Cornell Squires. They have been helping homeowners fight illegal foreclosures pro se in courts across Michigan for years.
 "These are planned and formulated crimes involving racketeering by our public officials, lawyers, judges, notaries and others who should be prosecuted under RICO by the people themselves," Scheid told the gathering. RICO is the federal Racketeer and Corrupt Organizations Act.
He said people's grand juries must be formed across the U.S. to prosecute these crimes, since the formal court system is virtually useless to the common people.
Squires said, "These officials are supposed to represent the Constitution of the United States, but they act like it doesn't exist."
Price said, "They are criminal perpetrators who steal homeowners' property." She said she was victimized by the most prominent law firm involved in foreclosures and evictions, Trott & Trott. Astoundingly, the firm's owner, David Trott, is running for U.S. Congress in the current elections.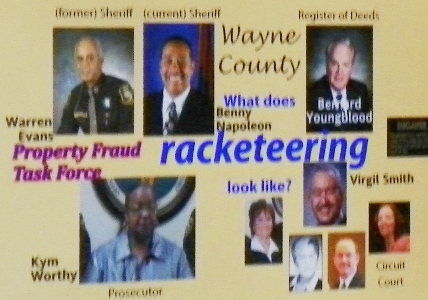 Locally, the group is targeting Michigan Gov. Rick Snyder, Wayne County Executive Robert Ficano and his minions, Wayne County Prosecutor Kym Worthy, Wayne County Clerk Cathy Garrett, and the Wayne County Sheriff's office, among others. They particularly focus on sheriff's deeds that have been fraudulently executed by those with no authority to do so, and sworn to by alleged "notaries" who regularly exchange duties with the executors.
They also target the U.S. Justice Department and the U.S. Attorney's Office. The group's videos, the first three of which have been posted on You Tube and are reproduced here, are described as follows. The compelling videos themselves are the best tellers of RICObusters' story, beginning with Segment 1, shown at the top of this story. Each of the three shown here are about one-half hour in length.
"Welcome to RICO Busters, providing you with the tools of grassroots success in exposing and rooting out abuses of corporate and government power, and reinstating honesty and transparency in these power structures. This program is FOR the People and BY the People. WE are the whistleblowers. WE are the investigators. And WE THE PEOPLE are demonstrating the taking back of our responsibilities AS America's real government.
"The fact is that we have a revolving door between the judicial and executive branches of the state. Indeed this is happening throughout the United States. There are no checks and balances. Instead, our public 'servants' are regularly engaging in aiding and abetting each other as they use color of law and administrative procedure to deprive the rest of us of our due process rights, and to pad their own bank accounts with our money and property. They operate with no morality or ethics, and no rule of law.
 "We are right now living in a lawless state – a lawless America. The time has come to define ourselves as Americans. Will we continue to be on the bandwagon that has led Americans to become hated instead of admired all over the world because of our self-serving greed and legal maneuvering? Or will we be part of the growing movement that is taking on a personal responsibility for getting back under OUR control a corporate-government oligarchy run amuck. There is no doubt by many that we need to get government back in its "box," and back within its confines of our state and the United States constitutions.
"RICO Busters brings to you this series of connected investigative reports spotlighting racketeering and corruption by public officials across the state of Michigan. One objective of this series is to bring back the kind of investigative journalism that has long been mostly missing in the mainstream of local and national news reporting. Another objective is to expose those who are believed to be the domestic terrorists in government. These are officials who – leaving little room for doubt – have long been posturing for positions for personal gain and political power. These are people who present the strong appearance of providing comfort and cover to their peer group of other treasonous criminals rather than living up to their own Oaths of public office to serve and protect the People's constitutionally guaranteed AMERICAN rights."