Case like no other in country; strips assets of largest Black city in U.S.
 Hearing a battle between Orr/Jones Day and Syncora as union, retiree leaders vacate field, endorse Plan of Adjustment
 Under plan, banks get at least $8.5 billion, private corporations get assets, while retirees lose $4.5 billion
 By Diane Bukowski
 Sept. 5, 2014
 DETROIT – Not with a bang but a whimper, the plan confirmation phase of Detroit's bankruptcy trial kicked off Sept. 2, 2014, a little more than a year after Detroit Emergency Manager Kevyn Orr filed the petition on July 17, 2013.
It is no mistake that San Bernadino and Stockton, California declared bankruptcy a year before Detroit, but hearings there have not yet reached the confirmation stage.
Just as Ferguson, MO police officer Darren Wilson assassinated Michael Brown, Jr. on Aug. 9, Detroit as the largest Black majority city in the U.S. is about to face assassination as well, at the hands of an unelected dictator and his Wall Street cronies.
 The assassination has been coldly calculated for over two years, in a fashion as cruel as the way Ferguson police let Michael Brown's body lie in the street for four hours as his agonized family and neighbors watched the long stream of blood from his wounds congeal and turn black. Now banksters and government officials are watching gleefully as the City of Detroit slowly dies under their onslaught.
"Judge Steven Rhodes should be removed from office, he's a crook," Bill Davis, a city Water and Sewerage Dept. retiree, said as protesters marched outside the courthouse Sept. 2. "Kevyn Orr is doing worse than anything Kilpatrick ever did. If the City of Detroit has a cash flow problem, we shouldn't be spending hundreds of millions on crooked financial institutions."
Kilpatrick was sentenced to 28 years in prison for 24 counts of bid-rigging, extortion, bribery, and tax evasion, in violation of the federal RICO act. The total monetary amount involved that allegedly went directly into his pocket? About $112,500.
What prison sentence is therefore appropriate for those who are stealing the entire city of Detroit, also in violation of RICO?
How much time should by served by Rhodes, who chaired a forum advocating Chapter 9 bankruptcy and Emergency Management in 2012, Orr who is only a mouthpiece for his former employer, the law firm Jones Day which authored the game plan for the Detroit takeover in a white paper in 2010, and Michigan Governor Rick Snyder, creator of Public Act 436, which has disenfranchised the majority of the state's Black citizens? What about the crooked banks and corporations who stand to gain at least $8.5 billion under the plan, plus profits from Water Department contracts and other privatization?
How much time should they serve for stealing at least $4.5 billion from retirees, plus water, land, public utilities, homes and jobs from over 700,000 residents, at least 82 percent of whom are African-American?
UBS AG, Bank of America, Chase, and numerous mortgage companies have been sanctioned by the U.S. Justice Department with multi-billion settlements related to their criminal activities, but no criminal charges have been brought. Too bad this is not Vietnam or China, where criminal bankers who took advantage of the decay of communism in those countries are being sentenced to death.
Who should really be on trial in Detroit?
"It's not the City of Detroit, Rhodes is hearing from Jones Day, the third largest law firm in the world representing the banks that have the city in a death grip, who triggered the financial crisis," Rev. Bill Wylie-Kellerman told protesters.
Wylie-Kellerman stood up at an earlier bankruptcy hearing and loudly declared that Jones Day is not the city of Detroit, whereupon Judge Rhodes fled the bench, evidently expecting a larger display of the people's wrath akin to that in Ferguson. Wylie-Kellerman has also led two blockades of the Homrich facility on East Grand Blvd. to stop water shut-offs, with participants sustaining about 20 arrests.
"The court hearing gives an appearance of legitimacy to privatizing public assets, dismantling resources, extracting money," Wylie-Kellerman pointed out. "Put Kevyn Orr and Homrich [the private contractor being paid $6.8 million to shut water off] on trial, put the process on trial, challenge the false legitimacy."
At the Sept. 2 hearing, attorney Alice Jennings revealed that of 19,000 city households who had their water shut off beginning in March, 5,500 still do not have water. She told protesters that another 1,000 households have been shut-off since a temporary pause in shut-offs ended August 25, with more on the way.
"We have made our argument for the people," Jennings told the protesters after the hearing. "We must have a temporary restraining order on all shut-offs. They create sanitation problems and pandemic disease processes. What about people with feeding tubes, and those who use nebulizers for asthma [as well as households with children, who stand to be kidnapped by the state's Child Protective Services]. Through a Freedom of Act request, we found out that the city failed to bill Detroiters the higher sewerage rates for six years, so dumped them on the last billing."
Many countries including the United Kingdom outlaw water shut-offs altogether.
At the insistence of suburban forces, Detroiters are penalized with the higher rates because of delinquency rates on bill payments, in a city where 38 percent of the population lives below the federal poverty level, and 27 percent above the poverty level cannot afford the daily necessities of living, according to a recent report by the United Way Foundations of Michigan.
Rhodes has ordered "mediation" of the matter, with a subsequent hearing Sept. 17. If the mediation is anything like that going on about the ownership and management of DWSD, his order does not carry much hope.
What about the leaders of the unions and retirement systems, who have ceded the floor for any opposition to the POA to Syncora and FGIC? They have filed briefs agreeing to a plan that will impoverish retirees, eventually dismantle the $6 billion pension fund as more and more workers are forced out of city employment, and lay waste to the future of Detroit's youth.
Their briefs contradict hundreds of objections filed by retirees and city residents themselves. Jones Day has cited their briefs as evidence the objections should be denied, in an omnibus motion filed Sept. 5.
Shouldn't these mis-leaders join their co-conspirators in prison for using their own members' union dues and retiree contributions against them?
Michigan AFSCME Council 25, the International UAW, and others told the Sixth Circuit Court of Appeals that they will withdraw their appeals of the city's bankruptcy eligibility if the plan is confirmed including the so-called "Grand Bargain." The "Grand Theft," as it is popularly known, provides a measly $816 million, allegedly for retirees, in exchange for the city relinquishing it's ownership of the multi-billion DIA art collections.
It allegedly makes up for the loss of at least $4.5 BILLION in city pension contributions and payouts, an AVERAGE loss of $27,000 per retiree in annuity savings plus 6.75 percent interest, a loss of COLA amounting to $33,500 per retiree, and phony VEBA health care plans that do not guarantee the provision of health care to retirees.
In a monumental sell-out, the unions also said they will give up all other rights to appeal the POA, agree to negate Art. 9, Sec. 24 of the Michigan Constitution which protects public pensions, and cease their opposition to PA 436, the Emergency Manager Act. Ironically, that Act declares that any EM must live up to Art. 9, Section 24!
AFSCME Local 207, representing Detroit Water and Sewerage workers, was one of only two city locals that urged members to vote down the Plan of Adjustment.
"Privatization at DWSD is happening at a rapid pace," Local 207 President Mike Mulholland said at the rally. "They are poised in this bankruptcy to give it away entirely—either to the suburbs or by handing the actual management to Veolia, the second largest water privatizer in the world. They had to bring in EMA, Inc. to dismantle the Wastewater Treatment Plant, causing the recent floods and the Toledo water emergency. Now we have to get another overseer to oversee the overseer, thanks to Orr. AFSCME Council 25 has left us hanging. They are punishing our local for striking against the DWSD takeover by stripping our membership to 150 workers."
Mulholland said earlier that the Teamsters and Operating Engineers are in line to take over representation of the other DWSD workers, who now total 700 instead of the 1100 in unionized ranks before EMA took over. Current DWSD workers must also reapply for their jobs.
Detroit is the only city facing such massive losses under Chapter 9 of the Bankruptcy Code, which bars creditors from demanding liquidation of assets, "unless the debtor agrees."
Orr, having been crowned as the debtor by Judge Rhodes early on, is not only agreeing but playing a proactive role in destroying Detroit.
He ordered "restructuring" of the Detroit Water and Sewerage Department's bond debt, a restructuring that provides for $2.2 billion of that debt which was considered impaired under the Plan of Adjustment, to be paid in full.
He approved the establishment of a regional Public Lighting Authority to replace Detroit's Public Lighting Department. Plans for the PLA include REMOVAL of 40 percent of street lighting in the city, to coincide with the removal of other city services from large swaths of neighborhoods.
He ordered the privatization of the Detroit Public Works Department, which handles garbage pick-up, beginning March 1. Current workers must re-apply for their jobs.
Rizzo Environmental Services, headquartered in Sterling Heights, and Advance Disposal Services, will take over. They plan to dispose of Detroit's trash at Detroit Renewable Energy, LLC, the notorious Detroit incinerator which has been subject to constant protests over the years about its pollution of the surrounding poor and Black neighborhoods.
Crain's Detroit Business said of Rizzo, "Its parent company, Rizzo Group, is co-owned by father and son along with CEO Michael Ferrantino Jr. of EQ – The Environmental Quality Co. in Wayne; New York City-based private equity firm Kinderhook Industries; and Habib Mamou, president of V&M Corp., doing business as Royal Oak Recycling."
Orr has also ordered changes to demolition requirements for "blight removal" (read "Black removal") projects, allowing contractors to partially fill excavation sites with chopped up parts of the existing structure, despite hazardous materials like lead and asbestos that may be present, then top it off with "clean fill."
Baxter Jones, Jr. encouraged protesters to continue fighting back with every beat of their hearts.
"The reason we don't see a lot more people out here is that they've been beat down so long they got used to it," Jones, who was arrested in his wheelchair at both Homrich blockades, said.
"Beat the bullies back with your heartbeat," Jones cried out. "Even the bankers and wealthy people have to die, they can't take their things with them. Think about the young people at the Oakman School. The DPS EM Jack Martin closed it down because he didn't care about their challenges and limitations, and sent kids to other schools with no sensibility."
Speakers Elena Herrada and Helen Moore also pointed out the devastation emergency management and the breakway Educational Achievement Authority have meant for Detroit schools, most of which are now closed down.
In a recent interview with Rochelle Riley of the Detroit Free Press, Orr endorsed a plan for Detroit schools like those in New Orleans and Washington, D.C. He and illegally-elected Mayor Mike Duggan, the first white mayor of 82 percent Black Detroit since 1974, are proposing mayoral control of the schools to facilitate this.
There is no more public school system in New Orleans subsequent to Hurricane Katrina; privately-run charter schools, most for-profit have taken over completely. Washington, D.C. is well on its way. Charter profiteers and organizations like the Broad Foundation have targeted primarily majority-Black cities like Detroit, New Orleans and Washington D.C. for their ill-gotten gains.
Herrada announced that on Oct. 2 at the Fisher Building, a protest will take place subsequent to the hearing of a lawsuit filed by the elected, in-exile Detroit Board of Education against the EAA.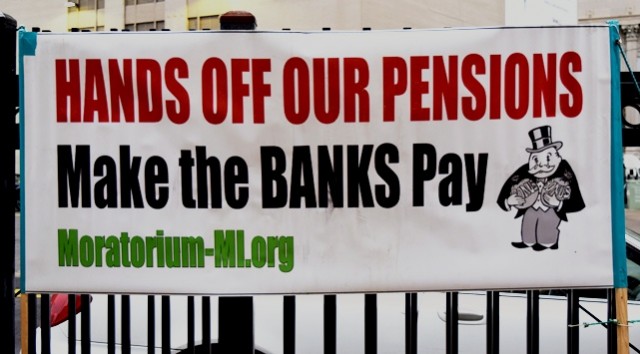 Abiyomi Azikiwe of Moratorium NOW! summed up the effects the bankruptcy will have on Detroit during the Sept. 2 protest.
"Make the banks pay, they owe us for the destruction of our city through massive illegal oreclosures," he said. "We are opposed to the sixth, or is it the seventh, Plan of Adjustment put together by the agents of Wall Street. Even if they rubber stamp this, the City of Detroit will still experience massive poverty, unemployment, and dislocation. Since Kevyn Orr took over, the streets, lighting, EMS, bus transportation all have worsened. He has driven the city further into the ground."
He added, "A few months from now, the plan can be readjusted again. They have blamed the city's situation on working people, residents, and retirees. But the bankruptcy has been engineered for the past two years [by Wall Street banks and corporations in league with Michigan Gov. Rick Snyder, Jones Day and Kevyn Orr]."
Recent related articles:
http://voiceofdetroit.net/2014/08/31/march-vs-detroit-bankruptcy-sept-2-retirees-demand-council-put-water-dept-sale-on-ballot/  
http://voiceofdetroit.net/2014/08/26/detroiters-ask-judge-to-bar-water-shut-offs-until-lawsuit-resolved-hearing-tues-sept-2/
http://voiceofdetroit.net/2014/08/21/near-catastrophic-failure-of-detroit-sewage-pumps-caused-detroit-floods-toledo-water-crisis-city-retirees-say/ 
http://voiceofdetroit.net/2014/08/21/bank-of-america-agrees-to-nearly-17b-mortgage-fraud-settlement-helped-destroy-detroit/ 
http://voiceofdetroit.net/2014/08/13/detroit-retirees-water-affordability-plan-make-the-banks-pay-press-conference-wed-aug-13-3-pm/
http://voiceofdetroit.net/2014/08/07/retiree-groups-unions-to-nix-detroit-bankruptcy-eligibility-appeals-at-6th-circuit-after-trial/ 
http://voiceofdetroit.net/2014/08/03/detroit-water-shut-offs-city-takeover-still-on-full-blast/ 
http://voiceofdetroit.net/2014/07/31/retirees-picket-afscme-for-withdrawing-detroit-bankruptcy-appeal/ 
http://voiceofdetroit.net/2014/07/30/unions-and-retirement-systems-must-continue-6th-circuit-appeals-of-detroit-bankruptcy-eligibility-call-your-reps/ 
http://voiceofdetroit.net/2014/07/27/detroit-bankruptcy-vote-8-3b-gain-for-banks-4-5b-loss-for-workers-retirees-dismantling-of-city/